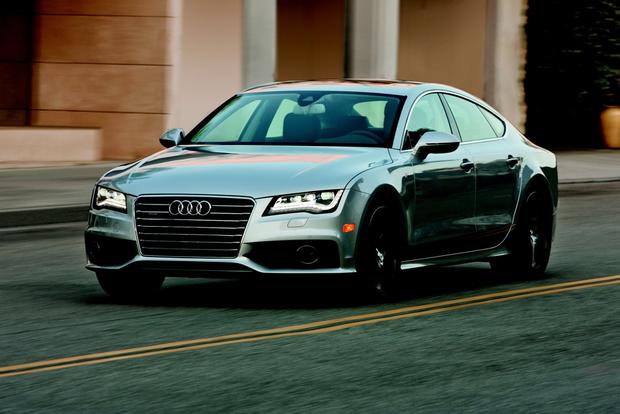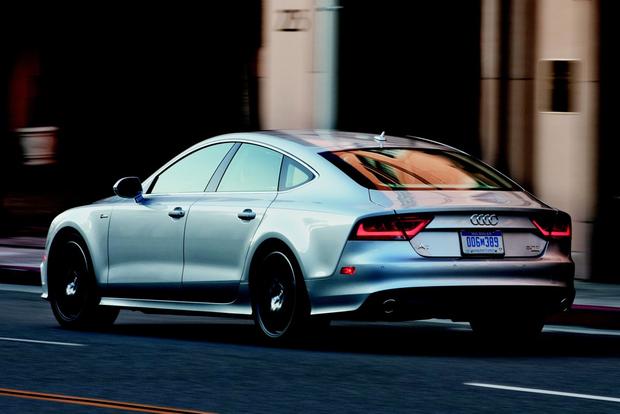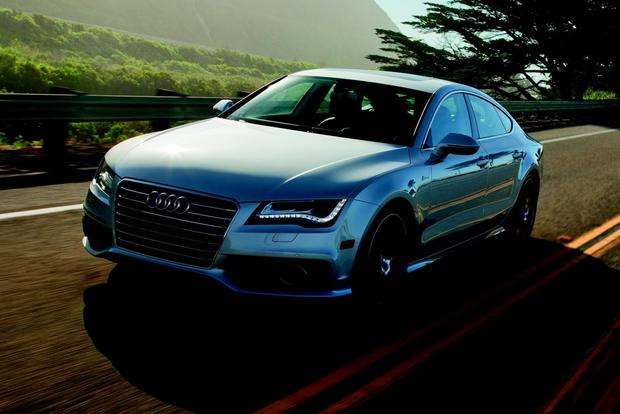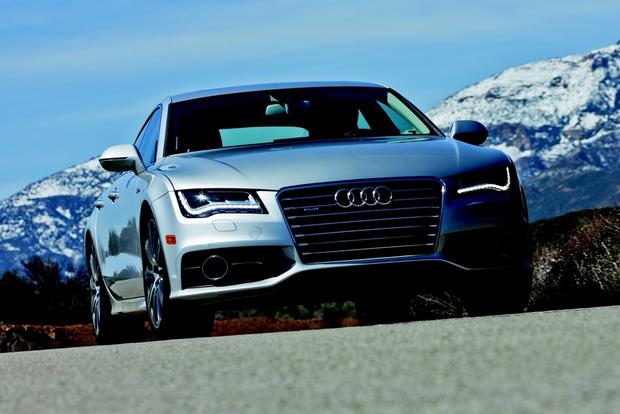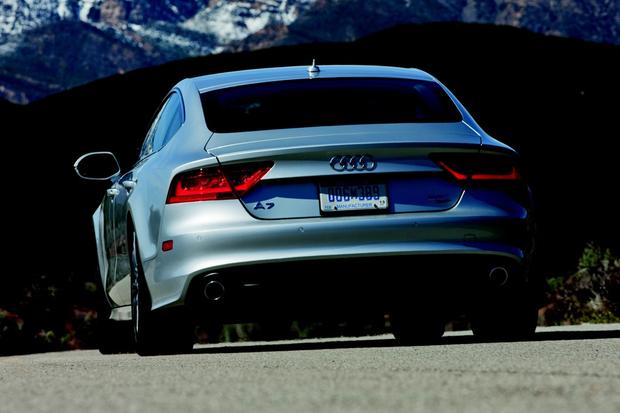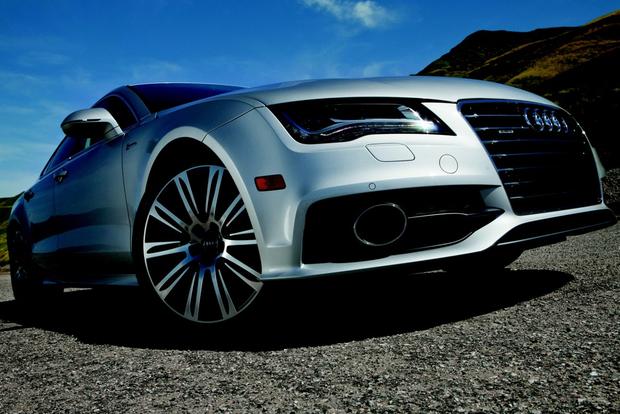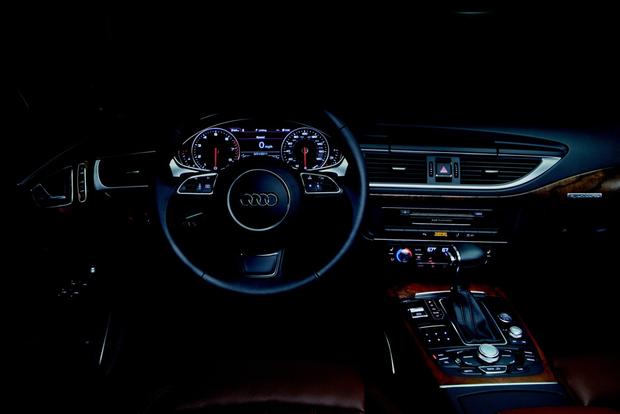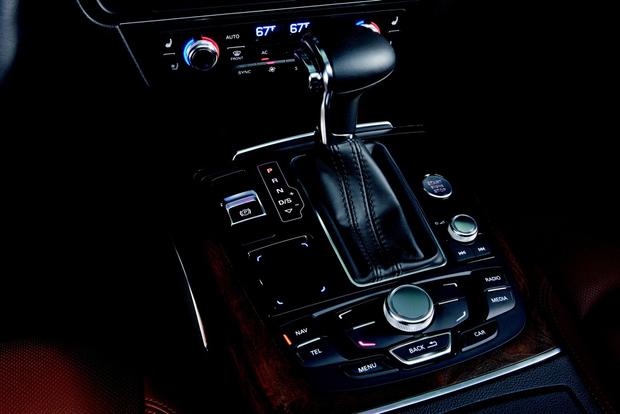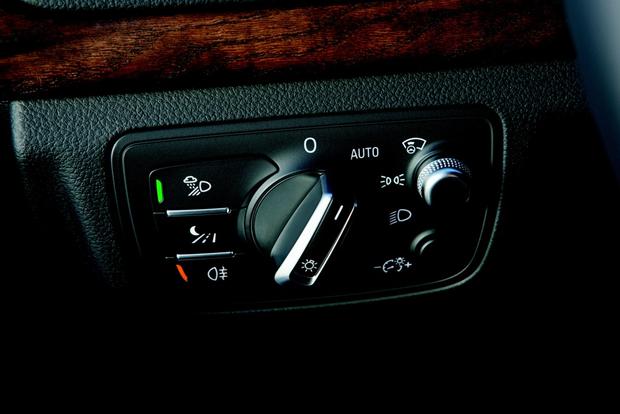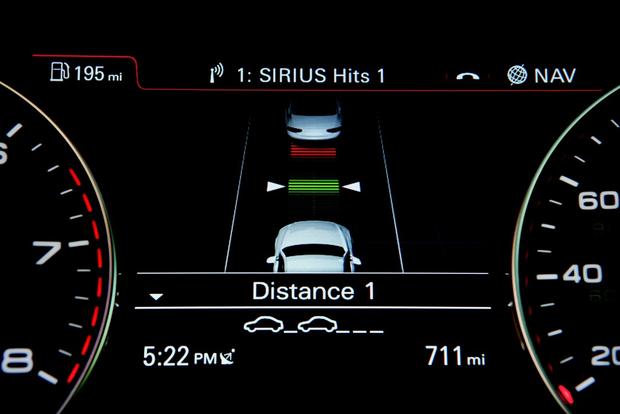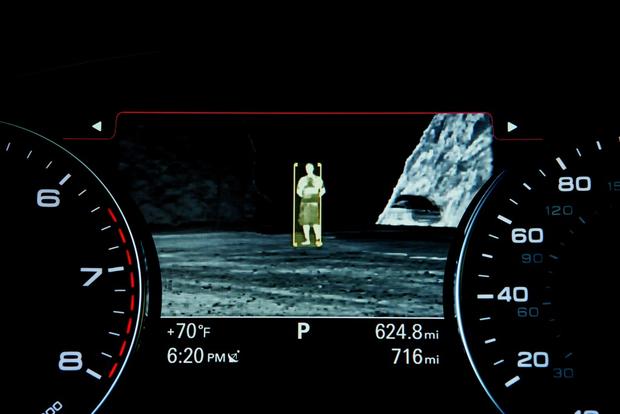 Pros: Sleek design, upscale interior, competent engines
Cons: Limited rear passenger space, cargo space, expensive
What's New: The 2013 A7 gets standard auto stop/start, an optional middle rear seat, and a couple new safety technologies ("active lane assist" and "corner view," discussed below). The new V8-powered S7 is reviewed separately.
Introduction
For a car that could have been treated as a mere styling exercise, the 2013 Audi A7 is a remarkably well-integrated package. Based on the understated A6 sedan, the A7 is blessed with a gorgeous fastback roofline, but it's much more than just a pretty face.
Unlike the A6, which starts out with a demure 4-cylinder engine, the A7 comes standard with Audi's stellar supercharged 3.0-liter V6. The 3.0T is one of our favorite motors, and it's paired here with a sophisticated chassis that likes to dance. Moreover, the A7 can carry four adults and their luggage, which is highly unusual for a car with this kind of curb appeal. There's even an optional fifth seat now.
The A7 still isn't the best choice from a practicality standpoint, as that rakish roofline limits rear headroom and leaves a relatively shallow cargo area beneath. But it's handy enough that folks considering 2-door luxury coupes could be swayed. Throw in the A7's gratifyingly Germanic road manners, and you're looking at one of the most all-around appealing cars on the market.
It might start with outer beauty for the A7, but Audi's made sure that there's plenty of substance behind this car's style.
Comfort & Utility
The A7 is offered in three trim levels: Premium, Premium Plus and Prestige. A 4-seat layout is standard, but every 2013 A7 is eligible for the optional 5-seat layout with a rear middle seat.
The Premium comes standard with 18-inch alloy wheels; Xenon headlamps with LED running lights; LED taillights; auto stop/start (which can be disabled by the driver); a sunroof; the Drive Select system (which gives the driver electronic adjustments for steering, transmission and throttle calibrations); push-button ignition; leather upholstery; tri-zone automatic climate control (including separate rear controls); heated power front seats with adjustable lumbar; a tilt-telescopic steering wheel; Bluetooth; a 10-speaker audio system and MMI Radio Plus—a basic version of Audi's Multi-Media Interface that includes an 8-in power-retracting TFT display screen; full iPod integration; a console-mounted control knob; and twin SD-card slots.
The Premium Plus adds 19-in alloy wheels; parking sensors; keyless entry; an upgraded driver information display for the gauge cluster; a navigation system with Google Earth compatibility and voice recognition software; available in-car wireless Internet; and the "MMI touch" handwriting recognition pad.
The Prestige tacks on Audi's S line exterior treatment, adaptive Xenon headlamps, cooled seats, a power tilt-telescoping steering wheel, quad-zone automatic climate control (including two sets of controls for rear passengers) and a Bose audio system.
Some of the higher trims' features are available on lower trims as options. Also offered is a Bang & Olufsen audio system (Prestige only); adaptive cruise control; and a Sport package that brings a lowered suspension, a 3-spoke steering wheel with shift paddles, and wheel sizes ranging from 18 in to 20 in.
Very few automotive interiors are nicer than the A7's; we'll concede that Rolls-Royce and Bentley have the A7 beat, but after that, we're not sure. The materials used are absolutely top notch, and practically every button, lever and knob oozes class. There are also some thoughtful touches here and there that set the A7 apart from its already classy A6 platform mate inside, including a larger MMI display screen (8 in versus 6.5) and a more elaborate driver information display.
As with the A6, though, there's only one front-seat style, and that's disappointing. The rather plain standard seats don't provide much lateral support, and the A7 can certainly generate enough g-force to justify sportier bolsters. Audi's Sport packages typically contribute more enthusiastic seats, but the A7's packages don't. Notably, the high-performance S7 rectifies this problem if you can manage the extra cost.
Ergonomically, the A7 does pretty well for such a complicated car. As in other Audis, little things like adjusting the fan speed can be needlessly complex, but most major controls are straightforward. Moreover, MMI has improved by leaps and bounds in recent years, with simplified menu structures and extra physical buttons that give you a fighting chance of actually accomplishing basic tasks while driving.
The A7's standard back seat only has two positions, but it's unexpectedly hospitable to adults. Given the A6 sedan's underwhelming back seat, the A7's rear quarters really aren't much of a downgrade. Taller passengers might find their heads are uncomfortably close to the roof, but still, the A7 is a legitimate 4-seater. As for the optional fifth seat, well, we suppose you might appreciate it if you have an extra kid to schlep around on a regular basis. Either way, a highlight for those in back is the standard separate rear climate zone, which splits into two zones in the Prestige.
There are 18.9 cu-ft of space beneath the A7's sleek hatchback trunk, and if you fold down the rear seatbacks, 49 cu-ft will be at your disposal. That might not sound like a lot for a midsize hatchback, but it's actually neck and neck with the new Audi allroad station wagon—not bad for a style-driven car like the A7.
Technology
If you're a technophile, the A7 is the sort of car that you'll want to sit in all night just to play with the gadgets. Now, if you like to keep your mp3s on a flash drive, you'll have to adapt, as the A7 rolls with SD-card slots instead of a USB port. But just look at all the standard goodies you get, from iPod/Bluetooth integration to a 10-speaker stereo with those SD slots and a crowd-pleasing MMI display screen that retracts into the dash when not in use. And then there's the Premium Plus model's upgrades, including a beautiful color driver information display between the gauges, a navigation system that can display Google Earth street views, and even a crazy little touch-pad that can decipher the commands you scribble onto it. Did we mention the A7 Premium Plus is also a rolling Wi-Fi hotspot? Yeah, this Audi's got its technological bases covered.
Performance & Fuel Economy
The 2013 Audi A7 is powered by a supercharged 3.0-liter V6 rated at 310 horsepower and 325 pound-feet of torque. Standard on every A7 is an 8-speed automatic transmission and Quattro all-wheel drive with a 40/60 front/rear torque split. Although the A7 is a bit heavier than the A6 3.0T sedan, any drop off in performance is imperceptible from the driver's seat--the supercharged V6 still has inexhaustible thrust and impeccable manners. Unfortunately, the 8-speed automatic evinces the same hiccups as in the A6; in particular, it doesn't match revs on manual downshifts with the expected performance car precision.
The A7 is EPA-rated at 18 mpg city/28 mpg highway, which is pretty good for a 4,200-lb luxury car with this kind of power. Interestingly, the rating remains constant for 2013 despite the addition of auto stop/start, which should save a significant amount of fuel in city driving.
Safety
The A7 comes with standard stability control and 4-wheel antilock ventilated disc brakes. Eight airbags are standard (front, front side, front knee, full-length side-curtain), with rear side airbags optional.
Also, a couple new safety programs join the options list for 2013. Active lane assist provides automatic steering correction if the car wanders from its lane without an active turn signal, while corner view notifies the driver of oncoming vehicles and other obstacles that are hidden from view while turning.
The A7 had not been crash tested in the US as of this writing.
Driving Impressions
Despite sharing most of its mechanical bits with the A6, the Audi A7 seems even more athletic and composed, with the low-slung, cockpit-like driving environment adding to the effect. The A6 is already a great driver's car, but the A7 takes it up a notch, at least in terms of feel. The ride can be a little flinty on rough pavement, though, even with the standard 18-in wheels—so although the optional 20-in wheels are beautiful, they're probably a bad idea where comfort is concerned.
Other Cars to Consider
BMW 6 Series Gran Coupe: Based on the 2-door 6-series coupe, the brawny Gran Coupe features BMW's usual range of excellent turbocharged engines.
Mercedes-Benz CLS-Class: The granddaddy of the 4-door coupe segment now offers a pair of phenomenal twin-turbocharged V8s.
Porsche Panamera: If you're reckless with the options on your A7, you could easily veer into Panamera territory, and what the Porsche lacks in curb appeal, it arguably more than makes up for with sports-car-like performance.
AutoTrader Recommends
Having Google Earth along for the ride is too cool to pass up, so we'd spring for the Premium Plus trim level. No options for us, though; the Premium Plus's standard equipment roster is just fine.