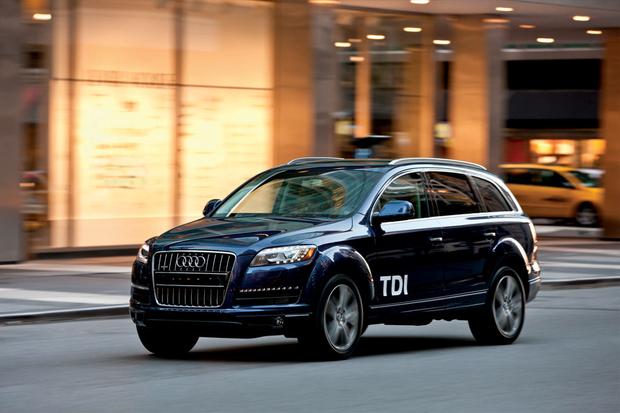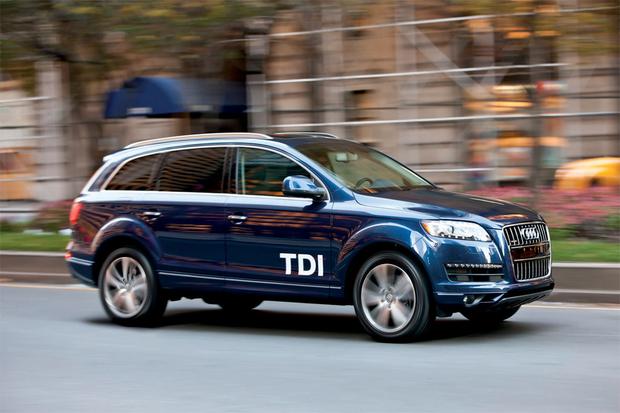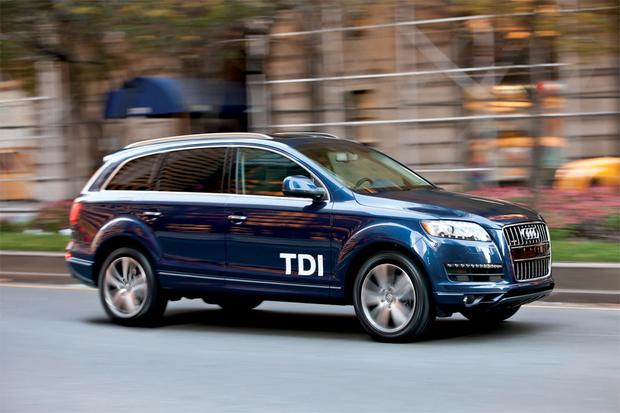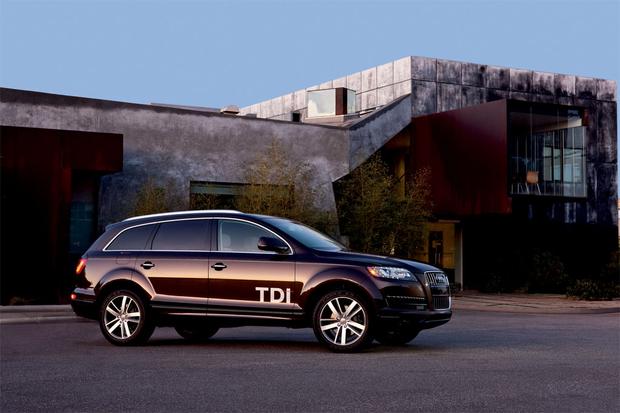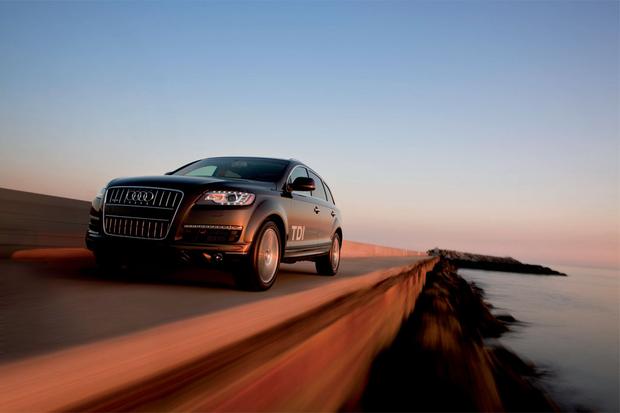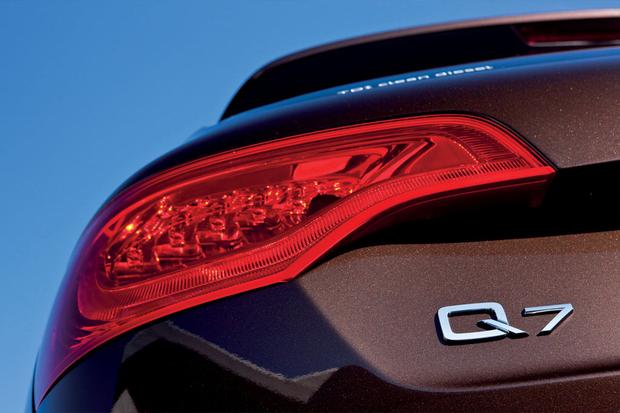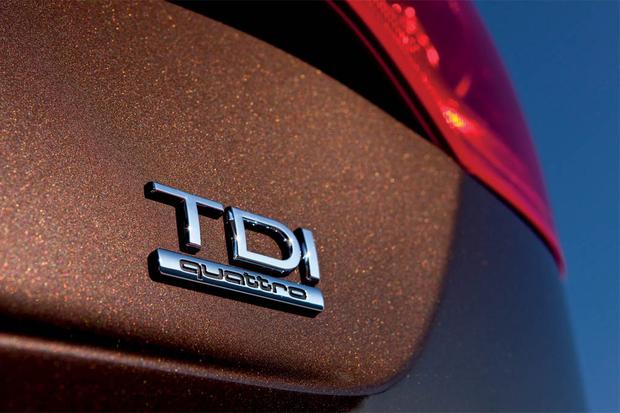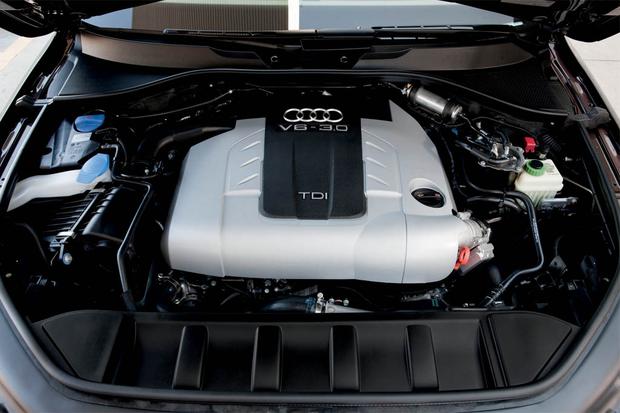 Pros: Standard 3-row seating, satisfying 3.0T V6 offered in two strengths, strong and efficient turbodiesel V6, lovely interior.
Cons: Mediocre fuel economy with 3.0T, surprisingly small third row and cargo bay, aging and needlessly heavy underpinnings.
What's New: The updated 2013 Q7 TDI gets 15 more horsepower and a few extra miles per gallon, while a dual-screen rear-seat entertainment system is now available across the lineup.
Introduction
It would be understandable if the 2013 Audi Q7 felt a little miffed. After all, its former platform-mates, the Porsche Cayenne and Volkswagen Touareg, have been thoroughly reworked for their second generations, whereas the Audi's essentials date back to the George W. Bush era.
But Audi got a lot right about the Q7 in the first place, and thoughtful updates through the years have maintained this luxurious 3-row crossover's competitiveness.
Notably, Audi's stellar supercharged 3.0-liter V6 keeps the Q7 youthful under the hood, providing smooth acceleration and fuel economy that, while not exactly stellar, at least beats what the old V8 could manage. There's also the capable TDI turbodiesel V6, overhauled for 2013 with improved fuel economy and 15 additional horsepower.
As ever, the Q7's sleek cabin with standard 3-row seating makes it a desirable solution for soccer moms and dads, especially with the available dual-screen rear entertainment system. Throw in the Audi connect infotainment suite, and you've got a rolling Wi-Fi hotspot with Google integration.
As good as the Q7 is, there's no ignoring the fact that its underpinnings are now a generation behind. Whereas the Cayenne and Touareg have lost hundreds of pounds with their redesigns, improving both fuel economy and performance, the lightest Q7 still weighs almost 5,300 lb.
But if you're looking for a premium 3-row crossover, Audi's workhorse continues to be a compelling option. The Q7 might not be pleased that its siblings have gotten all the attention, but we think it still has some good years left.
Comfort & Utility
The 2013 Audi Q7 is offered in three trim levels: Premium, Premium Plus and Prestige. Note that the supercharged 3.0T engine comes in two states of tune: the milder one is featured in the Premium and Premium Plus, while the spicier tune comes standard with the Prestige. The turbodiesel V (TDI) is available in all three trim levels, with minor variations from the 3.0T formula.
The Premium trim includes three rows of seating; 18-inch alloy wheels (19s for the TDI); fog lights; LED taillights; a power liftgate; leather upholstery; power front seats with adjustable lumbar; a tilt-telescopic steering wheel; dual-zone automatic climate control; the Multi-Media Interface (MMI) system; iPod and Bluetooth connectivity; and an 11-speaker audio system with an auxiliary input, dual SD-card slots, and satellite radio.
The Premium Plus adds Xenon headlamps with LED accents; a panoramic sunroof; a rearview camera; auto-dimming mirrors; driver memory functions; Audi connect telematics; a 14-speaker Bose audio system; and an enhanced version of MMI with a navigation system.
The Prestige tacks on 20-in wheels; a power tilt-telescopic steering wheel; quad-zone automatic climate control; cooled front seats; and a blind spot warning system. The 3.0T Prestige also includes the S line sport appearance package; a similar package is optional on the TDI Prestige.
Many of the higher trims' features are available on lower trims as options. The Prestige is eligible for some exclusive upgrades, including an adaptive air suspension and a 14-speaker, 1,001-watt Bang & Olufsen sound system. Notable options across the lineup include heated rear seats, a trailer-hitch package, rear side airbags and a dual-screen rear entertainment system.
In our interior evaluation, we noted that the Q7's cabin is clearly older than Audi's latest interiors--look at a picture of the A7 hatchback's dashboard to see what we mean. Nonetheless, it's a very nice place to spend time. From behind the wheel, Q7 drivers will always feel like they got their money's worth. Speaking of seats, the front ones are typical Audi: firmly supportive on long hauls, but largely bereft of meaningful contours. We like the driving position very much, though, as its cockpit-like confines minimize the Q7's imposing dimensions, making it feel more like an oversized luxury sedan than a heavy SUV.
The gauges are classic Audi--two no-nonsense circles for the tachometer and speedometer, with numerals rendered in Audi's distinctive font. As in most Audis, however, the ergonomics are hit or miss, and that includes frequently used features like the fan-speed knob. On the bright side, Audi has made numerous user-friendly improvements to MMI in recent years, to the point that it's now one of our favorite infotainment systems.
The Q7's second-row seat has plenty of legroom, but the bottom cushions are a bit low; we prefer the higher rear bench in the new Touareg. Of course, the Q7's trump card is the standard 2-person third row, which neither the Touareg nor the Cayenne offers. Given the Q7's considerable footprint, the third row is surprisingly cramped, but it'll work for kids.
Cargo space is also strangely modest in the Q7, measuring 10.9 cu-ft behind the third row, 42 cu-ft behind the second row and 72.5 cu-ft with both the second and third rows folded down.
Technology
The Q7 isn't a technological tour de force like Audi's latest sedans, but it still has plenty of gadgets to keep you occupied, many of them standard even on the base Premium model. That includes iPod and Bluetooth connectivity, which are extra-cost items on many other Audis. We also appreciate that the Q7's standard audio system isn't an afterthought; on the contrary, it has ten speakers plus a subwoofer, and it sounds pretty darn good.
But the technological sweet spot is the Premium Plus, which boasts two serious upgrades compared to the Premium. First, there's Audi connect, a mobile telematics system that uses a satellite hookup and a Wi-Fi signal to turn your Q7 into an Internet cafe on wheels, including Google integration with maps and voice search. Then there's the fancier version of MMI with navigation, a crisper display screen and numerous other useful enhancements.
In other words, the Q7's got its technology going pretty well for an old timer.
Performance & Fuel Economy
All Q7's roll with quattro all-wheel drive and an 8-speed automatic transmission. Under the hood, the Q7 3.0T starts with a supercharged V6 rated at 280 hp and 295 lb-ft of torque. We've never felt the need for more gusto from this motor--it gets the massive Q7 up to speed without drama, and it's very smooth.
Still, who wouldn't want a little more power if they could get it? So Audi obliges with the 3.0T S line, which uses the same engine to better effect: 333 hp and 325 lb-ft of torque. Other than being able to brag that your SUV has the same engine as an S4, you'll notice somewhat more urgency at full throttle with the S line, but the difference isn't enormous.
Also on offer is the turbodiesel 3.0-liter TDI V6, which drops to 240 hp but takes the twist title with 406 lb-ft of torque. This TDI engine has been around for a few years now, but the recent introduction of the 8-speed automatic has really awakened it, not to mention the addition of 15 hp for 2013. We also like that you can hardly tell the TDI is a diesel in normal operation; that's how quiet it is.
Towing capacity is 6,600 lb, a healthy figure that's a testament to the Q7's robust architecture.
In light of the Q7's eye-popping weight, the 3.0T's subpar fuel economy isn't a surprise. Both 3.0T models get 16 mpg city/22 mpg highway. The TDI, however, returns an impressive 19/28 mpg, a significant improvement for 2013 over the previous 17/25-mpg rating.
Safety
The Q7 features standard stability control, 4-wheel antilock brakes, and six airbags (front, front side, full-length side-curtain). Rear side airbags are optional.
The government had not crash-tested the Q7 as of this writing, but the independent Insurance Institute for Highway Safety (IIHS) gave the Q7 its highest rating of Good in every tested category.
Driving Impressions
Watch out--the Q7's sedan-like cockpit can fool you into thinking this monumentally heavy SUV is a sporty thing. That illusion should fall by the wayside the first time you attempt to take a corner with any enthusiasm. Still, the Q7 drives with that typical Germanic sense of solidity and precision, making you feel like a better driver than you really are. We find the ride to be pleasantly hushed but decidedly firm over bumps unless the optional (and pricey) air suspension is specified.
Other Cars to Consider
BMW X5: BMW's midsize crossover is likewise getting on in years, but it's still the athlete of this class, and stout new drivetrains have kept it fresh.
Ford Flex: The Flex may seem like a dark horse contender here, but if you load one up and specify the 365-hp EcoBoost V6, crossovers don't get much better.
Volkswagen Touareg: Do you really need the Q7's back seat? If not, we suggest a test drive in the cheaper Touareg, which is one of the most engaging crossovers around--very few flaws in this truck.
AutoTrader Recommends
The TDI's combination of sedan-like fuel economy and dump-truck torque makes it our no-brainer choice. The Q7 TDI is a lot of crossover for your money.