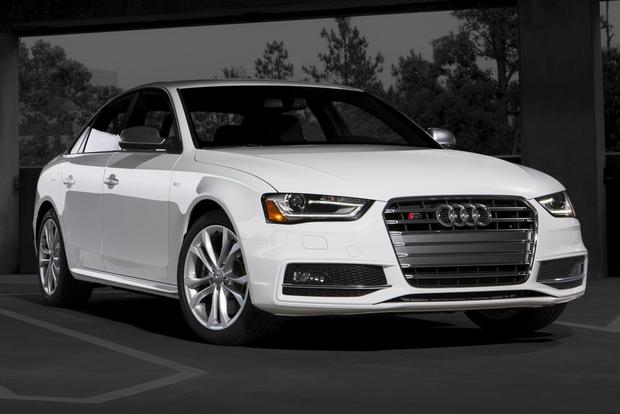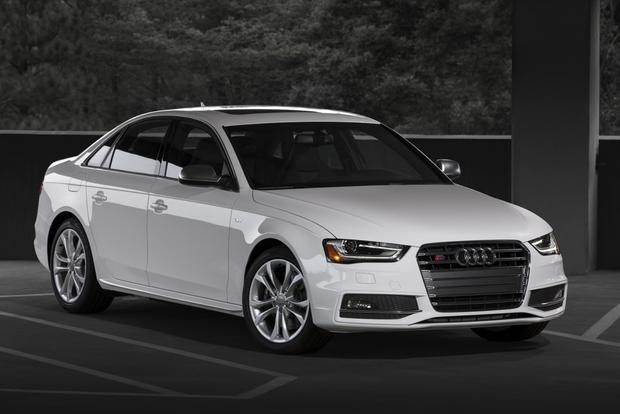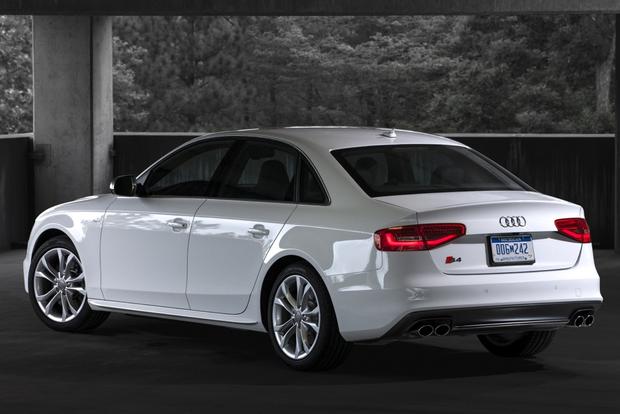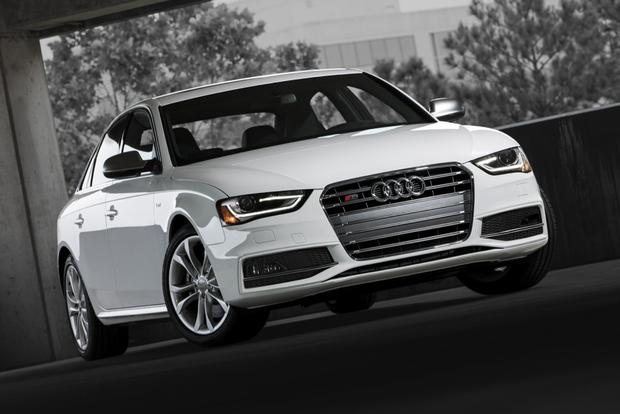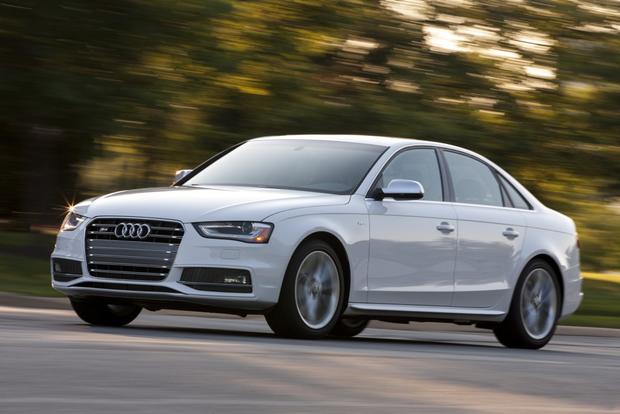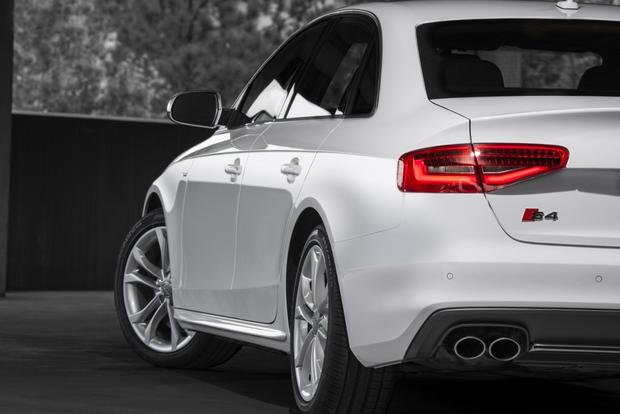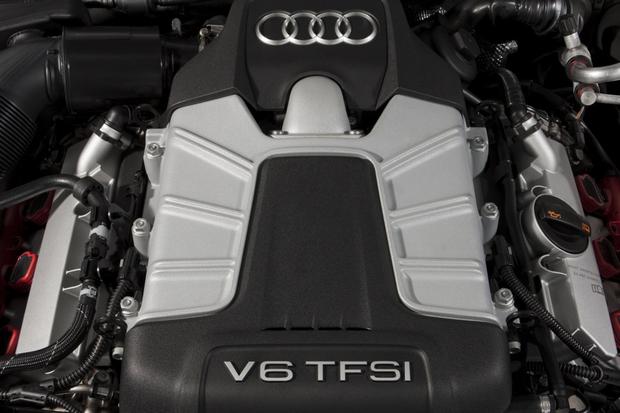 Pros: Exemplary ride/handling compromise, strong supercharged V6, upscale cabin with plenty of available technology, surprisingly adult-friendly back seat.
Cons: Engine doesn't sound that special, unnecessary options can inflate the already hefty price.
What's New: The S4 gets largely the same updates as the rest of the A4 lineup for 2013, including mildly revised styling and the optional Audi connect telematics suite with Google integration.
Introduction
Amid the horsepower arms-race that has gripped Germany's automakers, the 2013 Audi S4 represents a compelling call for moderation. Of course, the fact that we're referring to a 333-horsepower sport sedan as "moderate" speaks volumes about the current state of affairs. But here's the deal: Not everyone needs an uber-sedan like the C63 AMG with more than 450 hp. For some driving enthusiasts, it's more about the overall package than the potential for drag-strip heroics. And the S4's overall package, from its world-class performance to its lovely interior, is one of the most appealing in the business.
Sure, we could pick nits with the supercharged V6's uninspiring exhaust note. If you're going to boast the exact same horsepower rating as BMW's iconic E46 M3, it'd be nice if the soundtracks matched up, too. Moreover, thanks to the front-drive-based platform, you won't see any S4s in burnout or drifting competitions, rear-biased quattro all-wheel-drive system notwithstanding.
But some sport sedan buyers would rather blend in with the crowd than draw unwanted attention with a screaming race-style engine. And seriously, what tiny percentage of shoppers in this segment actually intend to go drifting? The S4 isn't about making tire smoke for action shots; rather, it's about the kind of performance that real drivers on real roads will actually appreciate. If bragging rights are less important to you than all-around excellence, consider casting your vote for the moderate 2013 S4.
Comfort & Utility
The 2013 Audi S4 sedan is offered in two trim levels: Premium Plus and Prestige.
The Premium Plus comes with 18-inch alloy wheels; Xenon headlamps with LED accents; fog lights; quad tailpipes; a sunroof; power heated front sport seats; leather/Alcantara upholstery; a tilt-telescopic steering wheel; tri-zone automatic climate control (including separate rear temperature control); Bluetooth and iPod integration; the Multi-Media Interface system with a dash-mounted control knob; and a 10-speaker audio system with an auxiliary input, an SD card reader, and satellite radio.
The Prestige upgrades to 19-in alloys with wider low-profile tires; adaptive Xenon headlamps; parking sensors; a blind spot warning system; keyless entry with push-button ignition; MMI Plus with navigation and a console-mounted control knob; and a 14-speaker, 505-watt Bang & Olufsen audio system.
MMI Plus can be added to the Premium Plus as an option; ditto the Bang & Olufsen stereo and the 19-in alloys with more serious rubber. Silk Nappa leather upholstery and a sports rear differential with side-to-side power distribution are available on both trim levels. Exclusive Prestige extras include adaptive cruise control, power rear sunshades, and the Drive Select system, which adds the sports differential, adaptive suspension dampers, and electronic adjustments for steering, suspension, transmission (automatic models only), and throttle response.
The S4's interior is largely shared with the regular A4, which is just fine, as the A4 has one of the nicest cabins in its class. Happily, the front sport seats mostly address our criticisms of the A4's standard seats—in particular, lateral torso support is much improved, though we'd like to see electric adjustability for those side bolsters for a snugger fit. The tilt-and-telescopic steering wheel has a wide range of adjustability, so most drivers should have no trouble getting situated. However, drivers with long legs might find their left elbows hanging off the back of the door armrest.
As with the regular A4, the S4's ergonomics are hit or miss. Try to adjust the climate control's fan speed and you'll see what we mean—it's a two-step process. A dedicated fan knob that does what it's told would make on-the-fly adjustments much easier. On the bright side, we think Audi has made great strides with the MMI system's intuitiveness (see Technology below).
The S4's back seat is much more accommodating now than in previous generations, providing plenty of room for two adults to ride comfortably. Also, the outboard rear seating positions feature unusual seatback-mounted side bolsters that emphasize the car's sporty theme. The standard separate temperature control for rear passengers is another nice touch.
Trunk capacity is about average for a compact sport sedan at 12.4 cu-ft.
Technology
The S4 comes standard with iPod and Bluetooth connectivity, as well as an SD-card reader. Some might be troubled by the absence of a USB port, as the S4 won't accept flash drives or USB-connected mp3 players. But in any case, the star of the show is the MMI system, which comes in two forms. In standard spec without navigation, MMI is controlled via a knob on the center stack that requires an uncomfortable reach from the driver's seat. If your budget can handle it, we recommend stepping up to the MMI Plus system, which includes navigation, a more sophisticated display screen and a control knob that's conveniently mounted precisely where your right hand rests on the center console.
Audi has greatly improved the intuitiveness of MMI's menu structure, and the console-mounted knob now features a nifty joystick-like top section that aids operation. Moreover, the introduction of Audi connect for MMI Plus delivers revolutionary new connectivity options, from Google Maps and voice-activated search to mobile Wi-Fi hotspot capability.
Performance & Fuel Economy
The S4 is powered by a supercharged 3.0-liter V6 that makes 333 hp and 325 lb-ft of torque. Quattro all-wheel drive is standard, as is a 6-speed manual transmission; a 7-speed dual-clutch automated manual with paddle shifters is also available.
If you've read our A4 review, you know that we're not too high on that car's modest power output, but the S4 obviously has no such issues. The supercharged V6 is seriously strong across the rev range, besting even the mighty turbocharged inline-6 in the BMW 335i. It's also highly refined—maybe too refined, as there's not much bark to go with this motor's bite, quad tailpipes notwithstanding.
You can't go wrong with either transmission; we're partial to the conventional manual for its satisfyingly precise throws and forgiving clutch, but the dual-clutch automatic is a superstar, executing quick upshifts and perfectly rev-matched downshifts on demand.
The S4's EPA fuel economy ratings have been revised for 2013. Whereas the automatic used to bring up the rear, it now leads with a healthy 18 mpg city/28 mpg highway. The manual, meanwhile, has been downgraded to a less memorable 17/26 mpg.
Safety
The S4 comes with standard stability control, 4-wheel antilock disc brakes and six airbags (front, front side, full-length side-curtain). Rear side airbags are optional.
The S4 has not been crash tested yet, but the regular A4 received four stars out of five overall in government crash testing, including four stars for frontal impacts and five in all other categories. The independent Insurance Institute for Highway Safety (IIHS) gave the A4 its highest rating of "Good" in every category.
Driving Impressions
The S4 may be based on a front-drive platform, but it's more capable on a winding road or racetrack than the rival rear-drive BMW 335i, especially if you get the optional torque-vectoring sports rear differential. The S4's steering feels synthetic to our palms, but it's remarkably precise, and the supercharged engine's instantaneous throttle response is a driving aid in its own right, giving you absolute confidence when you squeeze the throttle. Despite the S4's world-class athleticism, it's got a reasonably supple ride in ordinary driving, and road noise is rarely an issue. Notably, we prefer the S4's standard suspension and steering calibrations to the artificial-feeling (and expensive) Drive Select setup.
Other Cars to Consider
BMW 335i: The new 335i isn't quite as sharp as the previous model, but it's still a very capable sport sedan. This is really the S4's principal competitor.
Mercedes-Benz C63 AMG: The C63 is much more expensive than the S4 if you look at base prices, but it's easy for a well-optioned S4 to creep up toward AMG territory.
Infiniti G37: Although the burly Infiniti lacks the S4's refinement, it makes almost the same horsepower without the aid of forced induction.
AutoTrader Recommends
Skip the Drive Select package, we say, but do spring for MMI Plus with Audi connect, because who wouldn't want to have Google along for the ride? We also recommend the sports rear differential; it's not that expensive as a standalone option, and driving enthusiasts will notice a real improvement.