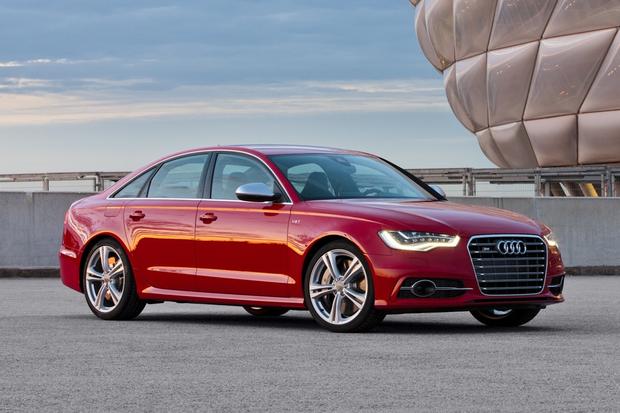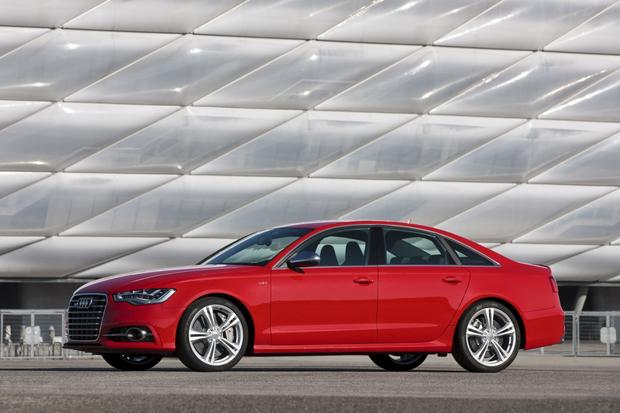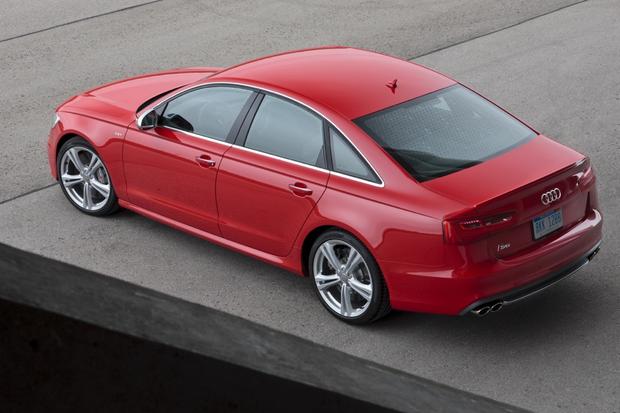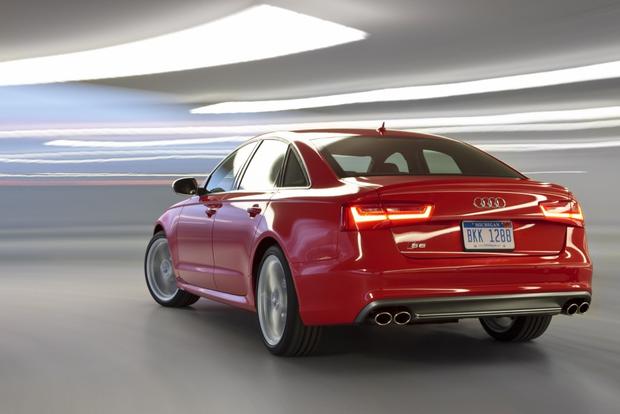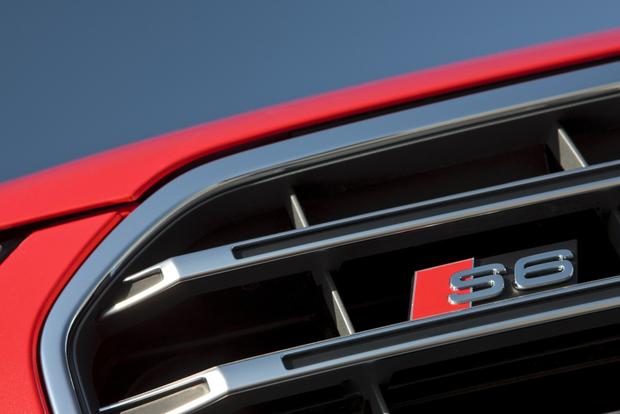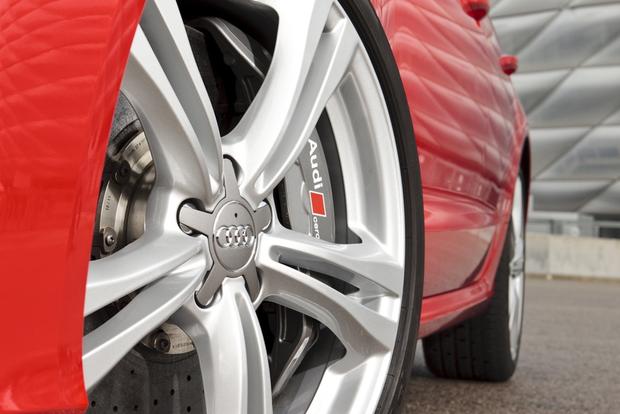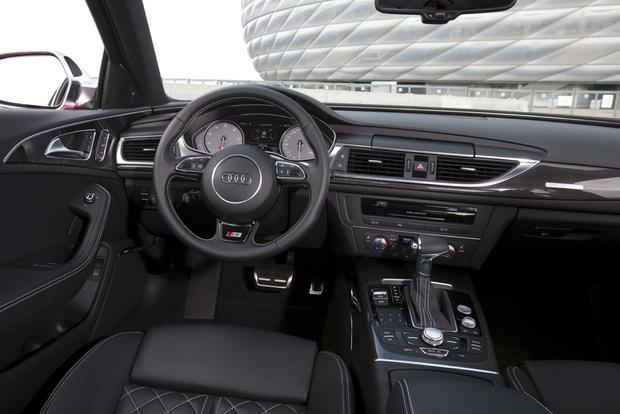 Pros: Seductive mix of acceleration and refinement; genuinely entertaining handling; all the luxury and technology of a regular A6
Cons: Doesn't come cheap
What's New: The Audi S6 is all-new for 2013.
Doubling down is supposed to be risky, but putting chips on the 2013 Audi S6 must have been a complete no-brainer for Audi. That's because the regular A6 sedan on which it's based is already an excellent sport sedan in its own right. We've driven plenty of high-performance models that were based on subpar mainstream products, and that's a recipe for disappointment. But when you start with a car as solid as the A6, how can you go wrong?
Well, surely there are ways, but we're pleased to report that Audi has managed to avoid them with the new S6. It all starts under the hood, where Audi has ditched the A6's excellent supercharged V6 in favor of a much more excellent twin-turbocharged 4.0-liter V8. Audi fans might be dismayed that the exquisite 4.2-liter V8 has been passed over here-but fear not, the S6's twin-turbo V8 is a thing of beauty, delivering its formidable 420 horsepower and 406 lb-ft of torque in an incredibly well-mannered fashion.
Eagle-eyed observers will note that the S6's power figures are basically neck and neck with those of BMW's 550i sedan. This is significant, because it means that the 560-horsepower BMW M5 sedan remains unchallenged by Audi-in a straight line, at least. But if you're looking for a mid-size luxury sedan that can more or less do it all, from acceleration and handling to comfort and technology, the 2013 Audi S6 is one of just a few cars in the world that we consider safe bets.
Comfort & Utility
The 2013 Audi S6 is offered in one well-equipped trim level. It comes with 19-inch or 20-inch alloy wheels, quad exhaust tips, xenon headlamps, an adjustable air suspension, a sport rear differential, a sunroof, Audi's Drive Select system (featuring electronic adjustments for steering, throttle and transmission) and Multi-Media Interface (MMI), leather upholstery, a sport steering wheel with shift paddles, power sport seats with diamond stitching, a Google-Earth-based navigation system, Wi-Fi capability and a Bose audio system. Options include LED headlights, a head-up display, a top-view parking camera, massaging front seats and a Bang & Olufsen audio system.
The S6's cabin is beautifully constructed, with high-quality materials everywhere you look and touch. The basic design is a carryover from the A6, of course, but the S6 adds numerous S-specific touches such as a unique instrument cluster and S6 badging on the steering wheel. We love the sport seats, which provide that robust lateral support that the A6's standard seats lack. The back seat's bottom cushion is rather low by mid-size luxury sedan standards, but most folks should still be able to get comfortable back there.
The S6's ergonomics are generally satisfactory. As in other Audis, little things like adjusting the fan speed can be needlessly complex, but most major controls are straightforward. Happily, the MMI system has improved by leaps and bounds in recent years, with simplified menu structures and extra physical buttons that help streamline common tasks. The MMI control knob falls readily to hand, allowing the driver to use the center armrest and the knob at the same time.
Technology
Like the A6, the S6 is a high-tech haven inside. Well, unless you like to keep your MP3s on a flash drive, since the S6 features SD card slots instead of a USB port. Otherwise, this Audi's technology comes up aces, from the standard iPod/Bluetooth integration to the warm-sounding Bose stereo. Your passengers will undoubtedly be impressed by the crisp, colorful MMI screen, which displays vivid Google Earth images in navigation mode and automatically retracts into the dash when not in use. There's even a touch pad on the center console that can recognize commands you scrawl on it with your finger.
Performance & Fuel Economy
The all-wheel-drive S6 sports a twin-turbocharged 4.0-liter V8 rated at 420 horsepower and 406 lb-ft of torque. The transmission is a seven-speed dual-clutch automated manual. It's hard to overstate this drivetrain's excellence: acceleration feels impossibly swift and smooth, while the dual-clutch transmission delivers quick yet seamless shifts. Although the previous S6 enjoys bragging rights on paper with its 435-hp Lamborghini V10, the 2013 S6 is actually quicker, so the only thing missing is the V10's spine-tingling wail.
Oh, and the V10's miserable fuel economy is also gone, as Audi expects the twin-turbo V8 to return about 17 mpg city/26 mpg highway, thanks in part to a cylinder deactivation system that enables the engine to cruise with just 4 cylinders.
Safety
The 2013 Audi S6 comes with standard stability control and four-wheel antilock ventilated disc brakes. Ten airbags are located throughout the cabin (front, front side, front knee, rear side and full-length side curtain). The S6 also offers a blind-spot warning system and night vision assist with pedestrian detection.
The A6 family had not been crash tested by the government as of this writing, but the independent Insurance Institute for Highway Safety gave the A6 its top rating of Good in every category.
Driving Impressions
Audi likes to talk about all the S6's aluminum parts, but this mid-size sedan still weighs well over two tons, which makes its athleticism all the more impressive. Unlike the 550i or even the M5, the S6 feels light on its feet, and the responsive, precise steering imparts confidence in all situations. If you're really driving with enthusiasm, you can feel the rear-biased Quattro all-wheel drive working with the standard sport rear differential to keep power and grip in sync. Indeed, the S6 drives remarkably like the sporty S4, despite being considerably larger and heavier. Naturally, there's a tradeoff here: the S6's ride is on the firm side, even with Drive Select set to Comfort. If you want a car that's going to pound highways into submission, the Mercedes-Benz E-Class might be more your speed. But if nimble cornering is a priority, the S6 is as good as it gets in this segment.
Other Cars to Consider
BMW 5 Series: The 4-cylinder 528i won't cut it if you're cross-shopping an S6, but the six-cylinder 535i, eight-cylinder 550i and just plain ridiculous M5 give you a compelling range of high-performance options.
Infiniti M56: Infiniti doesn't really have a dedicated performance line like the Germans, but the M56 comes with a 420-hp V8 right out of the box, and the S version handles exceptionally well.
Mercedes-Benz E-Class: You can't go wrong with either the E550 or the E63 AMG: both now offer twin-turbocharged V8s in differing states of tune. The E-Class isn't what we'd call agile, but boy, does it devour miles on the Interstate.
AutoTrader Recommends
he S6 comes loaded up, so the only question is whether you like it more than its rivals. We're not sure which one we'd choose, but the S6 is an incredible all-around package, no doubt about it.