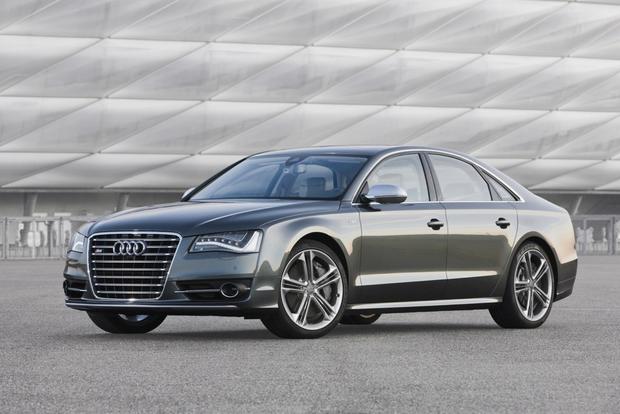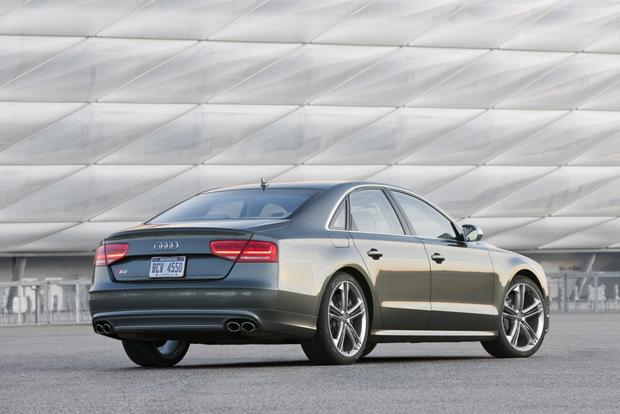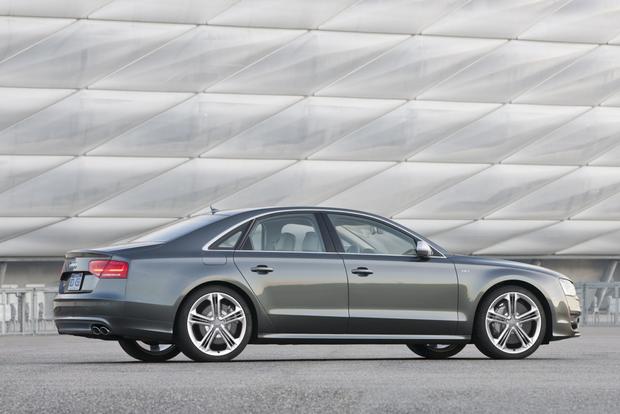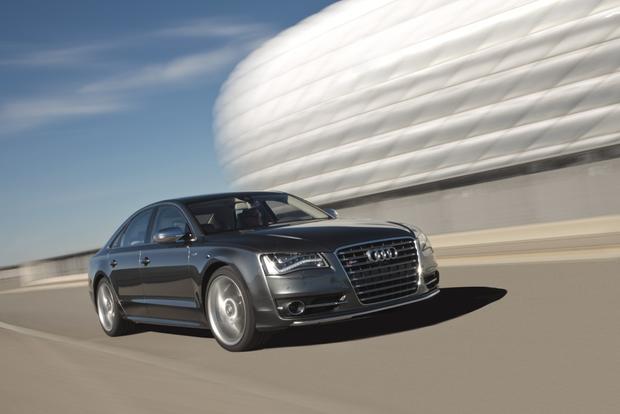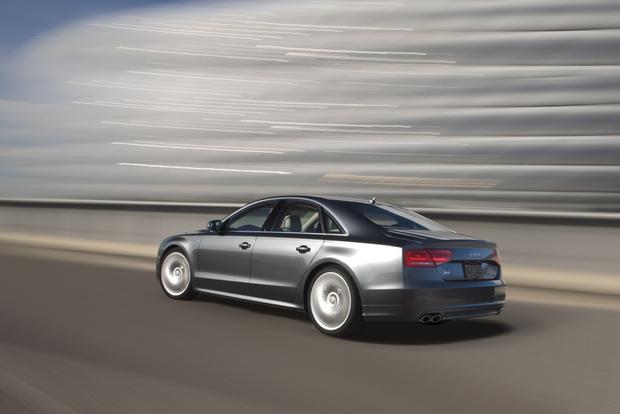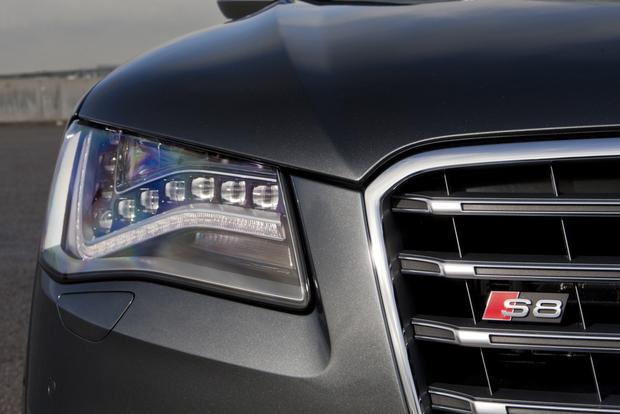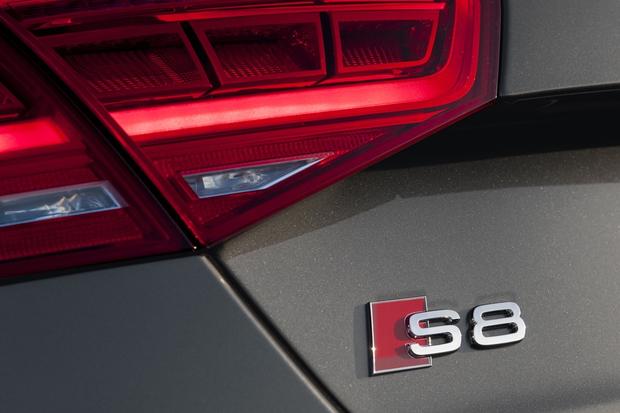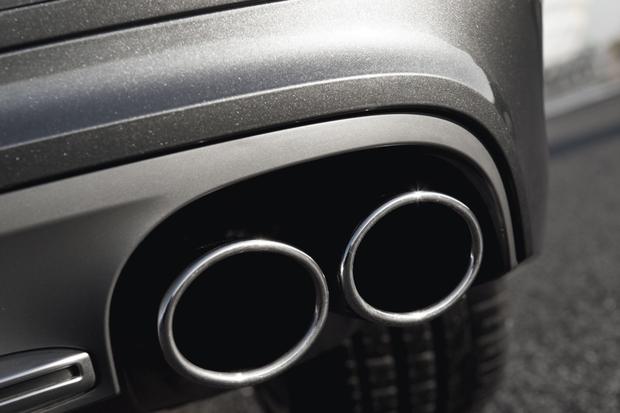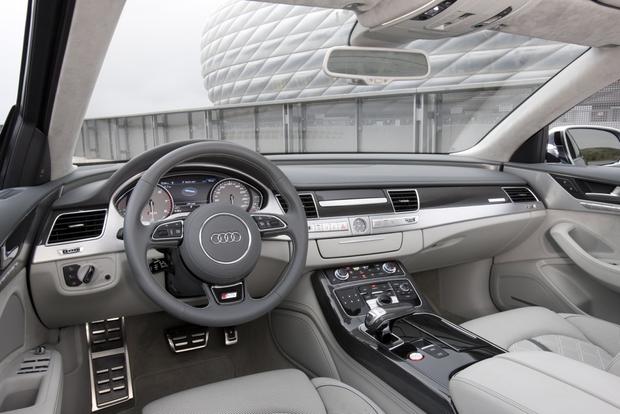 Pros: Lovely twin-turbo V8; even better handling than the ordinary A8; standard all-wheel drive; stellar interior technology galore
Cons: We'll get back to you
What's New: The Audi S8 is all-new for 2013.
The 2013 Audi S8 has a very tough act to follow, as we've found the regular A8 so appealing that it's hard to imagine it getting much better. But Audi clearly thought there was room for improvement, and the twin-turbocharged 4.0-liter V8 under the S8's hood proves that the automaker was right. One of our only complaints about the A8 concerns its relatively mediocre acceleration (aside from the very rare W12-powered L model). That deficiency is decisively rectified in the 520-horsepower S8. If you enjoy the A8 as much as we do but just wish it had a little more oomph, the new S8 is here to save the day.
The engine isn't the only thing that's special about the S8. Subtle styling tweaks abound inside and out, and both the suspension and the brakes have been treated to a sporty once-over. But here's the thing: the S8 isn't a white-knuckle sport sedan. It's not some oversized wanna-be M3. No, the S8's raison d'etre is to dole out serious speed in a civilized, responsible fashion. Sticking with the BMW analogies, the S8 is much like the Alpina B7: it's very fast, yet its credentials as a luxury sedan are fully intact.
And that's as it should be in this exclusive segment. With the 2013 S8, Audi's engineers fixed what needed fixing in the engine bay and added some agility for good measure, but as for the rest of this outstanding car, they smartly left well enough alone.
Comfort & Utility
The 2013 Audi S8 is offered in one well-equipped trim level that is based on the short-wheelbase A8 sedan. Standard equipment includes 21-inch alloy wheels, adaptive xenon headlamps with LED running lights, LED taillights, an adjustable air suspension, a sport rear differential, quad exhaust tips, Drive Select (which provides electronically adjustable steering, suspension and throttle settings), a sunroof, leather upholstery, automatic climate control, 22-way power heated and cooled front seats with massage, a Bose audio system, mobile Wi-Fi capability and Audi's Multi-Media Interface (MMI) with an eight-inch power retracting TFT display screen, full iPod/Bluetooth integration, twin SD card slots, and a navigation system with Google Earth street views. Notable options include a Bang & Olufsen audio system and adaptive cruise control.
The regular A8 already had one of the nicest cabins in the automotive world, and the S8 differs only in its sporting accents. Unique carbon trim adorns the dashboard, and the S8 badges and classic gray-faced S gauges never let you forget that you're driving something special. The materials used are uniformly superb: practically everything looks and feels expensive. The eight-inch power retracting MMI display screen is a work of art, especially when you call up Google Earth via the navigation system to get a 3D street view of your destination.
If there's anything that's not awesome about the S8's interior, it's the front seats, which don't quite provide the world-class lateral bolstering of some rival chairs. Still, with 22-way power adjustability and standard massage functions, we doubt S8 drivers will spend much time complaining. Rear passengers might have a more legitimate beef. The bottom cushion is a bit low and unsupportive by executive sedan standards. By all other standards, however, the folks in back have it pretty good.
Ergonomics almost seem irrelevant given the level of craftsmanship here, but then you start driving-and you realize that little tasks like adjusting the fan speed or seat-heater intensity can be needlessly complex. Fortunately, most major controls are straightforward, and MMI has improved by leaps and bounds in recent years, with simplified menu structures and extra physical buttons that make on-the-fly adjustments much easier.
Alas, the S8 shares the A8's compact trunk, so if you're thinking that a big Audi sedan must have a boot to match, think again.
Technology
If all the geeks in the world got together and picked their favorite executive sedan, the S8 would have to be the odds-on favorite. The standard features are jaw dropping, from iPod/Bluetooth integration to a Bose stereo and a crowd-pleasing MMI display screen that coolly slips into the dash when not in use. Then there's the navigation system with Google Earth street views, the touchpad that can decipher fingertip scribbles and the rolling Wi-Fi capability. You can even get a night vision collision warning system that identifies pedestrians in the dark at a distance of up to 300 feet. And we'd be remiss not to mention the optional Bang & Olufsen stereo, which costs thousands but adds avant-garde motorized tweeters that power up out of the dash when you turn the system on.
Performance & Fuel Economy
The 2013 Audi S8 is powered by a twin-turbocharged 4.2-liter V8 that generates 520 horsepower and 479 lb-ft of torque. If you're familiar with Audi's other new S cars, the S6 and S7, you'll notice that the S8's engine has the same displacement but makes considerably more power. Audi wanted its flagship sedan to stand apart, and indeed, the S8 actually accelerates more quickly than its smaller and lighter brethren, even though it uses a conventional eight-speed automatic transmission instead of their dual-clutch automated manuals. But speed is cheap and plentiful these days, so what really sets the S8's drivetrain apart is its refinement. There's supreme confidence in the way the S8 gathers velocity, reminding us of a high-speed German train more than anything else.
As for fuel economy, Audi expects a highway yield in the neighborhood of 25 mpg, which is pretty amazing when you think about how inefficient 500-hp cars used to be.
Safety
The 2013 Audi S8 comes with standard stability control, four-wheel ABS, active front head restraints and 10 airbags (front, front side, front knee, rear side and full length side curtain). Other safety features on offer include a blind spot warning system and night vision assist with pedestrian detection.
The A8 family has not been crash tested in the U.S.
Driving Impressions
As capable as the regular A8 is, it's got nothing on the S8. That 520-hp V8 defines the S8's character, making it feel unruffled and massively capable in virtually any situation. On the handling front, the S8 isn't dramatically better than the already agile A8, but its standard sport rear differential, sport-tuned dampers and meaty 21-inch tires perpetually maximize grip, whether you're navigating a rainstorm or attacking corners on your favorite road. Predictably, the ride is firm atop such large, low-profile rubber, but the adjustable air suspension makes the best of it.
Other Cars to Consider
BMW 7 Series: BMW doesn't have a direct S8 equivalent, but the twin-turbocharged 750i with the Sport package is pretty similar, and the exclusive Alpina B7 might do the Audi one better.
Mercedes-Benz S-Class: With its mandatory long wheelbase, the S-Class can't keep up with the Audi on tight roads. In a straight line, however, few cars can touch the Benz, especially the S63 and S65 AMG models.
Porsche Panamera: If you don't mind driving a hatchback, and specifically a rather controversially styled hatchback, make sure you give the Panamera a shot. It's arguably the most athletic luxo liner on the road today.
AutoTrader Recommends
How could we not recommend the 2013 S8? It's one of the finest automobiles in the world. If you're lucky enough to own one, you'll likely never regret it.