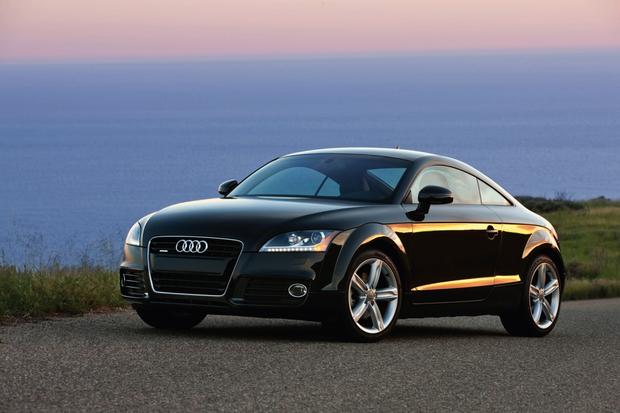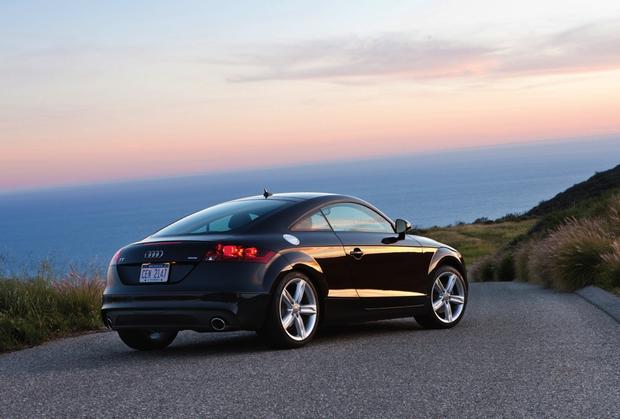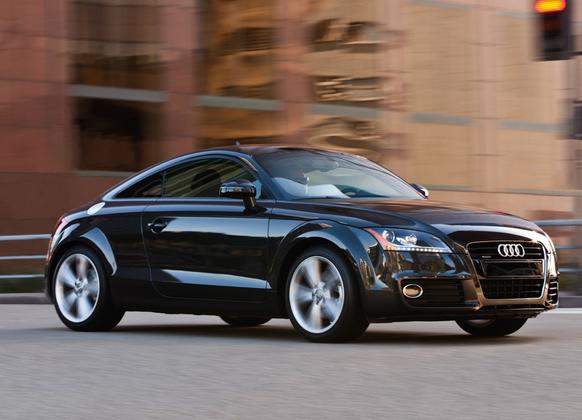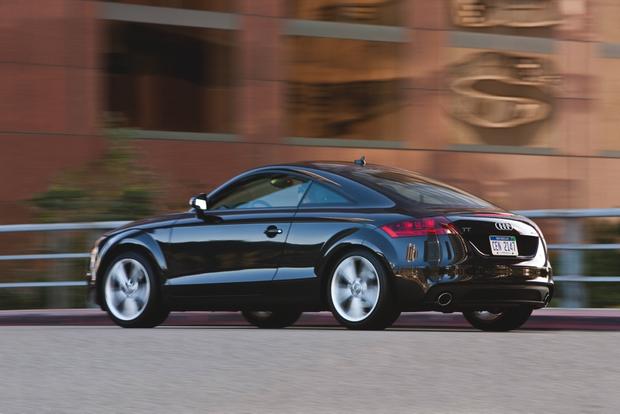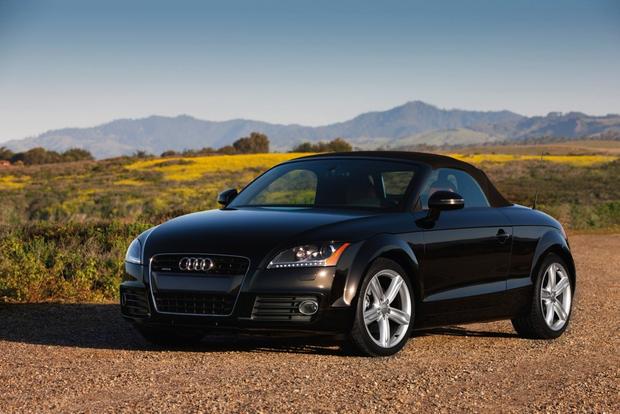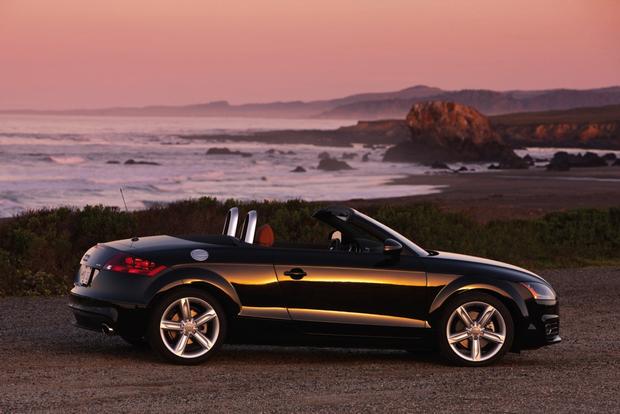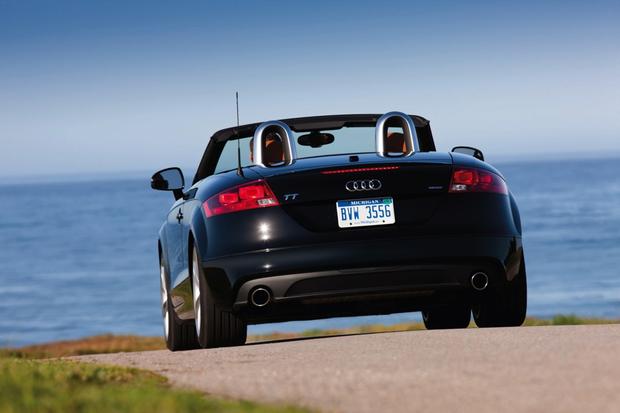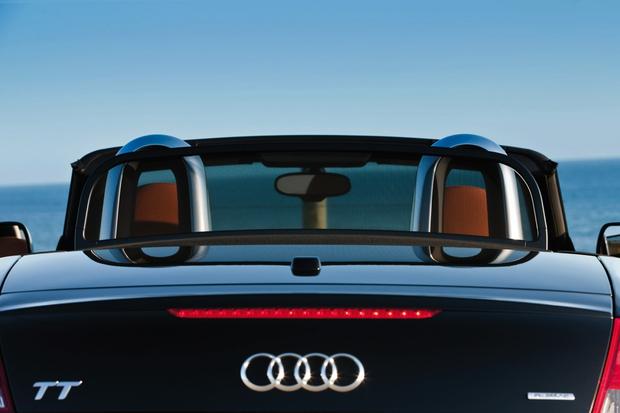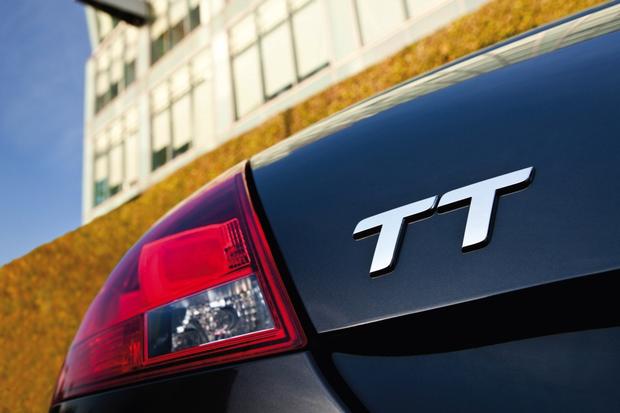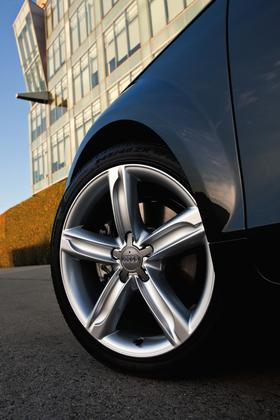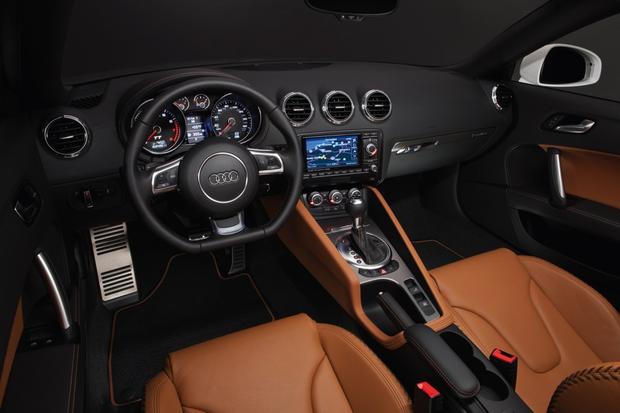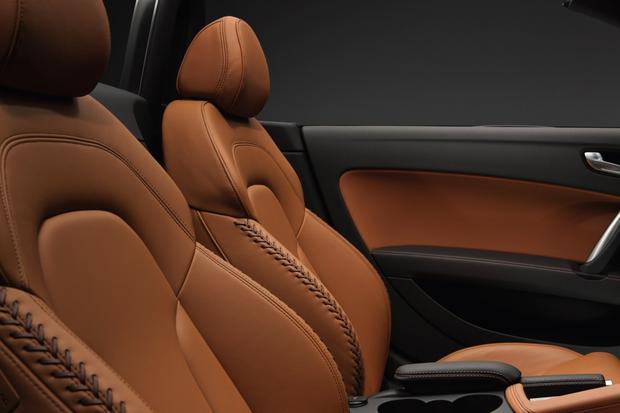 Pros: Distinctive looks, premium interior, standard all-wheel drive, fun to drive, 2.0T engine is stronger than it used to be.
Cons: Surprisingly pricey, many rivals offer more power and handling sharpness.
What's New: The 2013 TT gets an optional S line competition package and some new wheel styles. It also loses 1 mpg in the city, according to the Environmental Protection Agency (EPA).
Introduction
For most cars, styling is just another aspect of the overall package, but the 2013 Audi TT is all about drawing stares. From its flashy LED accent lights to its Porsche-like rear haunches, the TT cuts a striking figure. The interior, too, is pleasing to the eye, especially with the classic baseball-glove leather upholstery.
Naturally, you'll want to know whether there's substance behind it all. Well, that depends on how picky you are. Fans will point to the TT's energetic turbocharged engine, standard all-wheel drive and nimble handling. Foes will retort that the TT's platform is closely related to that of the Volkswagen Golf, which incidentally comes in turbocharged, all-wheel-drive R trim for less coin.
We can see both sides, but there's no doubt that the 2013 TT looks good enough to clinch a sale on appearance alone. Add some solid fun-to-drive points to that equation, and we'd say the 2013 TT is sitting pretty despite its advancing age.
Comfort & Utility
The 2013 Audi TT coupe and convertible (Roadster) are offered in two trim levels: Premium Plus and Prestige.
The Premium comes with 18-inch alloy wheels; Xenon headlamps with LED accents; fog lights; a power-retracting rear spoiler; power front seats with adjustable lumbar; leather/Alcantara upholstery; a 3-knob climate system with automatic temperature control; a tilt-telescopic steering wheel with shift paddles; Bluetooth connectivity; and a 140-watt audio system with an SD-card slot, an auxiliary input, and satellite radio.
The Prestige steps up to parking sensors, interior LED accents, heated front seats, Napa leather upholstery, a 255-watt Bose audio system and Audi's Multi-Media Interface with a 6.5-in display screen, a dash-mounted control knob, navigation with real-time traffic, a 6-CD changer and two SD-card slots.
Notable options include the S line appearance package (which adds 19-in alloy wheels), S line competition package (consisting of matte-black 19-in alloy wheels, black exterior trim, a rear spoiler and sporty interior styling cues), special leather upholstery stitched in a baseball-glove pattern and adaptive magnetic ride dampers with 2-mode electronic adjustability. Also, some of the Prestige's standard features can be added to the Premium Plus as options.
Our interior evaluation of the TT revealed top-notch materials and an intimate, cockpit-like driving position that's enhanced by the central control panel being slanted toward the driver. The front seats provide satisfying lateral support in corners, a welcome departure from Audi's norm. Although the TT is a tiny car, we've found that tall folks have no problem getting comfortable behind the wheel, thanks in part to the tilt-and-telescopic steering wheel and the standard power height adjustment for the driver's seat.
The wheel has a cool race-inspired flat-bottom design, and behind it are a classic analog tachometer and speedometer rendered in Audi's distinctive font. Ergonomics are surprisingly sound: the climate controls, notably, forgo Audi's typical 2-knob digital setup in favor of a simpler 3-knob setup that actually lets you adjust the fan speed without going through an extra step or two. But we're not big fans of the TT's outdated previous-generation MMI system; more on that in Technology, below.
The TT coupe technically has a back seat, but it's one of the least useful of its kind. We'd probably leave it folded down most of the time to take advantage of the coupe's hatchback convenience and 24.7-cu-ft maximum cargo capacity (compared to 13.1 cu-ft behind the rear seats). The Roadster has only two seats and a cargo capacity of 8.8 cu-ft.
As for the Roadster's soft-top, it raises and lowers quickly, and Audi says the top can be operated at speeds up to 31 mph. The Roadster also comes with a power-operated wind deflector.
Technology
Relative to other Audis, the TT is a bit behind the times when it comes to tech. Consider the fact that you can't get full iPod integration on the Premium Plus unless you pony up for MMI, which will run you about two grand. Other Audis let you add iPod integration as a separate, far cheaper option. Also, while the TT comes standard with SD-card compatibility, a USB port is absent, so you'll have to adapt if you're used to carrying around a flash drive full of mp3s or connecting your mp3 player via USB.
Furthermore, the MMI system offered in the TT isn't the latest version, so it's got an older, less-intuitive menu structure—and it's DVD-based, so its performance lags behind that of the latest hard-drive-based MMI in other models. Another kvetch about this version of MMI is that the control knob is located on the dashboard rather than on the center console; the latter is a more convenient spot for the driver, and it's increasingly becoming Audi's default.
The TT's still got a solid technology roster overall, but we know Audi's capable of better, so if we seem a little harsh here, that's why.
Performance & Fuel Economy
The TT is powered by a turbocharged 2.0-liter inline-4 rated at 211 horsepower and 258 lb-ft of torque. The drivetrain comprises Quattro all-wheel drive and a 6-speed dual-clutch automated manual transmission. The "2.0T" engine is the same one that's standard in the A4 sedan, but the TT's a few hundred pounds lighter, so there's enthusiastic acceleration on tap whenever you goose the TT's throttle. The automated manual transmission is even more impressive, upshifting instantaneously and downshifting smoothly thanks to precise rev-matching. Of course, there are much faster cars available for similar coin, but no one would ever accuse the TT of being slow.
Fuel economy is 22 mpg city/31 mpg highway, which isn't stellar for a relatively lightweight car with 4-cylinder power.
Safety
The TT comes with standard stability control, 4-wheel antilock disc brakes and six airbags (front, front side, front knee).
The TT has not been crash-tested in the US.
Driving Impressions
The TT may not be a serious performance car, but it's pretty fun to drive anyway. Grip from the Quattro all-wheel-drive system is tenacious, and the engine and transmission complement the chassis nicely. Predictably, the ride is firm, but it's never harsh, and the optional magnetic dampers make the TT even suppler. If you're drawn to the TT's unique sense of style, you'll probably be quite pleased with how it drives.
Other Cars to Consider
Ford Mustang GT: Hey, don't laugh; the Mustang's got strong styling credentials of its own, both coupe and convertible, and the GT model's delectable 5.0-liter V8 blows the TT's turbo four into the weeds.
Mini Cooper S Coupe/Roadster: Mini now offers two-seat versions of its turbocharged Cooper S: a coupe and a roadster, just like the TT. Although the Minis are front-wheel-drive only, they're a riot to pilot, and they're a lot cheaper, too.
Volkswagen Eos: The Eos may have relatively staid styling and a less powerful version of the 2.0T engine, but it boasts a power-folding hardtop and a lower base price.
AutoTrader Recommends
We think the TT coupe's fastback profile is a big part of the car's aesthetic appeal, so we'd skip the Roadster and get the coupe instead.