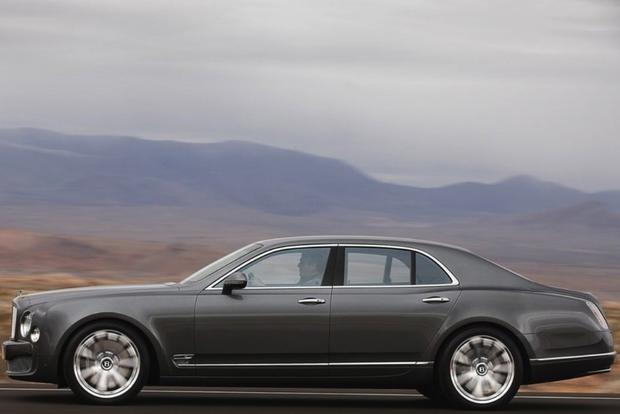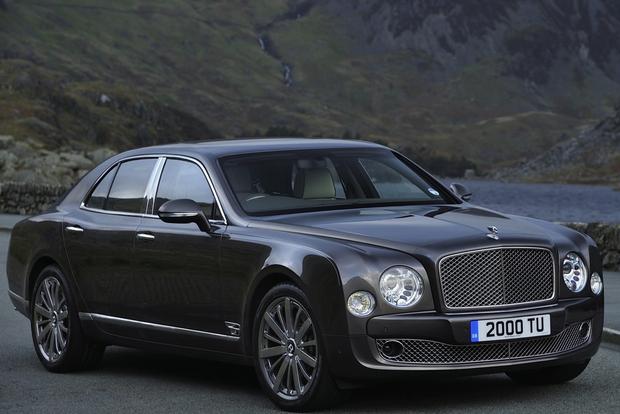 Pros: "King of the road" driving feel; Well-equipped interior uses the finest materials; Immense torque for acceleration at all speeds
Cons: Love-it-or-hate-it styling, thanks to huge circular lights; High cost hard to justify with Continental Flying Spur; Feels heavy, even with 752 pound-feet on tap
What's new: The 2013 Bentley Mulsanne adds a high-dollar, sport-themed Mulliner Driving Specification package for the new model year. Features include lightweight 21-inch wheels, diamond-stitched leather and a "Sport" chassis setting.
Overview:
The Mulsanne debuted in 2011, replacing Bentley's staid Arnage luxury sedan. Like the Arnage, the Mulsanne is a rear-wheel drive four-door sedan powered by a 6.75-liter V8. In the Mulsanne, that engine is turbocharged to produce 505 horsepower and a massive 752 pound-feet of torque. Power reaches the ground through the Mulsanne's smooth eight-speed automatic transmission.
While the Mulsanne doesn't offer trim levels, the new Mulliner Driving Specification package adds a sporty choice to its lineup. A new "Sport" setting tailors the chassis and steering response for spirited driving. Z-rated tires and 21-inch wheels improve handling. And enhanced aesthetics include diamond-stitched leather and "flying B" fender vents.
The starting price for the 2013 Bentley Mulsanne is just under $300,000. That's a hefty figure considering the more powerful Continental Flying Spur starts around $185,000. But for the Mulsanne's highly particular buyers, little else will do.