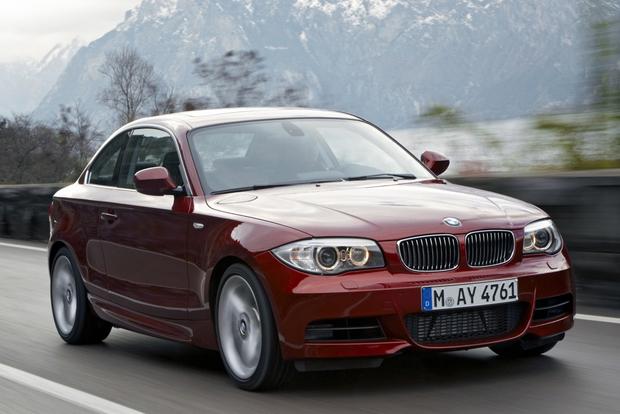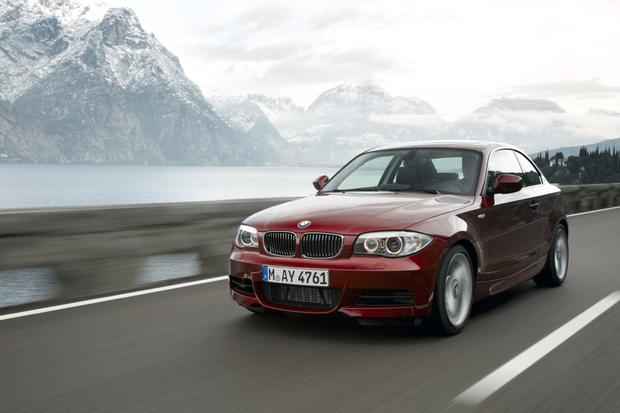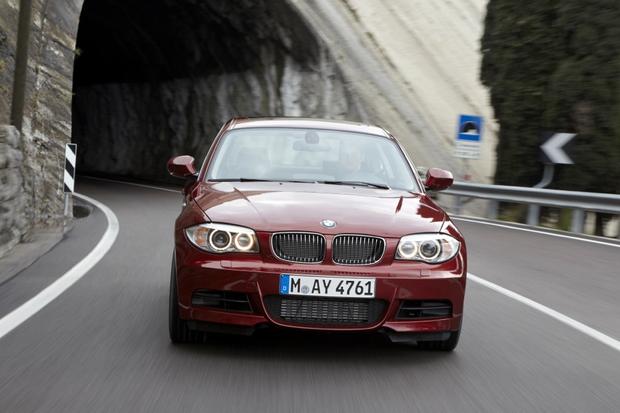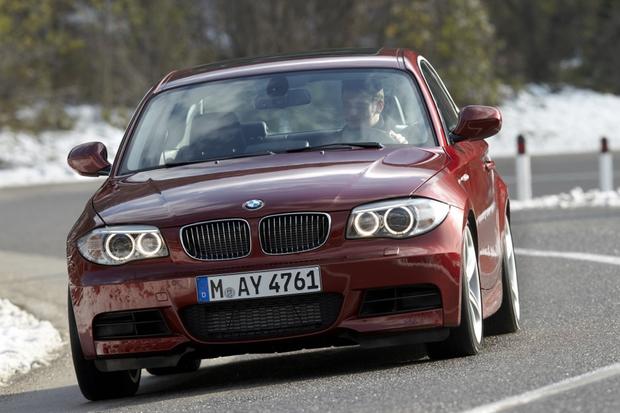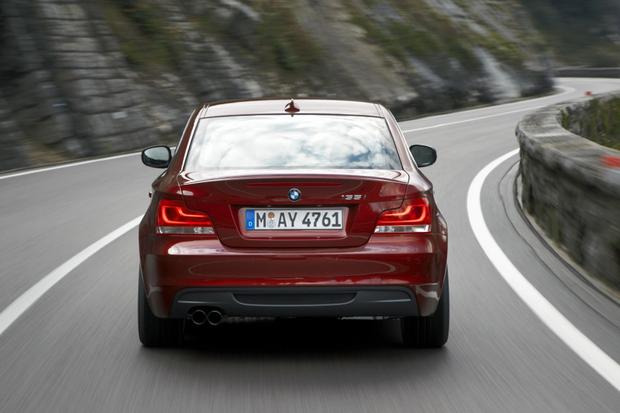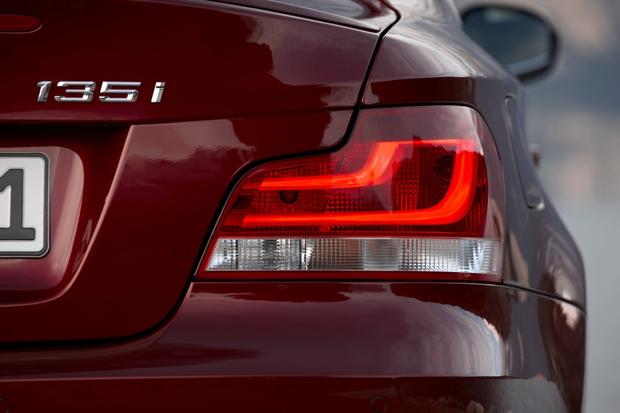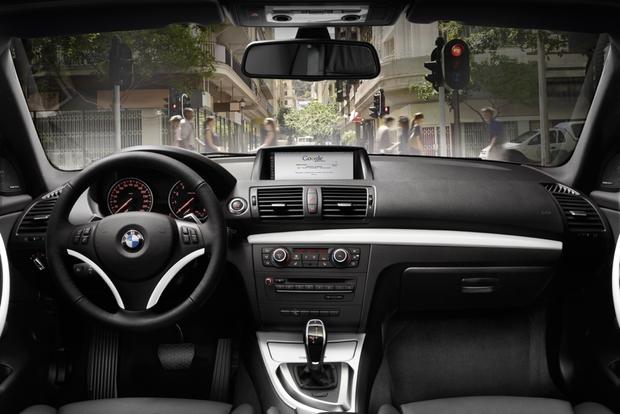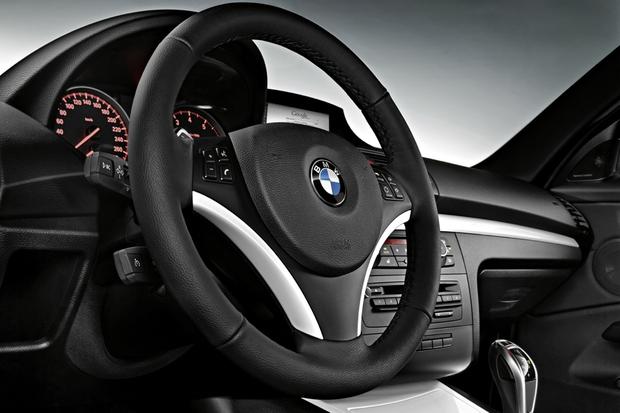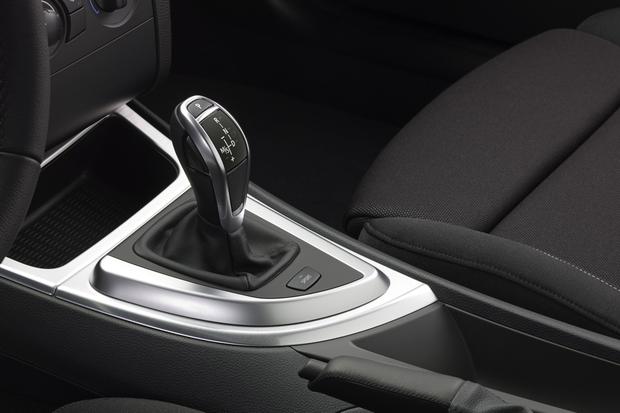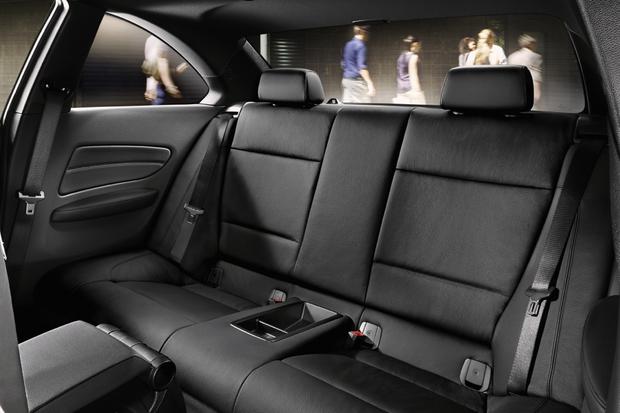 Pros: Strong and refined engines; responsive handling, sophisticated ride; decent fuel economy; optional iDrive interface has evolved into a desirable feature.
Cons: Tight back seat; polarizing styling; so-so interior quality.
What's New: The 135is coupe and convertible debut for 2013, featuring various performance-themed design tweaks along with a little extra power and torque.
Introduction
As BMW continues its shift toward luxury, the 2013 BMW 1 Series coupe and convertible remind us of the company's performance-oriented past. Based on the previous 3 Series' platform, the 1 Series feels small and alert, communicating immediately and vividly with the driver. Steering response is quick like a sports car's, not relaxed like a touring sedan's. The convertible's extra weight does dull this athleticism a bit, but when it comes to driving dynamics, there's not a bad apple in the bunch.
2013 could be your last chance to channel this old BMW spirit, because the 1 Series is due for replacement soon. Although the lineup is generally unchanged from 2012, its farewell tour does feature a new member: the turbocharged 135is. Blessed with gains of 20 horsepower and 17 lb-ft of torque compared to the 135i, this enthusiast-oriented model probably won't make folks forget the dearly departed, twin-turbocharged 1 Series M coupe. Nonetheless, the 135is performs well on its own merits, and BMW says the generous equipment roster represents a bargain over a similarly outfitted regular 135i.
We still haven't fully warmed to the 1 Series' styling, and its interior quality remains a step or two behind that of the 3 Series. But if a nimble 2-door that evokes what BMW used to be appeals to you, you can't go wrong with the 2013 1 Series.
Comfort & Utility
The 2013 BMW 1 Series coupe and convertible are offered in three trim levels: naturally aspirated 128i, turbocharged 135i, and even more turbocharged 135is.
The standard 128i includes 17-inch alloy wheels; automatic headlamps; fog lights; heated mirrors and windshield-washer jets; a tilt-telescopic steering column; height-adjustable front seats; leatherette upholstery; push-button start; dual-zone automatic climate control; cruise control; and iPod/USB connectivity.
The 135i adds mild exterior styling tweaks, a turbocharged engine, 18-in wheels with staggered-width tires, a sport-tuned suspension (optional on 128i), adaptive Xenon headlamps with washers, a sunroof (coupe only), and power lumbar support for the front seats. Most of the 135i's standard luxuries can be added to the 128i.
The 135is gets slightly more turbo boost, a sport exhaust, different 18-in wheels, glossy black exterior trim, sport seats and subtle interior flourishes such as blue stitching and stainless steel pedals. You can option a 135i in much the same way, but the 135is provides a package discount along with a little bit of exclusivity.
Being a BMW, the 1 Series offers a dizzying array of packages and accessories, including the brilliant M Sport package (effectively standard on the 135is), a Cold Weather package and dealer-installed items such as lowering springs and roof-mounted cargo boxes. Notable standalone factory options include a Harman Kardon audio system and the iDrive infotainment system with navigation.
In our interior evaluation, we noted that the 1 Series' standard front seats are surprisingly nondescript, displaying none of the thoughtful contouring that generally sets BMW seats apart. But we love the optional sport seats (manual on 128i, power on 135 models), which feature a full range of adjustments and some of the most satisfying side bolsters you'll find at any price. The view forward from the driver's seat is classic BMW: simple gauges, good visibility and mostly straightforward controls.
We've even come around on the once-befuddling iDrive system, as it's much easier to use these days (see Technology, below). The only real strike against the interior, aside from a design some might consider boring, is that the materials used are clearly entry-level--we'd put them closer to a MINI Cooper than a 3 Series in quality.
The 1 Series is shorter and narrower than the 3 Series, which is fun when you're driving but not so fun when you have to ferry people around in the back seat. Unlike 2-door 3 Series models, which have long offered adult-grade rear passenger space, the 1 Series barely has enough room back there for kids. Not surprisingly, the trunk isn't big either--the coupe's measures 10 cu-ft, while the convertible offers 8.5 cu-ft with the top up and about 7 cu-ft with the top down.
Speaking of the convertible, the standard power-operated cloth top gets no complaints from us. It goes up and down with reasonable swiftness, and it's an integrated system, so there's no need to get out and mess with a separate tonneau cover like some cheaper convertibles.
Technology
We're pleased to report that the available iDrive system (provided only with the navigation option) has improved dramatically. The screen is wide and crisp--one of the best on the market--and the simplified interface employs a number of physical buttons alongside the console-mounted knob for direct access to common pathways. Furthermore, iDrive is now hard-drive based, so processing speeds are much higher, and you can store eight gigabytes of music on it, too. Bluetooth and iPod/USB connectivity are also standard across the board.
Performance & Fuel Economy
All 1 Series models are rear-wheel drive and start with a 6-speed manual transmission. The 128i is powered by a 3.0-liter inline-6 that generates 230 hp and 200 lb-ft of torque. This engine is nearing retirement, having been replaced by BMW's new turbo 4-cylinder in just about everything else, but that doesn't mean you should avoid it. On the contrary, it's one of our favorite engines, delivering surprisingly strong acceleration with an almost eerie smoothness.
If it's big-time power you're after, though, there's no doubt that you'll want to step up to the 135 range with its turbocharged 3.0-liter inline-6. The regular 135i cranks out 300 hp and 300 lb-ft of torque, while the 135is ups those numbers to 320 and 317, respectively. Either way, the turbo motor largely retains the naturally aspirated version's refinement while adding a serious wallop when you step on it. Even at the 1 Series' advanced age, the 135 models are among the smoothest, most rewarding performance cars available for under $50,000.
The optional automatic transmissions vary by model. The 128i is eligible for a 6-speed conventional automatic at no cost, while the 135i and 135is offer a 7-speed dual-clutch automated manual transmission. We approve of both, as the 6-speed's been doing duty in numerous BMW products for years, while the 7-speed cut its teeth in the otherworldly M3. The standard 6-speed manual is still the purist's choice, though, providing the company's trusty long-throw shift action via a stubbier gear lever than BMW's norm.
For fuel economy, the 128i coupe is EPA rated at 18 mpg city/28 mpg hwy with either transmission (18/27 mpg for the convertible), while the 135i coupe gets an even better 20/28 mpg with the manual (19/28 mpg for the convertible) but just 18/25 with the dual-clutch gearbox.
Safety
The 1 Series comes with standard stability control, 4-wheel antilock disc brakes and six airbags (front, front-side, full-length side curtain). It has not yet been crash tested.
Driving Impressions
It's a sign of the 1 Series' all-around goodness that we can't decide which model we prefer to drive. While the 128i coupe is the closest BMW comes these days to offering a pure sporting car, the 135i's turbocharged thrust is totally addictive. As for the 135is, it's not discernibly different from the 135i from behind the wheel (the 1 Series M's mechanical limited slip differential is absent here), so we'd let dealer pricing be the determining factor. No matter which model you settle on, expect an unusually supple ride, even with the M Sport suspension.
The choice between convertibles is easier. Because the drop-top's extra weight noticeably taxes the base engine, we definitely prefer the 135i or 135is. The convertibles don't handle as well as the coupes, however, with the latter boasting sharper steering response and less body roll.
Other Cars to Consider
Infiniti G37: The G37 convertible gets a folding hardtop instead of a cloth roof, and both the coupe and convertible models are bigger and more luxurious than the 1 Series.
Ford Mustang: It might seem an odd comparison, but the Mustang's handling has improved by leaps and bounds lately, and you could easily get into a V8-powered Mustang GT coupe or convertible for 1 Series money.
Lexus IS C: Offered only as a retractable-hardtop convertible, the 2-door IS is also due for replacement soon, but it's a surprisingly fun car to drive, especially if you get the 3.5-liter V6.
AutoTrader Recommends
We recommended the 128i coupe last year, but this year we can't resist the siren song of that turbocharged motor. Our 135 would need to have the M Sport goodies, but otherwise, we'd just take the first 135i or 135is we could find at an appealing price.