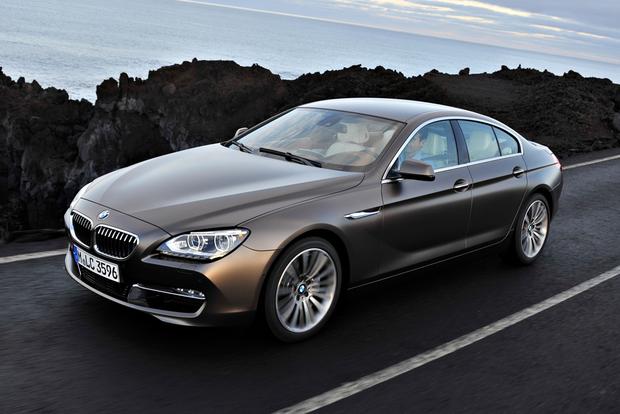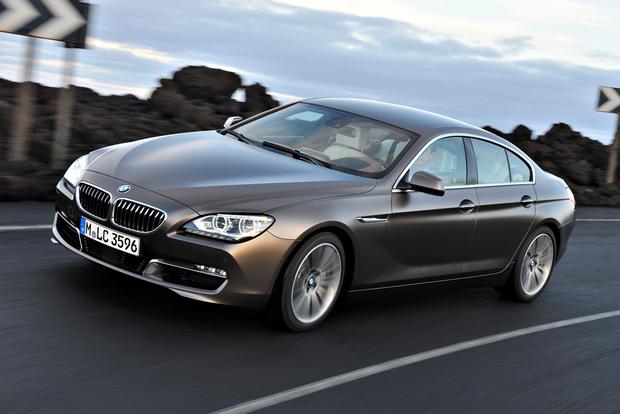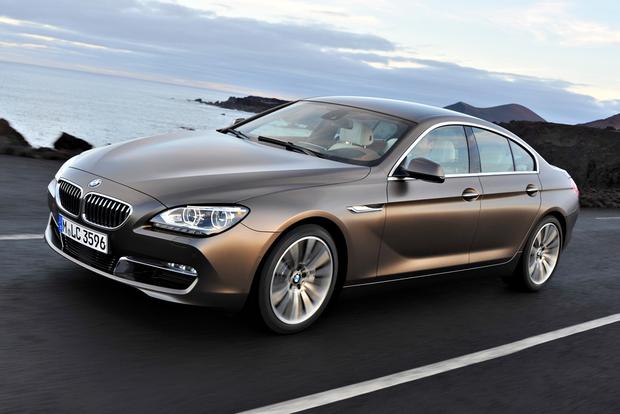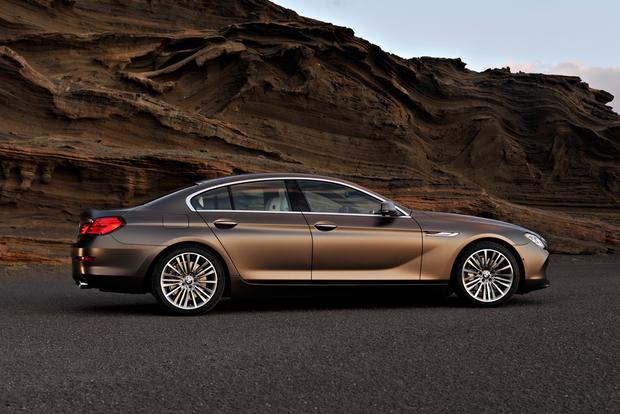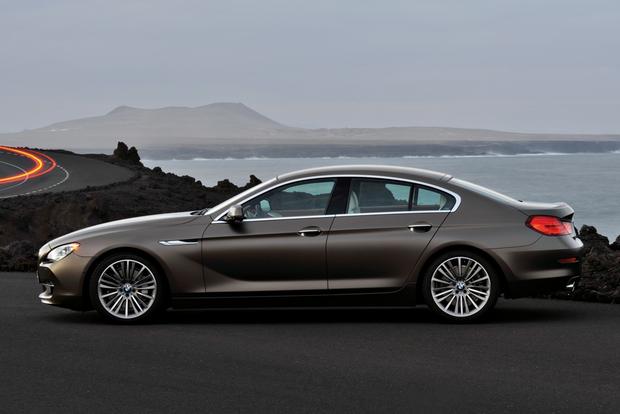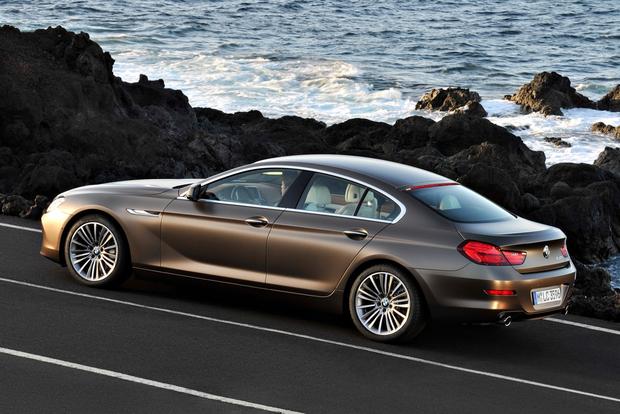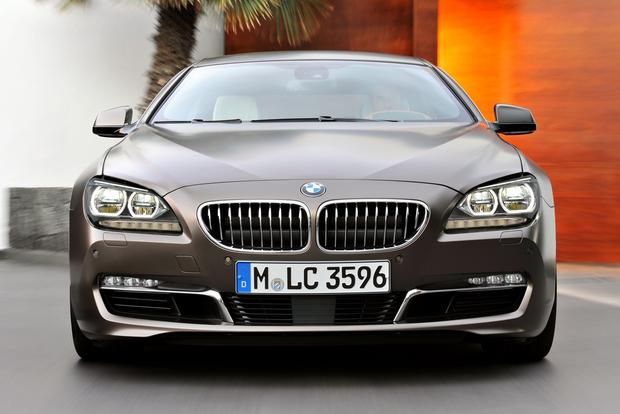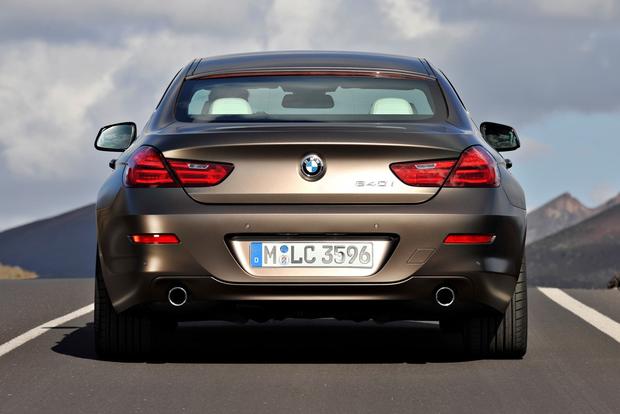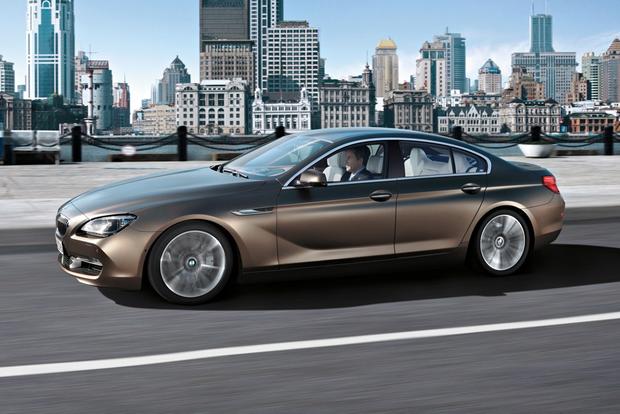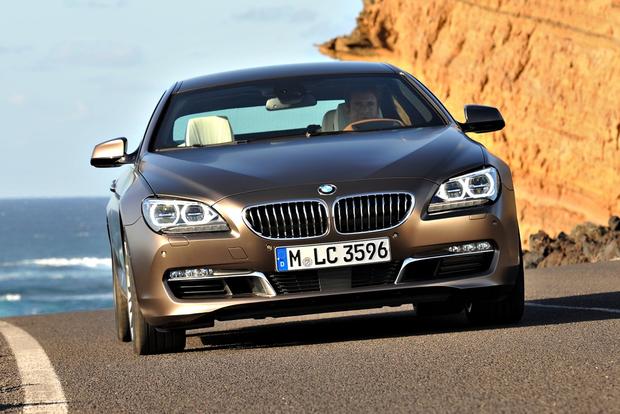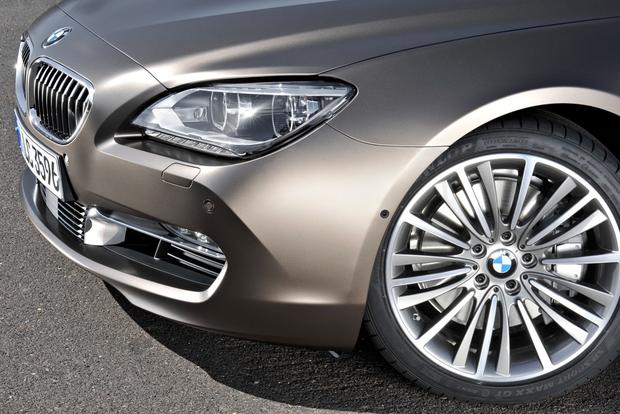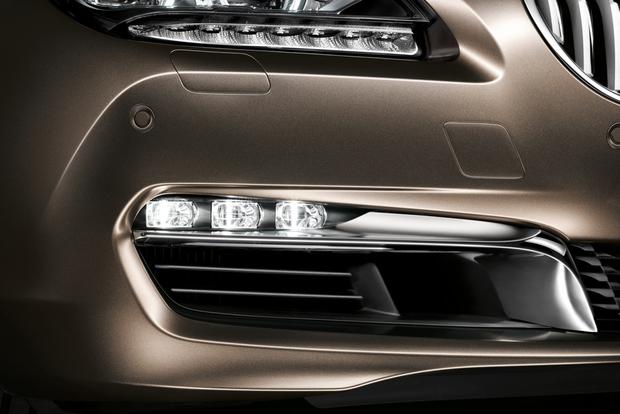 Pros: Wonderful engines; superb high-speed composure; top-quality interior; technology aplenty; available all-wheel drive
Cons: Somewhat uninspiring to drive for a BMW; conservative styling in an avant-garde segment
Better late than never: that must be the idea behind the 2013 BMW 6 Series Gran Coupe. After all, the car that pioneered the "four-door coupe" segment, the Mercedes-Benz CLS-Class, is now in its second generation, having made its debut in the mid-2000s. Audi has an entry, too-the excellent A7-and even Volkswagen has been at it for a while with the relatively affordable CC. In other words, the 6 Series Gran Coupe had better bring some compelling stuff to the table.
Well, we're in luck. The Gran Coupe is indeed something special, starting with what's under the hood. If there are two better all-around drivetrains offered in the same luxury car, we've yet to find them. The 640i's creamy-smooth turbocharged inline-6 pairs formidable thrust with excellent fuel economy, while the 650i's twin-turbocharged V8 is insanely powerful yet so refined that it's almost silent in normal operation. The eight-speed automatic transmission ties the whole package together, serving up buttery upshifts or racy rev-matched downshifts-whatever is appropriate for the occasion.
Additional Gran Coupe strengths include a lovely cabin and the bullet-train feel at speed that seemingly every high-buck BMW boasts these days. If it weren't for the styling, which to our eye is much less daring and cohesive than that of the CLS or A7, we'd have virtually nothing to criticize about this car. Sure, the Gran Coupe's handling falls short of the Ultimate Driving Machine standard set by previous BMWs; we'll discuss that below. But for folks who simply want a four-door coupe with power and luxury to spare, the late-arriving 2013 BMW 6 Series Gran Coupe might be just what they've been waiting for.
Comfort & Utility
The 2012 BMW 6 Series Gran Coupe is available in two trim levels: six-cylinder 640i and eight-cylinder 650i. Standard features include a turbocharged inline-6 engine, adaptive xenon headlamps, foglamps, electronically adjustable dampers, front and rear parking sensors, keyless entry with push-button ignition, leather upholstery, 20-way multi-contour power front seats, a power tilting and telescoping steering wheel, dual-zone automatic climate control, iPod/USB and Bluetooth connectivity, a nine-speaker audio system and the hard-drive-based iDrive information and entertainment system with a 10.2-inch widescreen display, digital music storage, a navigation system and a rear-view camera.
Among the numerous options are special alloy wheels up to 20 inches in diameter, a sport exhaust system (650i only), Nappa leather upholstery and a 16-speaker Bang & Olufsen audio system.
Although the 6 Series Gran Coupe is based on the 7 Series platform, its cabin is unique, and that starts with the low-slung front seats, which give the Gran Coupe an unmistakably sporty vibe. Speaking of those multi-contour front seats, they're sublime in every way; we love them and wish we could bring them with us to every car we test. The gauges use BMW's familiar white-on-black numerals that switch to orange on black at night. Interior materials are absolutely top-notch, and the sleek dashboard swoops dramatically toward the driving position, accentuating the coupe experience.
Back-seat space isn't close to that of the 7 Series, and even the 5 Series (another spawn of the 7 Series platform) has more room for adults thanks to its less rakish roofline. Still, full-size humans can fit in the Gran Coupe's rear quarters, which is a lot more than we can say for the two-door 6 Series. Trunk space is unchanged from the two-door 650i coupe at 13 cubic feet.
Technology
The 6 Series Gran Coupe comes with almost every available high-tech feature as standard. The only optional item we'd miss is the spine-tingling Bang & Olufsen audio system. But the technological centerpiece is clearly the iDrive system with its beautiful 10.2-inch wide-screen display. More than just a pretty face, iDrive has improved dramatically from its controversial early years, now featuring a vastly better menu structure and numerous physical buttons next to the controller knob for direct access to common pathways. Furthermore, iDrive is now hard drive based, which gives you higher processing speeds and the fringe benefit of digital music storage. It's one of our favorite information and entertainment systems, particularly because the control knob falls readily to hand, whereas touchscreen systems require that you lean forward to execute commands.
Performance & Fuel Economy
All Gran Coupes have an accomplished eight-speed automatic transmission. The 640i Gran Coupe features a turbocharged inline-6 rated at 315 horsepower and 330 lb-ft of torque-a bit more juice than this familiar engine usually puts out. Acceleration is strong and outstandingly smooth. The 650i is a clear step up, boasting a twin-turbocharged V8 with 445 hp and 480 lb-ft of torque-again, a notable increase from this engine's norm. The V8 turns the Gran Coupe into something close to a supercar in straight-line performance; the 650i is just an amazingly fast car. What's especially remarkable is that you'll typically barely hear the V8 working unless the car has the optional sport exhaust.
Rear-wheel drive is standard on the 6 Series Gran Coupe, but xDrive all-wheel drive can be added to the 650i. Expect fuel economy to be slightly lower in real-world driving than you'd get with the two-door 6 Series, which ranges from an extraordinary 23 mpg city/33 mpg highway in 640i trim to 15/23 mpg for the 650i.
Safety
The 2012 BMW 6 Series Gran Coupe comes with stability control, four-wheel ABS, active front head restraints and six airbags (front, front knee and front side).
Neither the government nor the independent Insurance Institute for Highway Safety has crash-tested any 6 Series model.
Driving Impressions
The 6 Series Gran Coupe is somewhere between the 7 Series and the two-door 6 Series in terms of athleticism. It's a highly capable handler, no doubt about it. However, the Gran Coupe is four inches longer than the already sizable two-door 6 Series, so it's not a car that feels nimble in tight corners. True to its name, the Gran Coupe is really more of a four-door grand touring car, a phenomenal high-speed cruiser that's also at home on winding roads-as long as the curves aren't too sharp. We'd give the Ultimate Driving Machine award to the Audi A7 in this class, but the Gran Coupe is an immensely satisfying drive in its own way.
Other Cars to Consider
Audi A7/S7: The A7's supercharged V6 has enough urge for most tastes, but the S7 has a delicious twin-turbocharged V8 that might be worth the stretch. Both the A7 and S7 have a nimbler feel than the BMW in spirited driving, and just look at the styling, for goodness' sake.
Mercedes-Benz CLS-Class: The CLS comes with a choice of two wonderful twin-turbocharged V8s that bookend the Gran Coupe's V8. The 4.6-liter Benz V8 isn't quite as powerful, but the 5.5-liter AMG V8 is out of this world. We love the sheetmetal's boldness, too.
Porsche Panamera: The Panamera isn't a beauty in the eyes of most beholders, but it's absolutely brilliant to drive. Sample a V8-powered model if you can; we're partial to the normally aspirated versions.
AutoTrader Recommends
We're addicted to BMW's twin-turbo V8, and the 650i Gran Coupe has the most powerful version outside of an M car. We'll take it. Give us the Bang & Olufsen stereo, too. Otherwise, the standard features are more than enough.