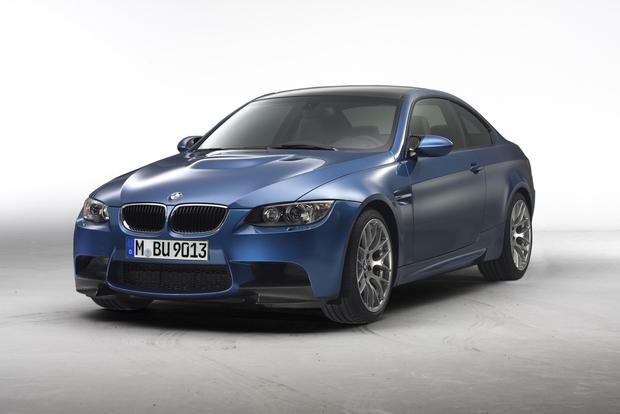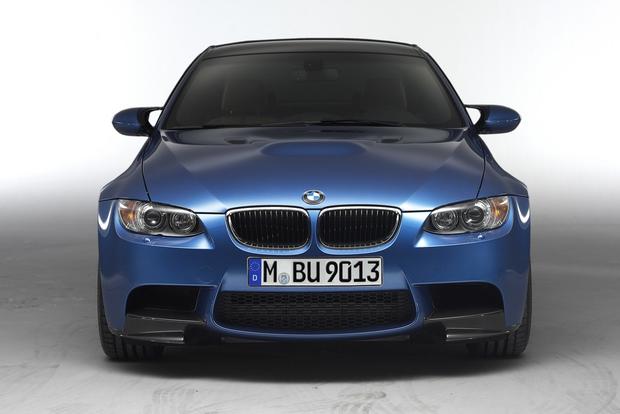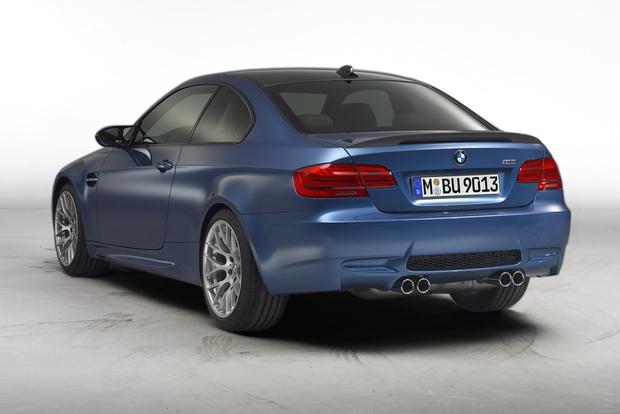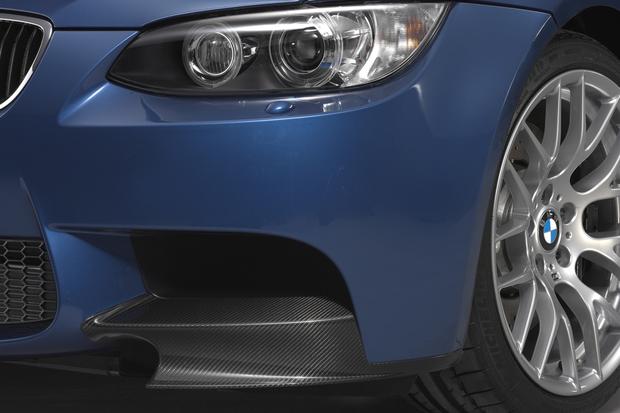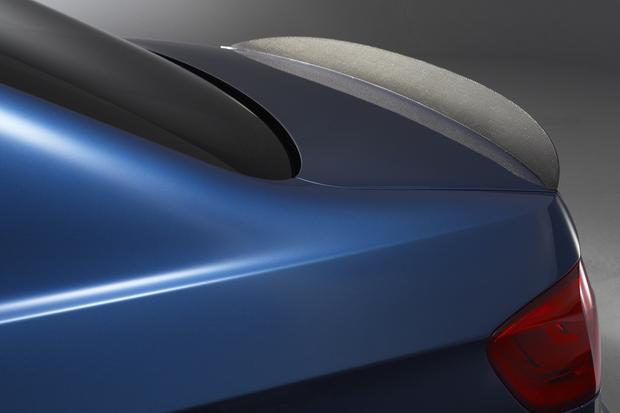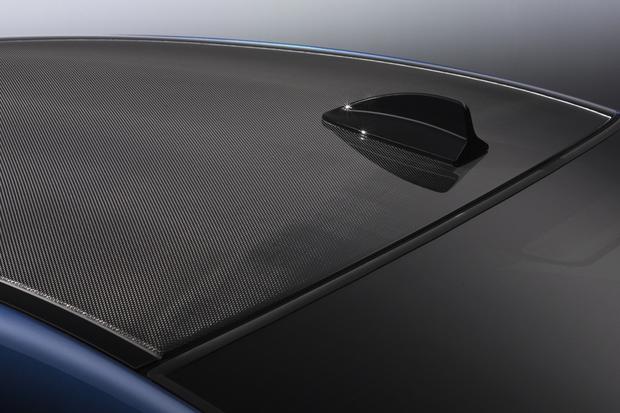 Pros: Thrilling V8 power, sounds like a German Ferrari, better-than-you-are handling, civilized ride, excellent high-speed cruiser.
Cons: Convertible's not a looker, BMW refuses to keep building this car forever.
What's New: Holding down the fort till the next-generation M3 arrives, the 2013 M3 features two limited-production variants: the Lime Rock Park Edition and the Frozen Limited Edition.
Introduction
It happens to all great performers sooner or later, and now it's the 2013 BMW M3's turn. With the next-generation M3 waiting in the wings, it's time for the first and likely last V8-powered BMW 3 Series to say its goodbyes.
BMW has marked the occasion by offering two limited-edition models for 2013. The Lime Rock Park Edition gets treats like Fire Orange paint, the Competition package, and a flat-bottomed steering wheel, while the Frozen Limited Edition comes in one of three matte colors (silver, blue, or red) and also includes the Competition package and a unique interior. It may be too late to buy either one new, however, as BMW built just 200 of the former and 150 of the latter.
Fortunately, you can have the factory build you a regular M3 any way you like, and the lucky few who buy one this year will be getting what's still one of the best cars on the planet. Despite being larger and heavier than its predecessors, the current M3 has the agility of a sports car, while its creature comforts make it a superb road-tripper. Then there's the one-of-a-kind 4.0-liter V8 engine, a high-revving, 414-horsepower masterpiece that's literally a chip off the old block of the previous M5's V10.
Purists can specify a proper manual transmission, too, but don't take that for granted. Word on the street is that the new M3 will be offered exclusively with an automatic.
Hey, we understand that BMW's M Division has to keep up with the times. The future is full of technology and turbos, and that's where next year's M3 is headed. But if you prefer a more traditional "ultimate driving machine," grab a 2013 M3 and don't look back. It is and always will be one of the all-time greats.
Comfort & Utility
The 2013 BMW M3 is available as a coupe or hardtop convertible. Standard features include 18-inch alloy wheels with staggered-width tires, a limited-slip differential, a carbon-fiber roof for the coupe (reverts to steel with the no-cost-option sunroof), xenon headlamps, cloth and leather upholstery, manual sport seats with power-adjustable side bolsters, dual-zone automatic climate control, and iPod/USB and Bluetooth connectivity.
If you just want to keep things simple, you can have your M3 custom-built and tell the factory to stop right there. In case you don't, BMW naturally offers a raft of options, including 19-in wheels, a lowered suspension, electronically adjustable dampers, keyless entry, extended leather upholstery, heated seats with full power adjustments, iDrive, and a 16-speaker, 825-watt sound system.
We'd like to take the M3's standard seats with us in every car we drive. They're supportive in all the right places, yet power-adjustable only where they need to be--at the side bolsters, so you can dial in just the right amount of lateral support for enthusiastic driving. The full power seats are exceptionally comfortable as well, though they give the M3 more of a grand-tourer vibe.
The M3's gauges are classic white-on-black during the day and orange-on-black at night, just like in every BMW we can remember. Materials quality throughout the interior is simply superb. Our only notable cabin quibble is that the optional iDrive screen adds an unsightly hump atop the dashboard (a non-issue in the latest 3 Series with its integrated tablet-like screen).
Rear passengers will find an agreeable amount of room in the coupe, though somewhat less in the convertible. But even with the drop-top, it's pretty remarkable that a car with this kind of performance potential can actually haul four adults around in some semblance of comfort. Moreover, the coupe's trunk has a useful 11.1 cu-ft of space, while the convertible has an impressive 12.3 cu-ft with the top up, though just 7 cu-ft with it down.
Speaking of the convertible, the standard power-operated hard top doesn't do the car's styling any favors, but the added security and all-weather versatility could be viewed as reasonable compensation.
Technology
BMW only recently made iPod/USB and Bluetooth connectivity standard across the 3 Series lineup, but now that everything's in order, it's seriously time to retire the old saw about BMW's sparse standard equipment. Fact is, even the most basic M3 has practically every modern feature a driving enthusiast could want.
If you're also a tech enthusiast, however, you'll be mulling whether to spring for the iDrive system, which is the technological heart and soul of any BMW in which it appears. The good news is that the system has improved enormously from its early days. The screen is wide and crisp--one of the best on the market--and the simplified interface employs a number of physical buttons alongside the console-mounted knob for direct access to common pathways. Furthermore, iDrive is now hard-drive-based, so processing speeds are much higher, and you can store eight gigabytes of music in there, too.
The bad news? As we noted above, that beautiful screen requires a different dashboard top with an awkward hump in the middle. It looks like a retrofit rather than a fully integrated design. Check it out in person and see if it bothers you before ordering.
Performance & Fuel Economy
The rear-wheel-drive 2013 M3 is powered by a 4.0-liter V8 rated at 414 hp and 295 lb-ft of torque. The default transmission is a 6-speed manual. This engine and transmission tandem is among the most satisfying at any price, in our opinion. The slick shift action and screaming 8,400-rpm redline pair perfectly with a wide range of driving scenarios. Even trips to the supermarket can feel like hot laps with that V8 wailing away through its classic M-spec quad exhaust pipes.
If you don't want to work a clutch in traffic, there's also a 7-speed dual-clutch automated manual, which performs almost flawlessly and serves up racy rev-matched downshifts.
Fuel economy is 14 mpg city/20 mpg hwy except for the 6-speed convertible, which rates 13/20 mpg.
Safety
The M3 comes with standard stability control and four-wheel antilock disc brakes. The coupe has six airbags (front, front-side, full-length side-curtain), while the convertible loses the side-curtain bags.
The government has not crash-tested the 2013 3 Series, but the Insurance Institute for Highway Safety (IIHS) gave the 2009-2011 fixed-roof 3 Series--which lives on in the 2013 M3 coupe--its highest rating of "Good" in all categories except roof strength, where it garnered the second-highest "Acceptable" rating. The 3 Series convertible, however, received the second-lowest "Marginal" rating for side impacts, even though frontal-offset protection was deemed "Good." These ratings don't apply perfectly to the M3, which has unique body panels, but they're a useful guide.
Driving Impressions
The M3 is so capable on a winding road or racetrack that it's a little frightening. Prepare to slice through your favorite corners with unprecedented ease. Between its laser-precise steering, robust brakes, and seemingly endless grip, the M3's athleticism is truly epic. And should the tail happen to swing out for any reason, the self-locking M limited-slip differential is there to make you look like a drifting champ.
These jaw-dropping dynamic talents make the M3's civility during normal driving all the more remarkable. The ride is taut, not surprisingly, but every impact feels like it's been filtered through multiple layers of expensive rubber, so harshness over bumps is a non-issue. On the highway, the M3 is absolutely unflappable, maintaining a quiet composure at all speeds. Although the convertible is much heavier and less rigid than its fixed-roof sibling, it's still astoundingly capable. Cars are so good these days that it's hard to choose just one as the best all-around performer, but even on its last legs, this M3 has got to be in the conversation.
Other Cars to Consider
Mercedes-Benz C63 AMG: The baby AMG has never had the finesse of the M3, but that intoxicating hand-built 6.2-liter V8 should be an effective salve for your wounded pride.
Nissan GT-R: Thanks to all-wheel drive and some serious computer wizardry, the nearly 4,000-pound GT-R handles like an exotic, and it's exceptionally user-friendly.
Porsche 911: The new "991" Porsche 911 comes closest to the M3's ideal of refined athleticism, but it costs more and lacks the M3's everyday comfort and true 4-seat practicality.
AutoTrader Recommends
We love the bone-stock M3 so much that we wouldn't change a thing--just give us the base coupe with the carbon-fiber roof and the manual transmission. Well, alright, maybe we'd tack on that 825-watt sound system.