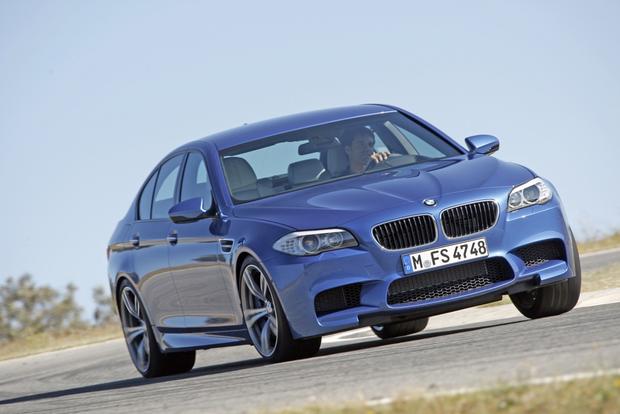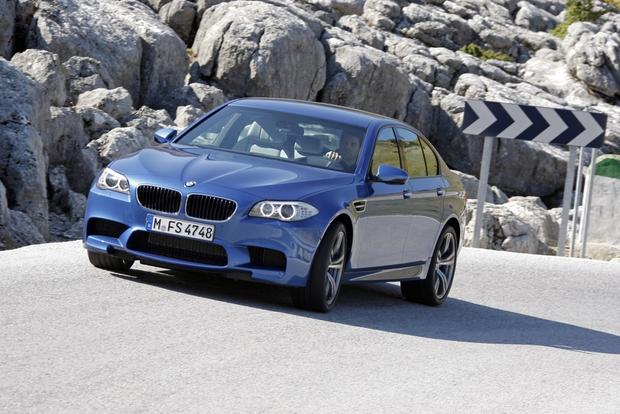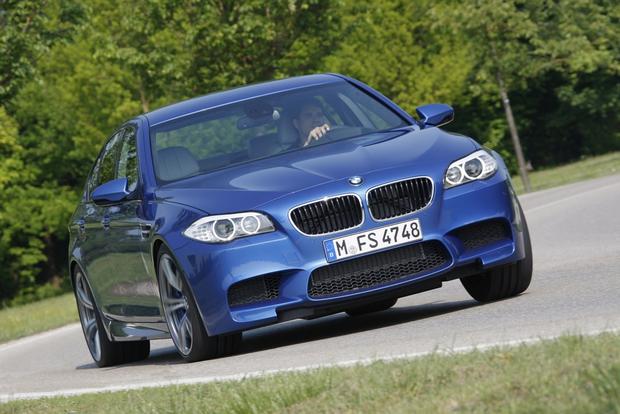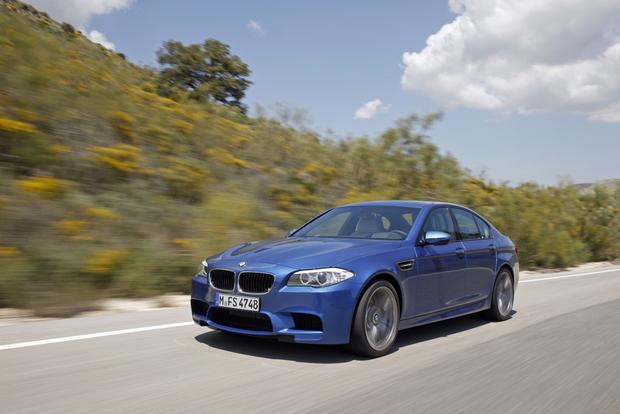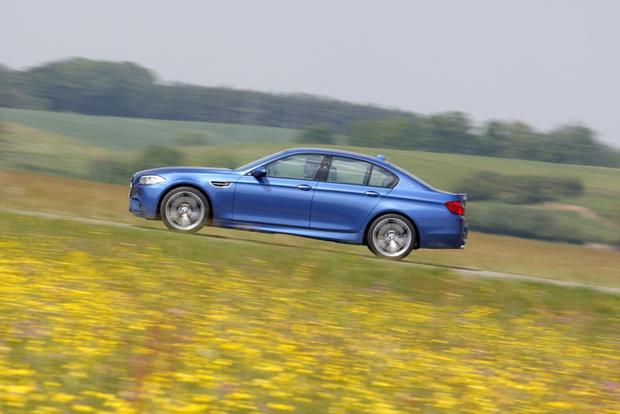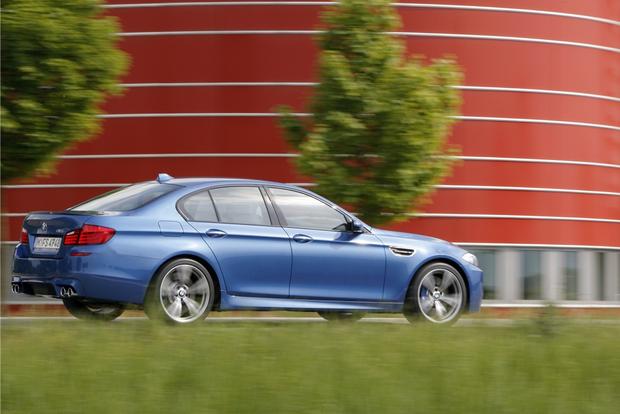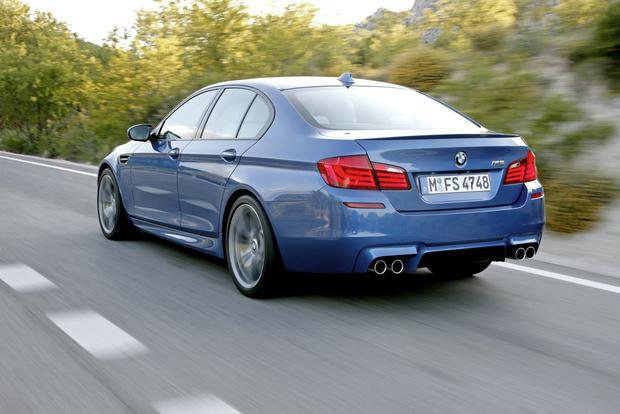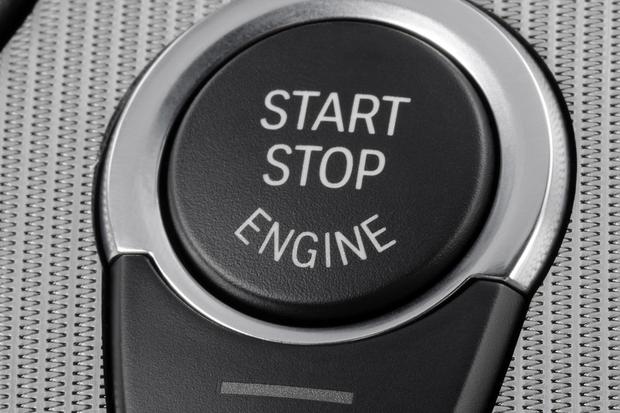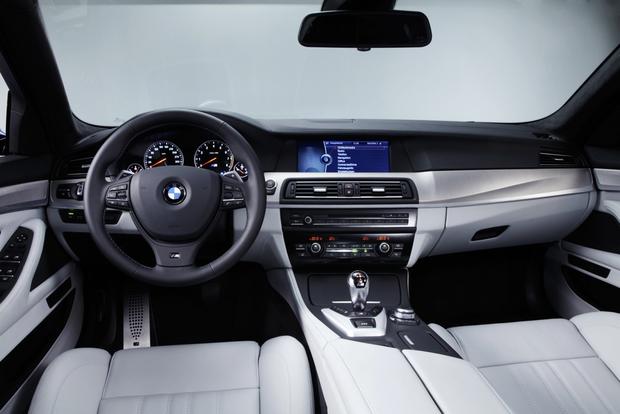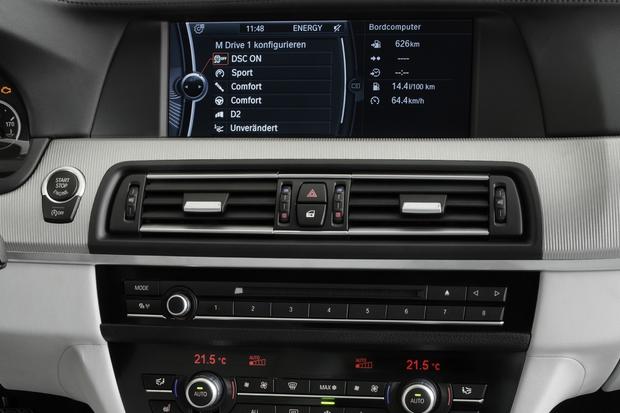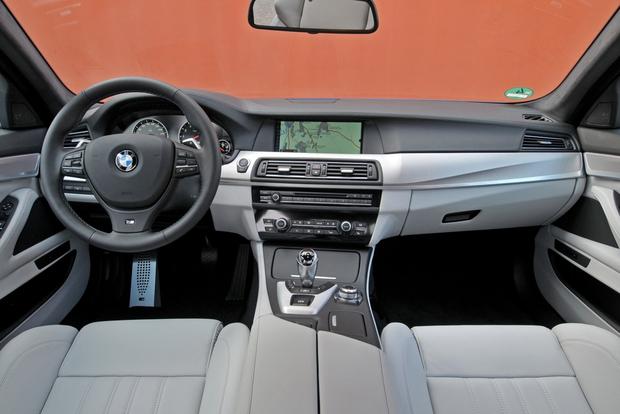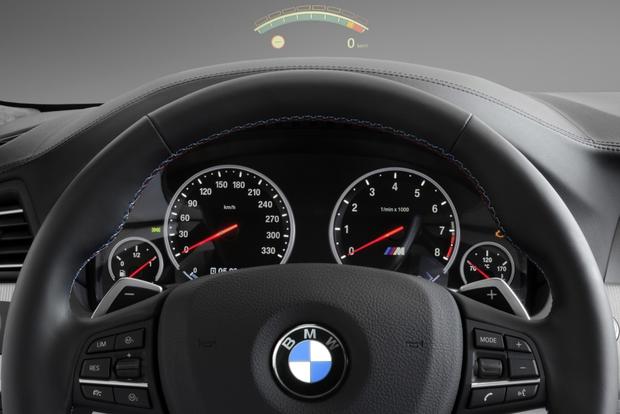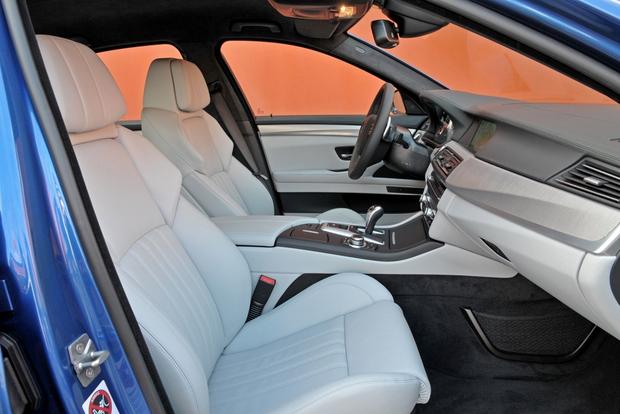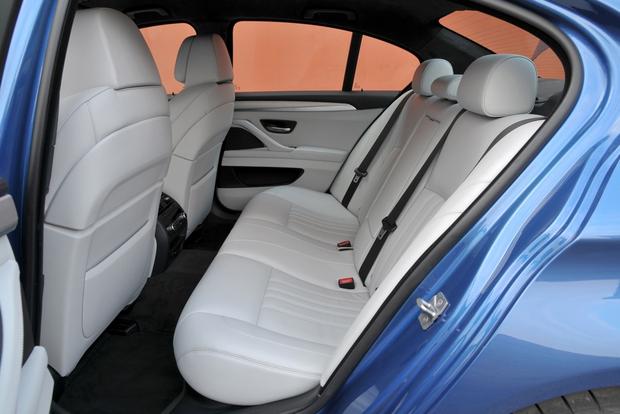 Pros: Exceptional performance in an understated package; punchy enough to entertain but quiet and comfortable enough for lengthy road trips; supercar spunkiness with the practicality of a 4-door.
Cons: Styling a bit bland for some; lacks the visceral appeal of BMW's earlier (and edgier) M cars; overly complicated drivetrain settings distract from the simple joys of hopping in and driving fast.
What's new: The 2013 BMW M5 is all-new, though a manual transmission option was announced for the U.S. market following the car's initial release.
The 2013 BMW M5 debuted with much fanfare and a healthy dose of enthusiast controversy. After all, fans of BMW's high-performance M division are a notoriously passionate bunch with a cultish devotion to their Bavarian rides.
Starting at $89,900 before an $895 destination fee and a $1,300 gas-guzzler tax, the M5 takes a philosophical departure from its prior V10-powered incarnation, which proved too high strung to gain widespread acceptance. Thanks to a flexible new twin-turbocharged V8, a smooth-shifting, 7-speed dual-clutch transmission and an available 6-speed manual gearbox to appease aforementioned enthusiasts, the new car promises a tech-heavy answer to the likes of Cadillac's muscular V cars, Mercedes-Benz's charismatic AMG offerings and various other performance-infused sedans.
Comfort & Utility
Though its firm seats come across as more utilitarian than luxurious, there's no shortage of luxurious comfort within the M5's roomy cabin. The interior ticks off the usual go-fast checklist with its thick, leather-wrapped steering wheel and driver-focused instrumentation, while standard aluminum trace trim reinforces the car's function-over-form overtones.
Most vehicle settings can be made via a much-improved iDrive system, which surrounds the system's familiar control wheel with several clearly marked buttons for navigation, stereo and system settings. All are managed through a bright, clear 10.2-inch screen with a surprisingly wide landscape display.
Sixteen-way adjustable seats offer plenty of variability for a broad variety of body types, while the rear seat folds down for access to the 14-cu-ft trunk. Rear passengers are treated to a decent but not expansive amount of legroom.
Technology
While the M5's most notable technology can be found under the hood, there's also a solid amount of tech features inside the cabin. Standard items include a rearview camera, dynamic cruise control, voice command and a 12-speaker sound system with 500 watts and 5.1 surround.
Available options include a heads-up display (bundled with the $5,500 executive package) and BMW Apps, a $250 feature that enables smartphone integration with diagnostic information and the ability to embed Twitter, Facebook and RSS news feeds onto the 10.2-in dashboard display screen.
Performance & Fuel Economy
The M5's twin-turbocharged 4.4-liter V8 offers seriously stirring performance capabilities, especially considering the car's 4-door layout. This 4,387-lb sedan can accelerate from 0 to 60 mph in only 4.2 seconds with the dual-clutch transmission, or in 4.3 seconds with the 6-speed manual (only available to US buyers); 560 horsepower and 501 lb-ft of torque on tap can do that. An active differential manages power distribution to the rear wheels and performance-related parameters, including steering effort, shock stiffness, throttle response and transmission shift points, which are controlled via a series of small buttons surrounding the shift lever. While the top speed is electronically limited to 155 mph, getting there swiftly involves a strong charge toward redline in each gear, with the dual-clutch gearbox handling gear changes with efficient ease.
The M5's official fuel economy figures of 15 mpg city/22 mpg highway aren't all that impressive in this age of ultra high efficiency, but those numbers become more impressive when they're considered in context to the car's breathtaking performance capabilities. Incidentally, the new M5 represents a 30 percent improvement over its predecessor, which also produced less power.
Safety
Though the M5 has yet to be crash tested, the similar 2012 5-Series earned a rating of Good from the Insurance Institute for Highway Safety (IIHS) in moderate overlap, side impact and roof strength tests. The 2012 5-series earned an overall government crash test rating of five stars out of five.
Standard safety features include the typical array of anti-lock brakes; stability and traction control; active front head restraints; and numerous airbags, as well as a tire pressure monitor. An optional Driver Assistance Package ($1,900) adds lane departure warning, active blind spot detection and side/top view cameras.
Driving Impressions
In its default settings, the BMW M5 feels surprisingly docile during casual driving. The transmission upshifts relatively early, and power delivery is mild. The car behaves like a well-mannered lap dog.
But fiddle with the drivetrain and handling settings and the M5 transforms into an angrier animal with aggressive acceleration, a stiffer ride and crisp, responsive handling. Drive hard, and you might be surprised when you look down at the tachometer. Revs tend to be higher than they sound with the M5, partially due to the relatively subdued engine note (which, incidentally, is electronically reproduced through the car's stereo system). In keeping with this sedan's race car pretensions, the tachometer can be projected onto the windshield via the heads-up display in order to encourage properly timed paddle shifts.
We tested the 2013 BMW M5 at two tracks: Ascari Race Resort in southern Spain, and the famous Mazda Raceway Laguna Seca course in Monterey, California. Under both conditions, it was easy to forget that the M5 has two extra doors behind the front seats. Equally impressive is how easily it managed to gobble up mile after mile of highway comfortably, making it a surprisingly accommodating ride on long haul drives.
Other Cars to Consider
Cadillac CTS-V: The bargain-basement performance sedan of the bunch, Cadillac's screamer packs a good, old-fashioned supercharged American V8 that produces 556 hp. The Caddy's $63,215 starting price undercuts the Bimmer's by about $26,000, making its far more difficult to criticize the CTS-V's aesthetic or functional shortcomings.
Mercedes-Benz E63 AMG: Almost identically priced to the M5, the $89,800 E63 features a twin-turbocharged 5.5-liter V8 that produces 516 hp. But with a 339-lb weight advantage, the Benz makes up for its less powerful engine and yields an identical 0-to-60-mph time of 4.2 seconds.
Porsche Panamera: No fewer than eight Panamera variants exist, from the $75,850 base model to the $175,300 Turbo S variant. The entry-level 6-cylinder model is easily outshined by the M5's elevated performance levels, and it takes serious bucks to find a Porsche sedan that matches the BMW's capabilities. But, on the other hand, Porsche can claim more involved driving dynamics and surprising functionality from their hatchback sedan.
AutoTrader Recommends
Picking from a slew of ultra high performance sedans is more an exercise in personal preference and style than sheer horsepower, acceleration or handling figures. The BMW M5 is a vastly improved sedan compared to its predecessor, though in its quest for perfection it has slipped in driver involvement. Immensely capable but less challenging than some enthusiasts might like, the M5 nonetheless reflects a staggering achievement in melding