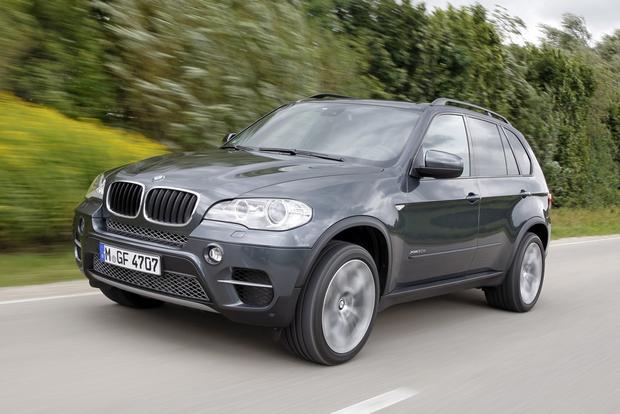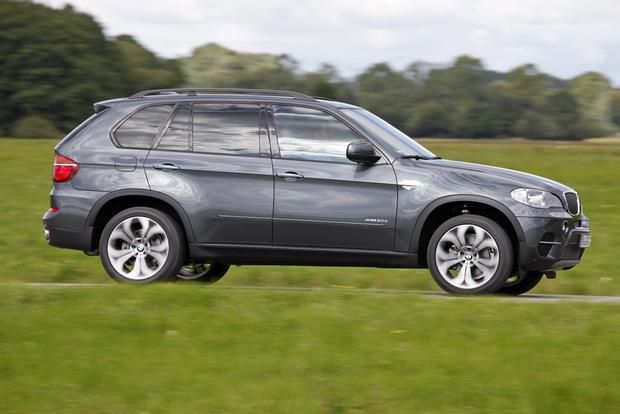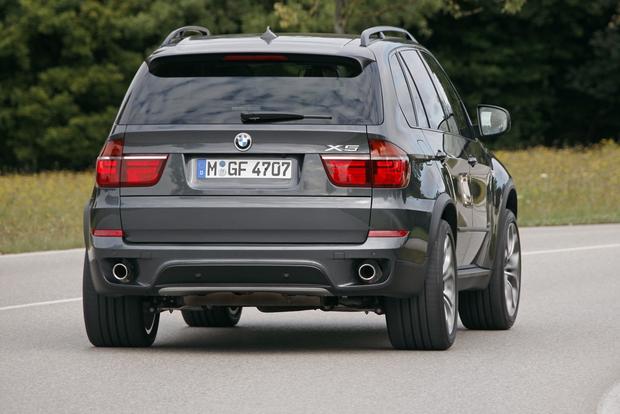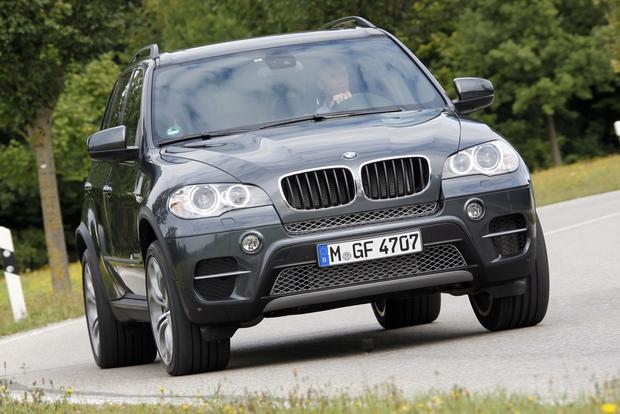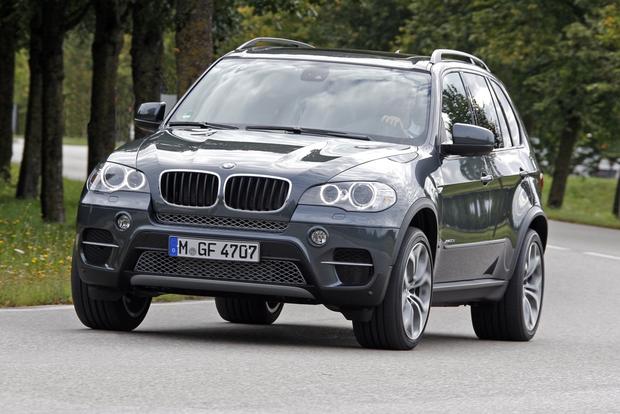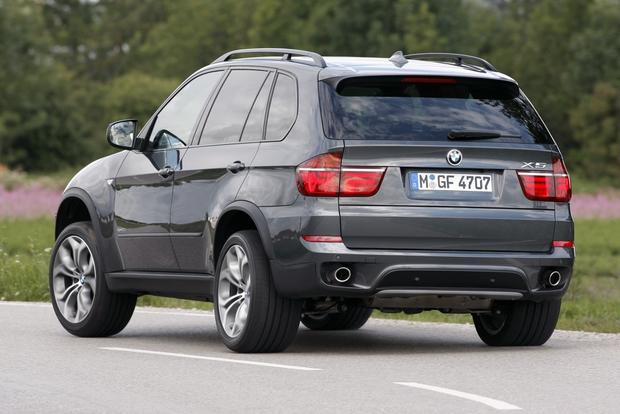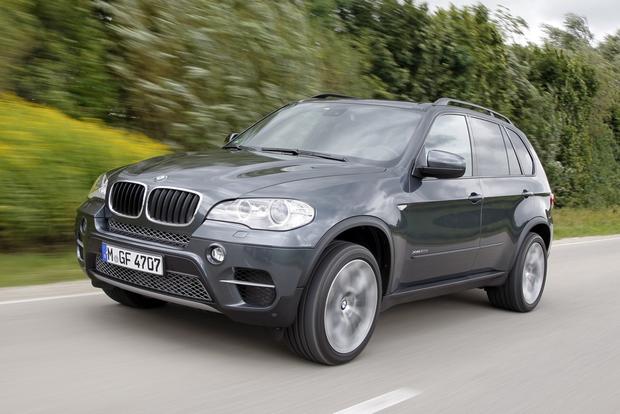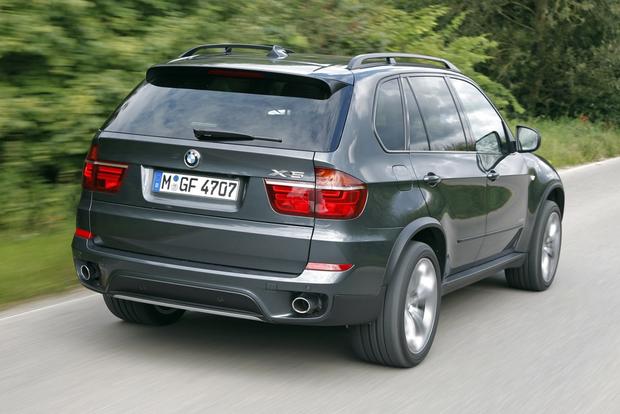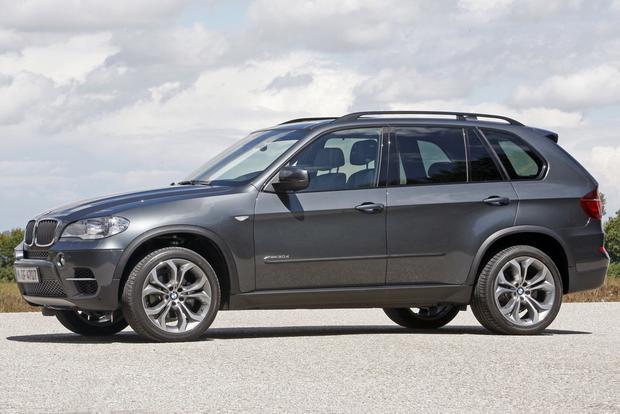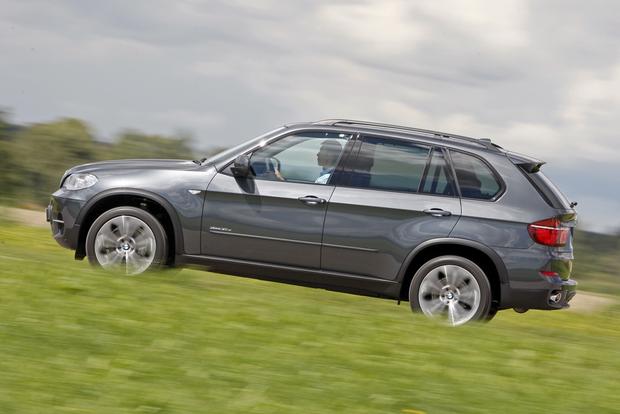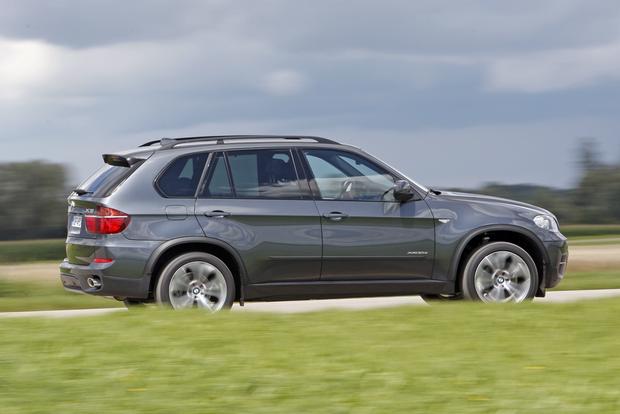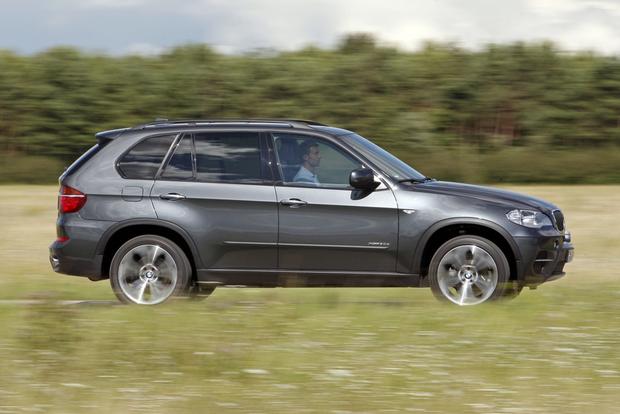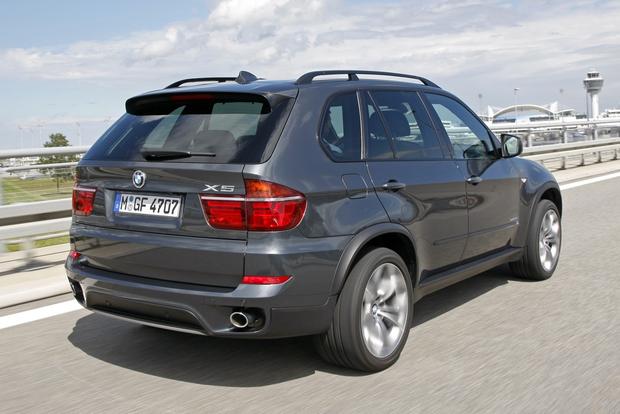 Pros: Excellent gas and diesel engines, remarkable handling capability, timeless styling, available third-row seat.
Cons: Low second-row bench, third row's barely usable, yesterday's interior, unimpressive fuel economy, disappointing crash ratings.
What's New: The big news for the 2013 X5 is the introduction of the M Performance package, which adds 15 horsepower to the xDrive35i and 40 horsepower to the xDrive50i.
Introduction
Last year we mentioned that BMW's midsize crossover was getting on in years, and the 2013 BMW X5 is one step closer to the grave, with a replacement waiting in the wings. Still, you wouldn't know it from the way this crossover competes. Blessed with a recently rejuvenated engine range, current technology, and a new M Performance package that cranks up the turbo boost, the X5 lineup continues to hide its age exceptionally well.
So how old is this thing, anyway? Well, you do the math: the current X5 debuted in 2007, making it one of the more ancient luxury vehicles on the market. But it's hard to see where the X5 has lost a step. The naturally aspirated engines it started with back then are gone, replaced by a trio of turbocharged motors (two gas, one diesel) that are arguably best-in-class. And the X5's 5 Series related underpinnings were already just about perfect on arrival.
If there's one area in which the X5 could really stand to improve, it's cabin design. For example, the second-row bench is too low for lanky riders, the third-row is strictly for even-tempered kids, and the austere dashboard is visibly a relic from an earlier BMW era.
But some find that old-school austerity appealing, and we count ourselves among them. Plus, the X5 is otherwise every bit a modern BMW. Cars aren't supposed to age like wine, but one could argue that there's never been a better time to buy a BMW X5.
Comfort & Utility
The X5 is available in three main trim levels: six-cylinder xDrive35i (gas-powered), six-cylinder xDrive35d (diesel-powered), and eight-cylinder xDrive50i. The high-performance X5 M is reviewed separately.
The xDrive35i comes standard with a turbocharged inline-6 gasoline engine, 18-inch alloy wheels, adaptive xenon headlamps, fog lights, roof rails, keyless entry with push-button ignition, leatherette upholstery, 10-way power front seats with lumbar support and driver memory, dual-zone automatic climate control, iPod/USB and Bluetooth connectivity, a 10-speaker audio system with dual subwoofers, and the iDrive infotainment system with the small, square display.
The xDrive35i Premium version adds 19-inch wheels, a panoramic sunroof, a power tailgate, a power tilt/telescopic steering column, leather upholstery, and heated seats. The xDrive35i Sport Activity version tacks on 20-inch wheels with performance tires, sport seats, and subtle styling tweaks.
The diesel-powered xDrive35d slots somewhere in between the xDrive35i and xDrive 35i Premium, sporting the latter's standard equipment except for the power steering column and 19-inch wheels (both of which are optional).
The xDrive50i adds a twin-turbocharged gasoline V8 and a larger, widescreen iDrive display with a navigation system and hard-drive-based operation (including digital music storage); however, like the xDrive35d, it goes back to standard 18-inch wheels.
Notable options include all manner of optional wheels, 20-way power "Multi-contour" front seats, heated rear seats, quadruple-zone climate control, a rearview camera with multiple views, a rear-seat entertainment system, electronically adjustable dampers, and of course a third-row seat with seatbelts for two occupants.
New for 2013 is the gas-engine-only M Performance package, more on which in "Performance & Fuel Economy," below.
The X5's standard front seats are, well, pretty standard; we'd be a bit disappointed in their nondescript support given the price of entry here. Fortunately, you can upgrade to the 20-way Multi-contour seats, which are sublimely comfortable and worth every penny in our opinion. The gauges will be familiar to any BMW fan, employing the classic white-on-black numerals that change to orange-on-black at night; the traditional BMW dashboard curvature is instantly recognizable as well.
Interior materials are good, but not great, as we've noticed some uncharacteristically marginal plastics scattered around. Moreover, build quality in a recent X5 test car was called into question by a few squeaks and rattles. The X5's cabin is a palpably premium environment, but it's not BMW's best.
The back seat's bottom cushion is surprisingly low, especially for a crossover SUV. We're surprised the X5 doesn't offer a higher bench with more thigh support. As for the optional third-row seat, it's considerably more cramped than it should be in a midsize crossover, but it does add that extra degree of versatility if you need to help haul the soccer team around town.
Given how tight the third row is, you might expect it to be crammed up against the tailgate, but actually there's plenty of room behind the third row—23.2 cubic feet, to be exact. Fold down the third row and there's 35.8 cubic feet behind the second row. Maximum cargo capacity with the second row folded is 75.2 cubic feet. Not bad for this class.
Technology
The X5 may have a dated interior relative to newer BMW products, but its technology is anything but dated. Standard niceties include iPod/USB connectivity, Bluetooth, and a kicking sound system with two subwoofers.
But let's talk about iDrive here, because it's the technological heart and soul of every X5. The base version of iDrive utilizes a small, square screen that's frankly not very impressive, but if you check the box for the navigation system, you get a beautifully crisp widescreen display backed by a hard drive with digital music storage.
The iDrive interface has improved dramatically from its controversial early years, now featuring a vastly better menu structure and numerous physical buttons next to the controller knob for direct access to common pathways. It's one of the best infotainment systems on the market, and we appreciate that it's controlled by that console-mounted control knob instead of a touch-screen, so there's no need to lean forward and smudge the screen with your fingertips.
Performance & Fuel Economy
The X5 xDrive35i is powered by a turbocharged inline-6 rated at 300 horsepower and 300 pound-feet of torque. The transmission is an excellent eight-speed automatic. Acceleration with this engine is respectably swift, but the X5 weighs in the neighborhood of 5,000 pounds, so don't expect miracles.
The X5 xDrive35d's turbodiesel 3.0-liter inline-6 actually makes less power than its gas counterpart, checking in at 265 horsepower; however, it compensates with 425 pound-feet of readily available torque, which makes the diesel X5 feel more confident when quick acceleration is called for. We love the diesel's angry soundtrack, too, and with all that torque, we don't mind at all that it's only got a six-speed automatic.
Of course, if you want to solve the X5's weight problem with gusto, there's always the xDrive50i with its twin-turbocharged V8, which delivers its remarkably civilized 400 horsepower and 450 pound-feet of torque through the slick eight-speed automatic. An X5 V8 is a seriously fast SUV.
Finally, if the paltry power output of either the xDrive35i or xDrive50i offends you, the 2013 models can be enhanced via an M Performance package that adds 15 hp/30 lb-ft to the former and 40 hp/30 lb-ft to the latter. We'll do the math for you here: that's a total of 440 hp and 480 lb-ft in the xDrive50i. Who needs the X5 M?
All X5 models are all-wheel drive, which at least partly explains the lackluster fuel economy. An xDrive35i gets 16 mpg city and 23 mpg highway, while the xDrive50i drops to 14/20 mpg. The diesel-powered xDrive35d is the winner at 19/26 mpg, though even those numbers seem like they could be higher.
Safety
The 2013 BMW X5 comes with standard stability control, four-wheel antilock disc brakes, and six airbags (front, front-side, full-length side-curtain). Also offered is BMW Assist, which includes four years of enhanced roadside assistance, stolen vehicle recovery, and more.
In government crash tests, the 2013 X5 was awarded four stars overall (out of five), including just three stars for frontal impacts. However, the independent Insurance Institute for Highway Safety previously awarded the X5 its highest rating of "Good" in every tested category.
Driving Impressions
The X5 immediately impresses—if that's the right word—with its unusually high steering effort at low speeds. It almost feels like the power steering system's broken. But there's a flipside to this coin: the wizened X5 provides an unusually precise, connected feel at the helm once you're up to speed. Body roll is kept mostly in check, which, trust us, is no small feat in a 2.5-ton SUV.
Indeed, this BMW puts the "Sport" in SUV, generally comporting itself like a tall previous-generation 5 Series sedan (which is essentially what it is). The ride is firm but supple, in the classic BMW manner, and even the optional 20-inch rims can't make this 'ute jittery over bumps. Only the Porsche Cayenne delivers more smiles per mile in this class, and you'll have to pay a bundle to get a Cayenne that can keep up with an xDrive50i, especially with the M Performance package.
Other Cars to Consider
Mercedes-Benz M-Class: Recently redesigned, the 2013 M-Class isn't nearly as rewarding to drive as the X5, but it's got plenty of presence, and its ride is exceptionally smooth.
Porsche Cayenne: Cayennes can get exceptionally costly when you option them with all the stuff you want, but for some, the exclusivity will be worth it.
Volkswagen Touareg: One of our favorites, the Touareg has a nice interior, a wonderful back seat, and even decent off-road capability. It handles surprisingly well, too.
AutoTrader Recommends
If we had the means, the xDrive50i with the M Performance package would be our choice. We do try to be practical, but 440 horsepower? How could we resist?