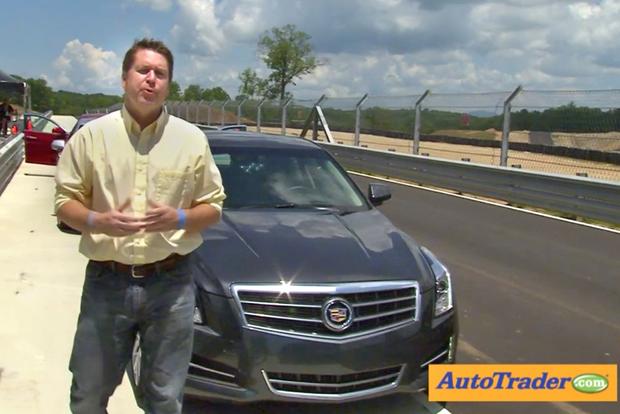 Everyone wants out-of-the-box thinking, but no one wants to fail. You can't have it both ways. And Cadillac would be the first to admit that their out-of-the-box thinking hasn't always yielded the desired result. Still, it only takes one big success to recast those past failures as proud preludes to the present.
That puts a pretty heavy burden on the angular shoulders of the 2013 Cadillac ATS, an all-new premium sedan pitted squarely against all-stars like the BMW 3 Series and Mercedes-Benz C-Class. Designed to be as poised and athletic as Bavaria's best, the ATS is definitely an out-of-the-box effort from America's traditional luxury leader. This time, the risk simply has to pay off.
Good on Paper
Cadillac certainly has the right recipe, as the ATS's performance portfolio reads like a European sport sedan's glossy sales brochure. The 2013 ATS rides on a new rear-wheel-drive platform (all-wheel drive is optional) and offers a choice of three engines and two transmissions. These include a 6-speed manual and a turbocharged 2.0-liter inline-4 that's good for 272 horsepower - and yes, they can be ordered together. There's also a 321-horsepower, 3.6-liter V6 that boasts a 6-speed automatic transmission with a shift-it-yourself feature. This is the same V6 used in the larger Cadillac CTS.
The base engine is a 2.5-liter four-cylinder with 202 horsepower, so it won't grab many headlines. But, according to Cadillac, this isn't just a rehashed Ecotec engine from GM's parts bin; rather, it's an updated design utilizing a high compression ratio, direct-injection fuel delivery and low-friction components.
Thanks to plenty of lightweight materials, the ATS has an impressive power-to-weight ratio, which means its acceleration and fuel economy aren't compromised by excess girth. For example, the Cadillac ATS with the optional 3.6-liter V6 has just 10.8 pounds of weight for each of its 321 "horses" to move. To put that into perspective, the rival Audi A4 has about 16 pounds per horse, the Nissan Versa economy car has roughly 23 pounds per horse, and at the other end of the spectrum, the new Lamborghini Aventador supercar carries just 5 pounds per horse.
Better on the Track
So did they build a real 3 Series competitor? In a word, yes. The new Caddy accelerates with the urgency of a German sport sedan, and it handles well, too. A car like the Infiniti G37 feels a little sharper than the ATS, but Cadillac didn't forget that a premium sedan also needs to be comfortable. Like the BMW 3-Series, the ATS splits the difference between comfort and sport almost perfectly. In fact, there's an extra bit of civility in the Cadillac's ride that makes it feel more substantial than the BMW.
Nonetheless, a true sport sedan has to prove that it can perform, so Cadillac invited us to do some hot laps at Atlanta Motorsports Park, a new private track with an interesting combination of elevation changes and both low- and high-speed corners. We took it easy at first, assuming that the car couldn't handle being driven in anger on such a technical course. We were wrong. The available FE3 suspension includes driver-adjustable magnetic ride control, a mechanical limited-slip rear differential and a quicker steering ratio with adjustable effort. Corner hard and the ATS transfers its weight gently, then stays planted and predictable right up to its highly forgiving limits. Bridgestone summer tires help too. Even mid-corner bumps don't upset the car.
Although the FE3 setup is the driver's choice, the more common FE2 suspension is quite competent in its own right. Like the FE3, it features a five-link independent rear suspension - a first for Cadillac - along with a multi-link, double-pivot front suspension. It's tuned more for luxury, yet we'd say the FE2 is plenty capable unless you're a seasoned driving enthusiast.
Under the hood, it's naturally the V6 that accelerates with most urgency. But the 2.0-liter turbo is also a blast to drive hard. We hit the track in a turbocharged Performance model with the 6-speed manual transmission, and after just one lap, we were convinced - we'll put the ATS turbo up against the BMW 328i any day. Until we drive them back-to-back, we can't say for sure which is better, but the Cadillac is certainly just as good.
There is one 3 Series attribute the ATS can't match, however, and that's choice. The ATS is a sedan available in one of eight specific trim levels, whereas the 3 Series can be had as coupe, convertible, wagon or sedan with seemingly endless a la carte options.
Cool Tech Inside
Here's where the scales may tip in the Caddy's favor. Inside the car is a new information and entertainment interface called CUE, which stands for "Cadillac User Experience." There's a lot to it, and a lot to like. First, it understands simple voice commands for playing music from iPods, memory sticks and satellite radio, and there's no hassle. Tuning to a specific XM radio station, for example, is as easy as saying the name out loud. You just press a button and say "The Highway," and boom, you're listening to the best country music station on the planet. The navigation system's voice-recognition feature is similarly user-friendly.
Additionally, you can build an impressively diverse list of favorites - not just conventional radio stations, but also Pandora channels and music from your portable device, not to mention contacts from your connected phone. You can even "favorite" navigation points or commands like "Find nearest coffee shop." Moreover, we like that Cadillac has given CUE a fresh look, as the crisp, modern touch-screen sets it apart from other GM systems.
Ultimately, all this cutting-edge technology, athleticism and comfort add up to one conclusion - the 2013 Cadillac ATS is good, very good. Cadillac has built a legit sport sedan that merits strong consideration alongside cars like the BMW 3 Series, Mercedes Benz C-Class and Infiniti G37. It's an out-of-the-box gamble that should pay off for years to come.