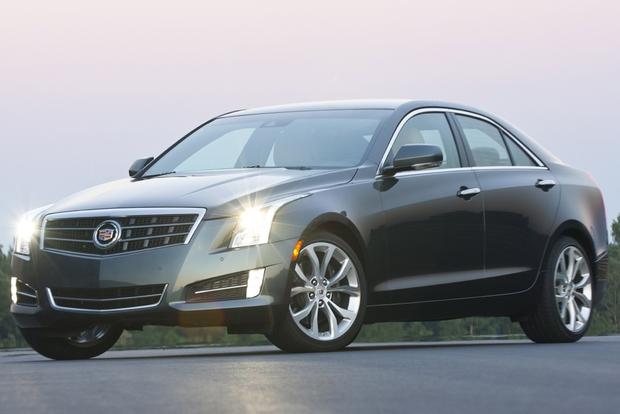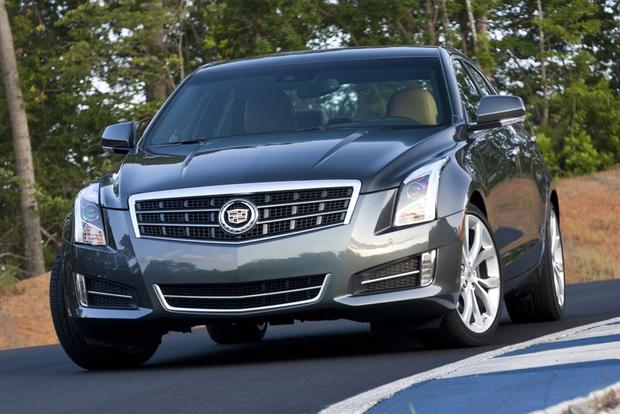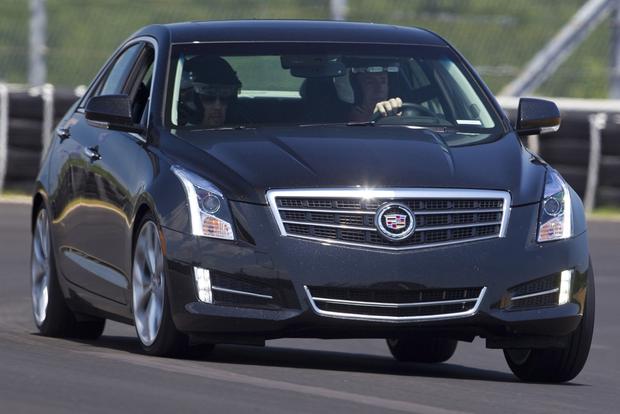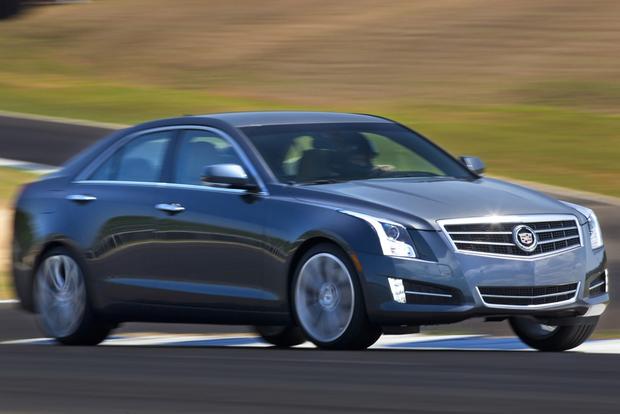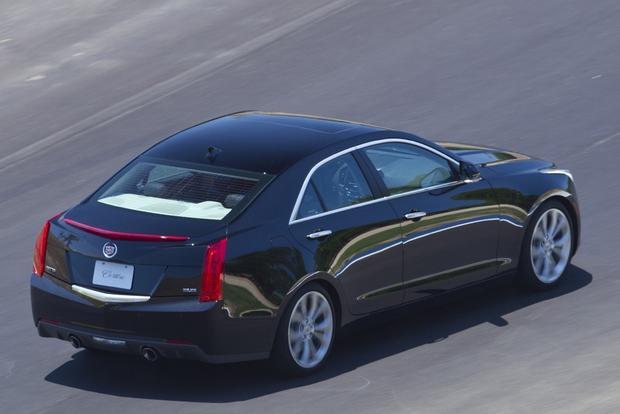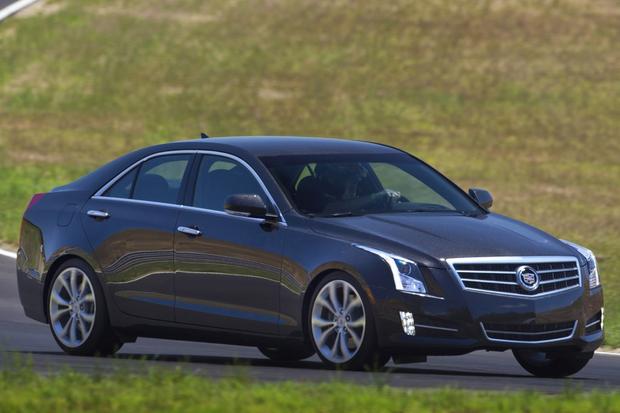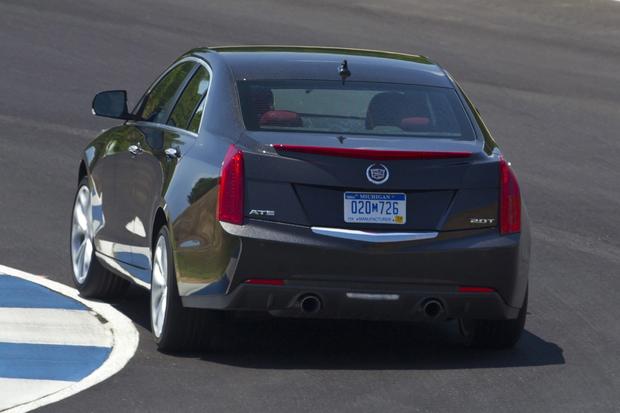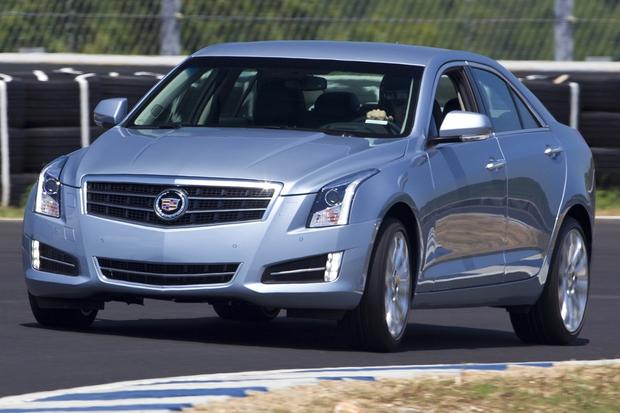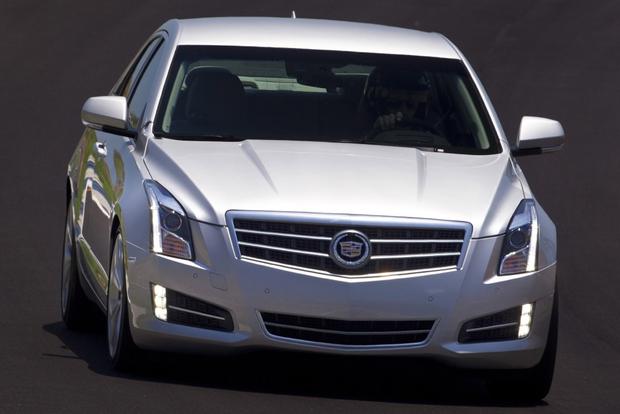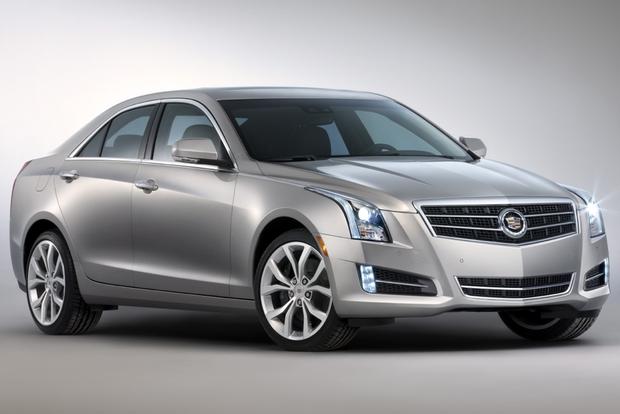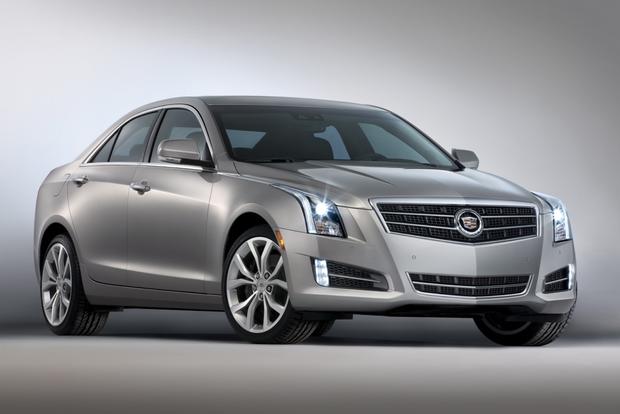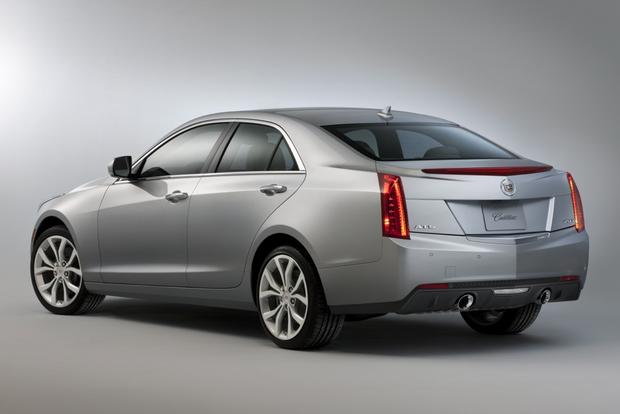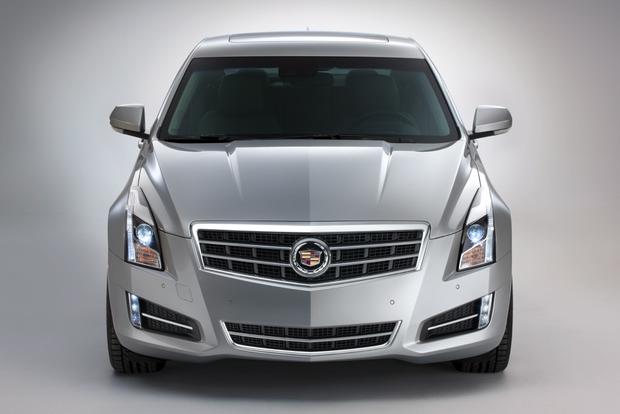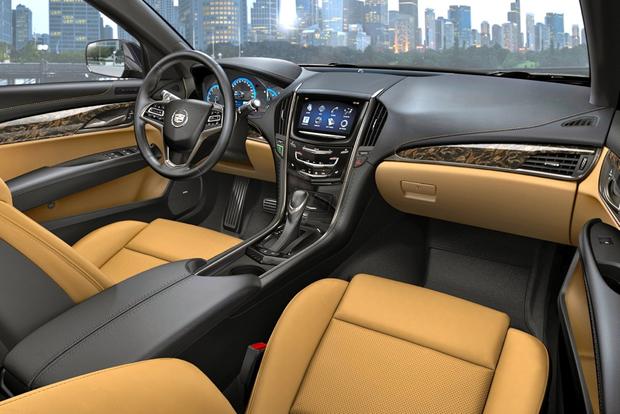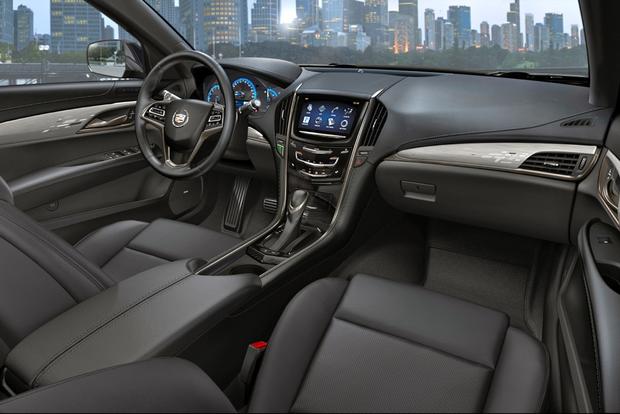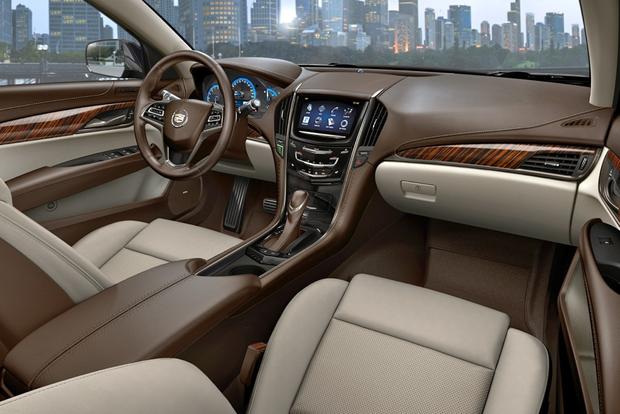 Pros: Genuinely sporty handling; signature Cadillac styling; smooth and substantial ride; fancy-yet-friendly CUE infotainment system; available all-wheel drive.
Cons: So-so base four-cylinder engine, limited rear legroom, tight trunk.
What's New: The Cadillac ATS is all-new for 2013.
Introduction
The all-new 2013 Cadillac ATS sport sedan is Cadillac's attempt to flip the script in the entry-level luxury segment. As usual, the bogey is the BMW 3 Series, but unlike other automakers that have gone down this path, Cadillac has reason to believe it can unseat BMW's perennial champ. For one thing, the 3 Series has grown a bit soft with its latest redesign, so there's suddenly daylight at the sporty end of the spectrum. But more importantly, the 2013 Cadillac ATS is very, very good at what it does.
First and foremost, the ATS is a true driver's car. Cadillac tuned the handling on Germany's famous Nurburgring circuit, and frankly, manufacturers throw the word "Nurburgring" around so freely these days that we take it with a grain of salt. But in the case of the ATS, it's definitely more than just a marketing exercise. This is an honest-to-goodness performance sedan that will give any rival four-door a run for its money.
Yet it's the completeness of the ATS package that really wins us over. It's athletic, sure, but the ATS is also every bit as smooth and luxurious as a premium sedan should be. Technology galore awaits in the well-appointed cabin, and a choice of three engines means there's something for just about everyone. Is it better than the 3 Series? We'll reserve judgment for now, but we suspect the 2013 Cadillac ATS script will have a decidedly happy ending.
Comfort & Utility
The 2013 Cadillac ATS sedan is offered in four basic trim levels: Standard, Luxury, Performance and Premium.
Note that the base 2.5-liter engine is available only in Standard or Luxury trim, while the midlevel 2.0-liter turbo is offered in all four trims, and the range-topping 3.6-liter V6 comes in Luxury, Performance, or Premium trim.
The Standard trim starts things off with a bang, featuring such niceties as 17-inch alloy wheels; keyless ignition; six-way power front seats with power lumbar; dual-zone automatic climate control; Bluetooth; a trip computer with a huge 5.7-in color display; and a seven-speaker Bose audio system with dual USB ports, an SD slot, and an auxiliary audio input.
Moving into the higher trim levels, the Luxury adds some minor exterior tweaks, leather upholstery, eight-way power front seats, and a 4.2-in center-mounted color information display, among other upgrades.
Meanwhile, the Performance model gets perks like adaptive Xenon headlamps, shift paddles (automatic transmission only), sport seats with adjustable side-bolsters, alloy pedals and parking sensors. As for the fancy Premium, it goes all out with 18-in wheels, a color head-up display, and the FE3 suspension package, which features adaptive magneto-rheological dampers like the ones used by the exclusive Corvette ZR1.
Many of the higher trims' standard features are available on lower trims as options. Notable extras, depending on trim and configuration, include a 10-speaker surround-sound Bose audio system and the Cadillac User Experience infotainment system (CUE), with or without navigation.
In our interior evaluation, we found the ATS's standard front seats sufficiently supportive, although we know we'd be pining away for the excellent power sport seats in the Performance and Premium models. Thanks to the standard tilt-and-telescopic steering wheel, most pilots should have no problem dialing in an agreeable position. The view from the cockpit isn't the most expansive, as Cadillac's angular design language has a way of compromising outward visibility. Still, we give the ATS bonus points for its sleek, high-quality dashboard materials and crisp display graphics. Moreover, most major controls are intuitive, especially with CUE aboard (see Technology below).
The back seat of the ATS is less impressive. We don't expect copious headroom in a compact sport sedan, but we do expect enough legroom for two full-sized adults to sit one behind the other in reasonable comfort-and that's a tall order in the short-wheelbase ATS. Trunk capacity is another lowlight, checking in at a coupe-like 10.2 cubic feet. Unlike the 3 Series, the ATS is not available as a wagon for increased versatility.
Technology
The ATS is a music lover's dream, even in base Standard trim. You get not one, but two USB ports, along with an SD-card slot in case that's your preference. There are numerous other high-tech offerings in the ATS, including a beautifully rendered color trip computer and a color head-up display.
The big news, however, is CUE, which marks a technological revolution for Cadillac. Employing an attractive 8-in touch-screen that reminds us of a miniature iPad, CUE provides user-friendly access to many vehicle functions, but entertainment and connectivity are its real strengths. CUE's voice recognition system can process a variety of commands, from playing music to calling your friends or finding a destination-all with the press of a button and a simple spoken phrase. Additionally, you can build an unusually diverse list of CUE "favorites"-not just conventional radio stations, but also Pandora channels, music from your portable device, common navigation requests and even contacts from your phone.
Performance & Fuel Economy
The ATS starts with a 2.5-liter inline-4 rated at 202 horsepower and 191 pound-feet of torque. Rear-wheel drive and a six-speed automatic transmission are mandatory. We can see the appeal of this configuration, especially considering its estimated fuel economy of 22 mpg city/32 highway.
Still, acceleration with the 2.5 is tepid relative to most rivals, so we prefer the 2.0-liter turbocharged inline-4, which cranks out 272 hp and 260 lb-ft. Available with either rear- or all-wheel drive and even a six-speed manual transmission (RWD-only) in addition to the automatic, the robust turbo is the most versatile and arguably the most entertaining ATS motor. What's more, turbo fuel economy is expected to match that of the base 2.5, at least with RWD and the automatic transmission.
But for some drivers, there's no substitute for broad-shouldered six-cylinder power, and that's exactly what the optional 3.6-liter V6 provides. Rated at 321 hp and 275 lb-ft, the big 3.6 pulls to redline with gusto. Fuel economy is pegged at a respectable 19/28 mpg with the mandatory automatic.
Safety
The 2013 Cadillac ATS comes with stability control, four-wheel antilock brakes with an available Brembo performance upgrade and eight standard airbags (front, front side, front knee, full-length side-curtain). Rear thorax airbags are optional.
Depending on trim, the ATS also offers a laundry list of electronic driving aids, including radar-based forward collision alert, automatic braking in case of driver negligence, lane-departure alert, blind-spot alert and rear cross-traffic alert.
The ATS had not been crash-tested as of this writing.
Driving Impressions
From behind the wheel, there's just not a bad apple in this barrel. Sure, the base engine isn't that exciting, but every ATS was designed from the ground up to handle like a sports car. Steering response is crisp and direct, while body control is remarkably precise. The manual transmission ATS turbo with its standard limited-slip differential is a real hoot, especially with the optional magneto-rheological dampers aboard.
But anyone can build a car that handles, right? The test of a true premium sport sedan is how it handles the daily grind. Happily, the ATS is absolutely in its element during normal driving, soaking up bumps with a substantial feel that even the 3 Series can't quite match. That's especially remarkable given that the ATS is actually a relatively lightweight car, with most models tipping the scales at between 3,300-3,500 lbs.
Other Cars to Consider
BMW 3 Series: The 3 Series still has a leg up on Cadillac in the powertrain department, and it's also offered as a wagon, with a redesigned coupe and convertible just around the corner.
Lexus IS: We considered recommending the Audi A4 instead, but we think the IS sedan's mission is more in line with that of the ATS. Offered with a choice of two V6 engines, the rear-drive IS is similarly compact and sporty.
Mercedes-Benz C-Class: The C-Class was recently rejuvenated with a new interior and fresh engines. Unlike some "baby Benzes" from the past, this one looks and drives like a real Mercedes.
AutoTrader Recommends
We think most ATS shoppers will be happiest with the turbocharged ATS-it's powerful, fuel-efficient and available in numerous configurations. Plus, it's cheaper than the V6.