Car Review
2013 Cadillac Escalade EXT: New Car Review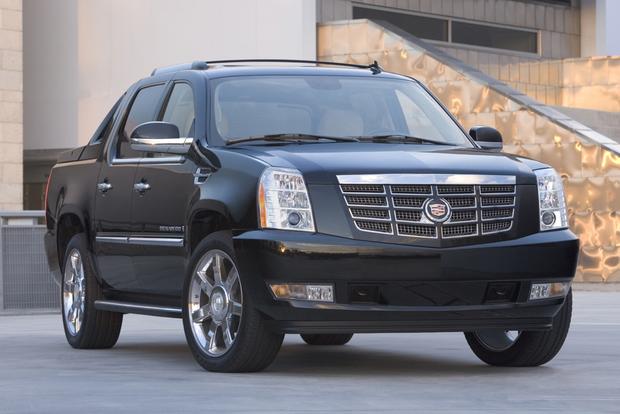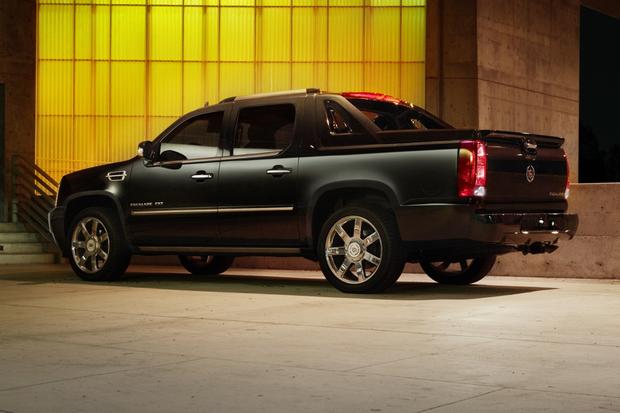 Pros: Standard all-wheel drive; flexible, do-everything utility; top-notch V8
Cons: Conflict between truck-like capability and showy luxury
What's New: new colors; revised grade braking performance
No vehicle can really do it all. Pickups are great for hauling cargo, but space for passengers is typically more limited than in an SUV. Plus, pickups don't offer too much lockable cargo space. SUVs are versatile, but most owners wouldn't want to fill an SUV's carpeted cargo space with a messy load.
The 2013 Cadillac Escalade EXT is one of a handful of vehicles that straddles the line between pickup and SUV, along with the Honda Ridgeline and soon-to-be-discontinued Chevrolet Avalanche. But unlike the Honda or the Chevy, the Escalade EXT does it with a typical dose of Cadillac-grade luxury.
Cadillac's Escalade EXT rides on the same platform as both the long-wheelbase Escalade ESV and the Chevrolet Suburban. For the extra $20,000 premium over a loaded Chevrolet Avalanche, Escalade EXT buyers can expect an extra dollop of luxury. Cadillac dubs it the "ultimate luxury utility vehicle," and with the demise of the civilian Hummer H1, we're inclined to believe it. The Escalade EXT is capable and its interior is carlike, but there's no hiding the reality: This is a 20th-century SUV competing in a 21st-century marketplace.
Comfort & Utility
To fully appreciate Cadillac's Escalade EXT, you first must get in. And if you drew the short straw when it came to inseam measurement, the ingress is that much more difficult. Thankfully, handholds are available to assist but, without a running board or side steps, the EXT's cockpit requires extra effort to access.
Once inside, you're greeted by legible instrumentation, a comfortable but thin-rimmed steering wheel and a control center that gives a new dimension to the word "control." Here the driver or passenger has access to the EXT's navigation system, Bose 5.1 10-speaker surround sound system and automatic dual-zone climate control. It is also the point of access to the Driver Information System. Information found there is accessible and reasonably intuitive.
We wish the seats enjoyed a bit more sculpting for lateral support and the steering wheel didn't feel as if it had been pulled from a GM parts bin dated 1982.
The essence of the Escalade EXT and its Avalanche cousin is the Midgate panel, which converts the 5-passenger EXT with short bed into a 2-passenger luxury truck with an 8-foot bed and more than 100 cu-ft of secure storage. There is also lockable storage under the cargo floor to hold small items out of sight, and top box storage for items you don't want floating around in the interior. If you and the spouse have home improvements on your weekend agenda, you won't need to rent a truck. In utility, the Escalade EXT nearly matches a regular-cab pickup while providing real comfort for five people when you don't need a truck.
Technology
Cadillac's team may have started with the more pedestrian Avalanche as its base, but thousands of engineering hours later, you'd barely recognize the EXT's less sophisticated roots. Under the hood is Cadillac's Active Fuel Management technology, which uses computers to monitor the engine's load; if all eight cylinders aren't necessary, four are shut down to improve fuel economy. The leather-trimmed front bucket seats are both heated and cooled, and dual-zone automatic climate control works to keep everyone comfortable. Touchscreen navigation is standard. The entertainment side of that installation includes MP3/CD/DVD, voice recognition and a USB port. Bluetooth technology is also standard.
Finally, GM's OnStar is provided on all trim levels. Whether you're using it for turn-by-turn navigation, concierge service or an on-road emergency, it can prove invaluable. Its only cost is a subscription fee, although you get a year free when you buy a new Escalade EXT.
Performance and Fuel Economy
Only one powertrain choice is offered in the Escalade EXT. A 6.2-liter V8 delivers 403 horsepower and 417 lb-ft of torque. This motor is seamless in operation, with prodigious torque, instant off-the-line response and a relaxed, sleep-inducing over-the-road pace. All-wheel drive is standard. Despite the three tons of mass and barn-door-like aerodynamics, the Escalade EXT delivers an EPA estimate of 13 mpg city/18 mpg hwy. Towing capability is 7,600 pounds.
Safety
For a vehicle based on a truck chassis, the Escalade EXT is remarkably composed. Steering, braking and cornering capability generally disguise the body-on-frame EXT's agrarian roots; we would wish, however, for better on-center steering feel.
Integral to the behavior of the chassis is GM's StabiliTrak, an electronic stability control system that improves stability by detecting and minimizing skids. The Escalade EXT also offers head curtain side air bags with rollover protection for all seating rows, dual front side-impact airbags and pretensioners to minimize passenger movement during a collision.
Helping to avoid collisions are standard 4-wheel disc brakes with ABS and the established safety of a responsive but thirsty V8.
Driving Impressions
From his or her elevated perch, the Escalade EXT driver enjoys a commanding view of what's going on around the vehicle. But visuals will have to mostly suffice, as the steering communicates little of what's happening at road level, aside from the road imperfections transmitted up through the oversized wheels. The ride and handling balance of the 2013 Escalade EXT is arguably better than it deserves to be (even without the available Magnetic Ride Control), but it lags behind that of several more contemporary competitors.
Other Cars to Consider
Ford F-150 Platinum - This high-end Ford pickup credibly matches earlier efforts by Lincoln. After all, Cadillac introduced the Escalade EXT as a counter to Lincoln's ill-fated Blackwood. More recently it was kept in production as a response to Lincoln's Mark LT, another F-Series with Rodeo Drive (rather than mere rodeo) aspirations.
Ram 1500 - The Ram brand will throw as many upscale accoutrements at their Ram 1500 as you'd care to buy. But it's not quite the truck/SUV blend you get with Cadillac's EXT.
AutoTrader Recommends
We'd take a 2013 Cadillac Escalade EXT in standard form, adding little more than a bed mat for protection. We'd insist the dealer deliver it with a full tank of gas and live happily ever after with a transaction price of around $65,000. Money saved by not checking every option box could be spent on pursuits you bought the EXT for in the first place: mountain biking, kayaking, snowboarding or, of course, the rodeo.