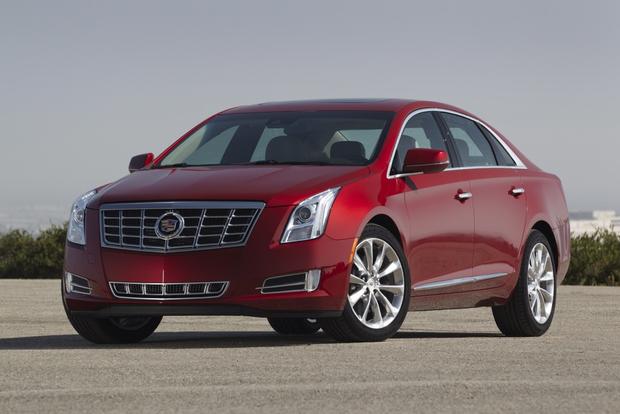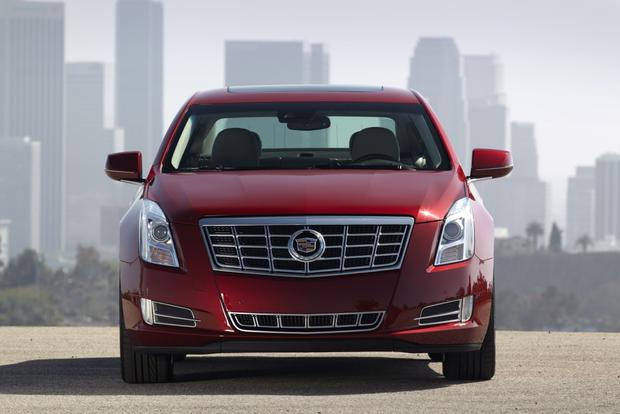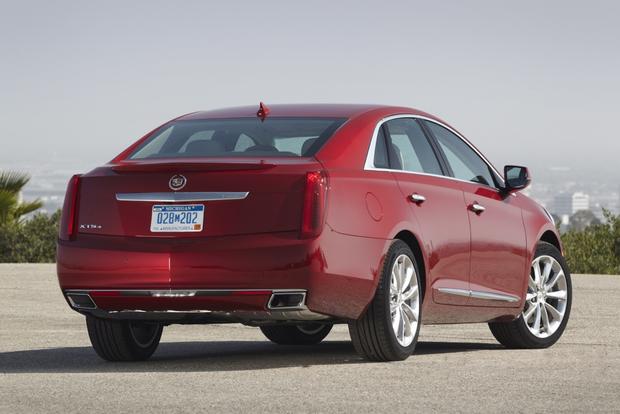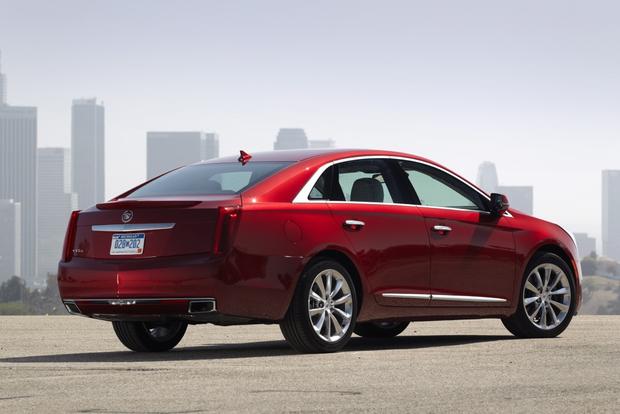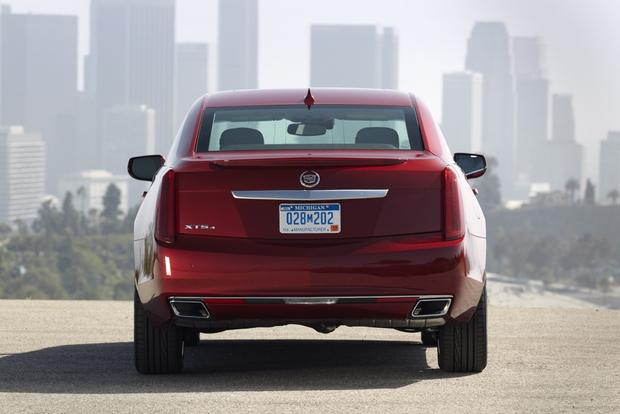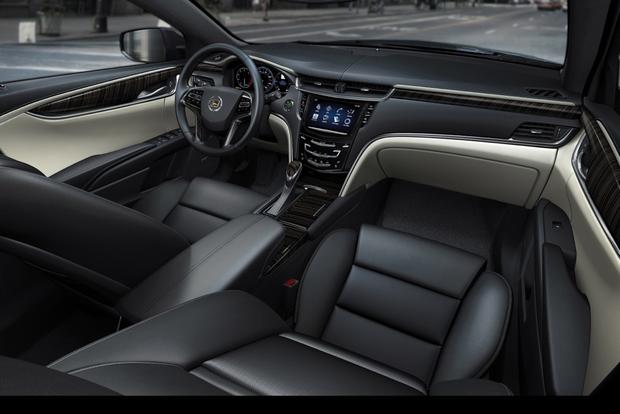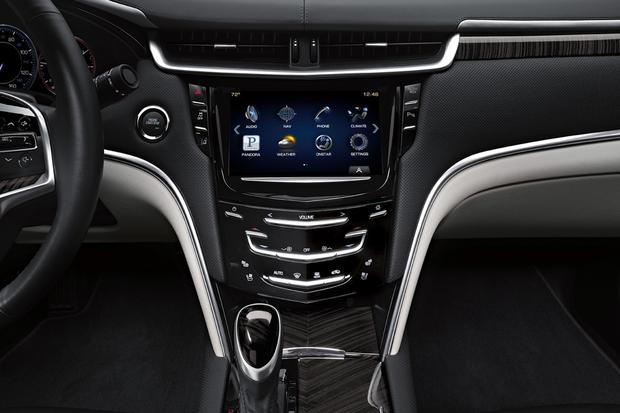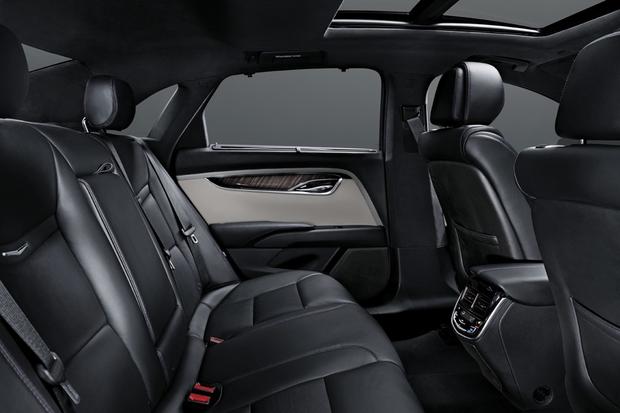 Pros: Cushy luxury without the squishy ride; fresh technology gives cabin a contemporary feel; reasonable starting price
Cons: Currently only available with a V6; no rear-wheel-drive model; built-in-Canada origins dampens the patriotic possibilities of buying American
What's New: The Cadillac XTS is all-new for 2013.
Cadillac was in a renaissance period when the CTS-V came out in 2004 to upstage European sports sedans with its surprising performance and edgy style. More recently, the brand fell into a slump, with no new models making their debuts in the past three years. It was high time for a brand-new Caddy to reclaim the brand's stake in the competitive large luxury sedan market.
That dry spell comes to an end with the all-new 2013 XTS, a big four-door that fills the gap between the CTS and the plus-size (and now defunct) DTS. Stoking the fire while it's hot, Cadillac will also introduce the ATS, targeted at the BMW 3 Series, later this summer.
Cadillac took a forward-thinking approach to the XTS's in-car electronics, introducing a number of innovative safety and convenience features. Despite its techy magnetic ride control feature, this big sedan's approach to drivetrain packaging is fairly simple, with only one engine and transmission choice coupled to either a front-wheel-drive or all-wheel-drive setup.
The XTS is available in four trim levels: Standard ($44,995), Luxury ($49,610), Premium ($54,505) and Platinum ($59,080). Based on its pricing and market positioning, the XTS is expected to be cross-shopped most frequently with the BMW 5 Series, Mercedes-Benz E-Class, Lexus GS and Lincoln MKS.
Comfort & Utility
Cadillac has long been associated with supreme comfort-sometimes to a fault-and its new XTS certainly doesn't disappoint in the arena of luxury accommodations. The front seats are inviting king-size thrones, and rear passengers are treated to spacious surroundings and generous legroom. Our top-shelf Platinum model was finished with tasteful top-stitched leather on the dashboard and high-quality finishes including real metal and wood trim.
The XTS's expansive cargo capacity makes a good case for the car's relatively large footprint: with 18 cubic feet of trunk space, the Cadillac offers more volume than the Audi A8L and the BMW 7 Series. Convenience features include adaptive remote start across all models, standard dual-zone climate control with tri-zone standard on Premium and Platinum models, and heated and ventilated seats on Luxury, Premium and Platinum trim levels.
Pleasant details include illuminated entry and courtesy lighting and, on Luxury and Premium models, LED spotlights. The top two trim levels also receive a color head-up display.
Technology
Thanks to its clean-sheet design, the Cadillac XTS offers loads of new technology that will eventually trickle into other models, and to prove the new car is tech savvy, every XTS is delivered with an iPad equipped with an app that replicates the car's center screen.
The XTS introduces CUE (short for Cadillac User Experience), a multimedia interface system that uses an eight-inch touchscreen display with haptic feedback-meaning that the screen vibrates when you've triggered one of its functions by touch. The system boasts unique features like intuitive voice recognition, gesture recognition and a proximity sensor that detects when your hand is nearby and triggers key menu buttons in response. Standard on Premium and Platinum models is a reconfigurable 12.3-inch instrument cluster with four gauge layout options.
Tech isn't limited to the dashboard: in addition to the electronics interface, the XTS adds several innovative safety features as well as numerous bits intended to strike a balance between ride quality and handling.
Performance & Fuel Economy
The new XTS isn't a high-strung V model that's intent on ultimate performance, but its direct-injected 3.6 liter V6, coupled with a six-speed automatic transmission, and a curb weight of 4,006 pounds (4,215 pounds for the all-wheel-drive model) makes for reasonably responsive acceleration. Total engine output is a mild 304 horsepower and 264 lb-ft of torque. Aided by its relatively light weight, the XTS achieves a respectable 17 mpg city and 28 mpg highway. Opting for all-wheel drive drops the highway figure to 27 mpg.
Safety
On top of the usual safety accoutrements like dual-stage frontal air bags, knee airbags, side and head curtain airbags and seat side impact airbags for outboard rear passengers, Cadillac introduces a number of novel features intended to protect occupants from outside perils-not to mention driver error. For instance, the new Safety Alert Seat works with distance and position sensors to vibrate either side of the driver seat, warning when the car wanders in its lane or approaches an obstacle. Further active safety measures include a short- and long-range radar system that supports the adaptive cruise control and a rear cross-traffic alert.
The Driver Awareness package is standard on Premium and Platinum versions. It includes lane departure warning, front collision alert, blind zone alert and rear cross-traffic alert.
The Driver Assist package will be available in the fall. It supplements the Driver Awareness package with adaptive cruise control, front and rear automatic braking and automatic collision preparation.
Driving Impressions
Although the XTS is by no means an all-out performance sedan, it does make a few conscious choices intended to satisfy the driver. For instance, rather than succumb to the current trend of maximizing fuel economy by using a lifeless electric power steering setup, Cadillac's engineers opted for hydraulic steering, which offers greater feel. Body control is excellent given the XTS's large proportions, and this Cadillac doesn't feel excessively floaty or disconnected when driven aggressively on challenging roads.
The 3.6-liter V6 may not win any drag races, but it plays well with the six-speed transmission, offering decent acceleration and responsiveness. Highway cruising is the XTS's strong suit, with the cabin effectively insulated from outside noise and the adaptive suspension smoothing out rough pavement. The magnetic ride control feature proved its adaptability when we pushed the XTS on Malibu's winding canyon roads, where it acquitted itself with impressive nimbleness considering its overall bulk and smooth riding characteristics.
Other Cars to Consider
Lincoln MKS-Although it starts at a lower $42,810, the Lincoln MKS is in many cases a more obvious competitor to the XTS than European offerings such as the BMW 5 Series and the Mercedes-Benz E-Class. Redesigned for 2013, the MKS offers comparable power from its EcoBoost V6 and interior styling that's consistent with the feeling of the XTS's cabin.
BMW 5 Series-We never thought the day would come when a Cadillac could be mentioned in the same breath as a BMW, but that day has come: the $46,900 528i sedan's turbocharged 4-cylinder produces less power than the XTS, but its soft steering and suspension tuning make it surprisingly well matched to the Caddy.
Mercedes-Benz E-Class-Starting at $50,490, the Mercedes-Benz E-Class offers a slightly more utilitarian five-passenger sedan. The Benz comes equipped with time-tested technology and impressive durability, making it more of a blue chip choice in contrast to the newly introduced Cadillac XTS.
AutoTrader Recommends
If comfort and luxury are at least as important as driving experience, the XTS is your car.