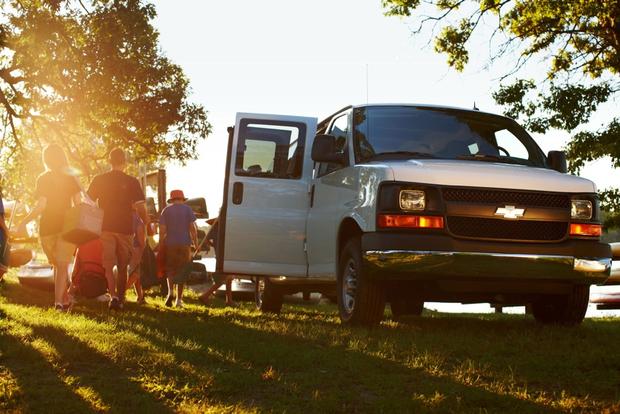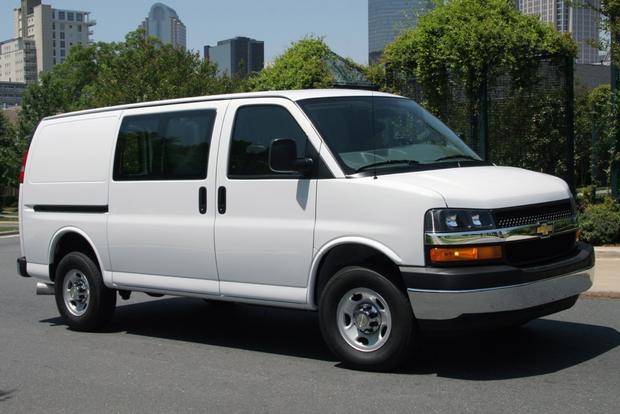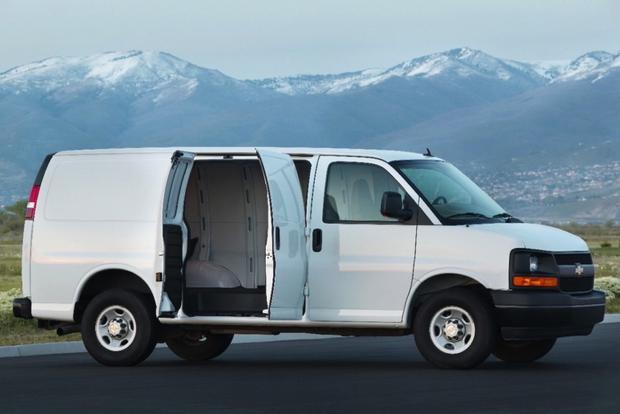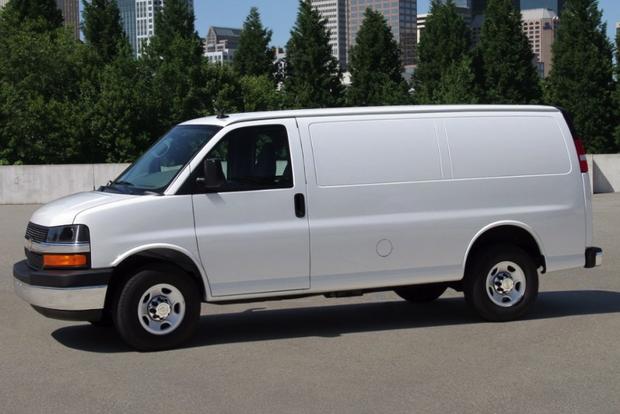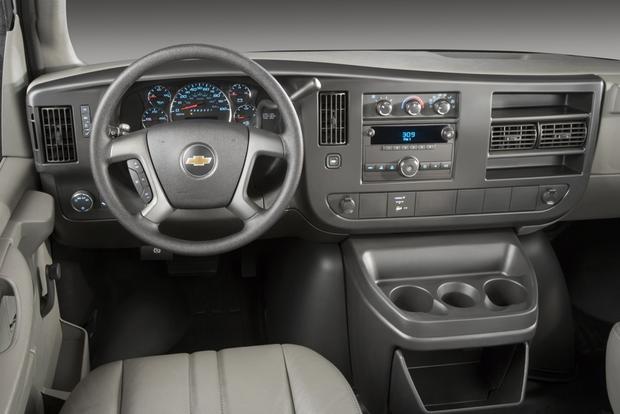 Pros: Big capability; proven reliability for carrying family or cargo
Cons: Current-generation Express dates all the way back to 1996
What's New: A backup camera, parking sensors and navigation radio are now available.
If the 2013 Chevrolet Express 1500 had only the Ford E-150 to compete with in the full-size cargo and passenger van segment, its task would be simpler. The current-generation Express dates to 1996, but Ford's E-Series model is even older. And that's exactly why Ford has replaced the Econoline with the new Ford Transit full-size cargo van.
So full-size van shoppers are no longer limited to the Express and E-150, Mercedes-Benz offers the Sprinter, a far more refined van with a price to match. The Nissan NV is also more modern than the Express. The Nissan is available as a 1500, although only in cargo van form. On the horizon, Chrysler's new full-size Ram ProMaster arrives this year.
Still, the Chevrolet Express 1500 deserves a look, whether for work or play. The choices are many. The Express 1500 is available in both passenger and cargo trim, with a standard V8 in the 8-passenger version and a base V6 or optional V8 in the cargo van. The Express 1500 has a gross vehicle weight rating (GVWR) of 7,300 pounds, while the Express 2500 and 3500 offer more hauling capability, more engine choices (including a diesel option) and longer, extended wheelbase models. All-wheel drive is optional on both the Express 1500 cargo and passenger vans. There's also a compressed natural gas package for the cargo model.
Comfort & Utility
With available room for 8 people or a ton of cargo, the Express can be the ideal vehicle for your duties, whether work or play. In base form (as marketed to many fleets) the Express can serve roles as diverse as plumbing, carpentry or flower delivery. As a passenger van, the Express is frequently used in shuttle or limousine service. But it can also be a oversized family hauler, tow vehicle or road trip cruiser.
If space can be construed as a luxury, the Express would rival a Lexus. Its seating comfort, however, won't; the factory seating supports you but does little else. Air conditioning is standard, and a rear unit is also available. You can equip your Express with enhanced interior lighting, remote keyless entry and a remote vehicle starter.
Technology
In this market segment, the addition of any technology comes as a surprise. To GM's credit, the Express van enjoys numerous technology-driven features including newly available navigation radio, backup camera and rear parking sensors. Among the audio systems is one with CD/MP3 capability and a USB port, along with Sirius XM satellite radio. Bluetooth is an option, as is dealer-installed Wi-Fi capability. Two interior 12-volt power outlets can power a laptop, while a remote vehicle starter system allows advance warm up in cold temperatures and cool-down when it's hot out. Finally, all Chevrolet vans come equipped with OnStar, which provides both emergency response and turn-by-turn navigation.
Performance & Fuel Economy
Within the Express family (1500, 2500 and 3500), there are five available gasoline powertrains plus the DuraMax diesel. If you stick with the light-duty 1500 cargo van, however, you're limited to two: the 4.3-liter V6 with 195 horsepower and 260 lb-ft of torque is standard, and a 5.3-liter V8 is optional. We'd find the 4.3-liter V6 fine for in town stop-and-go delivery, but any trips subjecting you and your cargo to a freeway or interstate really call for more capability. And that additional capability comes in the guise of the 5.3-liter V8, delivering 310 hp and 334 lb-ft of torque. The V8 comes standard on the Express 1500 passenger van, and that engine is also available in a flex-fuel version that delivers the same horsepower and torque while operating on E85.
The best fuel economy comes with the V6. So equipped, the Express 1500 is rated by the Environmental Protection Agency (EPA) at 15 miles per gallon city and 20 mpg highway. With the V8 and all-wheel drive, economy dips to 13 mpg city/17 mpg hwy.
Safety
If a collision zone provides a barrier of safety, an almost empty Express van should be the safest vehicle on the road. Thankfully, GM has also given consideration to elements of both active safety (your ability to avoid the accident) and passive safety (the ability to survive an accident). Power-assisted rack-and-pinion steering can assist in guiding you around a collision, while 4-wheel disc braking with ABS and dynamic rear proportioning can reduce the drama inherent in stopping a loaded truck. Also standard on all Express vans is StabiliTrak (GM's electronic stability control), and the newly available backup camera and parking sensors can help with low-speed maneuvering. Available head curtain side airbags and lap and shoulder belts for center seat passengers bolster safety in the event of an accident.
Driving Impressions
Piloting an Express, or anything else within this full-size genre, is a bit like steering a boat. Ponderous proportions typically make for ponderous handling, and in this regard the Express delivers as expected. To their credit, GM engineers have done an admirable job of providing the aging platform with a powerful optional V8. With the larger motor, the Express 1500 goes about its business with a surprising degree of eagerness.
Other Trucks to Consider
Ford Transit Connect: If your duties don't demand the capabilities of a full-size van, the smaller and more efficient Ford Transit Connect may get the job done. It's also available in passenger and cargo configurations, although the passenger version seats only five. The full-size 2014 Transit arrives later in 2013.
Ford Transit: The Econoline is esentially dead and the Ford Transit takes it's place. The new full-size transit is thoroughly modern van with tons of engine and cargo configuration options. It's introduction signals a new era of full-size cargo van. Because of the Transit, we can't help but think the Express will get a serious update in the near future.
Mercedes-Benz Sprinter: The Sprinter offers impressive capability and efficiency in a considerably more modern package than the Express 1500. With a standard diesel engine, it also comes in passenger and cargo versions. But it's considerably more expensive than the Express.
Nissan NV: Only the NV3500 is offered as a passenger van, but Nissan's NV1500 cargo van is a close competitor to the Express 1500 cargo van. The Nissan also uses a standard V6, but all-wheel drive is not offered. The NV has a unique, more SUV-like body style than most full-size vans.
AutoTrader Recommends
We'd equip an 8-passenger 2013 Chevrolet Express 1500 with the optional 5.3-liter V8, LT trim and just enough comfort and convenience accessories to make it livable for a three week grand tour. With room for everything a family of four could possibly carry, along with bike storage inside (rather than on top of) the van, the Express would make a great base camp for any weekend or weeks-long adventure. And even with extras like navigation, Bluetooth and a backup camera, the price comes in under $35,000.