Car Review
2013 Chevrolet Express 2500: New Car Review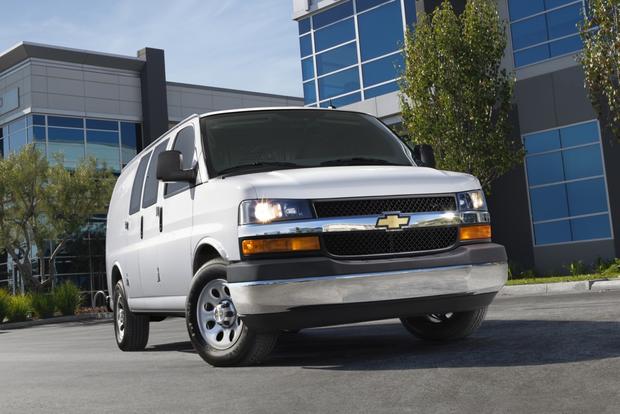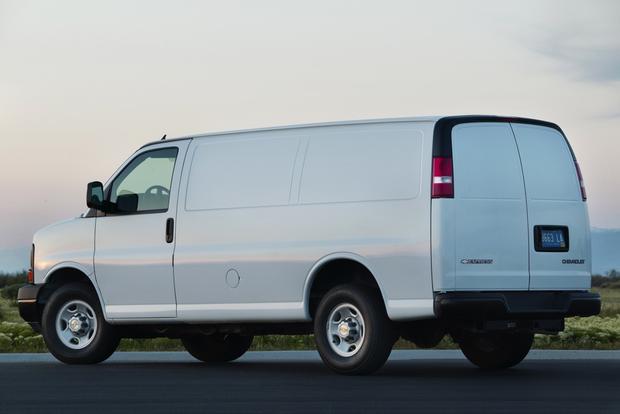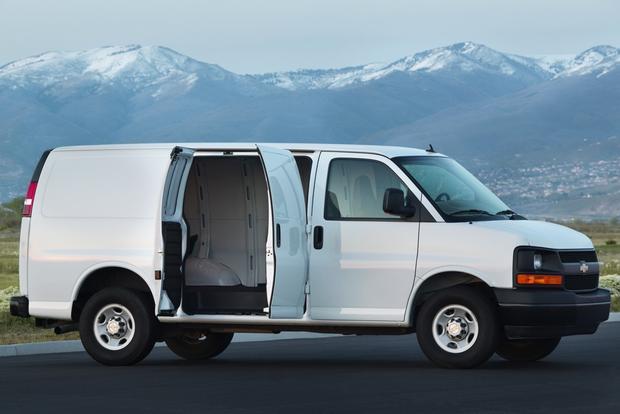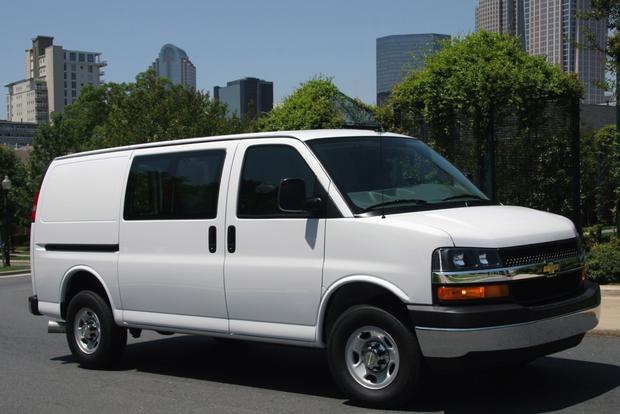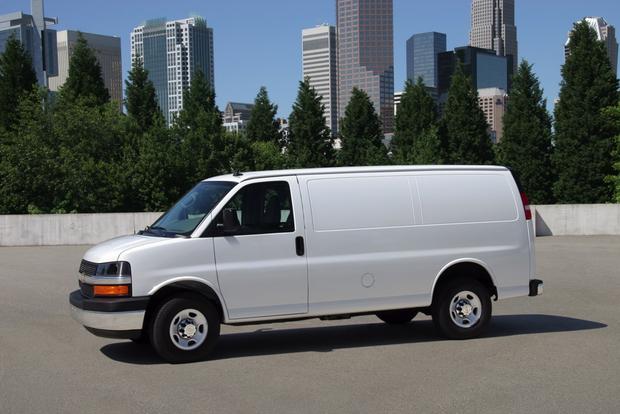 Pros: Just-right capability; spaciousness; affordability
Cons: Outdated design
What's New: A backup camera, parking sensors and navigation radio are now available.
Sitting in the middle of the Chevy full-size van lineup, the 2013 Chevrolet Express 2500 hits the sweet spot in both capability and affordability. Chevy provides a 4.8-liter FlexFuel V8 as standard, eschewing the standard V6 of the 1500. A 6.0-liter FlexFuel V8 is optional for 2500 passenger and cargo vans, and a 6.6-liter DuraMax diesel is available for the 2500 cargo van. All three engine choices use a 6-speed automatic transmission. Braking is beefed up with large-diameter front rotors. Together, the front and rear axles can accommodate some 2,500 additional pounds of cargo or passenger load.
If comparing the Express family of vans to the Chevrolet Silverado family of pickups, consider that the vans provide a level of security for your cargo that a pickup never will. It will also keep your cargo dry, which is especially important if your residence or business is in the snowbelt rather than the sunbelt. Finally, most pickups are limited to six passengers maximum, while the Express passenger van can accommodate up to fifteen. If cargo protection is the most significant consideration, that's a valid argument for the Express. However, Chevy's lineup of pickups and SUVs is typically more engaging to drive and has enjoyed more updates over many years of production.
Comfort & Utility
With available room for 15 occupants or a ton of cargo, you can configure the Express in dozens of ways. In base form (as marketed to many fleets) the Express can serve job descriptions as diverse as plumbing, carpentry and flower delivery. As a passenger van, the Express is frequently used in shuttle or limousine service. Keep in mind, however, that the interior of the Express is more bare-bones functionality than expressive luxury. If you're looking for upscale appointments, you'll have to find them from aftermarket outfitters.
The Express 2500 sacrifices some comfort for utility. The suspension is less compliant and the tire choices typically more rugged than on the 1500. On the other hand, the 2500's handling and powertrain are less affected by load. And whereas the 1500 Express is limited to less than 7,000 pounds of towing capability with its 5.3-liter V8, the 2500 can pull up to 10,000 pounds with the 6.0 liter V8 or the 6.6-liter DuraMax diesel.
If space can be construed as a luxury, the Express delivers it in spades. Considering that it's a passenger van from Chevrolet, you'll find the level of comfort serviceable. A visit to a van converter can provide all the additional luxury or decadence you're inclined to purchase.
Technology
The Express 2500 enjoys numerous technology-driven features including newly available navigation radio, backup camera and rear parking sensors. Among the audio systems is one with CD/MP3 capability and a USB port, along with Sirius XM satellite radio. Bluetooth is an option, as is dealer-installed Wi-Fi capability. Two interior 12-volt power outlets can power a laptop, while a remote vehicle starter system allows advance warm up in cold temperatures and cool-down when it's hot out. Finally, all Chevrolet vans come equipped with OnStar, which provides both emergency response and turn-by-turn navigation.
Performance & Fuel Economy
The choices available on the Express 2500 should fit most needs. A Hydra-matic 6-speed automatic transmission is paired with all three engine choices. Standard is a Vortec 4.8 liter V8, delivering 279 horsepower and 294 lb-ft of torque. With it, the Express 2500 can tow up to 7,400 pounds as a cargo van and 6,700 pounds as a passenger van (allowing for the higher weight of a fully equipped interior). Next up is a 6.0-liter FlexFuel V8 good for 324 hp and 373 lb-ft of torque, which lets the Express 2500 tow up to 10,000 pounds in cargo form and up to 9,800 pounds as a passenger van. Opt for the 6.6-liter DuraMax diesel, and you'll enjoy diesel efficiency and longevity with up to 10,000 pounds of towing capability.
Given that all 2500s enjoy a gross vehicle weight rating (GVWR) of more than 8,500 pounds, the Environmental Protection Agency (EPA) doesn't provide fuel economy figures. You can, however, estimate 11 to 12 miles per gallon in stop-and-go driving and between 15 and 17 mpg in highway driving.
Safety
4-wheel disc braking with ABS and dynamic rear proportioning reduce the drama inherent in stopping a loaded truck. Also standard on all Express vans is StabiliTrak, GM's electronic take on stability control. Available head curtain side airbags and standard lap and shoulder belts for center seat passengers wrap up the safety menu. In the passenger van version, your ability to avoid an accident is enhanced by sweeping visibility, and drivers can now choose options like a backup camera and rear parking sensors to aid in low-speed maneuvering.
Driving Impressions
Ponderous proportions typically make for ponderous handling, and in this regard, the Express delivers as expected. To their credit, GM engineers have done an admirable job of providing the aging platform with a range of powerful V8 engine choices. As a result, the Express 3500 goes about its business with a surprising degree of eagerness, regardless of engine choice. But despite the Express's ability to navigate highways and byways, the arrival of recent competitors such as the Mercedes-Benz Sprinter has moved the needle regarding customer expectations. The industry has moved forward, and ultimately, GM will need to modernize the Express to keep pace.
Other Trucks to Consider
Chevrolet Suburban - Yes, the most obvious competitor to the Chevrolet Express 2500 is in the same showroom. A Suburban will seat up to eight, and although it doesn't deliver the sheer cubic volume of the Express, it tops the van in comfort and over-the-road demeanor.
Ford E-250 - The E-250 is just as dated as the Express, but the next-generation full-size Transit arrives fall 2013. Given the positive reception of its smaller sibling, the Transit Connect, Ford could have a winner on its hands, which would add pressure for Chevrolet to modernize the Express.
Mercedes-Benz Sprinter - The Sprinter offers impressive capability and efficiency in a considerably more modern package than the Express 3500. But it's also more expensive.
For those who can wait, Chrysler's upcoming FIAT-based full-size commercial van, the Ram ProMaster, will hit showrooms in the third quarter of 2013.
AutoTrader Recommends
We'd equip an 8-passenger 2013 Chevrolet Express 2500 LT with the optional 6.0-liter V8 and just enough comfort and convenience accessories to make it livable for a three week grand tour. It has room for everything a family of four could possibly carry, along with bike storage inside rather than on top of the vehicle. The Express would make an excellent base camp or a great tow vehicle for, say, a 25-foot Airstream. And even with navigation, Bluetooth and a backup camera, the price stays under $37,000.