Car Review
2013 Chevrolet Express 3500: New Car Review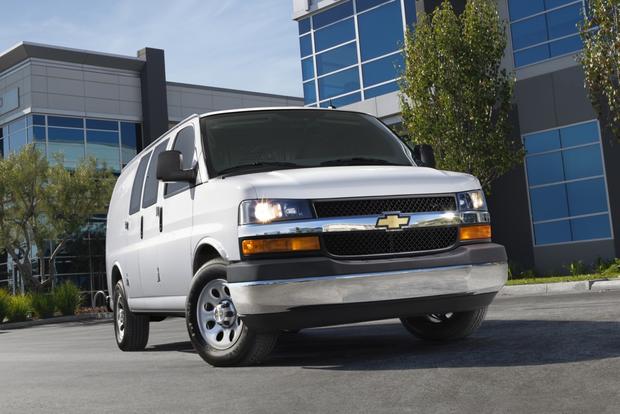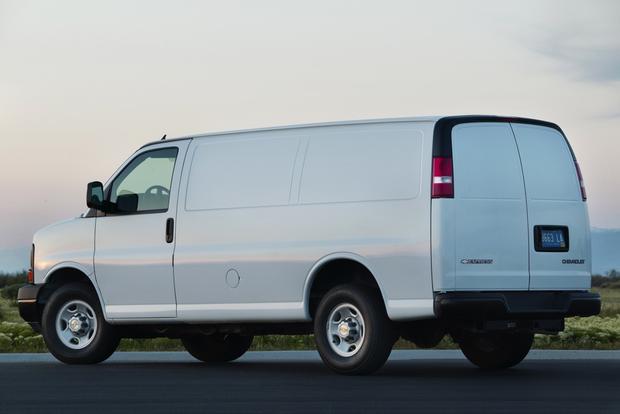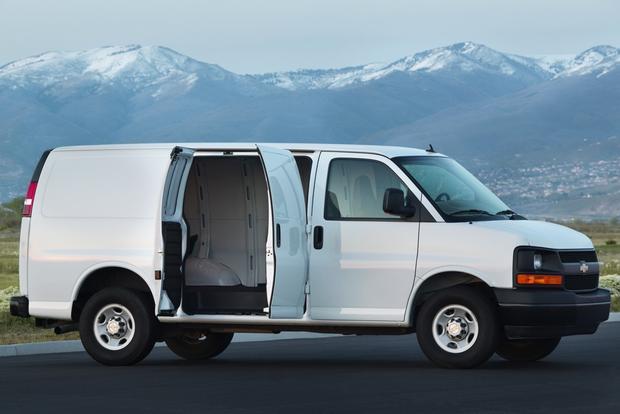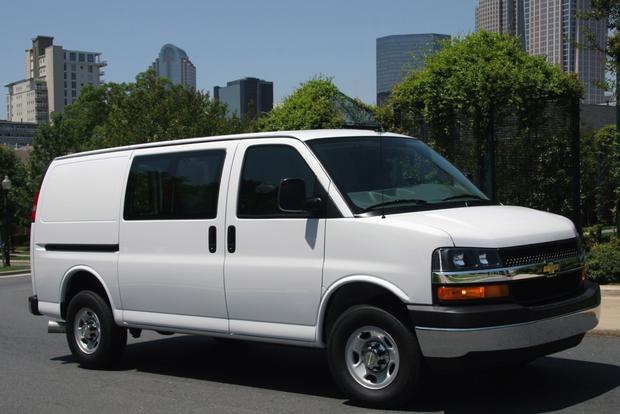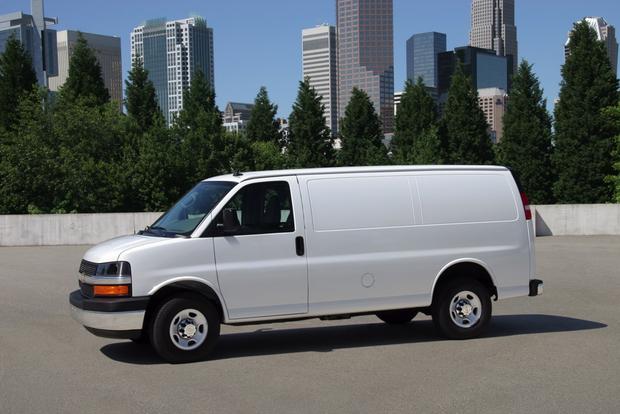 Pros: Maximum capability for demanding truck customers; up to 9,900 gross vehicle weight rating (GVWR) on diesel versions
Cons: Platform is old enough to star in a remake of Wagon Train
What's New: Available backup camera; parking sensors; navigation radio
Sitting at the top of the Chevy's full-size van lineup, the 2013 Chevrolet Express 3500 packs the biggest punch for the commercial user. With the gasoline powertrain, it has 965 additional pounds of payload over its smaller 2500 sibling. The payload comparison when it's equipped with a diesel engine is even greater.
Heavy-duty applications are the reason for the Express 3500's existence. The Express as a passenger van is capable of carrying 15 people, while as a tow vehicle it can be equipped to handle as much as 10,000 pounds. The 3500's standard drivetrain is the 4.8-liter FlexFuel V8, delivering 279 horsepower and 294 lb-ft of torque. The next bump up in power comes from a 6.0-liter FlexFuel V8 providing 323 hp and 373 lb-ft of torque. At the top of the engine pyramid is GM's 6.6-liter DuraMax diesel. Its horsepower rating of 260 may be modest, but the 525 lb-ft of torque will let you pull as many stumps as you can offer it. All engines are connected to GM's efficient, durable Hydra-matic transmission, which includes tap-up/tap-down driver shift control and tow/haul mode.
Although the capability of the Express is unquestioned, prospective buyers should remember that its platform dates to 1996. The market for domestic full-size vans has remained relatively static until very recently. Now both Ford and Chrysler (through its Ram brand) have new vans derived from European platforms on the way. For GM to retain its position as a close second to Ford in the full-size sales race, it's time for Chevrolet to bring to the table something conceived in this century.
Comfort & Utility
With available room for 15 occupants or a couple of tons of cargo, you can configure the Chevrolet Express in dozens of ways. In base form (as marketed to many fleets) the Express can serve job descriptions as diverse as plumbing, carpentry and flower delivery. As a passenger van, the Express is frequently used in shuttle or limousine service. The Express 3500 can even serve as a motor home when used as a donor vehicle for an RV conversion.
Chevy's heavy full-size van sacrifices some comfort for utility, though. The suspension is less compliant and the tire choices typically more rugged than in lighter duty stablemates, the Express 1500 and 2500. On the other hand, the 3500's handling and powertrain are less affected by load. And whereas the 1500 Express is limited to less than 7,000 pounds of towing capability with its 5.3-liter V8, the 2500 and 3500 can pull up to 10,000 pounds with the 6.0-liter V8 or the 6.6-liter DuraMax diesel.
As for all Express vans, Chevy employs a fully boxed frame, available locking rear differential and StabiliTrak electronic stabilization.
A big differentiator when choosing between a 1500 and the heavier duty 2500 and 3500 is the availability of a long-wheelbase version for the latter two vehicles. Featuring a 20-inch wheelbase stretch from 135 in to 155 in, the Express 3500 Extended can literally be all things to all people; if you've got it, the extended Express can probably haul it. Keep in mind, however, that the interior of the Express is more bare-bones functionality than expressive luxury. If you're looking for upscale appointments, you'll have to find them from aftermarket outfitters.
Technology
Express vans enjoy numerous technology-driven features. The 3500 offers a range of audio systems, including CD/MP3 capability and a USB port, along with Sirius XM satellite radio. A navigation radio, a backup camera and rear parking sensors are newly available options for the 2013 model year. Bluetooth is an option too, as is dealer-installed Wi-Fi capability. Two interior 12-volt power outlets can power a laptop, while a remote vehicle starter system allows advance warming up in cold temperatures and cooling down when it's hot out. Finally, all Chevrolet vans come equipped with OnStar, which provides both emergency response and turn-by-turn navigation.
Performance & Fuel Economy
The choices available on the Express 3500 should fit most needs. A Hydra-matic 6-speed automatic transmission is paired with all three engine choices. Standard is the Vortec 4.8-liter V8, delivering 279 hp and 294 lb-ft of torque. So equipped, the Express 3500 can tow up to 7,400 pounds as a cargo van. When equipped with the 6.0-liter gasoline engine, which is good for 323 hp and 373 lb-ft of torque, the Express can tow up to 10,000 pounds in cargo form and up to 9,700 pounds as a passenger van; the lower number allows for the heavier curb weight of the passenger version. Finally, opt for the 6.6-liter DuraMax diesel and enjoy diesel efficiency and longevity with up to 10,000 pounds of towing capability in the 3500 cargo, 9,700 pounds in the 3500 passenger van and 9,300 pounds in the 3500 extended passenger van.
Given that all 3500s enjoy a GVWR of more than 8,500 pounds, the Environmental Protection Agency (EPA) doesn't provide fuel economy figures. You can, however, project roughly 11 to 12 miles per gallon in stop-and-go driving and between 15 and 17 mpg in highway driving.
Safety
4-wheel disc braking with ABS and dynamic rear proportioning can reduce the drama inherent in stopping a loaded truck. Also standard on all Express vans is StabiliTrak, GM's electronic stability control program. Available head curtain side airbags and standard lap and shoulder belts for center seat passengers bolster safety in the event of an accident. Your ability to avoid an accident is enhanced by sweeping visibility in the 3500 passenger van and the newly available backup camera and parking sensors.
Driving Impressions
No one buys an Express cargo or passenger van with the idea of on-road competition. Whether intended for work or recreation, the Express is a means to an end. Ponderous proportions typically make for ponderous handling, and in this regard, the Express delivers as expected. To their credit, GM engineers have done an admirable job of providing the aging platform with a range of powerful V8 engine choices. As a result, the Express 3500 goes about its business with a surprising degree of eagerness, regardless of engine choice.
Still, the arrival of recent competitors like the Mercedes-Benz Sprinter and the Nissan NV -- not to mention upcoming new full-size van models from the other two Big Three U.S. automakers -- mean GM will need to modernize the Chevrolet Express and its sister model, the GMC Savana, to keep pace.
Other Trucks to Consider
Chevrolet Suburban - Yes, the most obvious competitor to the Chevrolet Express 3500 is in the same showroom. A Suburban will seat up to eight, and although it doesn't deliver the sheer cubic volume of the Express, it tops the van in comfort and over-the-road demeanor.
Ford E-350 - The E-350 is just as dated as the Express, but the next-generation full-size Transit arrives fall 2013. Given the positive reception to its smaller sibling, the Transit Connect, Ford could have a winner on its hands, which would add pressure for Chevrolet to modernize the Express.
Mercedes-Benz Sprinter - The Sprinter offers impressive capability and efficiency in a considerably more modern package than the Express 3500. But it's also more expensive.
For those who can wait, Chrysler's upcoming FIAT-based full-size commercial van, the Ram ProMaster, will hit showrooms in the third quarter of 2013.
AutoTrader Recommends
We'd equip an 8-passenger 2013 Chevrolet Express 3500 with the optional 6.6-liter DuraMax diesel, hook it up to a 27-foot Airstream and add just enough comfort and convenience accessories to make the Chevy livable for a three week grand tour. With room for everything a family of four could carry, along with bike storage inside rather than on top of the van, the Express/Airstream combo would make an excellent base camp for an extended road trip.