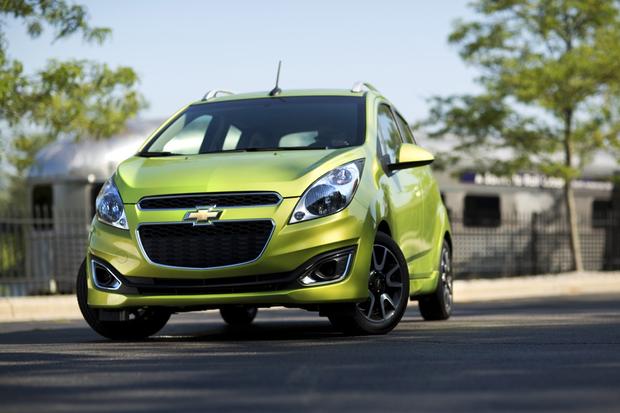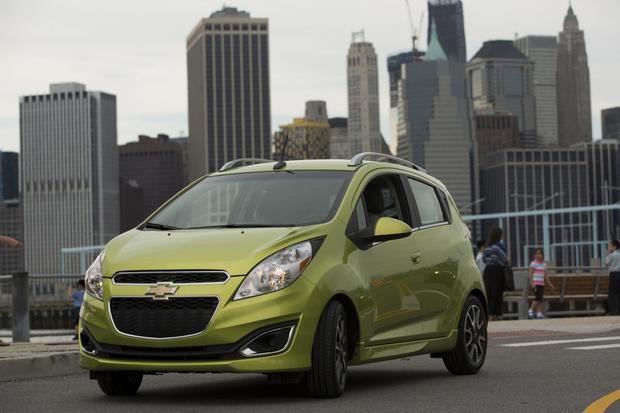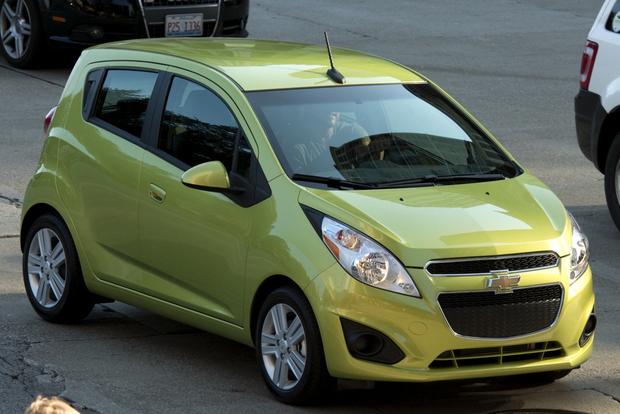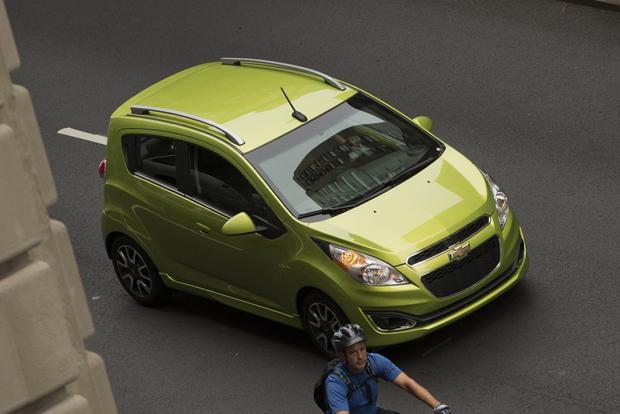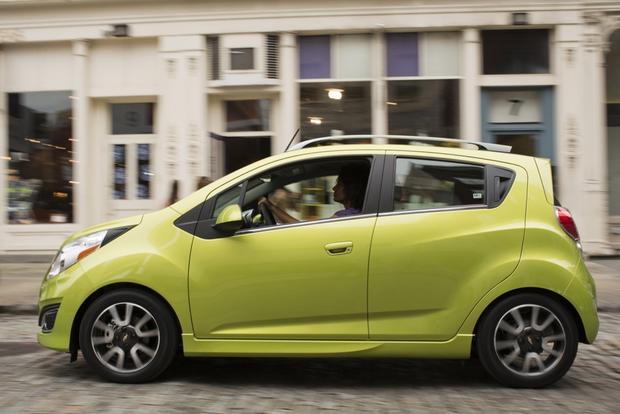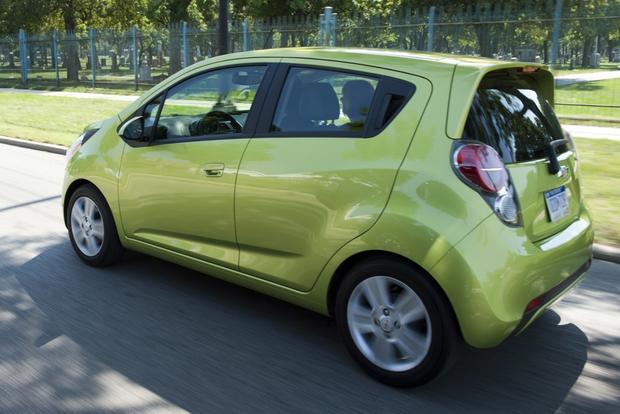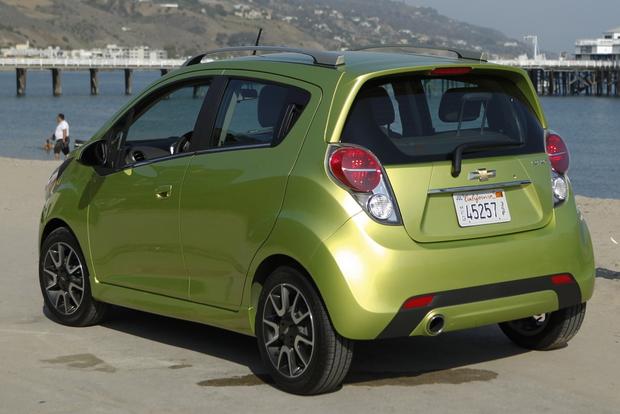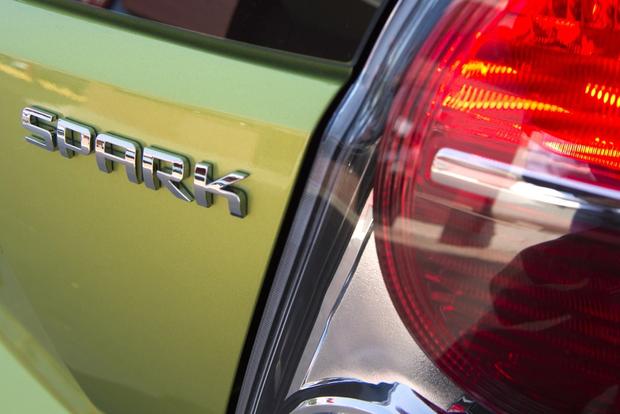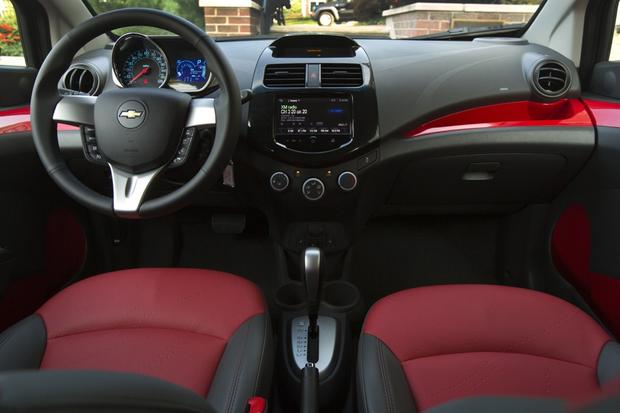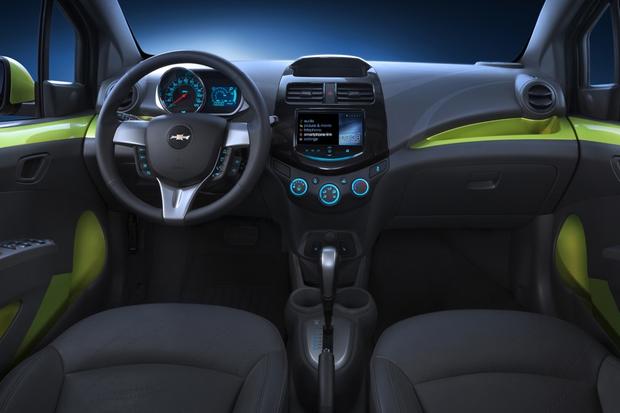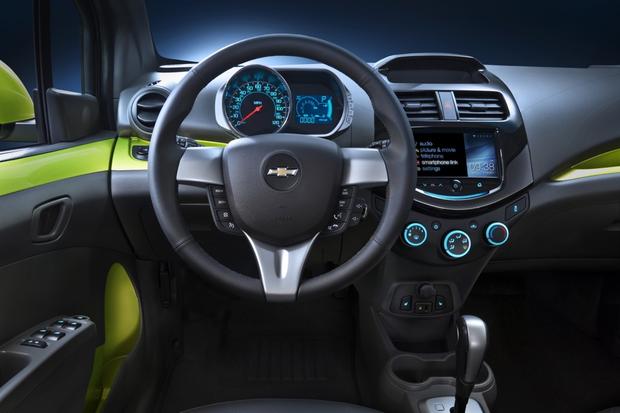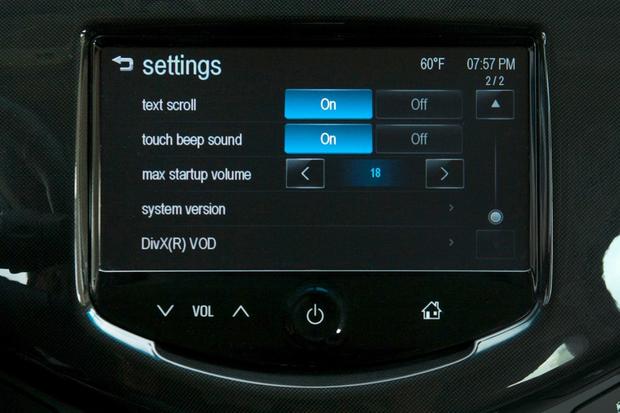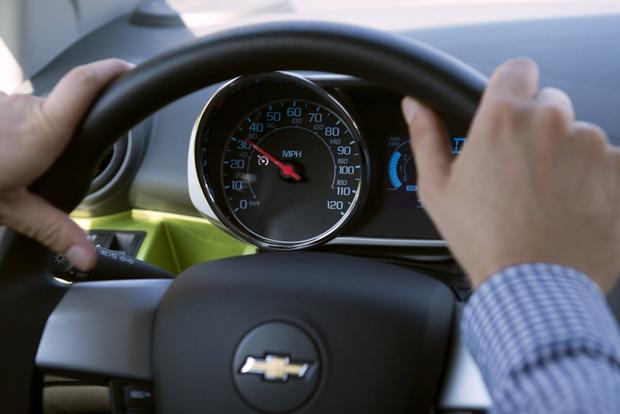 Pros: Distinctive styling in an inexpensive package; four doors squeezed into a compact size normally reserved for two; surprisingly spacious interior
Cons: The 2013 Chevrolet Spark has a starting price of $12,245, which is less than $2,000 away from the bigger and better equipped Chevrolet Sonic; 4-speed auto and 5-speed manual transmissions could each use another gear; feels underpowered when accelerating uphill
What's New: The 2013 Spark is all-new for the U.S. market, though it has previously existed in various forms internationally.
Are Americans finally ready for really small cars? Interesting options in the subcompact segment were once in short supply here, but recent years have seen increasingly competitive offerings with small footprints and efficient designs. Offering a counterintuitive take on the tiny domestic car, the Chevrolet Spark was actually designed and built overseas and exported around the world as a Chevy product, selling over 600,000 units in two years before it was finally made available stateside.
When it was adapted for sale in the U.S., the 2013 Chevrolet Spark was uprated with bigger 15-inch wheels, anti-lock brakes, more interior amenities, extra airbags and better insulation for a quieter ride. The South Korean-built subcompact will also be offered in an electric variant next fall.
Comfort & Utility
The base Spark comes equipped with air conditioning, OnStar and power windows; step up to the 1LT trim level ($13,745) and you'll get power locks and power mirrors, floor mats and mirror visors, cruise control and a 7-inch MyLink equipped touchcreen along with steering wheel controls. The $15,045 2LT model adds special alloy wheels, roof rails, heated leatherette seats and a leather-wrapped steering wheel. Within those trim packages, the only additional ordering option is color and transmission.
Technology
While the Spark's mechanical hardware is relatively simple, a few interior amenities like standard OnStar service, an available 7-inch touchscreen MyLink system with smartphone integration and a BringGo navigation app bring a touch of modernity to the otherwise basic interior. Included on the 1LT trim level, the electronic interface offers access to the Pandora and Stitcher music apps, while also adding a USB port and XM radio.
Performance & Fuel Economy
Don't expect blistering performance from the Spark; it takes an estimated 12.5 seconds to fo from 0-60 mph, and we reckon there's not a whole lot of speed on tap beyond highway velocities. Don't laugh, but this humble package was actually tuned up from its international application: bigger 15-inch wheels were employed for the U.S. market, springs and dampers were tweaked, power mirrors were resculpted for better aerodynamics and the 1.2-liter engine was punched up to 1.25 liters, a 4 percent displacement bump.
The Spark is rated at 32 mpg city (which puts it between the Fiat 500 and Scion iQ CVT) and 38 mpg highway (tying with the Fiat 500 for segment best).
Safety
Though small in size, the Spark is big on safety features and boasts 60 percent high-tensile steel, which aids crash safety and torsional rigidity. The Spark packs 10 airbags into its compact body, and other standard safety items include ABS, traction and stability control, a tire pressure monitoring system and panic brake assist.
Driving Impressions
Visibility out of the Spark's cockpit is excellent, with tall seats offering a confidence-inspiring view of the road. There's copious use of plastic within the cabin, but at least it's colorful and modern looking, which distracts from the lack of soft touch materials.
While the Spark won't win any drag races, its 4-cylinder engine isn't severely taxed by its roughly 2,200-lb curb weight. The 4-speed automatic transmission doesn't always feel like it's making the most of the meager 1.25-liter powerplant, especially on hilly stretches and during aggressive passing maneuvers; opt for the 5-speed manual, and you'll appreciate having more control over power delivery, not to mention the fun of rowing your own gears.
Our road test took us through stretches of Los Angeles surface streets and interstates, and the Spark mostly held its own against faster moving traffic when pushed hard. However, we felt that extracting every last pony from this tiny engine might yield worse fuel economy than you might expect from such a small car.
Other Cars to Consider
Fiat 500 - This stylish Italian starts at $16,200 (just below the top-of-the-line Spark 2LT automatic) and offers a decidedly more European--if, a bit plasticky--take on the diminutive hatchback paradigm.
Scion iQ - Scion's iQ starts at $15,995, just in-between a Spark 2LT with a manual transmission and a 2LT model with an automatic. The Scion's interior feels more plush than the Spark's, and its CVT offers a more fun-to-drive alternative to the Spark's automatic transmission.
smart fortwo - The Spark undercuts the base fortwo Pure model by only $245, but the smart's jerky transmission makes it a less enticing offering compared to the bigger and more substantial feeling Spark.
AutoTrader Recommends
While the Spark lacks some of the polish and premium feel of some of its competitors, it does offer one feature the others can't touch: a 4-door configuration with surprisingly spacious rear legroom. Serious drivers might feel there's something lacking under the hood (after all, this 1.25-liter 4-cylinder only produces 85 horsepower and 82 lb-ft of torque), but if you're not taxing the powerplant too much, you should be able to get decent fuel economy in the 30 mpg range. We recommend the 1LT trim level, which offers nicer amenities than the base model at a still very affordable $13,745.
While the Spark is a novel and stylish stab at the subcompact hatchback market, budget-minded buyers should also walk across the Chevy showroom to check out the notably more substantial Sonic, which starts at just $14,200.