Car Review
2013 Chevrolet Traverse: New Car Review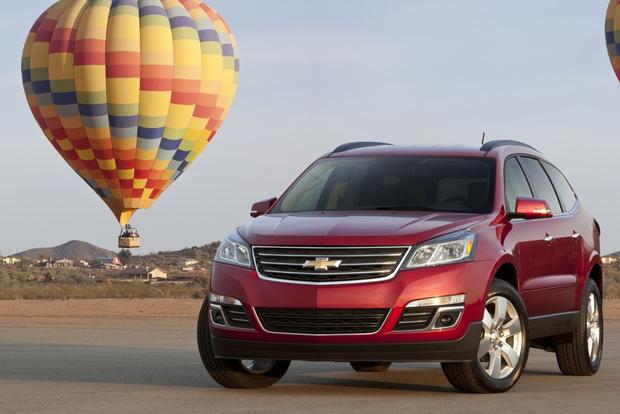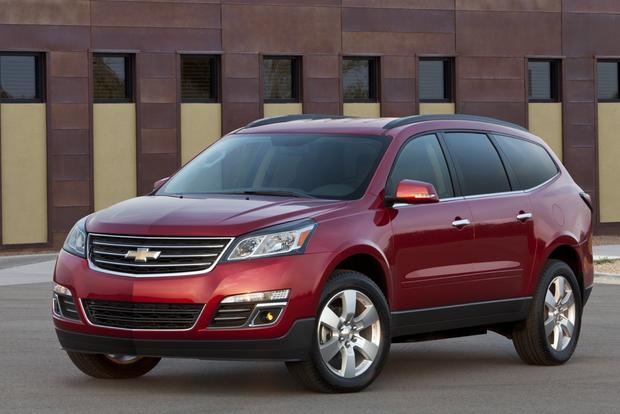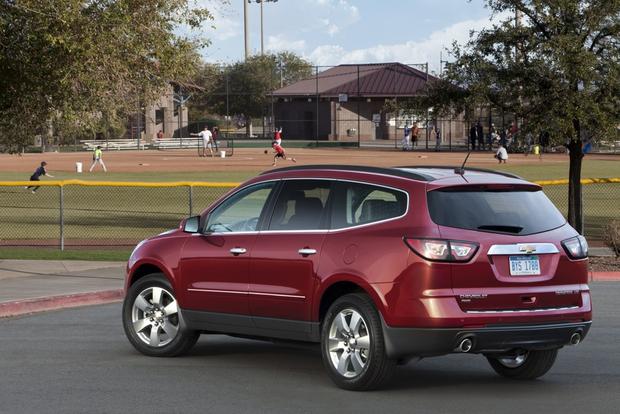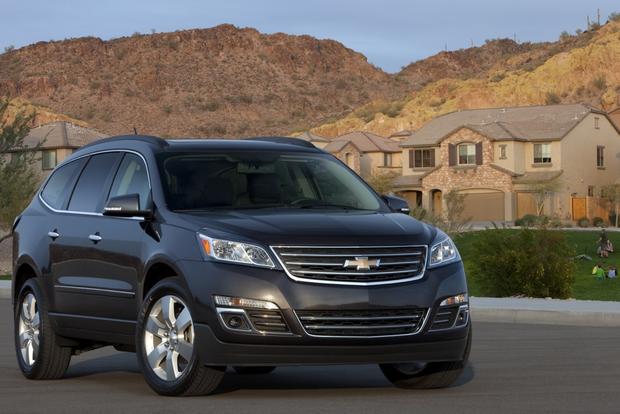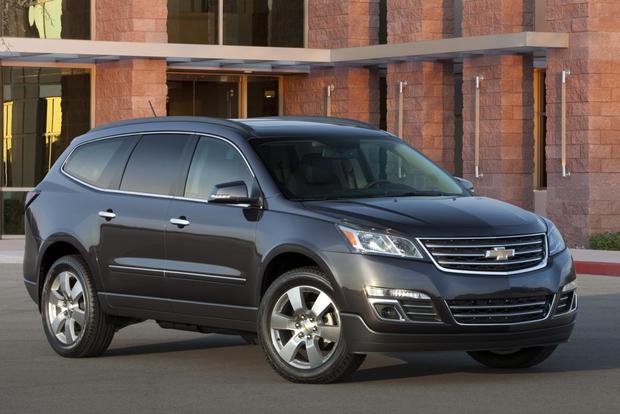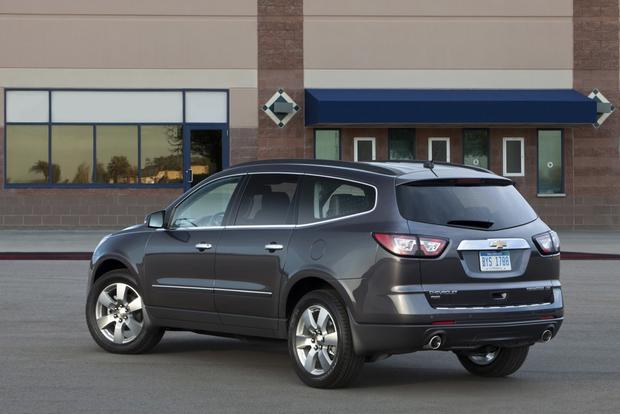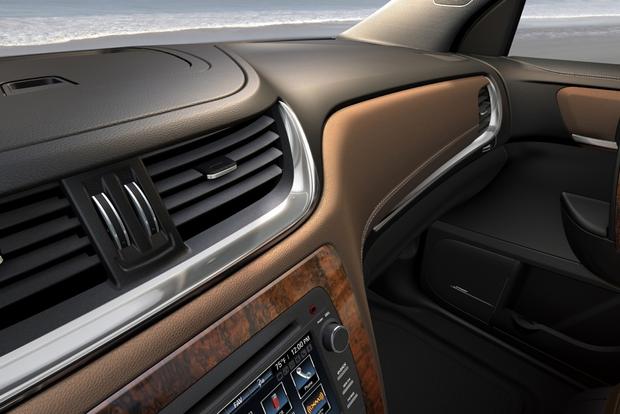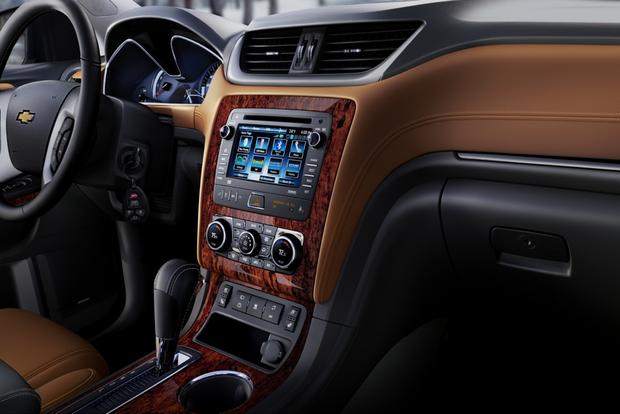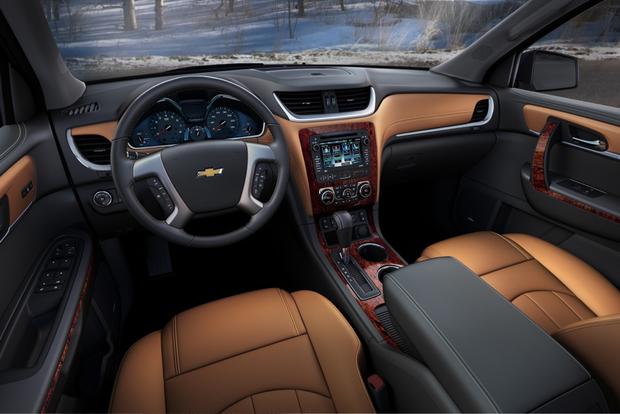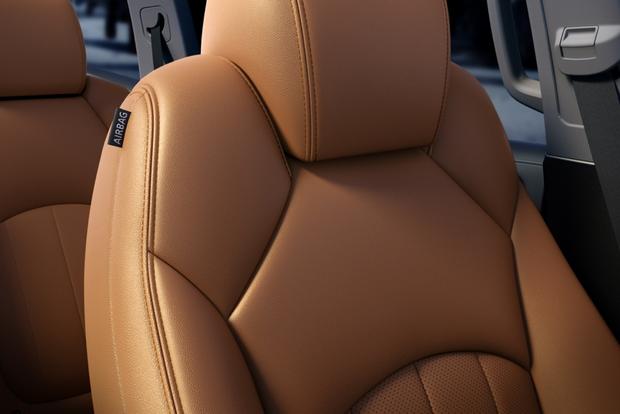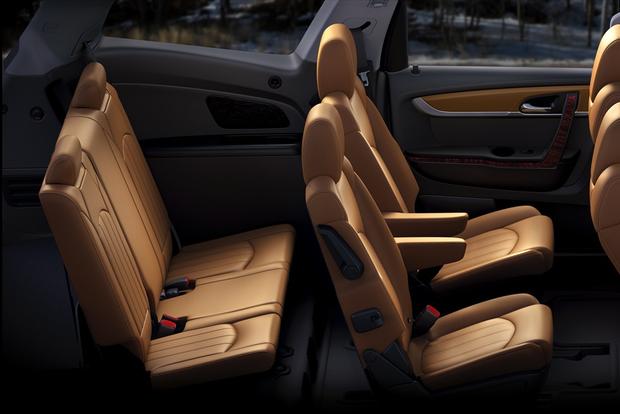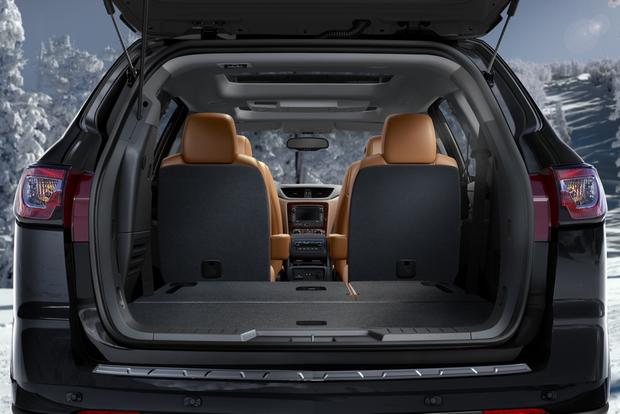 Pros: Abundant passenger and cargo space; car-like handling; impressive fuel economy; pleasing ride; comfortable interior.
Cons: Less capable than a big SUV; too large for parking lot maneuvering; poor rear visibility.
What's New: Updated exterior and interior styling; front center airbag; standard Chevy MyLink; revised suspension.
Crossovers are gaining popularity thanks to comparable space, better fuel economy and a more car-like ride. Just freshened up for the new model year, the 2013 Chevrolet Traverse remains a large and capable 3-row crossover with lots of functionality and a more modern approach to family motoring.
The Chevy Traverse won't tow 8,000-plus lb and haul nine people around town like its Tahoe or Suburban counterparts, but most people don't need that kind of capability. This big crossover can cart up to eight passengers and pull a 5,000-lb trailer, which is more than enough for the average American household. Additionally, the Traverse offers car-like handling, a plush ride, good fuel economy, a nice roster of convenience features and a stylish presence. What more could a family want?
For 2013, the Traverse flaunts updated exterior styling for a sportier look and a revised interior treatment that's more upscale. Suspension tweaks further improve the ride and handling, and Chevy MyLink infotainment and a front center airbag are now available.
For those who don't need an off-road-capable SUV and can't see themselves driving a minivan, the Chevrolet Traverse crossover is a very viable choice in a sea of large family vehicles.
Comfort & Utility
The Traverse's updated interior is well designed and appealing to the eye. Fit and finish are good, and newly added soft-touch materials replace hard plastics that were griped about in the 2012 Traverse. Like the other gauges and controls, new illuminated climate controls exude a sophisticated look, and splashes of silver or optional wood-grain trim convey an upscale character.
Front seats are exceptionally comfortable, almost furniture-like. And the second row, defined by either a 3-person bench or a pair of captain's chairs, offers a SmartSlide feature, creating remarkable access to the Traverse's third-row seating. And that third row is considerably more accommodating than that of many large SUVs. It's wide enough to seat two adults comfortably, as long as they aren't too big or tall. For two children, the rear seat is ideal. In addition to its 7- or 8-passenger seating configurations, the Traverse is laden with clever storage compartments from front to back.
Cargo-wise, the Traverse offers more space and versatility than the big Tahoe SUV. Both second- and third-row seats split 60/40 and can be folded flat to create a cargo hold large enough to transport a sizable love seat. And when the third row is upright, there's still enough room behind it for a few pieces of luggage. That's better than what many large SUVs can offer.
The 2013 Traverse comes in four levels: LS, 1LT, 2LT and LTZ. Standard convenience features for the base LS include power mirrors, a manually adjustable tilt/telescoping steering wheel and a 6-speaker audio system with a color touchscreen. The midlevel LT adds wood-grain interior trim, an 8-way power driver's seat with lumbar support and remote start. Tri-zone climate control and a power liftgate are available on 1LT and standard on 2LT. The range-topping LTZ adds leather upholstery, heated/cooled seats and push-button start. Optional dual sunroofs are a recommended feature.
From a convenience standpoint, the Traverse is as well stocked as most large SUVs, and the cabin delivers a high level of comfort for family-style driving.
Technology
From the base Traverse to the top-trim LTZ, all models include standard Bluetooth and a backup camera. Chevy MyLink infotainment, navigation, parking sensors and a rear DVD entertainment system are all available.
Performance & Fuel Economy
The 2013 Traverse is available in front-wheel or all-wheel drive configurations. Maximum towing capacity is 5,200 lb, enough to pull a small boat.
The Traverse is powered by a 3.6-liter V6, producing 281 horsepower and 266 lb-ft of torque. This engine pairs with a 6-speed automatic transmission with tap-shift manual shift control. The uplevel LTZ gains seven extra horses and four extra lb-ft of torque thanks to its dual exhaust.
Estimated fuel economy is 17-mpg city/24-mpg highway with front-wheel drive and 16/23 mpg with all-wheel drive. Both setups yield a combined fuel economy of 19 mpg.
Safety
The Traverse's safety equipment encompasses six airbags, including head curtain airbags for all three rows. A front center airbag (designed to keep the driver and passengers from colliding with each other in a side impact) is optional, as are blind zone and rear cross traffic alert systems. The OnStar emergency telematics system is standard.
The Traverse is armed with ABS and stability control with rollover mitigation technology to help keep it planted during sudden changes in direction and high-speed maneuvers.
Driving Impressions
The 2013 Chevy Traverse enjoys car-like riding and handling thanks to its unibody construction. With a re-tuned suspension for the new model year, its road manners are significantly smoother and sharper than most large, truck-based SUVs. And in corners, it feels a good deal more stable. Body roll is minimal, and road grip is impressive. Drivers must still remain mindful of its sheer size, especially on tighter streets and in parking lot situations where maneuverability can be a challenge. But overall, the Traverse is very capable and comfortable for everyday driving.
The Traverse is not an off-road specialist. Those with all-terrain intentions should consider a more rugged, traditional SUV. But the Traverse is more than proficient in harsh conditions caused by snow, rain and mud. The LTZ's large 20-inch wheels are an additional asset in these circumstances.
In terms of power, the Traverse feels adequate in traffic. It's not particularly powerful, but it has the ability to accelerate with confidence when the need arises. In all other cases, power delivery is smooth, making for a quiet on-road experience with little drama. And that's what most drivers want in a family vehicle.
Other Cars to Consider
Ford Flex - The Flex offers better visibility, more expansive rear seating and a greater list of creature comforts and user technology. But the Traverse tops the Flex in handling.
Toyota Highlander - The Highlander is smaller than the Traverse, so it doesn't offer as much space for passengers and cargo. But it still comes standard with 3-row seating, and it's smaller size makes it easier to manage in tight spaces.
GMC Acadia - Since it's based on the same GM architecture as the Traverse, the Acadia is extremely similar on almost all fronts. The Acadia has a bit more truck flair, while the Traverse leans more in a family-centric direction. But these are primarily visual differences established by interior and exterior styling cues.
AutoTrader Recommends
The 2013 Chevrolet Traverse 2LT makes the most sense to us. It's well equipped without going overboard on amenities. Its 18-in wheels are the perfect match for its chassis; the LTZ's 20-inchers create a bit of a bouncy ride, especially for rear-seat passengers. We strongly suggest going with all-wheel drive to remain fully capable through all kinds of road conditions. Options such as dual sunroofs, navigation and rear-seat DVD are must-haves for families who take frequent road trips.