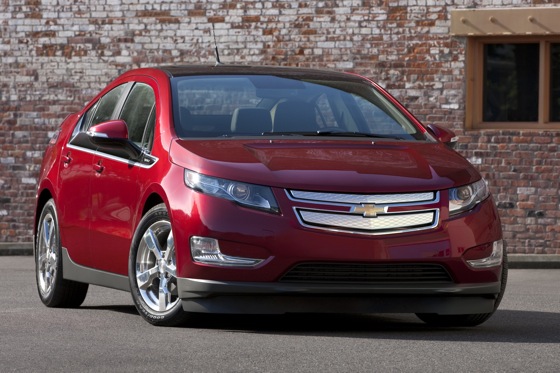 Pros: Zero-emissions potential; 300-mile plus range; very low fuel cost; nice roster of amenities; refined styling.
Cons: Pricey; poor rear visibility.
What's New: Hold mode to save battery; PZEV model for CA and NY HOV lane access; body-colored roof and liftgate; new interior color and material choice; available driver assistance technologies; navigation through MyLink.
The decades-long obsession with green technology continues, as more hybrids and electric vehicles (EVs) are seen on US roads with every passing year. Among them, the 2013 Chevrolet Volt--part hybrid, part EV--has become a common sight.
Really, the Volt is a plug-in hybrid. But a significant electric-only range, which is now up to 38 miles for the 2013 model year, allows the Volt to run solely on electricity from the grid and operate like a pure EV. If the juice runs out, the Volt recharges its batteries and runs down the road with the help of its gasoline-powered engine. With a full charge and a full tank, the Volt has a 300-mile range that easily outpaces any production EV. The all-electric Nissan Leaf, for instance, has a range of about 80 miles.
If the Volt is driven less than 40 miles between recharging sessions (20 miles each way to work, for example), the gas generator will never require usage. In that case, the Volt operates as a pure EV with zero emissions. If the Volt is being driven for more than 40 miles between recharges, then the range-extending 4-cylinder engine will be used, requiring an occasional trip to the gas station.
For 2013, the Volt comes with a Hold mode that allows the driver to save battery power for city driving. A new PZEV model makes the Volt eligible to ride with a single passenger in HOV lanes in California and New York. Also new for 2013, the Volt gets body-colored roof and tailgate finishes and a new interior color choice. New driver assistance technologies are available, such as lane departure warning and collision warning. Finally, MyLink gets navigation functionality, and options packages are rearranged.
Harnessing the best of two worlds, the 2013 Volt is a viable and attractive solution within the realm of green motoring. And Chevrolet offers lease deals on the Volt that take the sting away from its high sticker price.
Comfort & Utility
The Volt interior displays a very techno-savvy style. The clean dash is treated with modern-looking white and black accents among its touch-sensitive buttons and controls. The gauges are defined by a pair of LCD screens that display the usual vital signs as well as the flow of energy cycling through the electric-drive system.
The front seats are firm and well contoured but lack any power adjustments, which is a bit of a surprise considering the Volt's higher-end overall package. The back row is composed of two bucket seats divided by a center console that hides the car's massive lithium-ion battery beneath it. Headroom and legroom are in short supply for both rows. And getting in and out of the back seat takes a little extra effort because of the car's low-slung roofline.
The rear cargo hold is accessed by way of a convenient hatch, but the storage area is only 10.6 cu-ft. The rear seats fold down to expand this space, but not enough to call the Volt spacious.
Standard convenience features for the Volt include remote start, a tilt/telescoping steering wheel, automatic climate control and a touchscreen 6-speaker stereo. Notable options include leather upholstery, heated seats and a premium sound system.
Technology
On the standard side, the Volt has MyLink with Bluetooth and USB connectivity. New for 2013, MyLink offers GPS-enabled navigation. Optional electronics include conventional navigation with a digital music storage component and a premium energy-saving sound system that uses only half the power of conventional car stereos.
Performance & Fuel Economy
The Chevy Volt is propelled by an electric motor making 149 horsepower and 273 lb-ft of torque. This unit is powered by a 16-kWh lithium-ion battery pack fitted in the central tunnel and under the rear seat. The Volt is capable of traveling 30 to 40 miles at speeds of up to 100 mph on pure electric power. As the battery becomes depleted, a gasoline-powered 1.4-liter 4-cylinder becomes an alternate power source for the electric motor, giving it a range of more than 300 miles. This engine will also provide some direct power to the wheels at certain speeds.
The Volt's battery back can be recharged in about ten hours using a standard 120-volt outlet.
As far as efficiency goes, there are two distinct measurements for the Volt. Running on electricity from a plug-in charge, the Volt is EPA-rated at 98 MPGe in combined city/highway driving. This means that the Volt can go about 98 miles on the electrical equivalent of the amount of energy in a gallon of gasoline. Once the battery charge runs out, however, the Volt achieves less impressive fuel economy than some typical non-plug-in hybrids. It's rated at 35 mpg city and 40 mpg highway driving when using no electricity from the grid.
Safety
Occupant protection comes from eight airbags, including two side curtains and two at the driver's and front passenger's knees. The Volt is also equipped with ABS, stability control and OnStar emergency telematics.
Two new safety packages provide further assistance. Safety Package 1 gets rear parking sensors and a backup camera along with an auto-dimming rearview mirror. Safety Package 2 adds parking sensors up front, forward collision warning and lane departure warning.
Driving Impressions
The most noticeable thing about driving the Chevrolet Volt is its superb off-the-line acceleration. This is a common trait among electric vehicles due to their high torque output at low engine speeds. For the same reason, the Volt is an assertive left-lane passer. The acceleration contributes to making this car positively fun to drive.
The Volt's ride is smooth and quiet, especially in all-electric mode. And the change-over to generator mode is almost seamless, preserving a ride that feels refined in most driving conditions.
The Volt's road manners are nicely balanced. Its well-tuned suspension makes it a capable handler, able to take corners with confidence. Road grip is good, and body roll is minimal. Despite its hefty weight, the Volt feels reasonably nimble at virtually all speeds.
The only peculiarity is the twitchy feel of the Volt's brake pedal, which mainly can be attributed to the car's regenerative braking technology.
Nissan Leaf - As the first and only mass-produced pure electric car for the U.S., the Leaf delivers a range of about 80 miles with zero tailpipe emissions. But with that comes a lot of range anxiety. The Leaf does not come close to the Volt's 350-mile cruising range. And the Volt's dynamics are skewed in a sportier direction.
Toyota Prius Plug-In - The Prius plug-in offers only one-third of the Volt's all-electric range. But operating as a normal hybrid, its fuel economy is about 35 percent higher than the Volt's in gas-generator mode. The Prius is also considerably less expensive and offers quite a bit more cargo space.
AutoTrader Recommends
The 2013 Chevrolet Volt comes in only one trim level, but it offers multiple stand-alone and packaged options. We recommend two add-ons. First is the Safety Package 1, to combat the Volt's poor rear visibility, and the other is the optional navigation system. Although OnStar offers turn-by-turn directions, it doesn't compare to the upgraded system's voice-command touchscreen setup with real-time traffic and a digital music storage device. These enhancements add to the Volt's already comprehensive list of amenities, making it a very complete package.