Car Review
2013 Chevrolet Volt: New Car Review Video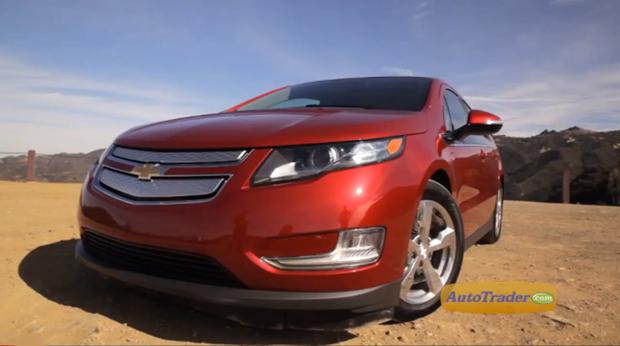 Technically, the 2013 Chevrolet Volt is a plug-in hybrid, but it functions and feels like an electric car. If you exceed the Volt's plug-in range (about 35 miles), a gas motor kicks in to make more electricity. So really, the Volt is an electric car that sometimes uses gasoline to make that electricity. When it comes to electric vehicles (EVs), the Volt is probably the best of the bunch. It's true, though, that if you really want to use no gas at all, the Volt might not work for you.
Inside, two 7-inch LCD screens dominate the dash, each giving different pieces of information. You can even change the type of information you want to see. There are a few limitations inside the Volt. First, the rear seats can only handle two people, because the battery takes up some of the interior space. Second, the Volt's sweeping roofline makes that back seat feel kind of cramped.
The most noticeable thing about driving the Chevrolet Volt is its superb off-the-line acceleration. This is a common trait among electric vehicles, due to their high torque output at low engine speeds. For the same reason, the Volt is an assertive left lane passer -- it's one of the most rewarding EVs to drive. And it's that acceleration that makes the Volt so much fun.
The Volt's ride is smooth and quiet, especially in all-electric mode. And the changeover to generator mode is almost seamless, preserving a ride that feels refined in most driving conditions.
The Volt's road manners are nicely balanced. Its well-tuned suspension makes it a capable handler, able to take corners with confidence. Road grip is good and body roll is minimal. Despite its hefty weight, the Volt feels reasonably nimble at virtually all speeds.
The only peculiarity is the twitchy feel of the Volt's brake pedal, which can be attributed mainly to the car's regenerative braking technology.
When the Volt's gasoline engine is running, it gets 35 miles per gallon in the city and 40 mpg on the highway. When the car is in all-electric mode, it gets the electric equivalent of 98 mpg, and that's expressed like this: 98 mpge.
Base price for a 2013 Chevrolet Volt is just under $40,000. That's a lot for a small 4-passenger car. But if you have a daily commute that's less than 40 miles round trip, you may save a good deal of money by fueling up less. Also, many Volt buyers are eligible for tax incentives that essentially lower the price.
If this kind of car appeals to you, consider the 2014 Honda Accord Plug-in Hybrid and the Toyota Prius Plug-in Hybrid, as well as the Nissan Leaf and Ford Focus Electric.