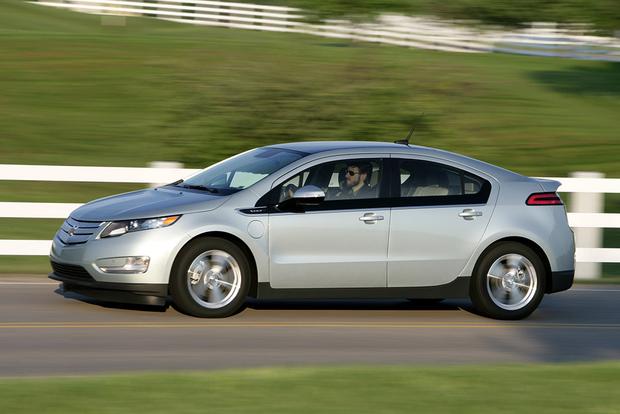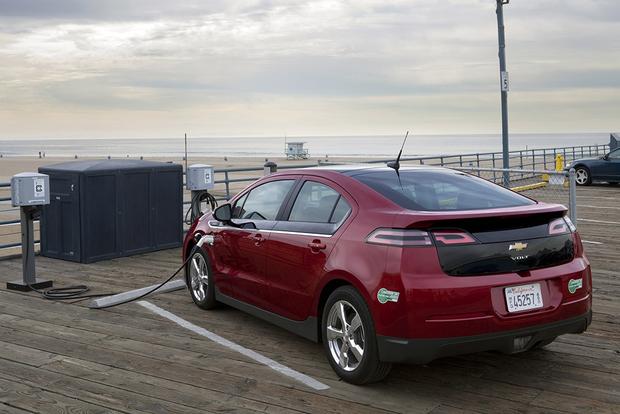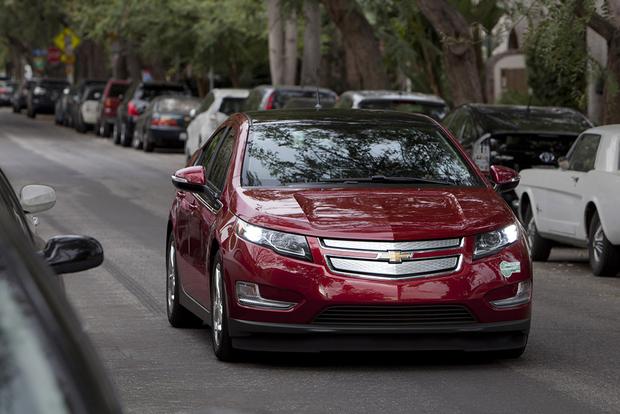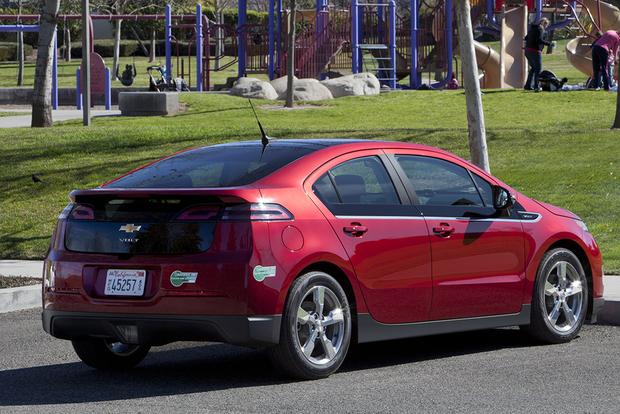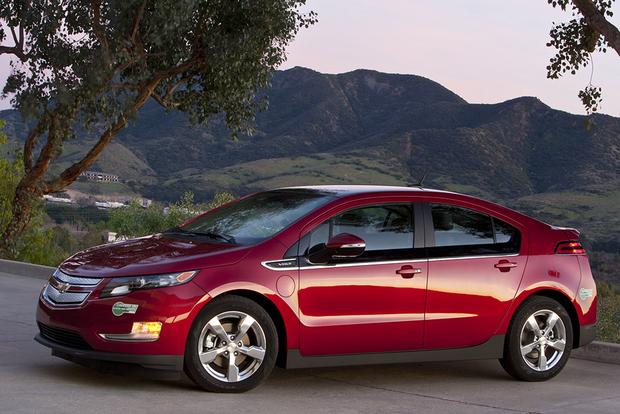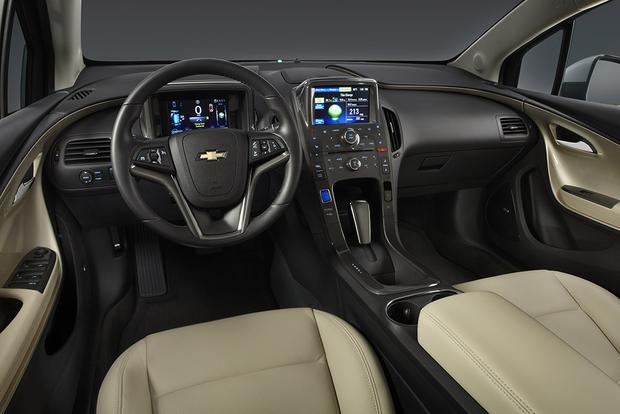 If you're looking for a cutting-edge green car that is also affordable and attractive, check out the 2013 Chevrolet Volt. It combines the best attributes of a pure electric and hybrid gasoline car into a visually appealing and efficient 5-door hatchback. Unlike the Toyota Prius and Honda Civic hybrids, the Volt can actually run at full speed solely on electric power for distances ranging up to 40 miles, depending on driving conditions. After that, a small 1.4-liter gasoline engine kicks in. The Volt's gasoline engine doesn't power the wheels, however. It simply runs a highly efficient generator that continues to feed the electric motor. As most people only drive between 25 and 40 miles a day, the advantage of the Volt's dual nature becomes obvious. For daily runs to and from work, the Volt operates like a pure electric car, emitting zero emissions and using no gasoline. But for those times when you must travel greater distances, the Volt can go about 350 additional miles. When it comes time to refuel, you can either fill up at the pump or plug in to recharge the lithium-ion battery pack. Going the second route takes about 10 to 12 hours to recharge from a standard 110-volt outlet, but only about three hours using a 240-volt outlet and dedicated charging station.
For 2013, the Chevrolet Volt gains a "hold" mode that conserves battery life, and it has an available low-emissions package that qualifies the Volt to run in HOV lanes in New York and California. New options for 2013 include lane-departure and forward-collision warning.
What We Like
Limit drives to under 40 miles a day and you'll never need gas; versatile hatch; cool interior design; range is not limited by electric battery pack
What We Don't
Cramped rear seats; low ground clearance may be problematic in deep snow; average resale value
Fuel Economy & Engine Specs
The Chevy Volt has two separate power sources. When its 16 kilowatt-hour liquid-cooled lithium-ion battery pack is fully charged, the AC synchronous electric motor/generator can carry the car between 35 and 40 miles. Depending on driving habits, owners have reported getting as many as 50 miles from a single charge and as few as 25 miles in colder weather (temperatures below 32 degrees can have a major impact on battery life). Once the battery pack reaches 70 percent depletion, the 1.4-liter gasoline engine kicks on, powering the motor/generator and allowing the car to travel an additional 350 miles. By the Environmental Protection Agency's standards, the Volt achieves an impressive 93 miles per gallon equivalent combined and 37 mpg combined with the gasoline engine.
Standard Features & Options
For 2013, the Chevrolet Volt comes in only one trim with a number of option packages.
Standard on every Volt is a pair of manual front seats, cloth upholstery, power windows, power door locks, power heated side mirrors, 17-inch wheels with low-rolling resistance tires, air-conditioning, cruise control, touchscreen audio with controls for climate, audio and drive controls, automatic headlights, a tilt-telescopic steering column, Bluetooth, an AM/FM/CD stereo and an iPod/USB interface.
The Premium package adds leather seating surfaces, heated front seats and a leather-wrapped steering wheel. There are two Enhanced Safety packages for 2013. One adds a rear camera and rear parking sensors, while the other adds front sensors, lane-departure and forward-collision warning. Standalone options include voice-activated navigation with a 30-gigabyte hard drive, Bose audio, chrome wheels and the dedicated 240-volt home charging station.
Pricing
When new, the Volt sold for around $33,500, but only after applying the $7,500 tax credit. Actual MSRP was closer to $40,000. Used buyers won't get the credit, so the Volt's price may be high compared to similar hybrid or high-mileage economy cars such as the Volkswagen Golf TDI. The Volt only holds average resale values, so you should be able to drive a hard bargain if you find something you like. To get a good idea of the Volt's price range, we suggest checking out the used-car values at KBB.com. You can also search the Autotrader Classifieds to see what models are currently for sale in your area. Private party sales will save you money, but you may want to pay a bit more for the added warranty and peace of mind that comes with purchasing a certified pre-owned car.
Recalls
The National Highway Traffic Safety Administration, or NHTSA, has issued the following recalls for the 2013 Chevrolet Volt:
A recall was issued regarding a possible problem with the electrical system. If the driver exits the car without turning off the electrical system, the battery may drain so low that it activates the gasoline engine to recharge the batteries. This could be problematic if the car is inside a garage, permitting excessive carbon monoxide buildup.
Recall repairs are required by law even if the vehicle is out of warranty. Your dealer can check to see if the repairs were performed, and if not, will fix the car at no charge to you.
Safety Ratings & Warranties
In crash tests performed by NHTSA, the 2013 Volt earned an overall rating of five out of five stars, with four stars in the frontal crash test and five in the side-impact and rollover tests. The independent Insurance Institute for Highway Safety (IIHS) gives the Volt its best score of Good in all categories and named the Volt a Top Safety Pick.
When it left the factory, the 2013 Volt came with a 3-year/36,000-mile basic warranty, a 5-year/100,000-mile powertrain warranty and an 8-year/100,000-mile warranty on the car's battery pack, electric motor/generator and charger. If you buy a certified pre-owned car, GM adds a 12-month/12,000-mile bumper-to-bumper warranty with a $0 deductible, 24-hour roadside assistance for the length of the powertrain warranty, a 3-day/150-mile money-back guarantee (if necessary, you can exchange the vehicle for one that better suits your needs), a 172-point inspection, a vehicle history report and 2-year/24,000-mile free scheduled maintenance.
Other Cars to Consider
2013 Toyota Prius -- The Prius is an established green-car leader and holds excellent resale value that's far better than the Volt. Its real-world fuel economy also far exceeds that of the Volt once its gasoline engine kicks in, and it offers a larger rear seat and more features.
2013 Honda Civic Hybrid -- The Civic Hybrid also gets better fuel economy when its gasoline engine is engaged, plus it cost less than the Volt. Like the Prius, the Civic Hybrid doesn't need recharging.
2013 Nissan LEAF -- The LEAF is a pure electric vehicle, meaning its range is limited to about 90 miles before it needs to be recharged. That is more than double the Volt's zero-emissions range, but once you're out of juice, you'll need to either find a plug or call a tow truck.
Autotrader's Advice
As there is only one model, choosing a used Volt boils down to whether or not you need heated leather seats and a rear backup camera. Buying a used model from a private owner won't get you the advantages of the certified pre-owned program, but it will save you some money. The previous owner is also more likely than the dealer to be in possession of the 240-volt home charging station. If you have to purchase a dedicated 240-volt charger, they can be found on Amazon for between $500 and $700 dollars, or maybe less if you can find a used one.