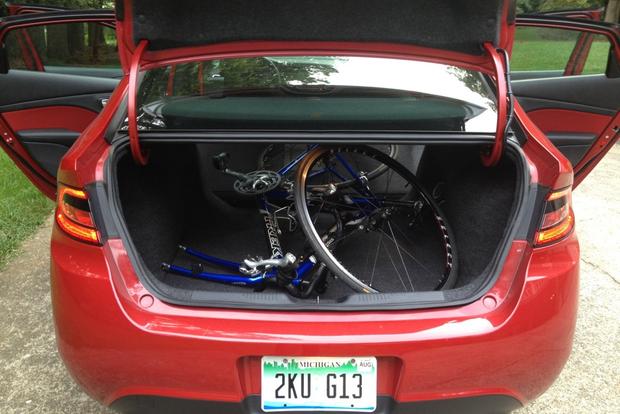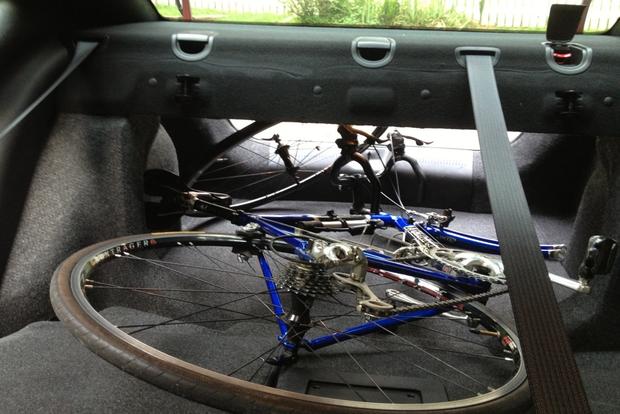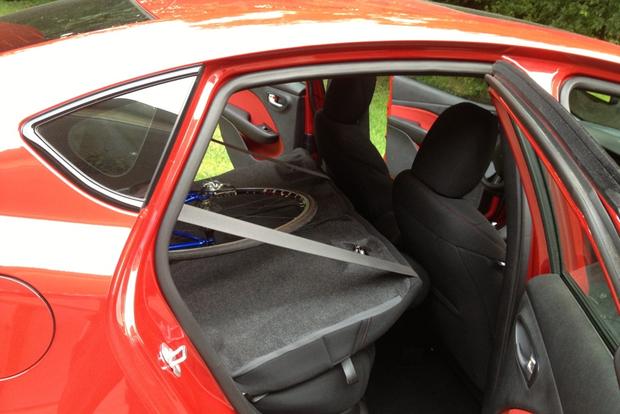 We've recently hit 9,000 miles in our long-term 2013 Dodge Dart. Mile 9,000 came while the car was being driven by a new staffer who hadn't spent much time in the Dart before. Most of his comments related to cargo space -- a strong point -- and fuel economy, which remains one of our Dart's weak links. We'll start with cargo space.
Nearly everyone who drives the Dart agrees that cargo volume is at least adequate and at best spacious. While the trunk only offers 13.1 cu ft -- about average for the Dart's class -- the low load floor and deep trunk give it a large feeling. There's also a handy rear-seat pass-through for brief trips with long, narrow items such as lumber.
Extra storage is also possible thanks to a 60/40 split folding rear seat. It's easy to access the extra room thanks to tabs on each side that drop the seats in a hurry, and the seats come down with an easy pull. Maybe the only drawback is that putting down the rear seats requires the front seats to be pushed forward slightly, which can hurt legroom for tall drivers and front-seat passengers.
But as practical as the Dart is for carrying things, it seems to be hit or miss when it comes to fuel economy. We're averaging between 22 and 23 miles per gallon, slightly below the Environmental Protection Agency's estimated 25 mpg. Interestingly, we've found fuel economy to be as promised or better on a few long highway runs; the problem mainly comes from city driving.
Earlier, our Dodge Service Advisor told us to be gentle with the accelerator. Given that our Dart Rallye is turbocharged and has cool sounding exhaust, we haven't been taking his advice. That probably explains how we're just under the EPA estimate for city driving.
That said, our 2013 Dodge Dart is holding up well. All testers report it still looks and feels new, even after 9,000 miles -- and aside from the gas mileage, we haven't had any problems to speak of.