Car Review
2013 FIAT 500C Abarth: 5 Reasons to Buy - Video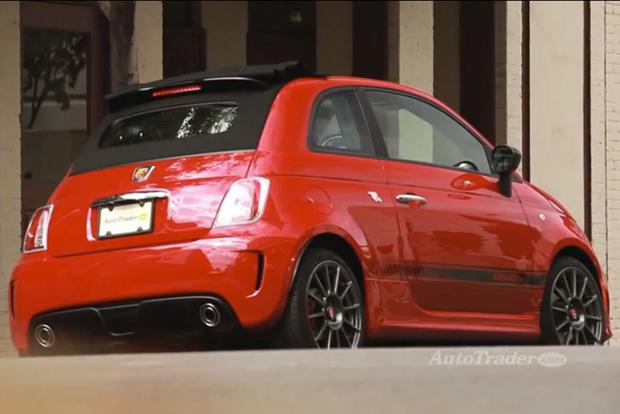 For a cute little cabriolet, the 2013 FIAT 500C Abarth -- or 500 Abarth Cabrio, depending on whom you ask -- certainly packs a punch. But this isn't your garden-variety FIAT. The drop-top Abarth is named after European racing icon Carlo Abarth, and it's got the skills to match. Here are 5 Reasons why the low-cost, high-performance 500C Abarth is a must-drive.
1. Turbocharged Power
Underneath a very cool red engine cover with the trademark Abarth scorpion on top, the 500C Abarth packs a 1.4-liter 4-cylinder engine that's turbocharged for 160 horsepower. That's a lot of pep for a little car, and the precise, rally-style 5-speed manual transmission only adds to the fun. Plus, the Abarth Cabrio rocks an exclusive performance exhaust that will definitely have your neighbors talking.
2. Unique Retractable Roof
The 500C Abarth's roof has a metal frame, but the part in between is made of fabric, and it powers down like an enormous sunroof. That means you get almost the same structural rigidity as you would in the Abarth coupe, along with fun in the sun whenever you want it. And we do mean "whenever," because thanks to that protective metal perimeter, you can open the fabric section at speeds of up to 60 miles per hour. That's unheard of in a conventional convertible.
3. Sporty Handling
The regular FIAT 500 is already sporty, but the 500C Abarth takes it to another level. The springs are stiffer, the ride height is lower, the front shocks are high-performance pieces from Koni and the tires are wider Pirellis. You get upgraded brakes with red calipers, too. Translation: It's a blast to drive, whether you're running errands or bombing down your favorite back road.
4. Great Fuel Economy
The 500C Abarth has a responsible side, too. According to the Environmental Protection Agency, the Abarth gets 28 miles per gallon city/34 mpg hwy. That's amazing for a car that scoots to 60 mph in under seven seconds and delivers serious turbocharged passing power.
5. Reasonable Price
With its high-performance pedigree and Italian panache, you might think the 500C Abarth is out of your price range. But think again, because for about $27,000, a new Abarth Cabrio could be yours. That's a lot of European character for not a lot of money. The rival MINI Cooper S convertible, by the way, starts at almost $29,000, and that's before you add options.
AutoTrader's Advice
The 2013 FIAT 500C Abarth just might be the most fun you can have for under $30,000. Go try one -- with the top down, obviously -- and see if you don't agree.