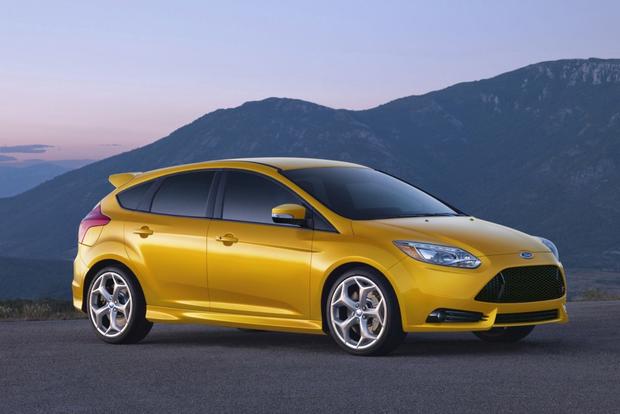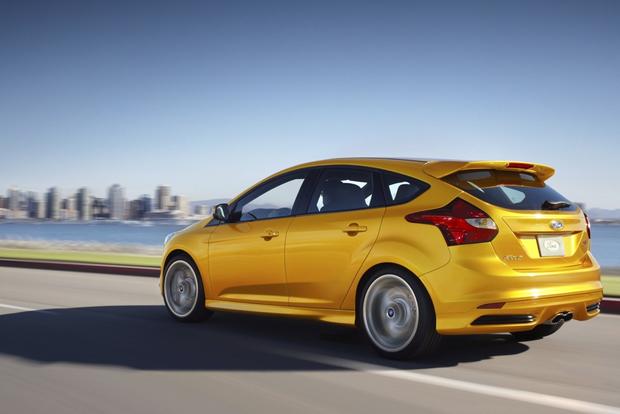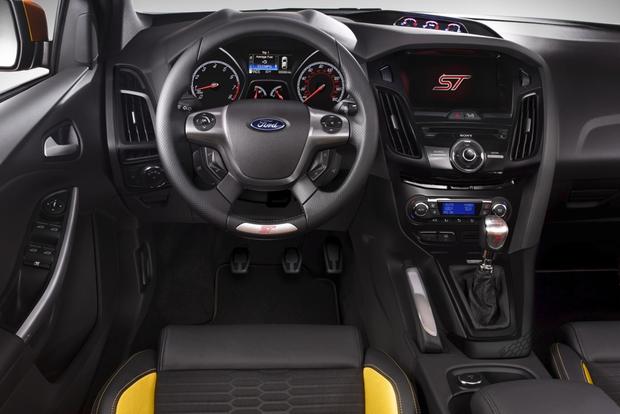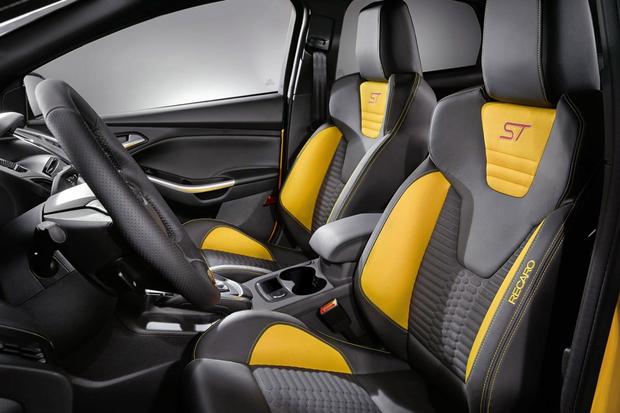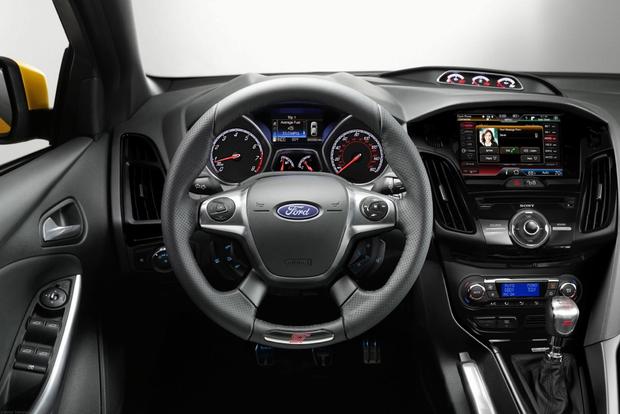 What's New: The Ford Focus ST is an all-new performance trim of the Focus for 2013. It starts at $24,495.
Pros: Stealthy performance in a compact package; practicality of a hatchback configuration defies its reputation as a pocket rocket; more entertaining to drive than many big-engine muscle cars.
Cons: Pricier than a base Mustang; front wheel-drive is the only configuration will leave some enthusiasts cold; four door, but limited rear legroom.
What's New
Ford's value-oriented hatchback grows fangs: The $24,495 2013 Focus ST features a hot rodded EcoBoost engine, stiffer suspension, variable ratio steering which tightens up as the wheel is turned, and an anti-torque steer system which all but removes that annoying tugging sensation during hard acceleration.
Intro
While American driving enthusiasts have plenty of big-engine muscle cars to choose from, we've long been at a loss for entertaining, affordable ways to get around. The European paradigm of so-called hot hatches has inspired cult followings for cars like the Volkswagen GTI, the Subaru Impreza WRX, and the Mazdaspeed3, and Ford finally joins the fray with their Focus ST.
While lower end Focus models are oriented towards fuel economy and no-frills trim, the new ST is a charismatic contender in this field that aims to bring a bit of the Mustang magic to the oft-ignored area of the subcompact hatchback.
Comfort and Utility
The optional Recaro sport seats found on ST2-equipped models offer a stiffer and more supportive ride, but the Focus ST generally provides a welcoming interface for the driver. While European buyers will have the option of a wagon variant, American Focus ST shoppers will only be able to choose a 5-door hatchback version, which offers 23.8 cubic feet of storage behind the second row of seats. Though the Focus ST is plenty practical, most potential buyers will be more swayed by its on-road persona than its 5 passenger hauling capabilities or utilitarian potential.
Technology
Most of the Focus ST's technology is centered on making it a more involving driver car. From the EcoBoost engine, which features a volume boosting feature for a more spirited sound within the cabin to an active system that reduces torque steer, this 5-door hatchback, the Focus ST makes the most of its relatively light weight and advanced engine to provide a rewarding experience behind the wheel.
Performance and Fuel Economy
The Focus ST's direct-injected 2.0-liter four-cylinder engine walks a tightrope between performance and fuel economy, and should strike a strong balance when official fuel economy figures are released. Producing 270 lb-ft of torque and 252 horsepower (a full 92 more hp than the standard Focus), the ST engine can only be mated to a six-speed manual transmission-suggesting that only true performance fanatics need apply. Expect to hit 60 mph in the low six-second range when piloting the Focus ST.
Safety
NHTSA and IIHS ratings have yet to be released for the Ford Focus ST, but the standard Focus achieves an IIHS top rating of "Good" in all categories except right leg/foot injury measurements, where it scores "Acceptable."
The Focus ST comes equipped with front and rear head airbags, dual front and rear side-mounted airbags, front seatbelt pretensioners, and various other safety features including electronic brake force distribution and tire pressure monitoring.
Driving Impressions
The Focus ST's interior, especially when outfitted with the same optional Recaro sport seats we enjoyed in our test vehicle, offers a functional, nicely finished cabin for five passengers. The button-intensive center stack leaves a relatively blank space on the passenger dashboard side, but this car is all about the driver's big analogue gauges, leather wrapped steering wheel, and sporty shift knob.
Launch the ST off the line, and much of this front-drive car's torque steer feels mitigated by the onboard electronics; despite its drivetrain layout, this Focus wastes no time revving to its 6,500 rpm redline. Under our wet conditions, there was some wheelspin as we charged hard through the powerband, but the steering feel is strong enough to bolster feelings of driver confidence. There's a good amount of feedback coming through the steering wheel, and its center-seeking characteristics lend the Focus ST a spritely feel as it negotiates curves. Though the engine's lively intake note makes its way into the cabin, it never gets loud enough to become annoying.
Thanks to its enthusiastic acceleration, responsive handling, and composed yet spirited road manners, the Focus ST succeeds at distinguishing itself among older entries in the performance-oriented hatchback class.
Other Cars to Consider
Volkswagen GTI: The $23,995 Volkswagen GTI is a tried and true contender in this segment, and while its turbocharged, 200 horsepower 4-cylinder is trumped by the Focus ST's 247 hp EcoBoost powerplant, the GTI's feeling of austere German solidity offers its own unique allure amidst a sea of competitors.
MazdaSpeed3: This $24,000 Mazda's peaky 263 horsepower engine creates plenty of torque steer under hard acceleration, but it's exactly that sort of challenging dynamic that might draw buyers away from more composed rides like the Focus ST.
Honda Civic Si: The $22,355 Civic Si coupe has been losing ground to competitors lately, but it remains a Honda-which alone should help score it plenty of loyal fans who won't be dissuaded by some less than ideal characteristics.