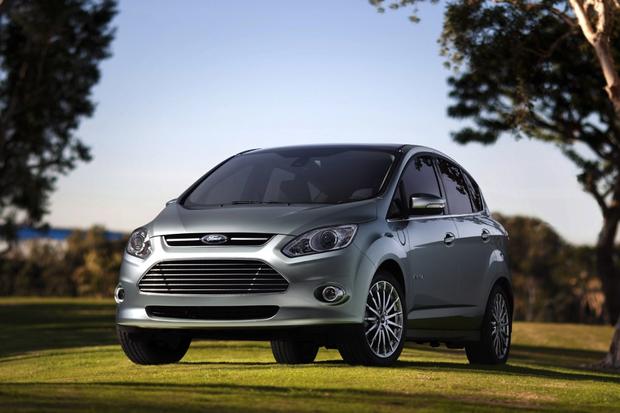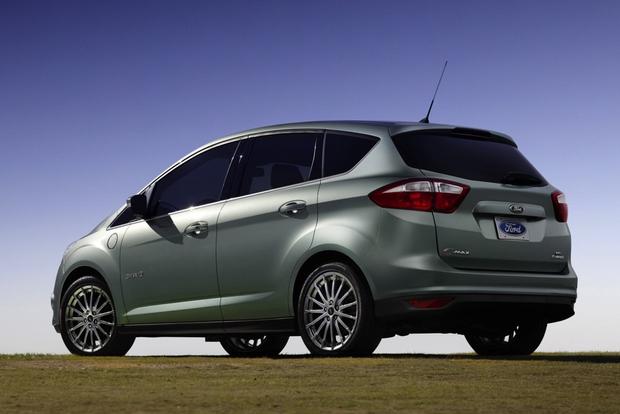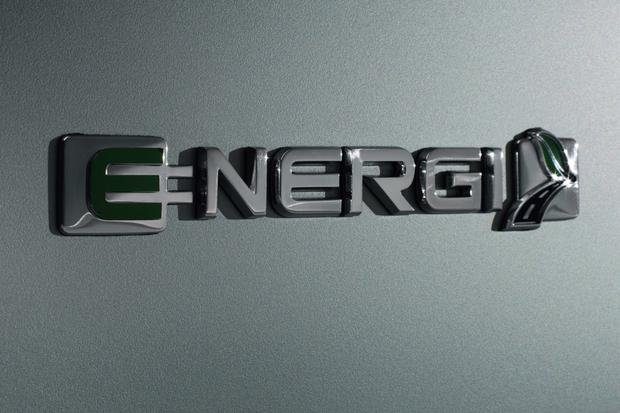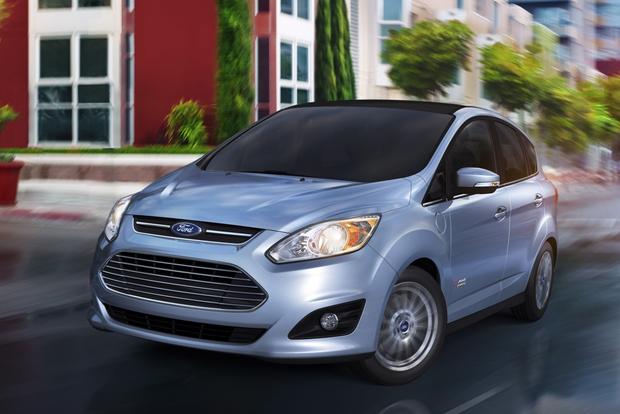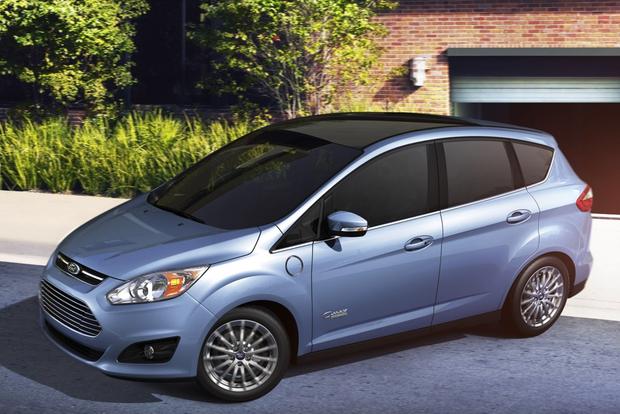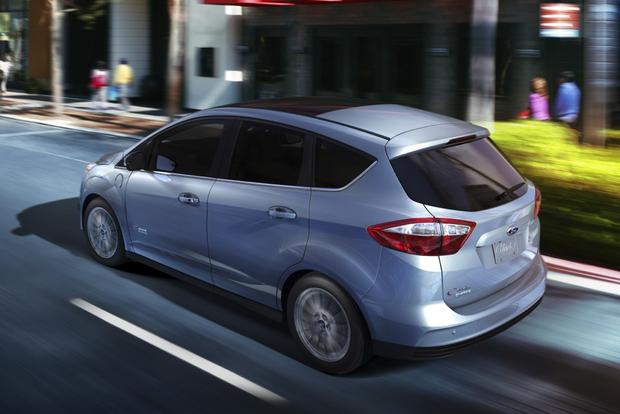 Pros: Drives like a tall Focus (that's a good thing); 550-mile driving range; quiet interior; five seats; true EV mode turns off gas engine altogether and tops out at 85 mph
Cons: Electric range limited to 20 miles; compromised cargo capacity; not a great value; noisy gas engine
What's New: The C-Max Energi makes its debut for 2013.
Introduction
People love to talk about electric cars and plug-in hybrids these days, but the 2013 Ford C-Max Energi could be the first plug-in hybrid that typical families actually want to buy.
Oh, we're not saying that the Chevrolet Volt isn't a desirable car in its own right, but it's only got four seats, and the backseat is tiny. Plus, even with the maximum tax rebate, it costs a bit more than the C-Max as of this writing, checking in at $31,645 versus the Ford's $29,995 bottom line after rebates.
The technology can be confusing in these cars, so let's start with the basics. As a plug-in hybrid, the C-Max Energi is basically two cars in one, featuring both an electric motor and a gasoline engine. Like the Volt, but unlike the plug-in Toyota Prius, it has a true EV mode that keeps the gas engine off, even when you floor it. The beauty of this system is that if you run out of battery power on the road, the gas engine automatically wakes up and turns the Energi into a normal car.
In tandem, the Energi's engines are good for a class-leading 550 miles of range between fill-ups. And the EV mode is tuned for real-world driving, so there's plenty of power and a top speed of 85 mph. The plug-in Prius, meanwhile, can't even hit freeway speeds on batteries, maxing out at 62 mph.
Of course, the Energi isn't for everyone. If you want to commute in EV mode, for example, the Volt is a better choice, as it offers 38 miles of electric range to the Energi's 20. And if you're drawn to the Energi for its practical tall-wagon body style, you should take a look at the massive battery-pack housing in the trunk area and see if there's still enough cargo space for your taste.
Then there's the value question: Even though the C-Max Energi is cheaper than the Volt, it still costs more than lots of excellent conventional cars.
Nonetheless, the 2013 C-Max Energi delivers a unique combination of Volt-like engineering and family-friendly seating for five, and that should be enough to put it on the radar screen of plug-in fans and everyday car-shoppers alike.
Comfort & Utility
The 2013 Ford C-Max Energi is offered in one well-equipped trim level that's essentially the equivalent of the regular C-Max Hybrid's SEL trim.
Notable features include 17-in alloy wheels, a hands-free liftgate with a foot sensor, an external 120/240V plug with cool LED perimeter illumination, push-button ignition, Sync with the MyFord Touch interface (including Energi-specific EV displays), premium Sony audio, two USB ports and compatibility with a Ford-developed smartphone app that lets you keep tabs on your Energi's vital signs while you're away.
Inside the Energi, it's immediately apparent that this is fundamentally an ordinary car. There's nothing like the Volt's futuristic center console; indeed, it's more like a run-of-the-mill Focus in there. That's a good thing, we think, as it should ease the transition for folks accustomed to regular vehicles. Like the Focus and other recent Ford products, material quality is a strong suit. We're not sure if the Energi's cabin feels quite like $30,000, but it's in the ballpark.
Notably, MyFord Touch comes standard, and while the system has attracted its fair share of controversy, it makes sense to include it on this highest-tech of Ford hybrids. If you're willing to put up with the occasional glitch, you'll be rewarded with an impressive range of functionality, not to mention the touchscreen's attractive presence in the center of the dashboard.
Front-seat comfort is satisfactory, with tons of height adjustability for the driver's seat. The backseat isn't exactly spacious, but two adults can ride back there without issue, and the middle seat makes the Energi a more viable option for growing families.
Cargo space, however, is an issue, thanks to the enormous battery pack housing that resides on the trunk floor. The official measurements are 19.2 cu ft behind the backseat and 42.8 cubes with the rear seat backs folded down, but if you do fold them, there's a big drop-off from the battery shelf down to the seat backs. At least Ford throws in its nifty new foot-sensing power liftgate.
Technology
Yes, folks, MyFord Touch is in the house, and the latest version is significantly better than the much-maligned original system. The menu structure has been simplified, and the virtual buttons are more user-friendly this time around. Plus, the high-resolution screen looks great. There are still some hiccups here and there, but we think it's a no-brainer for technophiles, and we applaud Ford for including it as standard in this package.
The Energi also gets exclusive EV-specific readouts, and it even offers a smartphone app that can communicate with MyFord Touch to keep you up to date on your Energi's status.
Less impressive is Sync's digitized female voice, which, as ever, sounds more like a robot than a human. The technology is out there for more realistic voice replication, and we expect Ford will hop on that train sooner rather than later.
Performance & Fuel Economy
The front-wheel-drive C-Max Energi is motivated by a 2.0-liter gasoline engine and an electric motor. A sophisticated continuously variable transmission (CVT) gearlessly connects these sources to the pavement. Total system power is a healthy 188 horsepower. You'll feel it too, as the Energi can definitely get out of its own way. That's true even in full EV mode, but the gas engine adds a palpable jolt for passing maneuvers. Our only complaint is about the intrusive drone of the gas engine during acceleration.
The Environmental Protection Agency (EPA) had to come up with a new unit of measurement for electric vehicles to capture the average distance traveled per unit of energy consumed. It's called "mpge," and the C-Max Energi is rated at 88 mpge, which falls short of both the Volt (98 mpge) and the plug-in Prius (95 mpge). But, on gas power alone, the Energi gets 38-mpg combined, which trails the Toyota's 50 combined mpg, and is nearly identical to the Volt's 37 combined mpg.
Safety
The C-Max Energi comes with standard stability control, 4-wheel anti-lock disc brakes and seven airbags (front, front side, driver knee, full-length side curtain). It has not been crash tested as of this writing.
Driving Impressions
The C-Max Energi drives almost exactly like a normal car. The only real clue that you're in something extraordinary comes in full EV mode, when all you can hear is the wind whooshing past. Speaking of noise, there really isn't much of it at highway speeds (in marked contrast to the plug-in Prius). The ride quality is better as well, and we think the confident C-Max Energi gives the surprisingly athletic Volt a run for its money in the handling department.
Other Cars to Consider
Chevrolet Volt - A must-drive if you're considering a plug-in hybrid, the Volt still offers the most EV range in this category.
Ford C-Max Hybrid - You can't plug it in or drive it in pure EV mode, but the regular C-Max Hybrid is otherwise similar, and it's more affordable.
Nissan Leaf - If you've already got a gas-powered car for long trips, the all-electric Leaf could be a great choice for commuting, as its EV range more than doubles that of the Volt.
Toyota Prius Plug-In Hybrid - Limited to 62 mph at the top, the Prius's EV mode isn't as impressive, but Toyota's been doing the hybrid thing for a while now, so most of the major boxes are checked here.
AutoTrader Recommends
There's only one version of the C-Max Energi, and we genuinely recommend it. Ford has done a great job of transforming a run-of-the-mill people mover into a cutting-edge green machine.