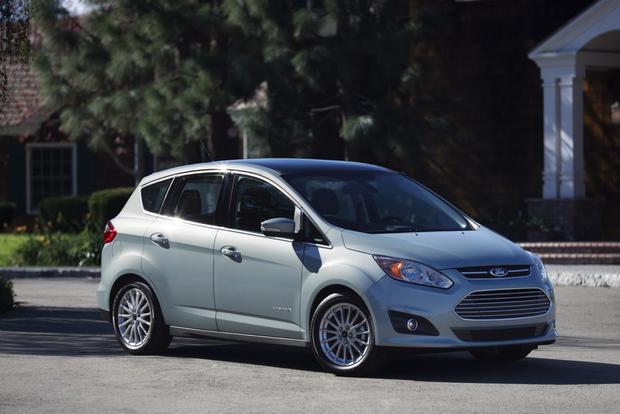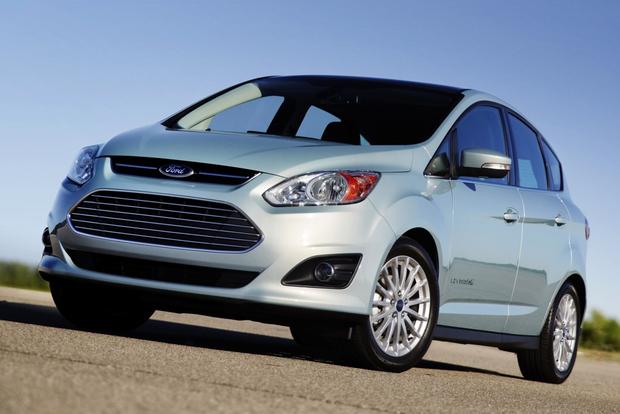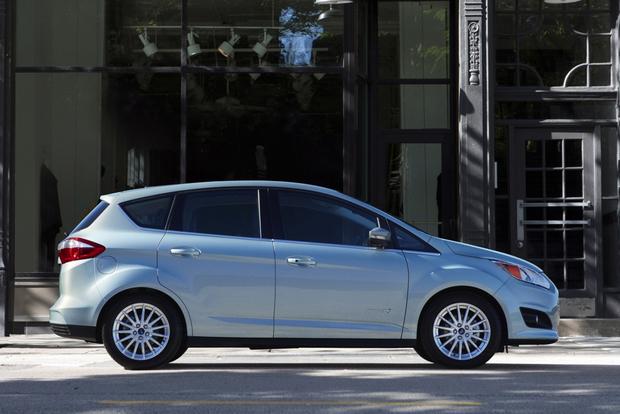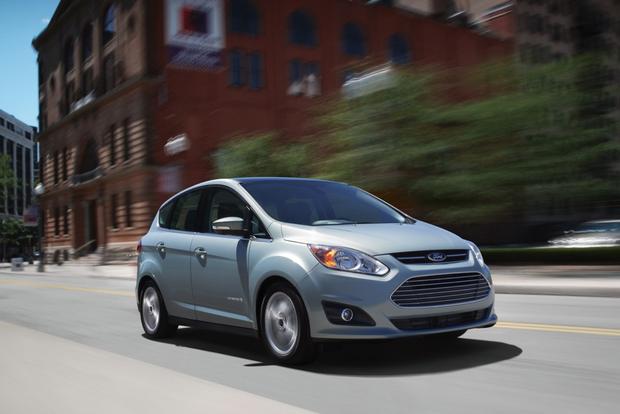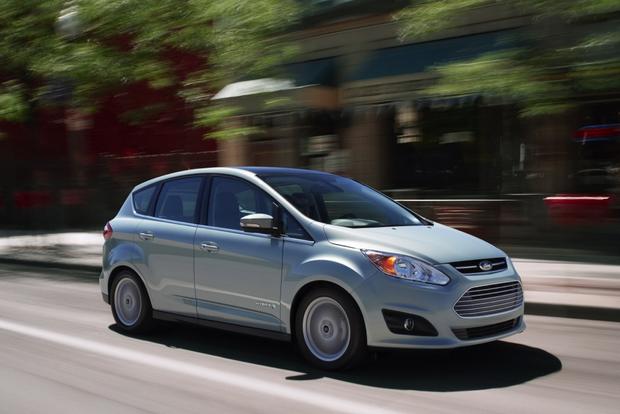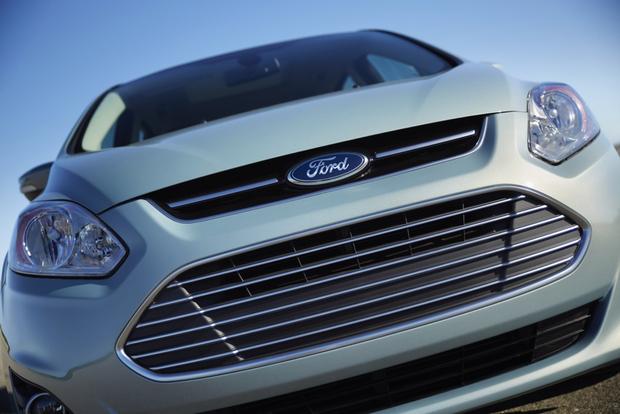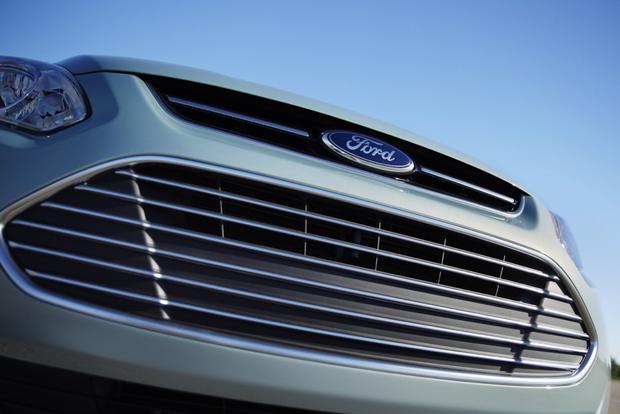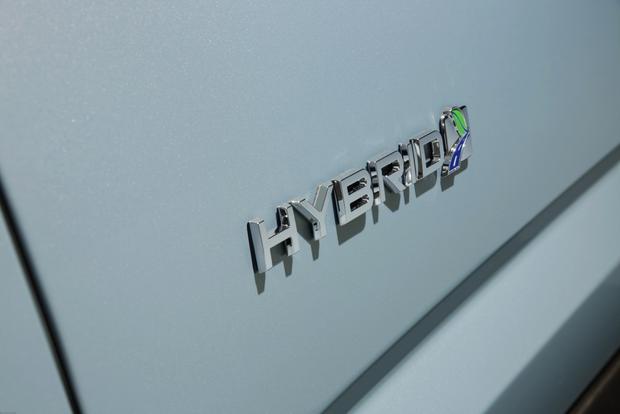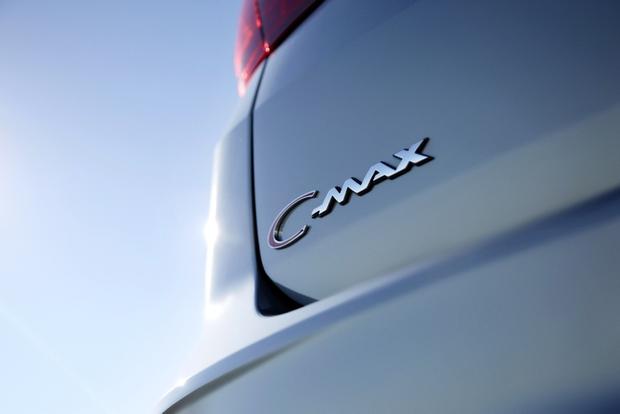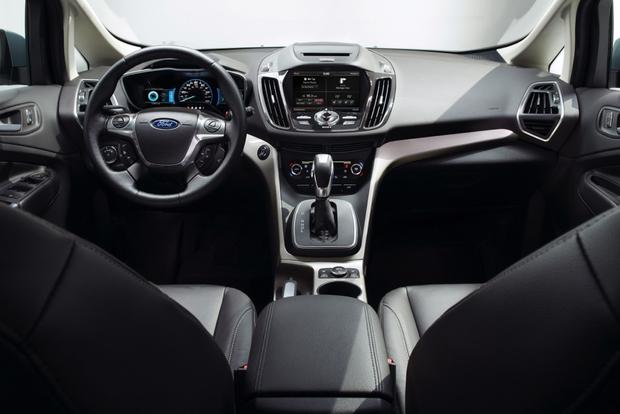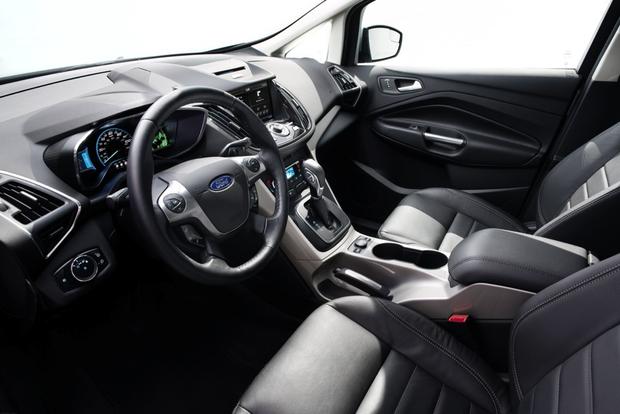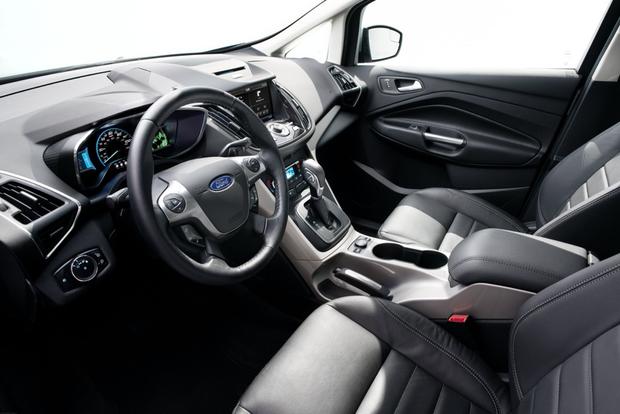 What's New for 2013?
The 2013 Ford C-MAX Hybrid is an all-new offering for the U.S. market. Though previously available to European buyers as a diesel and gasoline-powered hatchback, the hybrid powertrain is new to this platform, which is based on Ford Focus underpinnings.
What We Like
Small on the outside, roomy on the inside; big miles per gallon; quiet, composed ride; strong acceleration
What We Don't
Ford had to revise downward its original 47 mpg combined estimate to 40 mpg; non-intuitive MyFord Touch interface; tall seating position isn't for everyone; C-MAX Energi plug-in hybrid variant commands a steep $8,145 premium
How Much?
$25,200 - $28,365
Fuel Economy
The 2013 Ford C-MAX Hybrid scores an impressive 42 miles per gallon city/37 mpg highway, which fails to best its closest competitor, the $26,550 Toyota Prius v (44 mpg city/40 mpg hwy). Using the same powertrain as the Fusion Hybrid, the C-MAX Hybrid combines a 2.0-liter 4-cylinder internal combustion engine with a 1.4-kWh lithium-ion battery and directs power to the front wheels via a continuously variable transmission.
Standard Features & Options
The 2013 Ford C-MAX comes in three variants: the Hybrid SE, the Hybrid SEL and a plug-in hybrid Energi version.
The Hybrid SE starts at $25,200. Standard features include 5-passenger seating with a 60/40 fold-down rear seat, dual-zone climate control, a leather-wrapped steering wheel with audio controls and remote keyless entry. A power lift gate and a reverse sensing system can be added for $795, while satellite radio and the Sync/MyFord Touch interfaces can be bundled with those features for $1,995. Other options include a hands-free lift gate that requires a swipe of the leg for operation, a panoramic sunroof, heated seats, remote start and a backup camera.
The Hybrid SEL has a base price of $28,365 and adds leather seating surfaces, the MyFord Touch multimedia interface and satellite radio.
Opt for the $33,345 C-MAX Energi and you'll get a plug-in hybrid powertrain that can hit up to 85 miles per hour on electric power alone, and claims 88 mpge combined city/highway (drops to 38 mpg when the gas engine kicks in).
Safety
The 2013 Ford C-MAX Hybrid comes with roll stability control, which senses yaw and roll movements and modulates engine output and applies brake pressure to stabilize the vehicle. Also standard are seven airbags. No crash test data on the C-MAX Hybrid has been made available yet by the National Highway Traffic Safety Administration or the Insurance Institute for Highway Safety.
Behind the Wheel
The first thing you'll notice after climbing inside the C-MAX Hybrid is its tall, SUV-like seating position. This might not be a good thing if you're a fan of low-slung sports cars, but at least the elevated posture enables a commanding view of the road and with curved roofline provides ample headroom.
Ease into the accelerator pedal and the C-MAX pulls away quietly in electric-only mode, which is good for up to 62 mph if the battery is sufficiently charged. When the 2.0-liter internal combustion engine kicks in, a relatively seamless transition enables more aggressive acceleration, which is surprisingly strong given the C-MAX's lofty fuel economy claims. Punch the pedal and this modest looking hybrid will spin its tires off the line. Incidentally, it's easy to accidentally click the shifter into "L," which quickens acceleration and more aggressively charges the battery through brake regeneration. At lower speeds, the C-MAX handles quick transitions painlessly, and the cabin is pleasantly quiet and insulated when you hit higher speeds on the interstate.
On a practical note, the C-MAX offers copious storage capacity, with up to 52.6 cu ft of available volume behind the front seats (or 24.5 cu ft behind the second row, which folds in a 60/40 split). Nifty features include underfloor storage compartments and a built-in 110-volt power outlet.
Other Cars to Consider
Toyota Prius v -- Toyota builds the most obvious competitor to the C-MAX, and while it hasn't experienced the same publicity flap over fuel economy, the Prius v commands a $1,450 premium with a slightly less-spacious-feeling cabin.
Mazda5 -- This non-hybrid alternative from Mazda starts at only $19,625, and while it doesn't offer super-sized hybrid fuel economy figures, it does deliver solid value and spacious cargo hauling capacity.
Lexus CT200h -- Lexus's more upscale alternative runs $31,850 but offers a decidedly more luxurious and performance-focused alternative to the function-focused C-MAX Hybrid.
AutoTrader's Advice
While the flap over Ford's fuel economy claims have drawn negative publicity toward this domestic hybrid, drivers seeking an alternative to the Prius v will find the 2013 Ford C-MAX still has plenty of attractive features, including surprising practicality, an accommodating and roomy interior and a generous list of creature comforts.