Car Review
2013 Ford Explorer: 5 Reasons to Buy - Video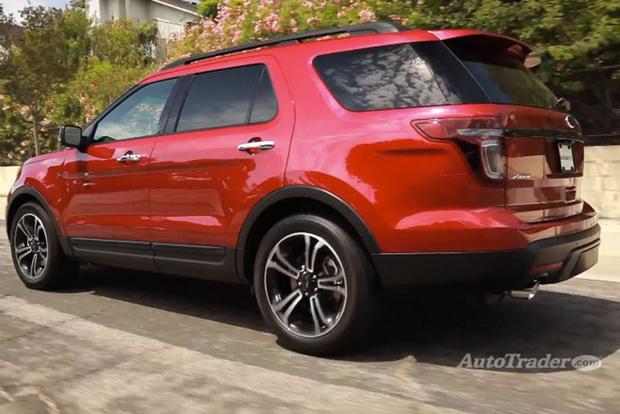 The Ford Explorer rose to stardom as a traditional truck-based SUV, but times have changed -- and the Explorer has, too. The 2013 Ford Explorer rides on a car-like unibody platform, and it's one of the best crossovers out there. Whether you need to haul people, cargo or you-know-what, the Explorer's got you covered. Here are five reasons to explore one yourself.
1. Turbo Power
Swift acceleration is almost unheard of in this segment, but the Explorer breaks the mold. Our Explorer Sport test vehicle had the twin-turbocharged EcoBoost V6, which cranks out a ridiculous 365 horsepower. If you're bored with family road trips, the Explorer Sport just might be the antidote. There's also the EcoBoost 4-cylinder turbo, which isn't as fast but does return up to 28 miles per gallon.
2. True 3-row Seating
Some crossovers supposedly have three rows of seats, but then you try one out and realize the third row's just for little kids. Fortunately, that's not the case with the Explorer. If you need to put a couple adults in the far back, don't sweat it; they'll be fine. The Explorer may not be as hospitable as a minivan, but it's close.
3. Top-notch Technology
When the Explorer's equipped with MyFord Touch, it turns into a rolling technology show. Paired with the SYNC system, MyFord Touch lets you manage practically everything via simple voice commands. Or you could just use the beautiful touchscreen and the cool touch-sensitive buttons on the center stack, as well as the crisp, driver-configurable displays in the gauge cluster. Check out the thumping 12-speaker Sony sound system, too. If you love the latest tech, the Explorer's right up your alley.
4. Cargo Crazy
If you need a beast of burden, the Explorer's happy to oblige. The available power fold-flat third-row seats make loading a cinch -- and when you fold the second row, too, you basically have an enclosed pickup truck. The Explorer offers a healthy 80 cu ft of maximum cargo space. It's nice to have that option in a pinch.
5. Perfect Crash Scores
Crash tests usually don't make headlines, but they're a big deal to crossover shoppers. So how'd the Explorer do? It's a straight-A student. The Explorer received perfect 5-star ratings from the government and perfect Good ratings from the Insurance Institute for Highway Safety in all crash-test categories. You can't do better than that.
AutoTrader Says
You've got to try the 2013 Ford Explorer if you're shopping for a 3-row crossover. It has everything crossover fans are looking for, and that optional twin-turbo V6 is a special treat.