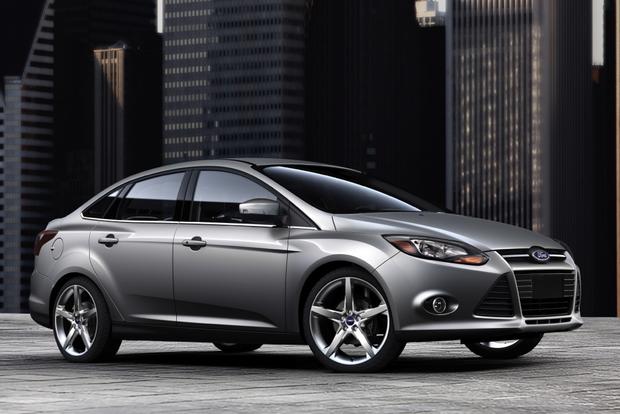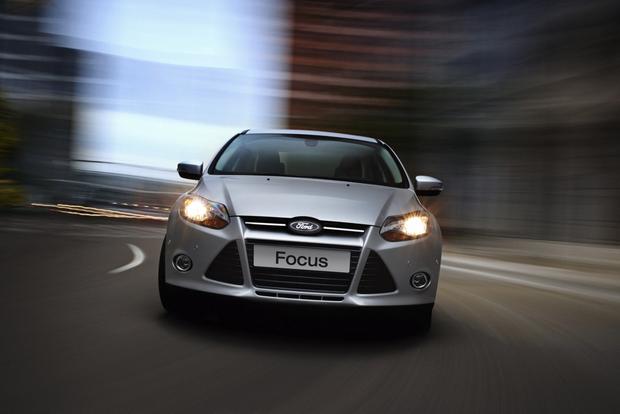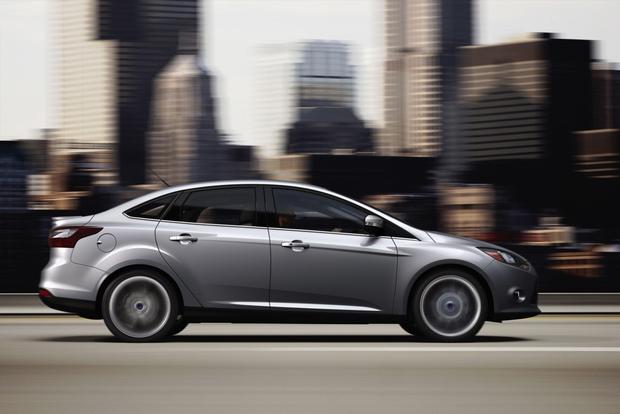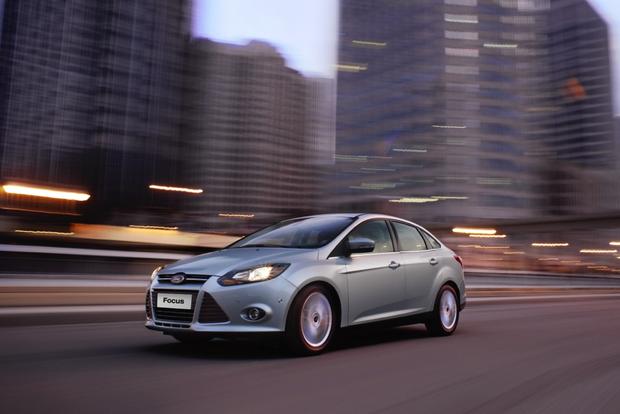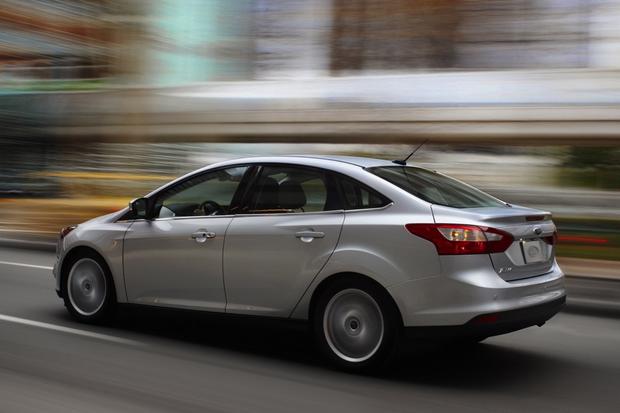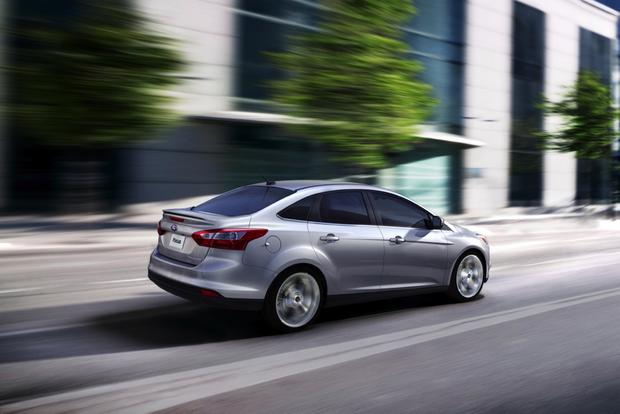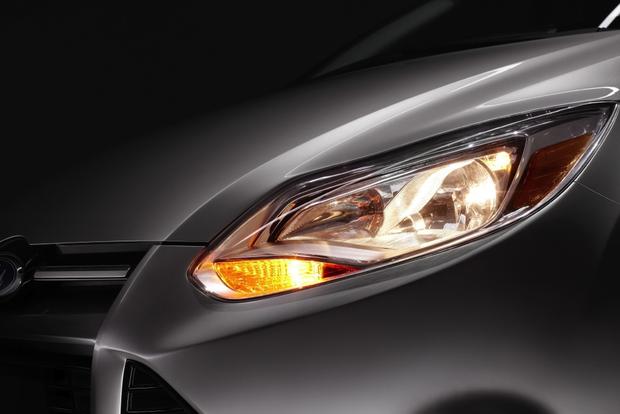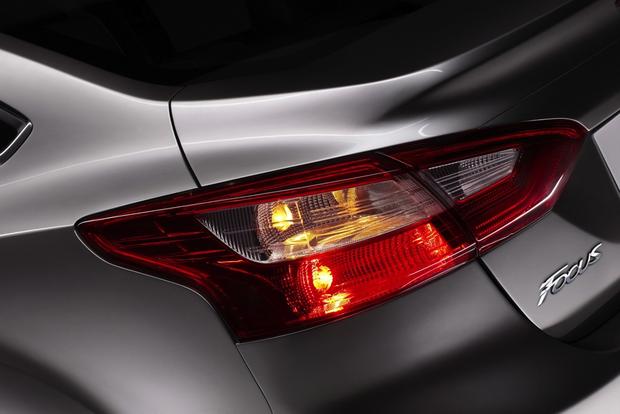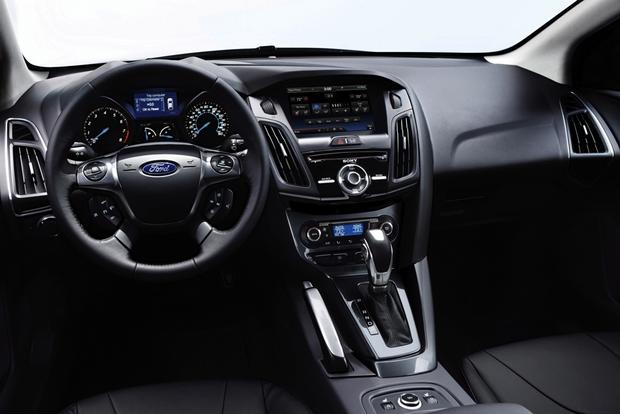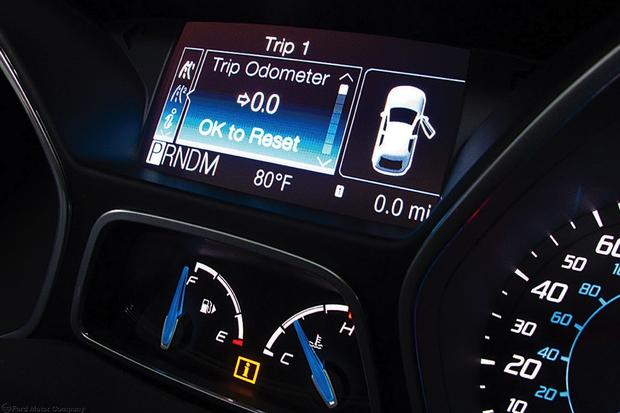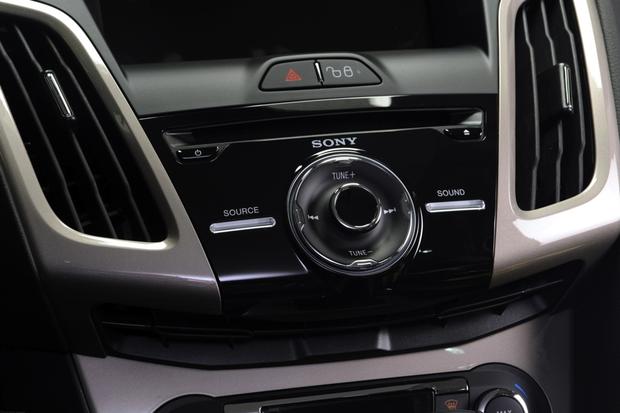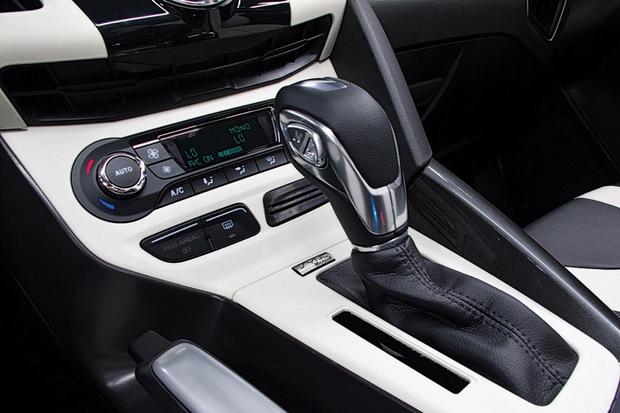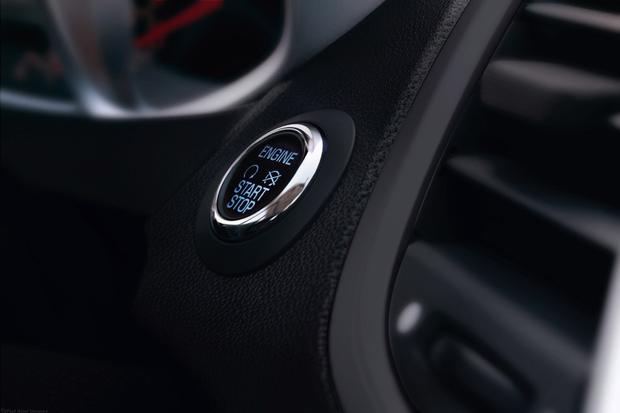 Pros: Great styling; great handling; great features; great mileage.
Cons: Base engine could use more power; automatic is slow to shift; upper-end models can get pricey.
What's New: A 5-speed manual is now offered on the top-of-the-line Titanium trim. The performance-oriented ST debuts with a 252 horsepower turbocharged motor. Also new is a plug-in, all-electric-powered Focus.
We've always said it's not that Americans don't like hatchbacks, it's that they don't like cheap, slow and ugly hatchbacks. For the 2013 Ford Focus, we feel a sense of vindication, because Americans have taken to this small car in droves. Endowed with European styling, the Focus looks as sleek and modern as any high-end touring sedan. Vast improvements in fuel economy, safety and handling should help win over skeptical consumers, as will the Focus model's impressive interior appointments.
For 2013, the Focus is available in five different trims, including the all-new high-performance ST and the Focus Electric, which runs completely on electric power and produces zero emissions. Regardless of which Focus you choose, you'll be guaranteed a dynamic driving experience that connects the driver with the road. And with such impressive options as self parallel parking, the SYNC voice-activated information and entertainment system and the all-electric and turbocharged ST models, the Ford Focus seems to offer something for everyone. A price range starting at around $17,000 for the base gasoline-powered car and topping out past $40,000 for the Focus Electric certainly suggests that Ford has a wide audience in mind. The automaker is pitting the Focus against everything from the Chevrolet Cruze to the Nissan LEAF, and even the Audi A3.
Comfort & Utility
The 2013 Ford Focus shines in many areas, but nowhere is its transformation from rental car standard to world-class compact more evident than inside the car. There are five trim levels: S, SE, Titanium, Electric and ST, and pricing varies widely. They all include a thick-grip steering wheel and firm seats with large side bolsters to hold you in place when the driving becomes spirited. Front-seat passengers have generous room to stretch out, although some may find the Focus's interior a bit narrow and confining.
The dashboard is an intricate arrangement of shapes, knobs and switches. Some of our testers liked the high-tech look, while others complained that the setup was just too busy. All agreed that the steering-wheel-mounted control pads for audio, SYNC and MyFord Touch were a good idea, but they were split on whether there was too much going on with these controls, especially with MyFord Touch.
When it came time to load in two more passengers, we found the rear seat accommodating but not as welcoming as those in the Volkswagen Jetta and the Honda Civic. Push the front seats to about the middle of their travel and long-legged folks will have an easier time squeezing into the back. Both 4-door and 5-door models feature folding rear seats for increased cargo space, but our vote for the outdoor active set is the 5-door, which has a tall hatchback opening and an obstruction-free cargo bay.
Technology
The 2013 Focus offers one of the most diverse and technologically sophisticated option sheets of any car we've tested under $30,000. Highlighting the techno tour de force is the SYNC hands-free information and entertainment system. With SYNC, the driver can use voice commands to dial a friend; call up music from his iPod by song, artist or playlist; and have incoming text messages read aloud.
Combine SYNC with MyFord Touch, and you get even more features, including a customizable color LCD screen in the center stack and a configurable 4.2-inch screen in the instrument cluster. With MyFord Touch, the driver can use casual speech commands to locate restaurants, shops or gas stations, adjust the climate controls and even call up favorite SiriusXM stations. We liked the concept, but some found the system a bit trouble-prone and counterintuitive. Ford acknowledges having heard similar complaints from customers; the automaker is working on a more user friendly software update that should appear on newer models, as well as a free update for those who have already purchased the old system.
Another item on our list of must-haves is Ford's Active Park Assist, which can parallel park the car for you, requiring only that you shift gears and brake when prompted. Other options include Intelligent Access and push-button start; keypad locking and unlocking; and voice-activated navigation with 3D maps. Traffic and weather reports and up-to-date information on movies, sports scores and gas station pricing are available but require a subscription to SIRIUS Traffic and Travel Link.
Performance & Fuel Economy
The 2.0-liter gasoline direct-injection engine in the Focus might not be big on power, but it is willing and offers good low-end torque and smooth operation. It makes 160 hp and 146 lb-ft of torque, which is enough to zip the Focus through traffic and onto crowded highways with confidence. However, the 6-speed PowerShift automatic transmission seems to get confused at times, hunting for the right gear and pausing momentarily before downshifting. The same is true of the more advanced PowerShift transmission, with the electronically controlled SelectShift manual mode that is standard in Titanium models. We much prefer the 5-speed manual transmission, which we think adds a sporting feel to the Focus in line with the car's European roots. The Focus ST gains a 252-hp 2.0-liter EcoBoost turbocharged engine and comes only with a slick 6-speed manual.
Fuel economy figures with the manual transmission are 26 mpg city/36 mpg highway. With the 6-speed PowerShift automatic, those figures climb to 28/38 mpg, and remain the same for the SelectShift version. Optional on the SE trim is the SFE package, which adds low-rolling-resistance tires and improved aerodynamics, resulting in 28/40 mpg. The ST is rated at 23/32 mpg.
Safety
The Focus comes standard with ABS, electronic traction and stability control and six airbags: front, front side-impact, and front and rear side curtain. The Focus does exceedingly well in both federal government and Insurance Institute for Highway Safety (IIHS) crash tests, earning a top safety pick.
Driving Impressions
The Focus is one of our favorite compact cars. Its handling is simply spot on in every way, from the feedback generated by its electrically assisted power steering to the crisp, quick shifting 5-speed manual. When it comes to ride and handling, the Focus easily compares with the Mazda3 and the Volkswagen GTI. For those who demand a bit more oomph under the hood, there's the turbocharged ST. With its sport-tuned suspension, Recaro bucket seats and 6-speed manual transmission, the ST is the most fun you can have on four wheels for less than $25,000. Overall, the Focus is one well-assembled package, providing a hushed interior, a smooth ride and a feeling of solidity that's usually lacking in a car of this size.
Other Cars to Consider
Honda Civic - The Civic has a well-earned reputation for quality and strong resale value, but this latest generation is not as solid or quiet as previous Civic models, and it doesn't offer nearly as many high-tech features as the Focus.
Volkswagen Jetta - The Jetta is a bit larger inside than the Focus, with a larger back seat and a quieter cabin. In addition to its 2.5-liter gasoline engine, the Jetta also offers a powerful, fuel-efficient, clean diesel option. But the Jetta isn't as sporty as the Focus, and its looks border on plain vanilla.
Mazda3 - In the S models, the Mazda3 has a bit more power than the Focus, and its handling is every bit as sharp. The Mazda's styling might be a bit over the top for some, and its navigation, information and entertainment interface pales in comparison to the Focus's SYNC and MyFord Touch.
AutoTrader Recommends
The best bang for the buck comes from the Focus SE with the automatic transmission. For around $21,000, this model gives you everything you need, plus enough electronic toys to make long road trips fly by. If money isn't too tight, we'd go with a loaded Titanium with the 5-speed manual. For around $28,000, you can load it with premium leather seating, navigation, MyFord Touch, Sony audio, rain-sensing wipers, heated front seats and Active Park Assist. For about the same price as the Titanium, you also can get a nicely equipped ST that sacrifices fuel economy for performance and doesn't offer an automatic transmission.