Car Review
2013 Ford Fusion Hybrid: New Car Review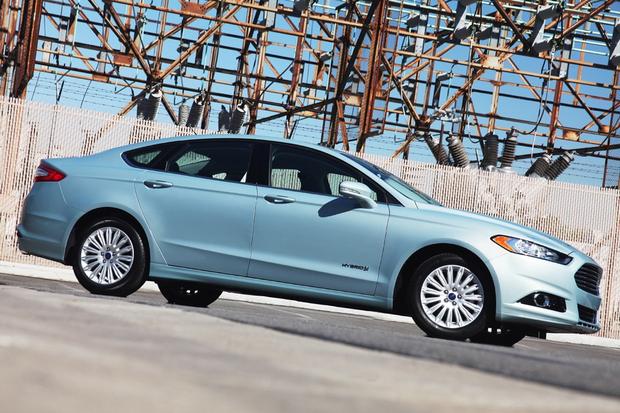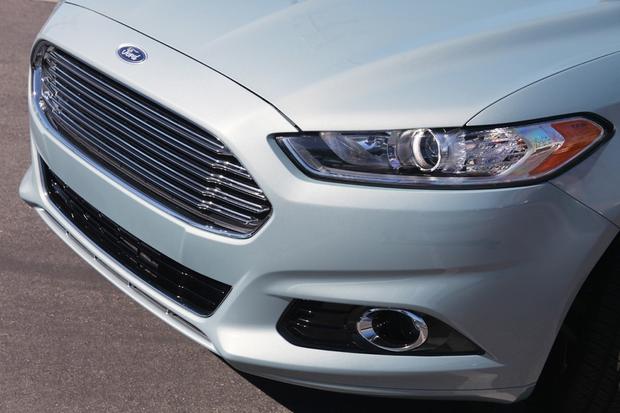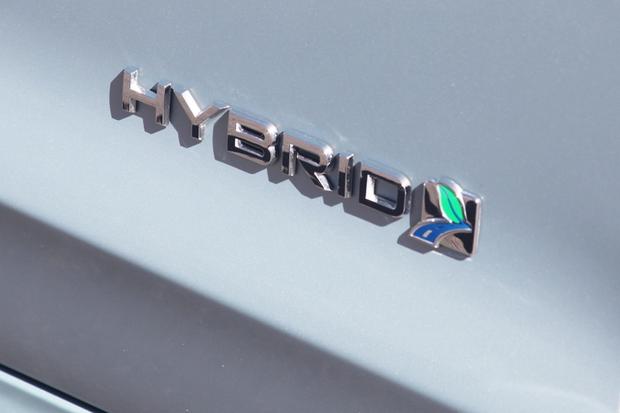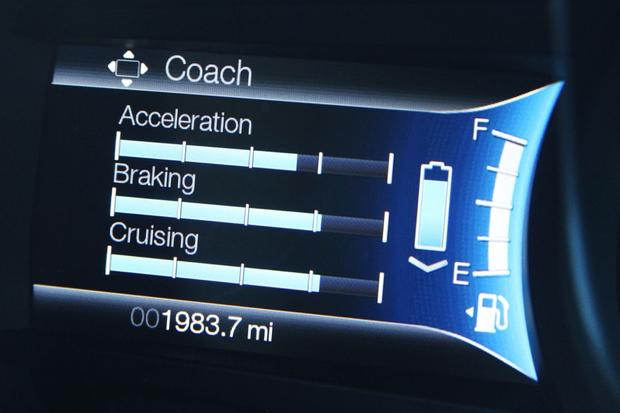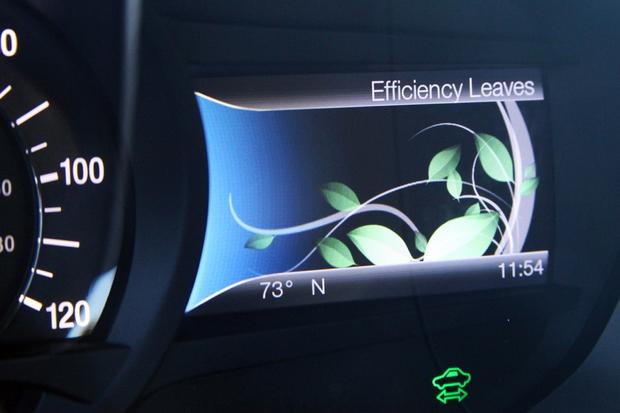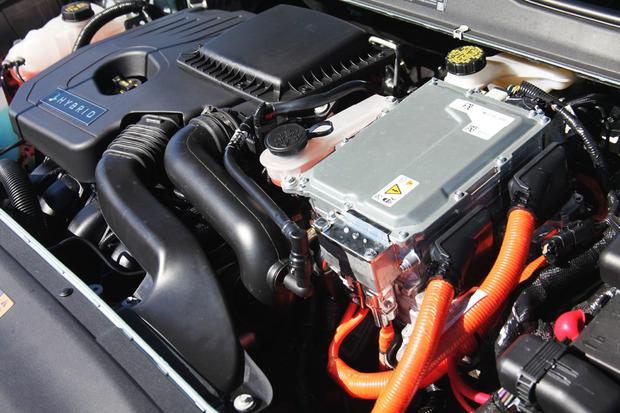 Pros: Sharp restyling offers a more upscale look; impressive best-in-class EPA figures of 44 city/41 mpg hwy; exceptionally quiet interior.
Cons: Standard plastic steering wheel and cloth seats feel cheap in base model; battery pack reduces truck capacity to 12 cu-ft.
What's New: The 2013 Ford Fusion Hybrid swaps nickel-metal hydride batteries for a more energy efficient lithium-ion arrangement, enabling electric-only power all the way up to 62 mph; the previous model could only hit 47 mph in EV mode. The 2.5 liter Atkinson-cycle engine has been downsized to 2.0 liters, helping enable the 44/41 mpg rating, which translates to a theoretical cruising range of 567 miles.
Introduction
The Fusion Hybrid has been refined and resculpted to compete against the likes of the Toyota Camry Hybrid and Hyundai Sonata Hybrid, and the boys in Dearborn have done a comprehensive job of endowing this mid-size sedan with the goods to beat the Japanese and Korean competition. First and foremost, fuel economy bragging rights can be claimed by Ford, as the Fusion achieves 44 mpg city and 41 mpg highway, which bests the Camry (43/39 mpg) and Sonata (36/40 mpg).
A number of steps have been taken to make the Fusion Hybrid a more civilized driver, including active noise cancellation that uses the car's audio system to reduce road noise and mask the shift between electric and gasoline power. The Fusion SE Hybrid starts at $27,200; a Technology package with a rearview camera, Ford SYNC and MyFord Touch with an 8-inch screen runs an extra $1,000. Voice-activated navigation adds $795, and heated leather seats that are included with the Luxury package can be had for $2,000.
Comfort & Utility
Some practicality has been sacrificed for the sake of the Fusion Hybrid's complex powertrain. Although the new lithium ion batteries are packaged more efficiently than the nickel-metal units they replace, trunk space is a measly 12 cu-ft (compared to 16 cu-ft for the standard model). Utility-wise, the Fusion's sedan layout also cedes some advantages to the new C-Max, a surprisingly spacious 5-door that offers as much as 52.6 cu-ft of storage when the second row of seats are folded down. At least the Fusion's redesign has moved the dashboard closer to the windshield, creating an airier feeling in the cabin.
While the Fusion Hybrid's seats are comfy, the cloth material on our lightly optioned tester felt disappointingly synthetic; the $2,000 Luxury package is well worth the price of entry for its leather hide, though the base cloth offering uses fabric that incorporates recycled sustainable yarns.
Other convenience options include adaptive cruise control, parking sensors and even an active park assist system that takes the reigns from the driver and steers the car into an open spot.
Technology
The 2013 Fusion exploits the fuel economy potential of its hybrid drivetrain by incorporating plenty of dashboard menu options that interpret fuel economy usage and encourage more efficient driving. Twin LCD screens flanking the analog speedometer offer detailed information on fuel and battery levels and driving patterns. While the left screen can get technical with its bar graphs and numerical breakdowns, the right display offers a far simpler way to convey how your right foot is affecting MPGs: An animated series of leaves and vines depicts the efficiency--or lack thereof--of your throttle and brake inputs.
SYNC with MyFord enables voice commands to control Bluetooth devices, and the system also enables text messages to be read aloud by a computerized voice--a safer alternative than glancing down at your phone. Also available is real-time traffic information and a 411 business search function.
Performance & Fuel Economy
The Fusion Hybrid's magic number is a combined 42 mpg, and it hits that mark thanks to a 2.0 liter Atkinson Cycle inline-4 cylinder engine coupled with a permanent magnet AC synchronous motor fed by lithium-ion batteries. Working together, both powerplants drive 118 hp and 117 lb-ft of torque to the front wheels--not quite blistering numbers, but enough oomph to yield respectable acceleration. The Fusion Hybrid gets out of its own way with the aid of a continuously variable transmission. Electric power-assisted steering joins the medly of powertrain enhancements to help minimize fuel consumption.
Safety
A fairly standard slew of safety features come standard on the Fusion Hybrid, including dual front and side airbags; first- and second-row side curtain airbags; driver and passenger knee airbags; and a tire pressure monitoring system.
A new available driver alert system detects drowsiness, while a lane keeping assist uses a front-facing camera to tell when the car drifts outside its lane. The system can be adjusted to varying levels of sensitivity, which could encourage more frequent usage. Also available is a Blind Spot Information System (BLIS) which features a cross-traffic warning.
Though the 2013 Fusion model has yet to be rated by the Insurance Institute for Highway Safety (IIHS), the 2012 version is rated Good on all fronts, earning a top safety pick of 2012 distinction.
Driving Impressions
Though we were initially turned off by some of the Fusion Hybrid's hard plastic dash panels and synthetic feeling seat materials, clicking the shifter into Drive offered more insight into the soul of this gas- and electric-powered 5-passenger sedan. The transition from electric to gas and back again is a key part of a hybrid powertrain's success, and the Fusion performs well in that area: Without looking at the dash, it can be difficult to tell when the switch is being made. Likewise, though there are some subtle high-frequency pitches that permeate the cabin, this space tends to be eerily quiet largely due to the active noise cancellation that is incorporated into the car's sound system. The benefits are especially seen (or shall we say, heard) on the freeway, where the Fusion tends to coast along in a cocoon of silence. Our test drive didn't incorporate twisty roads, which made it difficult to gauge the Fusion's handling characteristics. But on the few onramps we encountered, this midsize hybrid seemed to defy its 3,615-lb curb weight.
Other Cars to Consider
Toyota Camry Hybrid: Toyota's offering in this segment runs $25,990 but offers less fuel efficiency (43/39 mpg) than the Fusion Hybrid; however, this Camry's drivetrain offers a slight edge over the Ford in terms of refinement.
Hyundai Sonata Hybrid: Though the $25,850 Hyundai uses an advanced lithium-polymer battery, its 36/40 mpg fuel economy figure pales in comparison to the Fusion Hybrid's. Styling-wise though, the Sonata has developed a strong cult following that might draw buyers toward the Korean brand.
AutoTrader Recommends
Our initial turn-off with the 2013 Ford Fusion Hybrid came from the low-end feel of its interior--and indeed, when equipped more generously than its $27,200 starting price, this 5-passenger sedan's cabin starts to feel more in tune with its stylishly sculpted sheet metal. Get past the base model's sensory shortcomings, and the Fusion reveals some impressive driving characteristics, with seamless transitions between electric and gas power and an extremely quiet cabin. Are its driving dynamics too removed for enthusiasts? Perhaps. But at the end of the day, fuel economy figures are the ultimate measure of a hybrid's success, and the Fusion's class-leading numbers of 47 mpg city and highway make it a winner that's likely to attractive buyers away from other hybrid mid-size sedans.