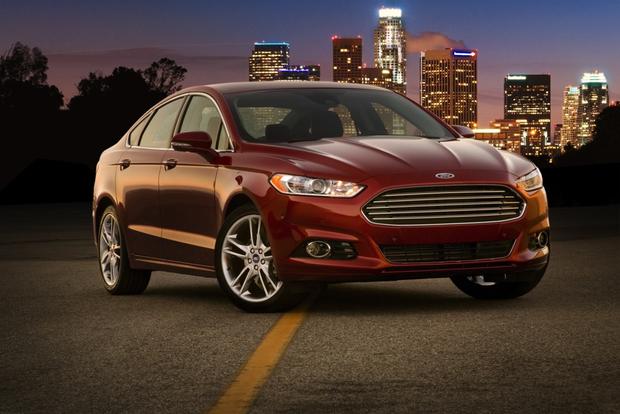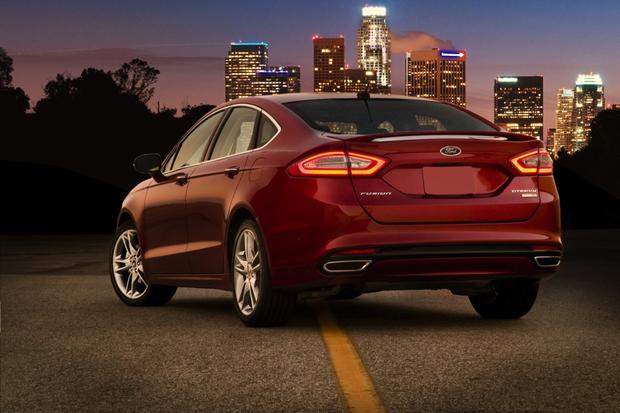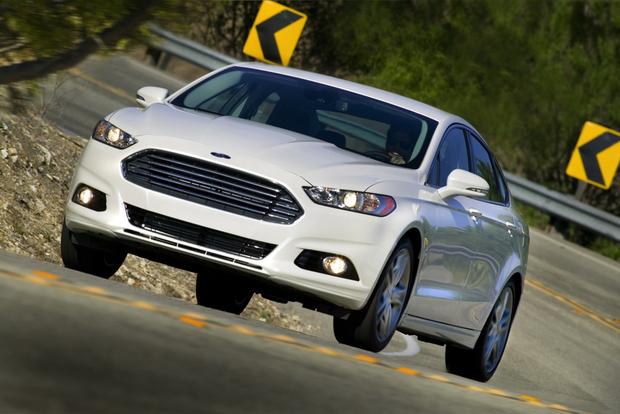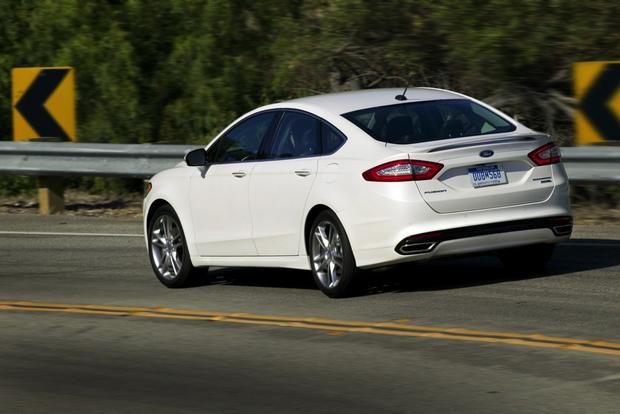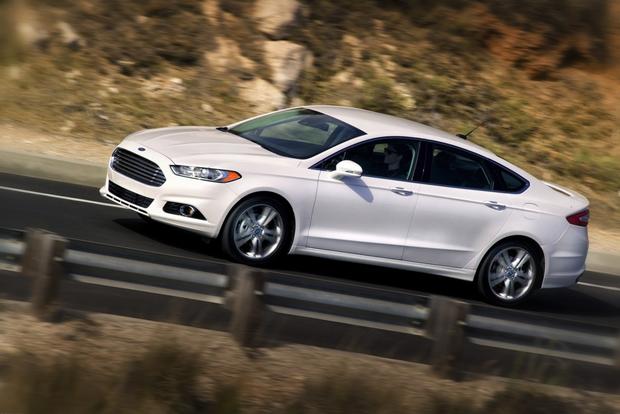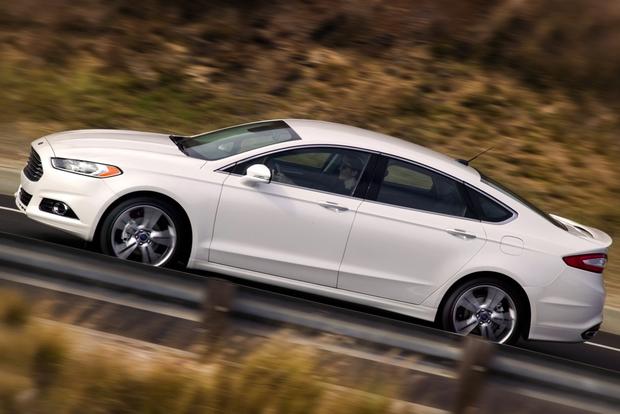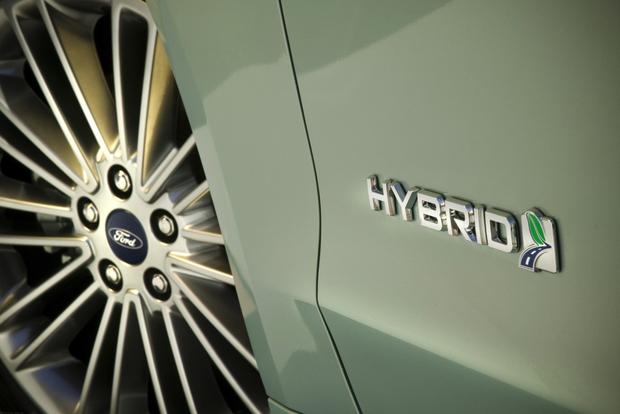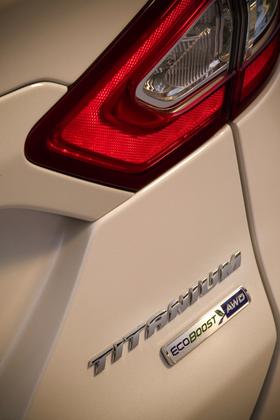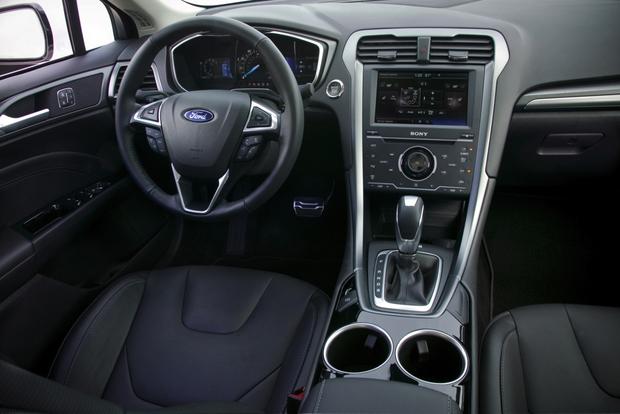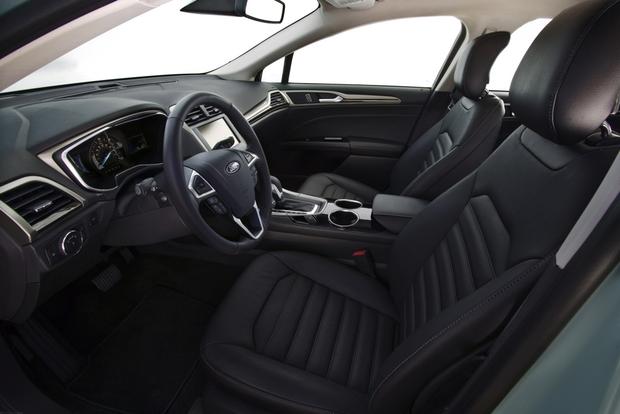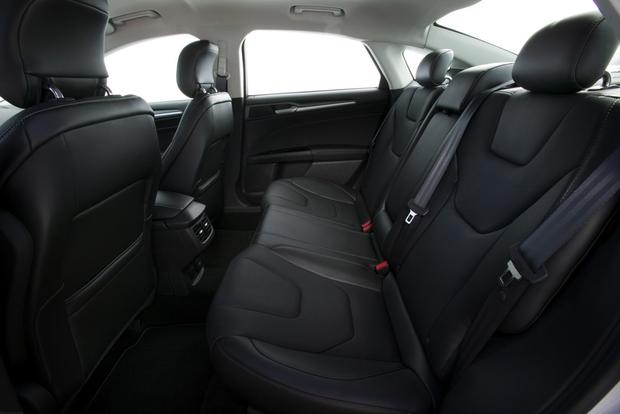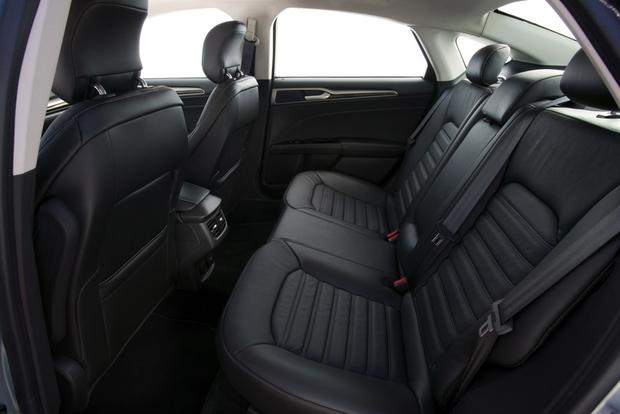 Pros: Drop-dead gorgeous; sophisticated driving dynamics; outstanding hybrid fuel economy; impressive technology; available all-wheel drive.
Cons: Front seats might be too narrow for some; hybrid trunk is hurt by awkward battery-pack hump; outward visibility is less than ideal.
What's New: The Fusion is fully redesigned for 2013.
Introduction
A decade ago, the 2013 Ford Fusion wouldn't have been possible. Back then, Ford's European division got all the good stuff, and we Americans were generally stuck with the leftovers. The reasoning was that Europeans didn't mind paying more for quality, but there was something vaguely insulting about that, as if Ford felt their own country wasn't ready for the company's premier products. It was also problematic from a business perspective, because rival manufacturers certainly weren't holding back with their stateside offerings.
Happily, there's been a quiet revolution within Ford in the years since, culminating in the current One Ford strategy of using the same top-notch platforms and designs in most major markets, ours included. The reinvented 2013 Fusion is a case in point. Sharing most of its parts with the decorated Euro-market Mondeo, the new Fusion is an all-out assault on the mid-size sedan segment. It's Ford's honest best shot at taking down Camry and Accord, and we won't be surprised if the Fusion does just that.
Naturally, we've found some nits to pick, but the real story here is the Fusion's sudden emergence as a no-excuses contender. Giving your best is never a bad idea, and we suspect Ford will be reaping the benefits once folks get familiar with the 2013 Fusion.
Comfort & Utility
The 2013 Ford Fusion is offered in four trim levels: S, SE, SE Hybrid and Titanium.
The base S kicks things off with 16-inch steel wheels; automatic halogen headlights; LED taillights; full power accessories; air conditioning; cruise control; a tilt-telescopic steering wheel with auxiliary controls; intermittent wipers; a height-adjustable manual driver seat; a trip computer; MyKey parental control capability; SYNC voice-command functionality with MyFord mobile-app support; and a 4-speaker audio system with an auxiliary input jack.
The SE steps up to 17-in alloy wheels; SecuriCode keypad access; a 10-way power driver seat with adjustable lumbar support; satellite radio; six audio speakers instead of four; and eligibility for a variety of options that the base S doesn't get, including a navigation system that upgrades the default central display to a large, colorful touchscreen.
The SE Hybrid mostly shares the regular SE's feature set but adds perks like different 17-in wheels, dual-zone automatic climate control and the hybrid-only SmartGauge instrument cluster. The Hybrid also trades the regular car's compact spare tire for a less space-consuming mobile repair kit. Oddly, push-button ignition--a familiar feature in Toyota hybrids--is absent in this one.
The Titanium turns on the charm with 18-in wheels (a few different 19-in designs are available); fog lights; dual exhaust tips; keyless entry with push-button ignition; dual-zone automatic climate control; leather upholstery; heated front seats with 4-way power passenger adjustments; rear parking sensors; a rearview camera; a leather-wrapped steering wheel with paddle shifters; an auto-dimming rearview mirror; aluminum pedals; and an exclusive 12-speaker Sony audio system with MyFord Touch.
Many of the fancier features are available on lower trims, but if you want the 2.0-liter turbo or all-wheel drive, the Titanium's the only game in town. And if you want Xenon headlights, look elsewhere--they're not offered on any 2013 Fusion. A sunroof is a standalone option on SE, SE Hybrid and Titanium.
In our interior evaluation, we were immediately struck by how modern the Fusion's dashboard and controls have become. Granted, most of our experience came in Fusions equipped with the brilliant high-resolution touchscreen; lesser models make do with a conventional array of knobs, buttons and readouts. But overall, the Fusion feels every bit like a brand-new model, from the crisp gauges and standard steering-wheel-mounted controls to the rakish driver-ward sweep of the center stack.
Our other immediate impression involved the snugness of the front seats. Whereas most family sedans go the flat-and-wide route here, Ford has apparently chosen to imitate Porsche. Thanks to prominent side bolsters and a narrow shell, these seats keep you planted like you're in a sports car--if you fit, that is. We love them; the only thing we'd add is a passenger-side height adjustment. You'll know whether you agree as soon as you sit down.
Glancing around the cabin, we appreciated the upscale woodgrain trim on the dashboard and doors, though it's offset by silver-painted plastic that seems unlikely to age gracefully. Ford could take the Fusion to the next level by texturing its fake metal like Toyota does in the Camry. You might also notice some unfinished edges if you feel around in the map pockets, for example. But the armrests are all well padded, and the door- and dash-tops are finished with an upscale supple material.
Rear passengers should enjoy their time in the 2013 Fusion. Maximizing space beneath the fastback rear roofline was clearly a priority, as even six-footers have headroom to spare. Legroom, too, is plentiful, if not quite as limo-like as the newly extended wheelbase would suggest.
The regular Fusion's trunk boasts 16 cu-ft of capacity, which is on the large side for this class. Unfortunately, the Hybrid's hauling ability is hampered by its crudely integrated battery pack, which sticks up out of the trunk floor like the front stoop of a house. For reference, the Camry Hybrid's trunk floor is perfectly flat. By the numbers, though, the Fusion Hybrid's pretty capacious for a hybrid, checking in at 12 cu-ft.
Technology
The Fusion S and SE come with some nice high-tech bits, including SYNC voice-recognition with MyFord mobile-app integration, which allows you to control a variety of mobile apps with voice commands via your compatible smartphone. The standard controls aren't much to look at, though. The technology really kicks in when you opt for the central touchscreen interface.
Notably, the non-Titanium version of this touchscreen features vertical climate-control rocker switches below the screen that we found difficult to activate consistently--the touch zone seemed to be rather small, leaving us tap-tap-tapping in frustration to get the desired temperature. However, the Titanium's unique MyFord Touch layout brings horizontal temperature switches that were more receptive to our fingertips.
As for MyFord Touch itself, the latest version is significantly better than the much-maligned first-generation system. The menu structure has been simplified, and the virtual buttons are more user friendly this time around. We think it's a no-brainer for technophiles who don't mind the extra cost.
Less impressive is SYNC's digitized female voice, which, as ever, sounds more like a robot than a human. The technology is out there now for more realistic voice replication, and we expect Ford will hop on that train sooner rather than later.
Performance & Fuel Economy
Standard on the Fusion S and SE is a 2.5-liter inline-4 rated at 175 horsepower and 175 lb-ft of torque. There's nothing really wrong with this engine, but it's a carryover from the previous Fusion, so you're not getting the latest and greatest. The only transmission is a 6-speed automatic, and fuel economy is estimated at 22 mpg city/34 mpg highway.
An all-new 1.6-liter turbocharged inline-4 packing 178 hp and 184 lb-ft is optional on the SE. Yes, that's barely more thrust than the base engine, but the 1.6 is considerably lighter, so the Fusion is quicker this way. It's also more refined: turbo lag was imperceptible during our test, and the 1.6 speaks softly, unlike the gruff 2.5.
A 6-speed manual is available with the 1.6, and it returns the best fuel economy of any Fusion: 25/37 mpg. The 6-speed automatic drops to 23/36 mpg, though Ford says that the optional auto stop/start system, exclusive to the 1.6 automatic, adds one mpg on each side. A word on that stop/start option: We like that it saves fuel, but there's a palpable shudder every time it does its thing, so we're glad Ford includes a prominently placed Off button on the center console.
The Fusion Titanium comes with its own engine, a 2.0-liter turbocharged inline-4 rated at 240 hp and 270 lb-ft of torque. That might seem like a huge leap forward from the 1.6, but the Titanium packs some extra pounds, so the difference is more like going from mild salsa to medium. It's especially subtle in the all-wheel-drive Titanium (the only Fusion offered with AWD), which is the heaviest model of all at nearly 3,700 lb. A 6-speed automatic with shift paddles is the only transmission here, and fuel economy estimates range from 22/34 mpg with front-wheel drive to 22/31 mpg with AWD.
As for the Fusion Hybrid, it actually feels more responsive at times than both the 2.5 and 1.6 thanks to the always-on torque of its electric motor. On paper, the Hybrid's 4-cylinder gas engine isn't very impressive, producing just 141 hp and 129 lb-ft of torque. But the electric motor adds 117 lb-ft whenever you put your foot down, and the surprisingly attentive continuously variable automatic transmission (CVT) is happy to follow orders. The Hybrid's gas engine is noisy, though, as if it's grumbling at you for having woken it up. Fuel economy is superb: expect 47/44 mpg, which blows away the current competition.
By the way, keep an eye peeled for yet another Fusion variant in the coming months: the Energi plug-in hybrid, which is said to be even more efficient than the Chevrolet Volt. We'll have full coverage ahead of the Energi's debut.
Safety
The 2013 Fusion comes standard with 4-wheel antilock disc brakes and eight airbags (front, front side, front knee, full-length side curtain).
Numerous electronic driving aids are also offered, including a blind spot warning system, lane-departure assist, adaptive cruise control and a cross-traffic warning system for when you're backing out of a tight spot.
The new Fusion had yet to be crash tested as of this writing.
Driving Impressions
The price you pay for the Fusion's slinky styling is compromised outward visibility. Drive a Fusion back to back with the airy, upright Camry, and you'll see what we mean. Nonetheless, you can see enough of the road ahead to make good time, and the Fusion shrinks around you at speed like a sport sedan, evoking, oddly enough, the similarly long-but-lithe Pontiac G8 of yesteryear.
Around town, the tradeoff for that athletic poise is evident in the Fusion's firm ride. It's never harsh over bumps, but it's not exactly a sofa on wheels, either. While we think there's a great balance here between sport and comfort, it's definitely weighted toward the European end of the spectrum. One aspect that's top notch by any regional definition is noise suppression, which approaches luxury grade.
Other Cars to Consider
Kia Optima - The Optima is a compelling Fusion alternative, offering striking styling of its own along with a stronger 2.0-liter turbo.
Toyota Camry - The Camry Hybrid is the Fusion Hybrid's closest competitor, and we wouldn't buy one before trying the other.
Volkswagen Passat - The Passat's sense of style is far more conservative, but VW's midsizer stacks up well against the Ford. Check out the diesel-powered TDI as a dark-horse Fusion Hybrid alternative.
AutoTrader Recommends
Our pick would be the SE with the 1.6-liter turbo and the touchscreen interface. It's a satisfying combination that won't break the bank.