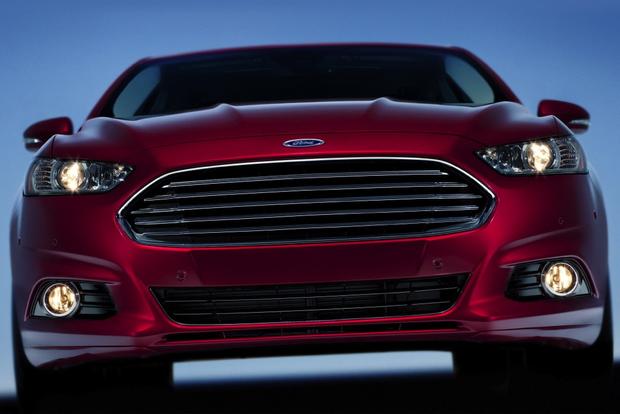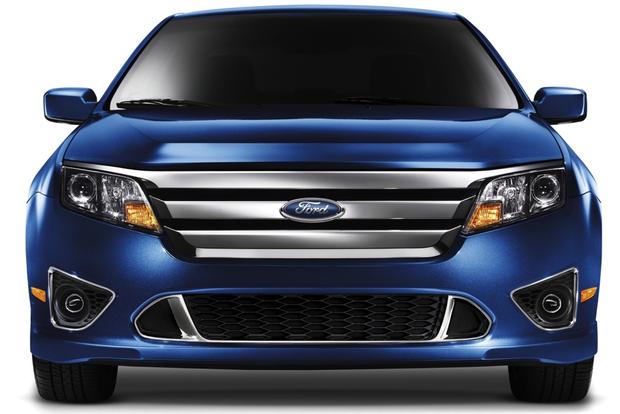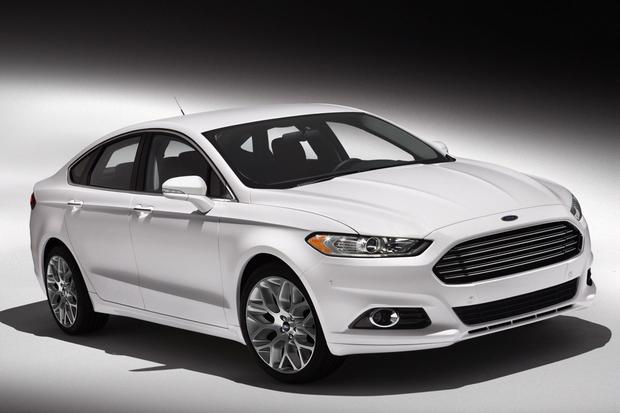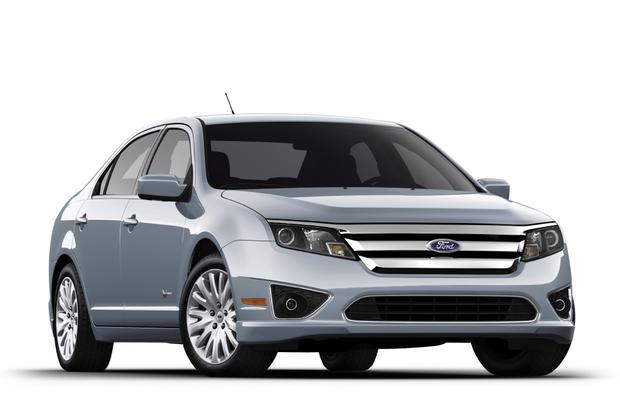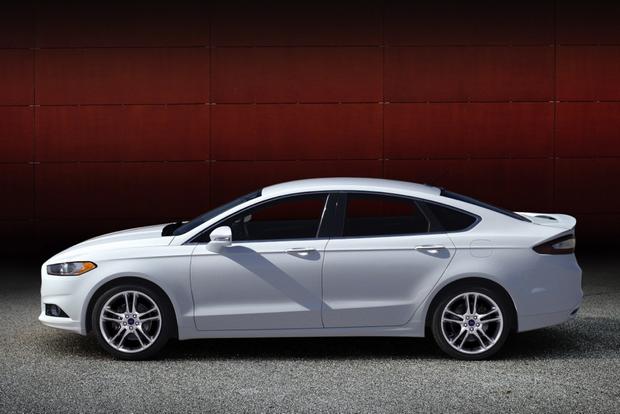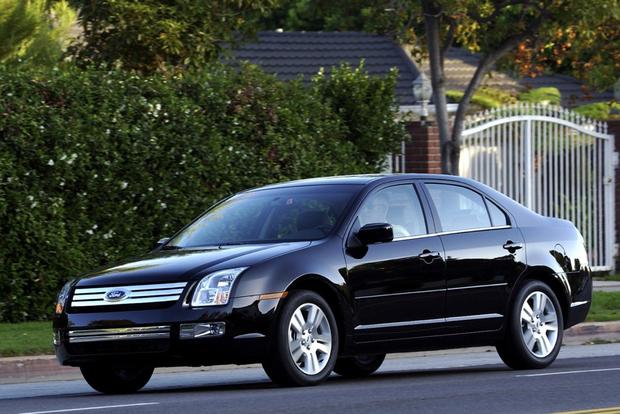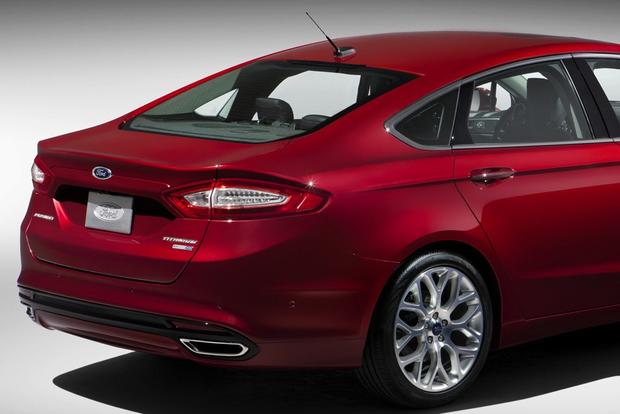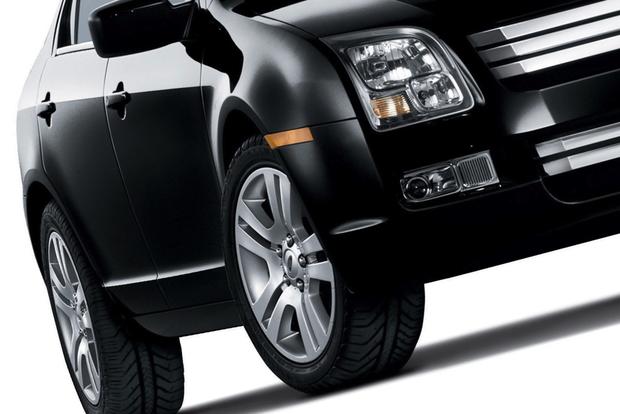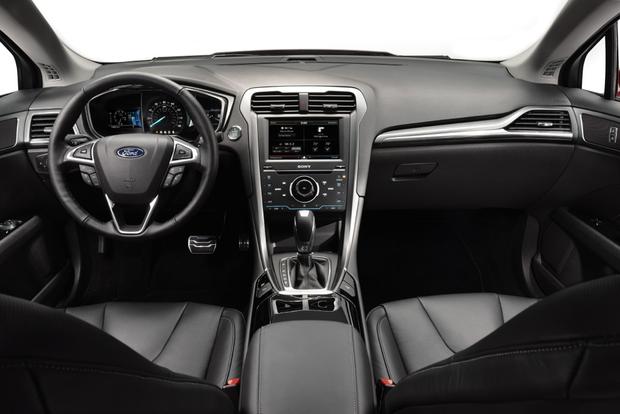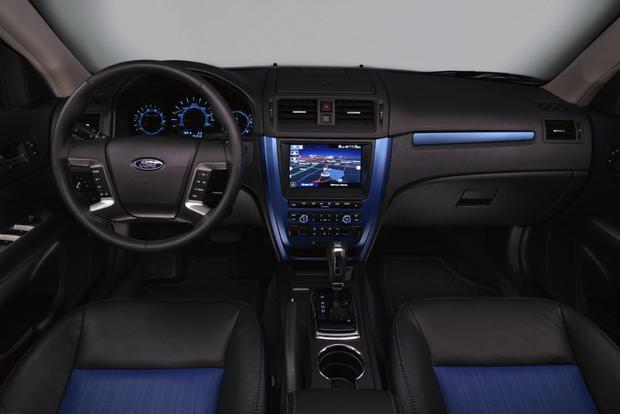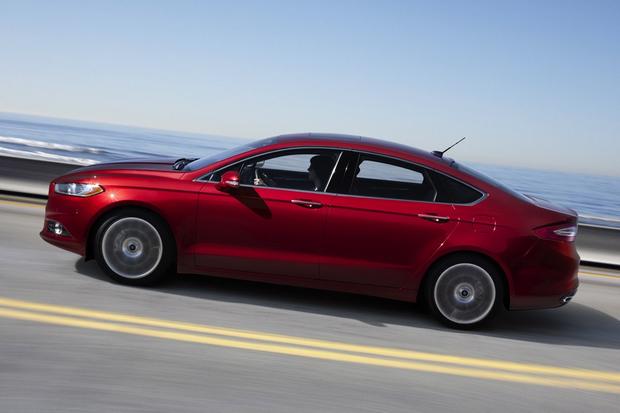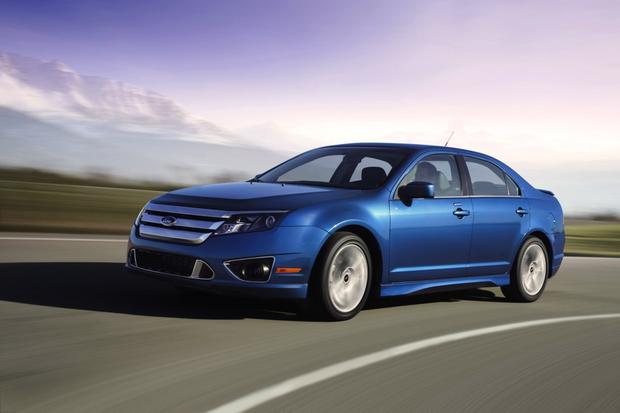 Introduction
Ford sells about 725 Fusion midsize sedans every single day, which makes it one of the best-selling cars in America. When the Fusion debuted for the 2006 model year, it brought a sense of class and upscale design to the family sedan fray. Now, the 2013 Ford Fusion is completely redesigned for the first time. Highlights of the new car include dramatic exterior styling combined with improved fuel economy, sophisticated technology and several new powertrains, including a plug-in hybrid model. Still, the previous-generation Fusion remains a solid choice--a reliable and safe workhorse that represents real value. Which car deserves your consideration?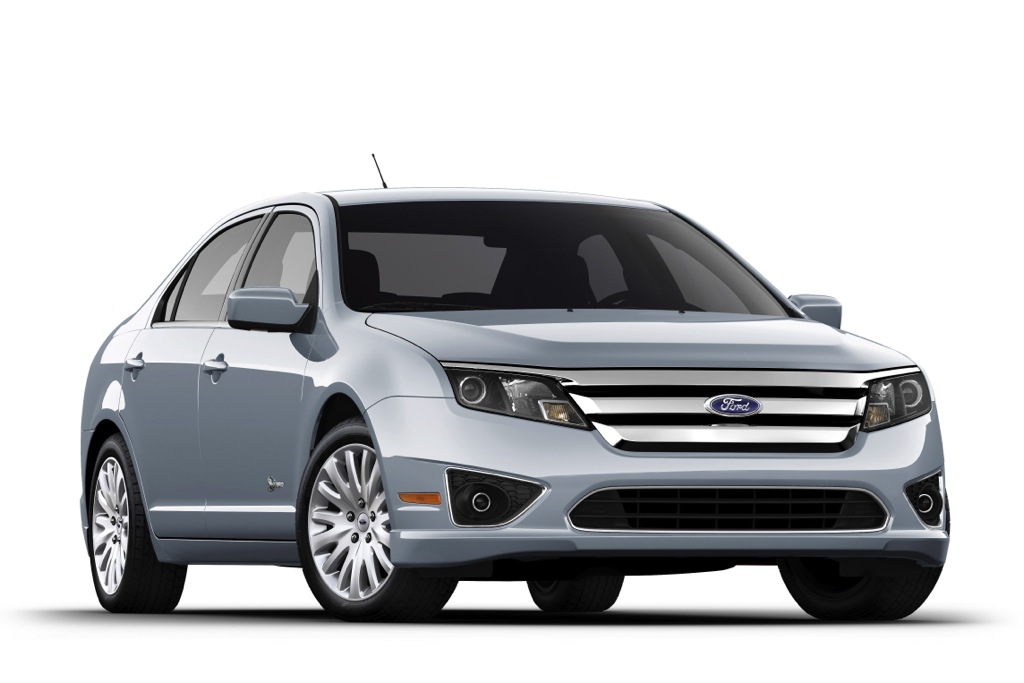 Fuel Economy
The previous-generation Ford Fusion offered significant powertrain variety. The standard engine was a 175-horsepower, 2.5-liter 4-cylinder paired with a 6-speed manual or a 6-speed automatic transmission. In 2012, the final year for the original Fusion, fuel economy ranged from 22 miles per gallon in the city to 33 mpg on the highway.
A 3.0-liter V6 was optional, matched to a 6-speed automatic transmission and delivering 240 hp to the front or all four wheels. Depending on the drivetrain, this E85-compatible engine returned between 18 mpg in the city and 28 mpg on the highway.
The Ford Fusion Sport featured a 263-hp, 3.5-liter V6 engine, a 6-speed automatic transmission and front- or all-wheel drive. It was rated to get between 17 mpg in the city and 27 mpg on the highway, depending on drivetrain choice.
The Ford Fusion Hybrid offered an Atkinson-cycle 2.5-liter 4-cylinder engine, a nickel-metal hydrid battery pack, an electric assist motor and a combined 191 hp. The Fusion Hybrid, which debuted for the 2010 model year, also possessed the ability to accelerate up to 47 mph on battery juice alone. Fuel economy ratings were 40 mpg in the city, 36 mpg on the highway and 39 mpg in combined driving.
The redesigned 2013 Ford Fusion powertrain lineup is not as powerful as the old car's engine roster, but overall the new Fusion is more fuel efficient.
Starting with the standard engine--a 170-hp, 2.5-liter 4-cylinder engine mated to a 6-speed automatic transmission--fuel economy ratings are 22 mpg in the city and 34 mpg on the highway for a combined 26 mpg rating that is identical to the old Fusion when equipped with an automatic transmission.
Getting the new Fusion with the standard 4-cylinder engine offers no advantage over the old Fusion. Rather, the advantage for 2013 lies in a new family of turbocharged EcoBoost 4-cylinder engines and a substantially upgraded gas/electric hybrid powertrain.
The 2013 Fusion's new 1.6-liter EcoBoost engine generates 179 hp, is equipped with automatic stop/start technology and can be paired with a 6-speed manual or a 6-speed automatic transmission. Fuel economy ranges from 23 mpg in the city to 37 mpg on the highway.
The most powerful engine offered in the 2013 Fusion is a turbocharged 2.0-liter EcoBoost 4-cylinder engine. Shared with the Escape, Edge and Explorer crossover SUVs, as well as the larger Taurus sedan, this EcoBoost engine makes 237 hp, includes a 6-speed automatic transmission and is available with optional all-wheel drive. Fuel economy ratings range from 22 mpg in the city to 33 mpg on the highway.
The most fuel-efficient powertrain offered in the 2013 Fusion goes into the Fusion Hybrid and Fusion Energi models. A new Atkinson-cycle 2.0-liter 4-cylinder engine works in concert with a new lithium-ion battery pack and electric assist motors to provide 188 hp. That's slightly less motive force than before, but fuel economy jumps to 47 mpg in the city and 47 mpg on the highway, and the new Fusion Hybrid can accelerate to 62 mph on battery power alone.
Choose Fusion Energi and its plug-in hybrid technology and this model can travel short distances purely on electricity before firing the gasoline engine and working just like the Fusion Hybrid model. Ford estimates that the Fusion Energi plug-in hybrid will achieve a 100 mpge rating from the Environmental Protection Agency (EPA).
If it's a powerful V6 engine that you seek, or a simple 4-cylinder engine that gets decent gas mileage, you'll want to take a look at the old Fusion. People wanting to maximize fuel economy will think one of the new turbocharged Fusions is worth purchasing, especially the Fusion Hybrid model.
Safety
After fuel economy, safety is one of the most important vehicle attributes to car buyers, and in general the newer the vehicle, the safer it is. Based on the redesigned 2013 Fusion's standard equipment list, that's true in this case, though only by the addition of knee airbags for the front seat occupants and standard Sync smartphone connectivity with 911 Assist service.
Otherwise, the old Fusion and the new Fusion offer identical standard safety features: blind spot side mirrors, 4-wheel-disc anti-lock brakes with brake assist, traction control, stability control, MyKey programmable vehicle settings and an SOS Post Crash Alert system that automatically unlocks the doors, sounds the horn and activates the hazard flashers if the Fusion crashes. Continuing on this same thread, both the old and new Fusion can be upgraded with a reversing camera, rear parking assist sensors, rain-sensing wipers and Blind Spot Information System with Cross Traffic Alert.
Where the 2013 Fusion improves upon the old model is with a couple of new safety technologies. Depending on the model selected, the new Fusion offers a lane departure warning system, a lane keep assist system, a drowsy driver monitoring system, automatic high-beam headlights, an adaptive cruise control system, active parking system and front parking assist sensors.
Whether or not the new Fusion proves to protect occupants better in a crash remains to be seen as this article is written. Neither the National Highway Traffic Safety Administration (NHTSA) nor the Insurance Institute for Highway Safety (IIHS) has performed crash tests on the redesigned model.
From 2009 to 2012, the old Fusion was named a Top Safety Pick by the IIHS. The 2006-2008 Fusions did not meet requirements for this rating. According to the NHTSA, however, the 2006-2008 Fusions received either a four-star or a five-star rating in every crash-test evaluation, a performance that the 2009-2010 models improved upon.
When the NHTSA strengthened its crash test program for the 2011 model year, the Fusion's ratings suffered. The 2011-2012 Fusion models received a four-star overall crash test rating, with a three-star rating for the front passenger in the frontal-impact test and a three-star rating for the rear passenger in the side-impact test.
Though the new Ford Fusion adds new standard and optional safety technologies, it hasn't been crash tested yet, and the old Fusion is a tough act to follow thanks to its longstanding Top Safety Pick status. Until ratings for the new Fusion are available, we'll call this one a draw.
Reliability
The previous-generation 2006-2012 Ford Fusion models are highly rated for reliability, which makes them good bets as used cars. This trait may not transfer to the redesigned Fusion, a more complex automobile offered with MyFord Touch technology for the first time, an infotainment system that has not been well received by Ford customers or the media.
New 2013 Fusion models are equipped with a 5-year/60,000-mile powertrain warranty that includes roadside assistance for the same duration. The comprehensive warranty covers the entire vehicle for three years or 36,000 miles. Hybrid components have an 8-year/100,000-mile warranty.
Used Fusions that are less than six years old and have fewer than 80,000 miles on them can be sold through Ford's Certified Pre-Owned (CPO) vehicle program. The Ford CPO program puts every vehicle through a 172-point inspection and includes a vehicle history report. A 12-month/12,000-mile limited warranty covers more than 500 components of the vehicle, and the powertrain warranty is extended to 7-years/100,000-miles. Ford also offers 24-hour roadside assistance for its CPO vehicles.
Given the Fusion's strong reliability record, Ford's comprehensive CPO program and the company's recent difficulty in launching redesigned models without glitches, we think a used Fusion makes pretty good sense in terms of reliability.
Value
Search AutoTrader for certified-used Ford Fusions and you'll find that they range in price from about $10,750 to $28,000, with the Hybrid and Sport models retaining the most value. Compare that price range to the 2013 Fusion model lineup, which starts at $22,495 for the Fusion S without any options and tops out at $38,370 for a Fusion Titanium with every factory option.
As this article is written, Ford is offering a $1,000 rebate on the 2013 Fusion, as well as $1,000 in trade-in assistance, $1,000 in competitive lease conquest cash and financing as low as 2.9 percent. Though the Fusion is new, it competes in the largest vehicle segment against several redesigned heavy-hitters, and Ford doesn't want to risk a single Fusion sale. That means consumers have negotiating power with dealers.
That said, we still think the used Fusion makes better financial sense, especially because it has proven itself to be safe and dependable. Plus, through Ford's CPO program, a used Fusion can be financed at a lower rate than a new Fusion. As this is written, Ford is offering short-term financing as low as 1.9 percent APR for CPO vehicles.
This low financing rate helps seal the deal: The previous-generation Fusion is the better value.
Technology
Aside from the 2013 Fusion's styling and powertrain lineup, the starkest contrast between the new Fusion and the old Fusion can be drawn in terms of technology.
In addition to a more sophisticated hybrid powertrain employing lithium-ion batteries and plug-in technology, the new 2013 Fusion provides new adaptive venting front airbag designs and standard active noise control for a quieter cabin. A MyFord Touch infotainment system is available, combining navigation, information and entertainment systems into a single touchscreen.
Additional new-for-2013 technologies include an Active Park Assist system that self-parks the Fusion while the driver operates the pedals and gear selector, a lane departure warning and lane keeping system, a drowsy driver monitoring system and an active cruise control system.
This sounds impressive, but it's easy to forget that the old Fusion was no slouch in the technology department. It offered Sync smartphone pairing with 911 Assist and AppLink service, a blind spot monitoring system, rear cross-path detection technology, a reversing camera, navigation, a Sony premium audio system, HD Radio, rain-sensing wipers, rear parking assist sensors, MyKey and more.
If you want the latest and greatest technology, the 2013 Fusion is the way to go. If not, the old Fusion will still supply plenty of wow factor.
AutoTrader's Recommendation
The decision to purchase a new 2013 Fusion over an old Fusion is governed by whichever hemisphere of your brain is dominant. Left-brain types will want the practical and sensible old Fusion. The old Fusion is reliable, safe, a terrific value, fuel efficient in 4-cylinder and hybrid format and, in later years, surprisingly advanced in terms of technology. The new 2013 Fusion is a far sexier machine, the one most likely to make its owner feel as good as the car looks.