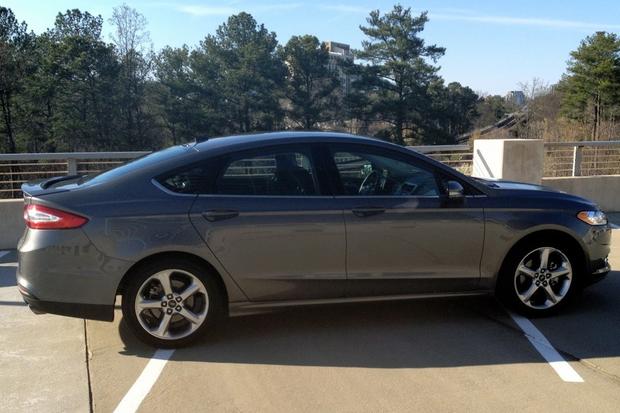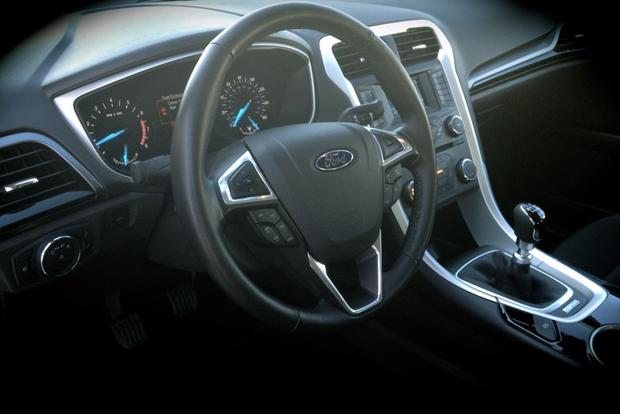 The 2013 Ford Fusion is a handsome new midsize sedan with several premium options, but many shoppers don't want to spring for luxury car amenities. So how does the Fusion fare when it isn't equipped with the latest gadgets? To find out, we got behind the wheel of a mid-level 2013 Fusion SE with a manual transmission, a 1.6-liter EcoBoost 4-cylinder engine and a sticker price of around $26,000.
Still Got It
The first impression nearly all our testers had in driving the Fusion SE was that the sedan still includes many features that make high-end Fusions so great. The interior, for example, comprises high-grade materials. That's especially true of the dashboard, but it also applies to the seats. Both the front buckets and rear bench are comfortable, and their material feels more upscale than the cloth trim used by many automakers. Also, all testers found the Fusion's stereo exceptional, with one saying it was far superior to that of the latest Honda Accord.
On the road, most testers felt the Fusion offered a forgiving ride with a solid feel -- especially compared to the ride of midsize sedan rivals. All testers agreed road noise was hushed. To some, it felt just as quiet as the upscale Lincoln MKZ, which we also recently tested. There was more disagreement, however, over power. Some drivers felt the 178-horsepower sedan's acceleration was exceptional, while others found it sluggish. But nearly everyone agreed the manual transmission's shift action was impressive. That's especially true considering how few shoppers will likely order the sedan with three pedals.
But Not Perfect
Of course, there were a few complaints -- and the Fusion SE generated more than a top-line Fusion Titanium would. The main reason was the audio system controls. Our Fusion included SYNC but not MyFordTouch, which meant it had a smaller screen placed in an area clearly designed for a larger one. And because it isn't a touchscreen, the sheer number of buttons and black plastic seemed daunting. At least one driver had trouble pairing a phone, while I found it challenging to adjust the satellite radio station.
Other complaints were generally more minor. For example, the ignition is unlit, which makes it challenging to start the car at night. Many Fusions are equipped with Ford's Smartkey, which eliminates this problem, but our test car wasn't, highlighting another small issue with the lower-end model. One driver complained about cupholders blocking his arm when shifting gears, a problem that most Fusion drivers won't face.
A Good Choice
Overall, it's easy to see why so many shoppers have chosen the 2013 Ford Fusion. And although a high-end Fusion Titanium is tempting, we understand why many buyers have opted for a lower-end trim. The Fusion SE may include a few more faults than an upscale model, but it still has all the right stuff to make for a top player in the midsize sedan market.