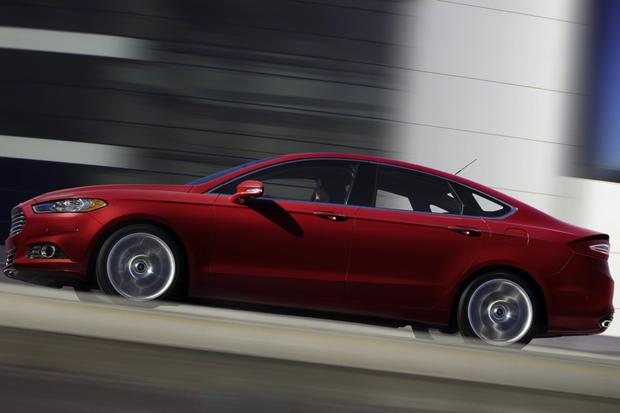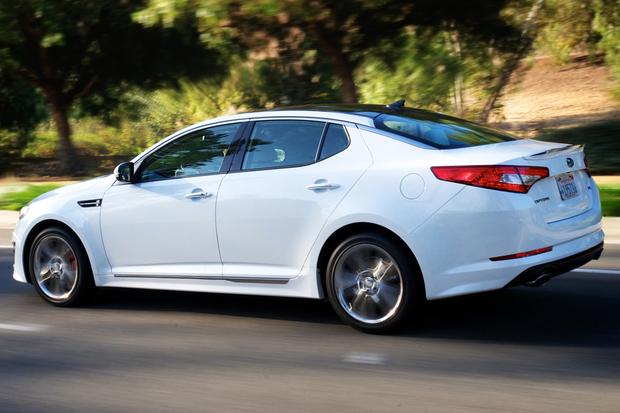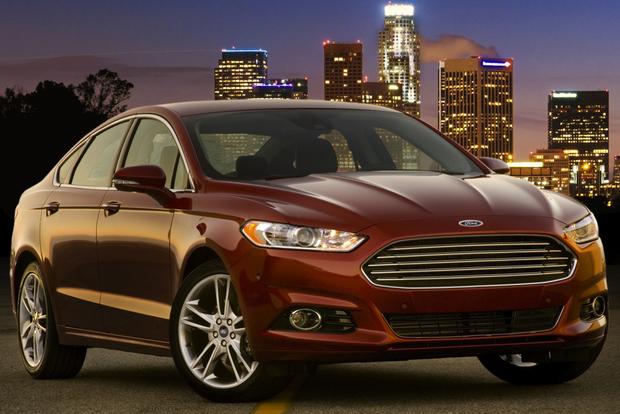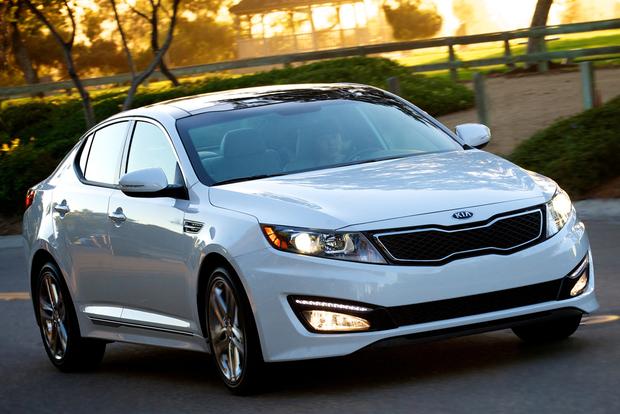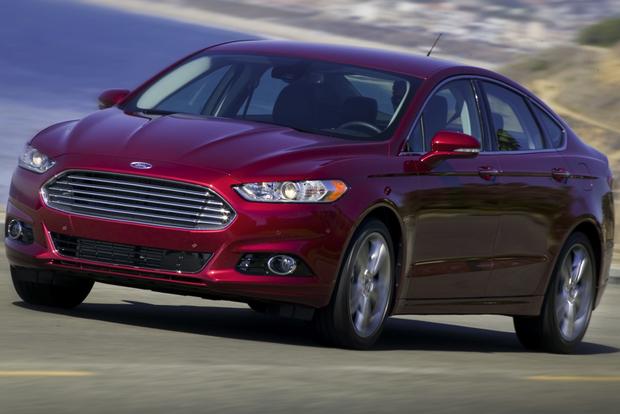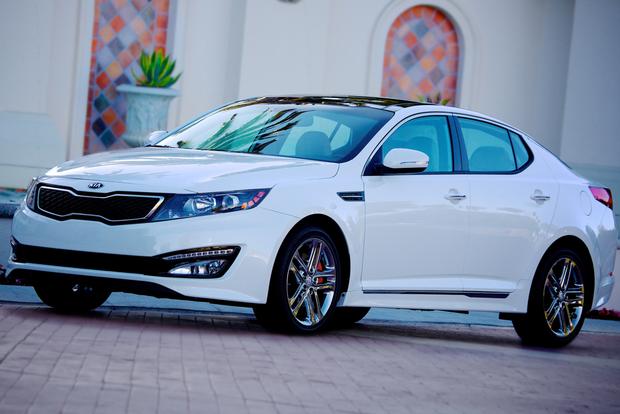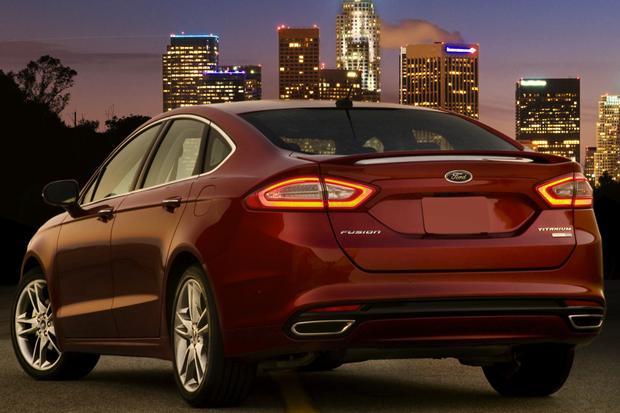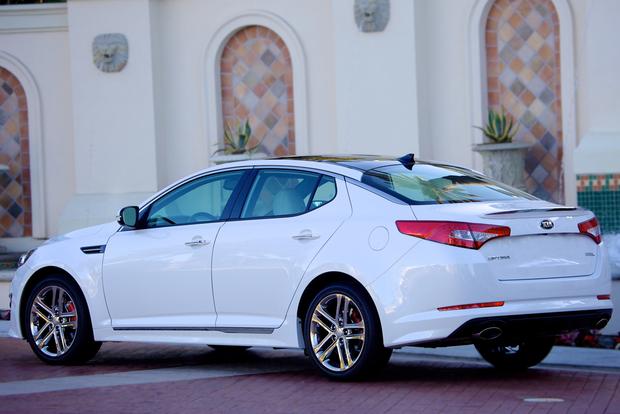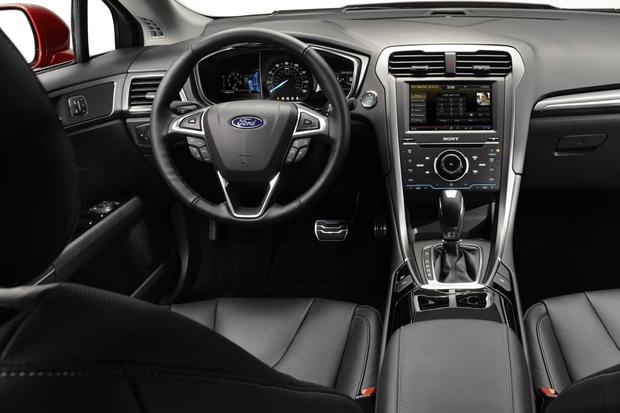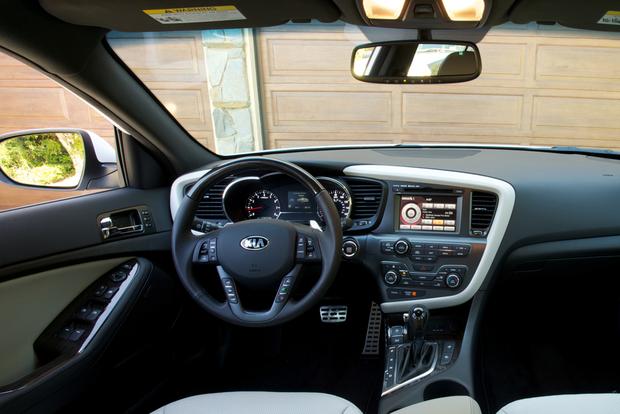 Ford got plenty of attention for the redesigned 2013 Ford Fusion, which stood out in stark contrast among family sedans even though other heavy hitters in the segment -- such as the Chevy Malibu, Honda Accord and Nissan Altima -- were also completely redesigned for the 2013 model year.
Revamped Toyota Camry and Volkswagen Passat models went on sale last year and a brand-new Mazda6 will be arriving for 2014, thereby transforming the Kia Optima from one of the newest midsize sedans on the market to one of the oldest. A groundbreaking design when it debuted for the 2011 model year, the Optima is largely responsible for taking Kia from zero-to-hero status in just a few short years.
Given that both the Optima and the Fusion are among the most attractive family cars available today, we thought we'd compare them on their practical merits in this installment of This or That. First, let's get acquainted with the contestants.
2013 Ford Fusion Highlights
Totally redesigned and equipped with a face strongly reminiscent of an Aston Martin, the 2013 Fusion is available in S, SE and Titanium trim levels, with a choice between five powertrains, including a traditional hybrid model and a plug-in hybrid model. All-wheel drive is also available.
2013 Kia Optima Highlights
Kia Optima buyers choose from LX, EX, SX and SX Limited trim levels, and between three powertrains including a hybrid model. A luxury-themed turbocharged sport sedan, the SX Limited (SX-L), is new for 2013. Kia also upgraded the Optima's hybrid powertrain for 2013.
Fuel Economy
Because Kia does not offer a manual transmission, all-wheel drive or a plug-in hybrid powertrain for the 2013 Optima, discussion of fuel economy will focus on those powertrain combos shared between the Ford Fusion and the Kia Optima.
With that in mind, the 2013 Fusion's Environmental Protection Agency (EPA) fuel economy ratings range from 26 miles per gallon in combined driving with the standard 2.5-liter 4-cylinder or the available turbocharged 2-liter 4-cylinder, to 28 mpg for the available turbocharged 1.6-liter 4-cylinder and an automatic transmission.
This matches EPA fuel economy ratings for the 2013 Optima, which returns 26 mpg in combined driving with the available turbocharged 2-liter 4-cylinder engine and 28 mpg with the standard 2.4-liter 4-cylinder engine.
If the Optima demonstrates a fuel economy benefit when comparing the standard engines, big differences exist between the hybrid versions of each car. The Fusion Hybrid returns 47 mpg in combined driving, while the best the Optima Hybrid can muster is 38 mpg, and that's in base trim without any extras.
When it comes to fuel economy, the Fusion reigns supreme when comparing hybrid powertrains, while the Optima provides an edge when comparing standard 4-cylinder engines. Pick the most powerful turbocharged 4-cylinder and the Ford and Kia are tied.
Safety
As is expected when a vehicle is completely redesigned, the new 2013 Fusion offers a long list of safety-related features. Standard equipment includes eight airbags, an SOS Post-Crash Alert system, MyKey programmable safety features and SYNC Bluetooth connectivity with 911 Assist service. A reversing camera with rear cross-traffic alert, a blind-spot monitoring system and a lane-departure warning and lane-keeping assist system are optional, along with a drowsy-driver monitoring system and an adaptive cruise-control system with forward-collision warning with brake-support technology.
Now, compare that list to the Optima. Kia supplies nothing more exotic than a reversing camera system for its family sedan. Even the optional UVO infotainment system lacks the automaker's latest eServices technology, which includes a 911 Connect feature similar to Ford's 911 Assist service.
That said, the Optima receives slightly better ratings than the Ford when it comes to crash protection. The Insurance Institute for Highway Safety gives both cars a Top Safety Pick Plus rating, and each model rates Acceptable in the new small overlap frontal-impact test. Similarly, the National Highway Traffic Safety Administration (NHTSA) gives both cars the highest possible overall crash-test rating of five stars. Note, however, that in the NHTSA side-impact test both cars provide unimpressive 3-star protection for the driver. Also, the Fusion gets a 4-star rating for front-passenger protection in a frontal-impact collision, while the Kia delivers 5-star protection.
In terms of crash protection, the older Kia Optima design performs at a slightly better level than the newer Ford Fusion design. However, the new Fusion is offered with a number of safety-related technologies that can keep a crash from happening in the first place and which can speed assistance right after a collision if necessary.
That's why we're calling the Fusion the safer of the two sedans.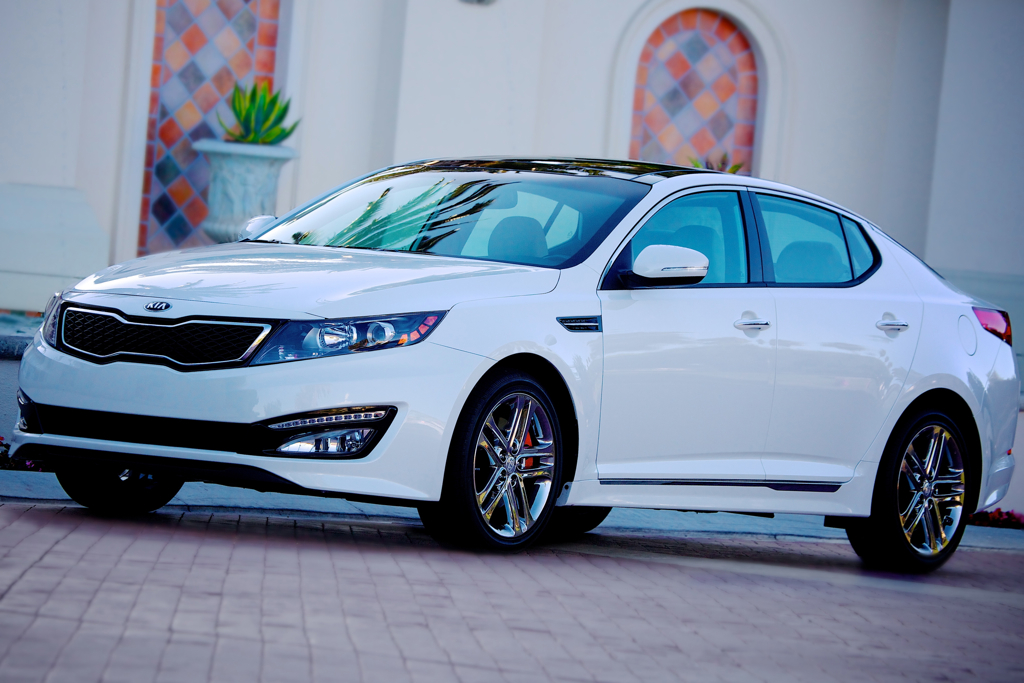 Reliability
Despite its impressive 10-year/100,000-mile powertrain warranty, the Optima has historically delivered average reliability, according to Consumer Reports. Since the car was redesigned for 2011, it has performed better in this regard, but still isn't a sure bet. By contrast, the previous-generation Ford Fusion was highly ranked for reliability by Consumer Reports, especially in Hybrid format. However, Consumer Reports makes no reliability forecast for the new 2013 model.
Let's take a look at what J.D. Power found in its latest Initial Quality Study. This year, the Optima was rated above-average for quality, while the new Fusion received an average rating. It is worth mentioning that Ford's performance in past J.D. Power quality surveys has been hampered by usability problems with its MyFord Touch technology.
In predicting reliability for the Fusion and Optima, J.D. Power expects the Fusion to prove more dependable than the Optima over time, but this rating takes into account the historical performance of each model and is not limited strictly to the current version of the cars.
Based on available data, the Ford and Kia are equally likely to deliver long-term reliability, with the Optima's warranty serving as an extra insurance policy, just in case.
Value
A new Fusion S starts at $22,695. Select the Fusion Titanium and check all the option boxes and the sticker jumps to $39,365. The Fusion Hybrid SE starts at $27,995 while a loaded Hybrid Titanium runs $38,510.
Kia prices the Optima LX from $22,125. Select the Optima SX Limited and the price rises to $35,625 with the few options offered on this new luxury-themed model. The Optima Hybrid's base price is $26,700, but most have the EX trim level and a price tag of $32,750. With every option, the Hybrid EX still costs less than $33,000.
According to ALG, the new Fusion has a 4-star retained value rating, while the Kia is rated at 3 stars. But then there's the Kia's excellent warranty and roadside assistance program to consider.
Though the Fusion offers midsize sedan buyers greater variety in terms of option and color combinations, and holds its value better over time, we think the less expensive and better-protected Optima provides midsize sedan buyers with better value when new.
Technology
Whether talking about safety or infotainment systems, or the sophistication of their optional hybrid powertrains, it doesn't take long to realize that the new 2013 Fusion is more technologically sophisticated than the Kia Optima.
AutoTrader's Advice
Choosing between a Ford Fusion and Kia Optima really comes down to four things. First, which one looks better to you? Second, do you want a hybrid or not? Third, how important is cutting-edge technology to you? Fourth, is annual snowfall measured in inches, feet or yards where you live?
If you answered "Fusion," "yes," "very" and "yards" to these questions, get the Ford. If you're attracted to the Optima's design, lower price tag, generous warranty and slight crash-test advantage, get the Kia. Either way, these two models represent excellence among midsize sedans.