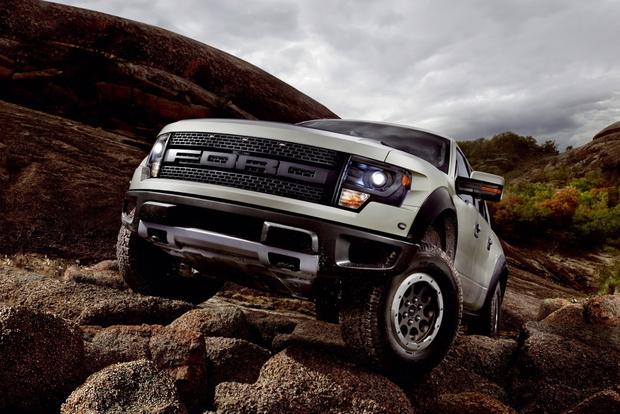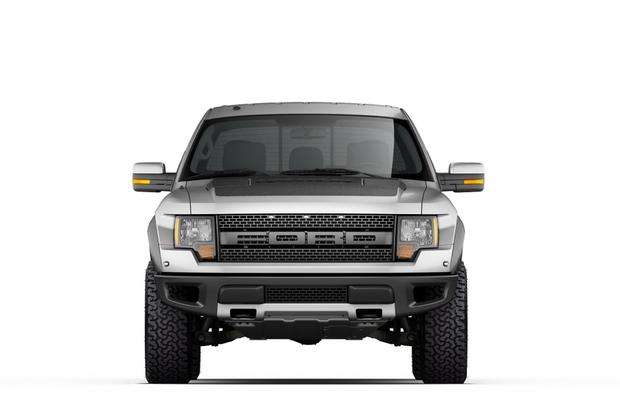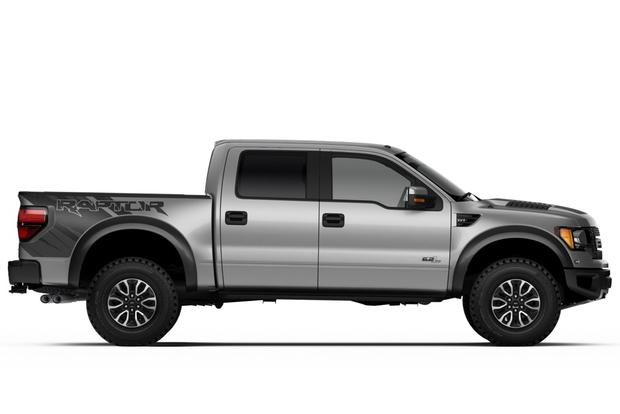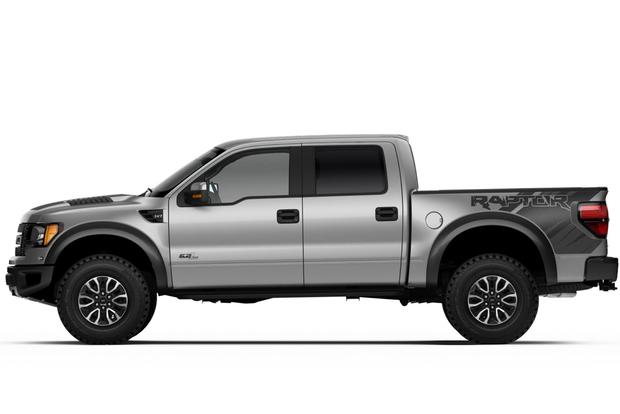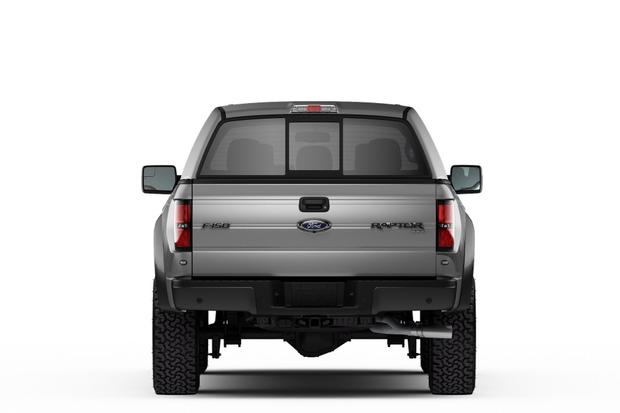 A Real World Review of the Ford Raptor must start with this caveat: The real world is about as appropriate an environment for an oversized pickup like this as the autobahn is for the Nissan Leaf or a Home Depot for a Lamborghini. But the real world -- well, Los Angeles, specifically -- is where I just spent a week driving the raucous Raptor. Despite being so wide it requires clearance lights and Baja-grade shocks that give it one of the shakiest ride qualities I've ever experienced, I absolutely love it.
Apparently, so do other people. Very few cars -- old muscle cars and vintage Beetles, perhaps -- garner so many thumbs up, especially in the Raptor's new-for-'13 gloss beige paint, which Ford calls Terrain. We would skip the silly side-bed graphics (a $1,075 option!), but the black fascia (with widely spaced "FORD" script spanning the grille), iron step rails and flared fenders (barely able to contain the wide-set knobby tires) contribute to an overall look that is both wildly badass and wonderfully authentic.
The interior has been intensified, as well, but not to the extent that heavy metal Mickey Thompson Supercross commercials strike up in your head upon entering. The supportive seats could feel equally at home in a Mustang, and the MyFord Touch system offers way more functionality and sophistication than most Baja racers would ever require. The Raptor comes in SuperCab and SuperCrew cab styles. Our tester was the extended cab, which features a 3-across bench seat with split, fold-up rear seat cushions to create in-cab storage when the seats aren't occupied.
Some 411 horses reside under the Raptor's ventilated hood, and one stab of the go-pedal is all it takes to realize that they are very, um, vocal. And potent: For a 3-ton pickup, the Raptor is impressively quick. Between the omnipresent power, lofty driver's perch and I-can-run-over-anything sense of confidence behind the wheel, it's easy to forget about the real world.
Inevitably, though, the real world re-enters the picture. Finding a parking spot wide enough for the Raptor is a chore, though navigating into it is less so, thanks to back-up sensors and a $525 front and rear camera system. Negotiating narrow roads is likewise a challenge, but the square hood lines are helpful in freeway lane-keeping. Finally, there's the projected fuel cost: In our hands, we averaged under 12 miles per gallon. And, of course, $48,100 (plus options and $995 delivery fee) isn't exactly cheap. Sigh.
While I never got to take it off-road (this time), the Ford Raptor clearly has charm to match its size and capability to match its looks. If only the real world was paved in sand dunes.