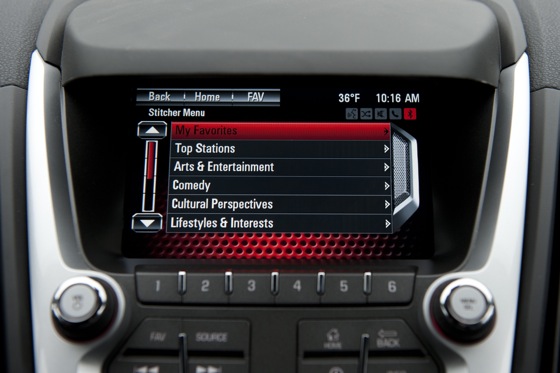 Pros: Powerful V6; quiet and comfortable ride; impressive fuel economy; bold styling; sliding second row; good storage space
Cons: No third row seat; vague steering feel; underwhelming dynamics
What's New: Top trim Denali model; new, 3.6-liter V6; available IntelliLink infotainment; optional advanced Safety Package
While some classify the GMC Terrain as a compact crossover, others say it's a midsize. The truth is the 2013 GMC Terrain enjoys the best of both designations. It offers fuel economy fit for a compact and the roominess of a midsize utility. Add to the equation truck-like styling and the GMC Terrain becomes a truly compelling package.
The Terrain delivers on many fronts, much like its almost identical counterpart, the well-rounded Chevrolet Equinox. Both crossovers are competent people-haulers emphasizing comfort, fuel economy, refinement and roominess, all things held in regard by those shopping for a family vehicle. But the Terrain sets itself apart with distinctive styling elements such as a prominent grille, oversize wheel arches and squared-off body panels.
Despite its rugged name, the Terrain does not offer any kind of off-road capability. To the contrary, the only terrain that the Terrain is truly suited for is asphalt. The Terrain's available all-wheel drive system is fine for handling harsh weather and road conditions, but it's less than ideal for treading a muddy trail through the woods.
For 2013, the Terrain is joined by a top-of-the-line Denali version with luxury appointments like those on other GMC Denali models. These include unique styling elements, 19- and 20-inch wheels, and extra comfort and safety equipment. A new Safety Package is also available for 2013 and includes driver assistance features like forward collision alert, lane departure warning and rear parking sensors. Finally, 2013 Terrain drivers can now opt for a color touchscreen radio with GMC's IntelliLink infotainment system or color touchscreen navigation with IntelliLink.
Comfort & Utility
The Terrain's cabin is airy, attractive and amply outfitted. It's also very similar to that of the Chevrolet Equinox. It uses the same twin cockpit design that can be punched up with an optional 2-tone color scheme and red ambient lighting. GMC makes the Terrain's interior a bit more upscale than that of its Chevy sibling with more soft-touch surfaces, higher quality materials and a wider array of standard features.
Seats are well-padded with lots of leg- and headroom in both rows. And the reclining 60/40 split rear bench can move forward and backward up to eight inches. This sliding feature helps to better accommodate tall backseat passengers or expand the rear cargo space.
With a maximum cargo volume of 64 cu ft, the Terrain makes room for plenty of luggage or gear. It's not the largest cargo hold in the segment, but it's very usable. Even with the rear seats up, the Terrain easily makes room for a couple of large suitcases.
The Terrain is available in five trim levels: SLE-1, SLE-2, SLT-1, SLT-2 and Denali. The SLE-1 brings standard convenience features such as a blind spot mirror, cruise control and power height adjustments for the driver's seat. The SLE-2 adds 8-way power adjustability for the driver seat and automatic climate control. The uplevel SLT-1 includes remote start, seat heat and leather upholstery, while the SLT-2 trim adds a power liftgate and a sunroof. The new-for-2013 Terrain Denali not only has unique wheels and a Denali-specific grille design, but also has upgraded interior finishes, IntelliLink infotainment and driver assistance features like a blind spot monitor and rear cross-traffic alert.
When properly outfitted, the Terrain offers families a near-luxury midsize crossover experience.
Technology
The 2013 Terrain has a number of technology features starting with the base model's Bluetooth connectivity, a rearview camera and a touchscreen sound system interface with USB port. Higher-end stand-alone options include voice command navigation with digital music storage and a twin screen rear DVD system.
Also available is GMC's IntelliLink smartphone integration system. This technology is operated via the Terrain's touchscreen stereo interface and harnesses Bluetooth to stream audio from Internet-based music sources like Pandora.
Performance & Fuel Economy
Front- and all-wheel drive Terrain models are equipped with a choice of two engines. The standard 2.4-liter 4-cylinder makes a sufficient 182 horsepower and 172 lb-ft of torque. Energy is managed by a 6-speed automatic transmission. The Environmental Protection Agency (EPA) estimates fuel economy as 22 mpg city/32 mpg hwy with front-wheel drive and 20/29 mpg with all-wheel drive.
A new, more powerful 3.6-liter V6 is optional for all models except the base SLE-1. Output is 301 hp -- 37 hp more than the outgoing 3.0-liter V6 -- and 272 lb-ft of torque, an increase of 50 lb-ft. Although more powerful than the old V6, EPA-estimated fuel economy remains unchanged at 17 mpg city/24 mpg highway with front-wheel drive and 16/23 mpg with all-wheel drive.
In terms of towing capacity, the 4-cylinder Terrain has a limit of 1500 pounds, while the V6-powered model can pull up to 3500 lb.
Safety
Standard safety comes from six airbags, OnStar emergency telematics, ABS, stability control and traction control.
To elevate occupant protection, GMC also offers optional lane departure warning and forward collision alert systems, part of the Safety Package available on the SLE-2 and SLT-1 and standard on the SLT-2 and Denali. The Denali also includes a standard blind spot monitor and rear cross-traffic alert.
Driving Impressions
First and foremost, the Terrain delivers a comfortable and quiet ride that's well-suited for daily commuting or long-distance road trips. GMC has gone to extra effort to make the Terrain's cabin as free from exterior noise as possible. A plush, well-shielded driving experience is what the majority of family-centric buyers want, and the Terrain delivers.
The Terrain really isn't fun to drive, though. Its handling is lackluster, and its steering feels numb and disconnected. Furthermore, the Terrain exhibits noticeable body roll in corners.
As for power, the 4-cylinder Terrain is a fine choice for everyday driving. Power delivery is smooth and steady throughout the rev band. The only time it may come up short is when the Terrain is loaded down with passengers and cargo.
Equipped with the new V6, the Terrain is noticeably more powerful. Off-the-line acceleration feels strong, and the V6 Terrain pulls highway passing maneuvers without struggling. But compared with the base 4-cylinder, this engine takes a beating on fuel economy.
Although the Terrain is not ideal for going off-pavement, it is a capable towing vehicle. Choosing the V6 and the optional trailer package lets the Terrain driver tow a small boat.
Other Cars to Consider
Honda CR-V - The CR-V offers more cargo capacity but no V6 engine option. Both vehicles provide comfortable transportation for five.
Toyota RAV4 - Toyota just debuted a new-for-2013 RAV4 at the 2012 LA Auto Show, but many details -- equipment, fuel economy estimates and pricing -- have not yet been announced. The 2013 RAV4 arrives next year and, like the CR-V, will be offered solely with a 4-cylinder engine.
Ford Escape - All new for 2013, the Escape has more high tech features and is available with a wider range of engine choices including a hybrid drivetrain. But the Terrain's sliding rear seat gives it more interior versatility.
Kia Sportage - The Sportage is sportier and more fun to drive than the Terrain. But the Terrain offers more cargo room and a roomier second row seat that slides and reclines.
AutoTrader Recommends
The 2013 GMC Terrain variant that makes the most sense is the SLT-1 trim matched with the 4-cylinder engine. The 4-cylinder provides adequate power and better fuel economy, and the SLT-1 trim offers the best value among the five models. It comes equipped with features such as remote start, seat heat, leather upholstery, a touchscreen audio system and a backup camera, but does so without breaking the bank. We also suggest opting for the available navigation and Safety Package. For those living in colder regions, all-wheel drive is highly recommended. Otherwise, stick to the thriftier front-wheel drive setup.