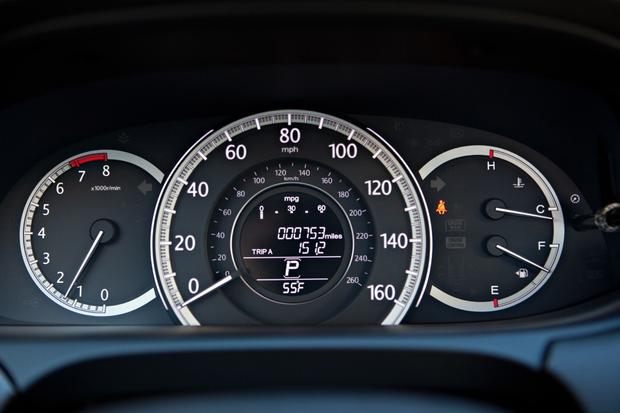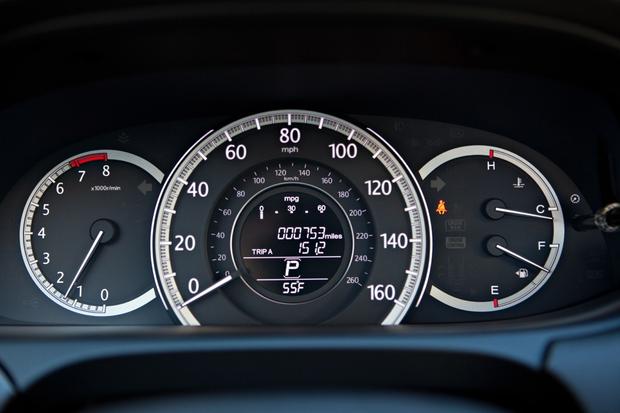 Many new cars have a Continuously Variable Transmission or CVT, the Honda Accord EX is one of them. In most driving situations, our Accord EX feels remarkably powerful without being excessively noisy; that's essentially the real-world benefit of a CVT. Now, if you really jam your foot on the gas pedal and hold it there, there's definitely some engine noise, but it's not terrible. Around town, the Accord is smooth and quiet. Typically, when there's a car with two engine choices, we suggest opting for the more expensive and more powerful V6. That's because V6 engines are usually smoother and quieter. You might not care about different transmission types, but the benefit of the Accord's CVT is that you can opt for the less expensive, less thirsty, smaller engine in the Accord without having to live with a car that's underpowered and noisy. Basically, this makes the Accord EX a better value than other cars because you can get a car that acts and feels more expensive than it really is. Our Accord is priced at about $30,000 but is equipped and feels more like a typical $35,000 car.
In case you're unfamiliar with the CVT, it's a type of transmission that doesn't use gears so you don't feel the typical shifting of a normal automatic transmission. A CVT is a different, less common type of automatic transmission. The benefit is that CVTs help small engines work more efficiently. The result might be slightly better fuel economy along with slightly better acceleration. Popular cars like the Nissan Altima and Murano have used a CVT for years. The Subaru Impreza has an available CVT, the Toyota Prius has one and so does the Honda Accord EX so long as you get the Accord with the smaller 4-cylinder engine.
But not all CVTs are the same. Just like engines, seats and in-car audio systems, the way they work varies. For example, the CVT in the Nissan Altima works well, so good most people don't notice it. However, in cars like the Toyota Prius, it can result in excess engine noise as the transmission continuously keeps the engine in the best range for power and fuel economy. The problem is, that sweet spot might not sound so pleasant to the driver. Thankfully, the feel of the Accord with a CVT is more like the Nissan's than the Toyota's.
Finally, we really like that you can opt for a more traditional manual transmission in the new 2013 Honda Accord just in case you're the kind of person who really wants to shift gears yourself.
What do you think, have you taken a test drive in a car with a CVT? How did you like it?