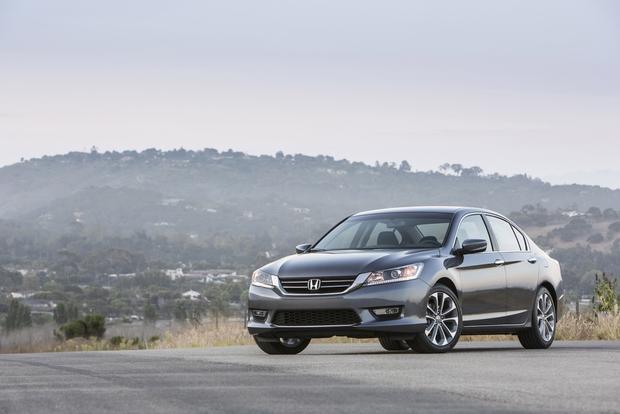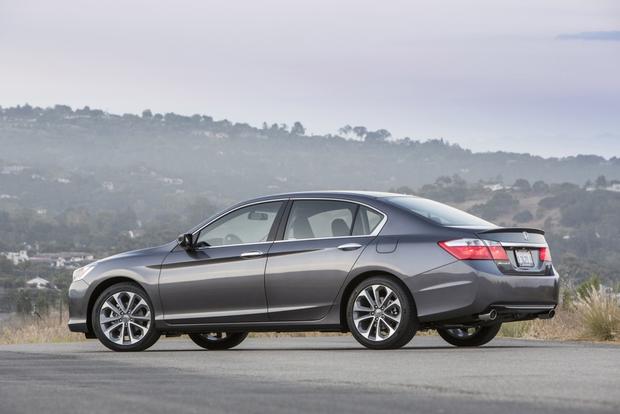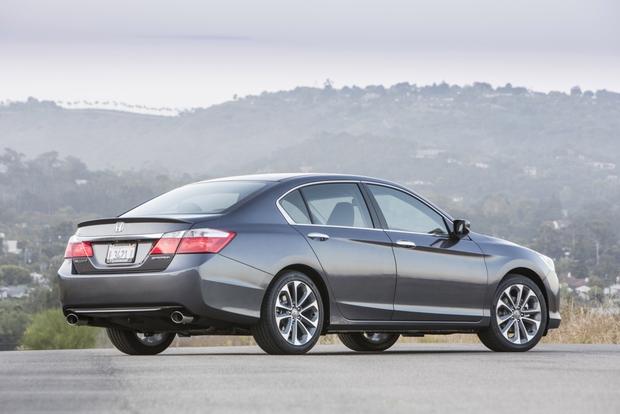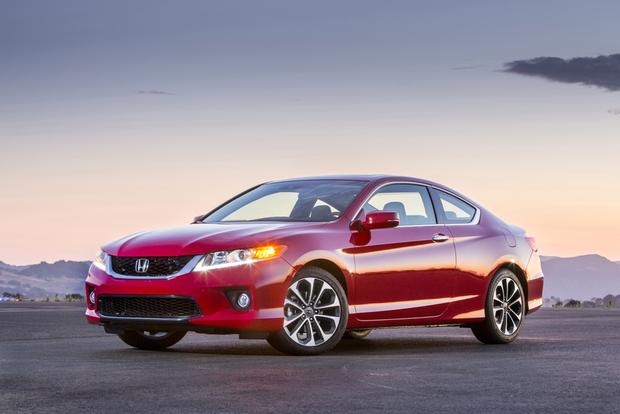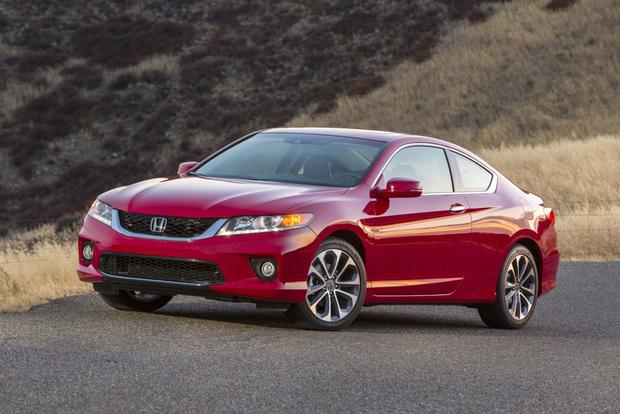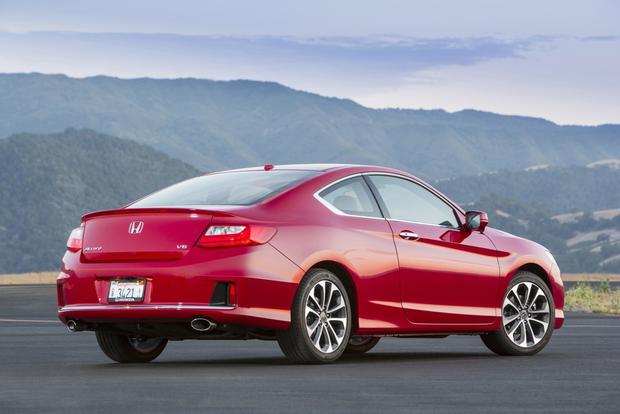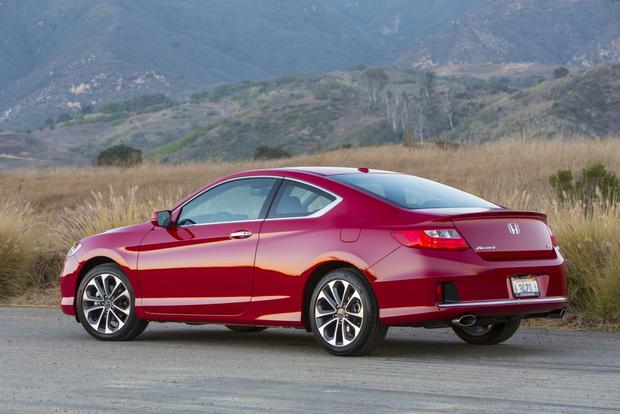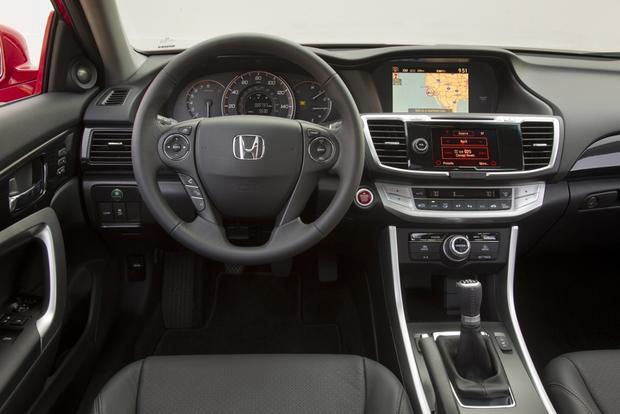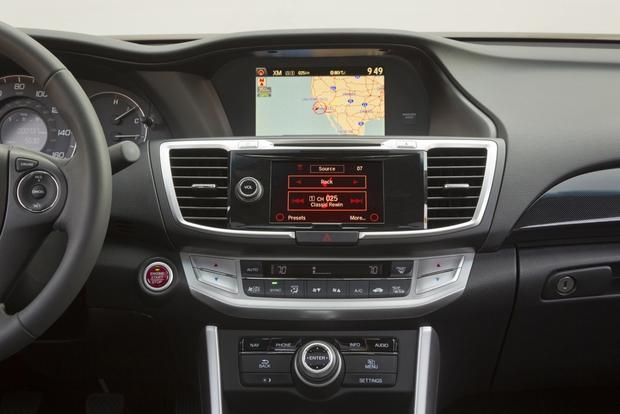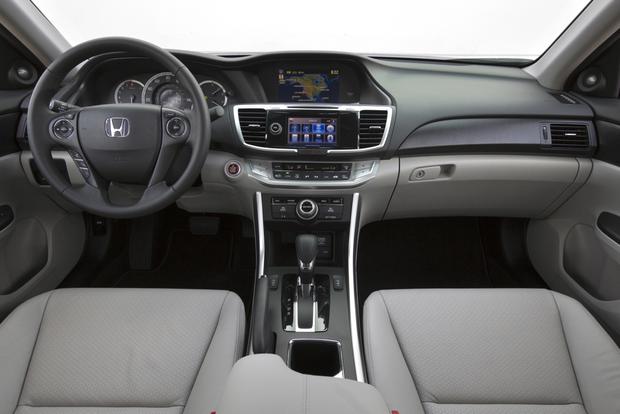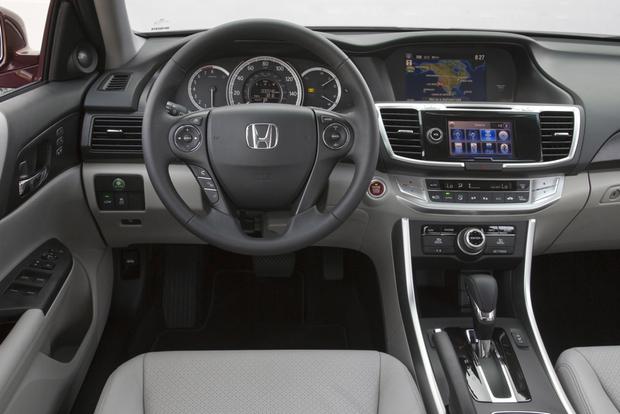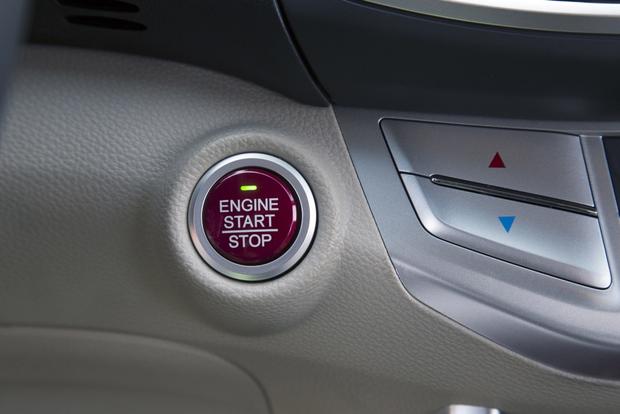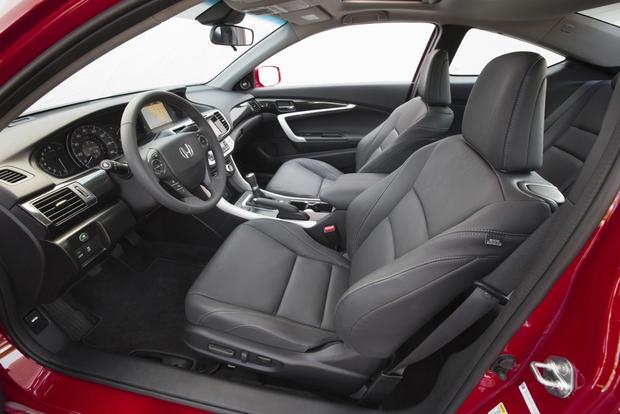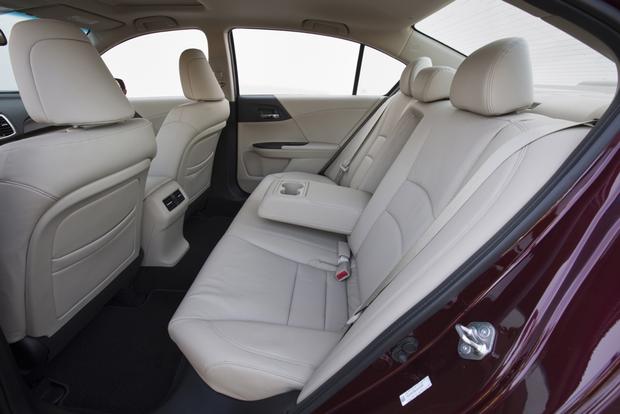 Pros: Plentiful standard features; roomy interior with improved materials; quieter ride; above-average CVT; capable handling.
Cons: Base stereo only has four speakers; navigation system is only available on EX-L and above.
What's New: The Accord is completely redesigned for 2013.
Introduction
It's unusual for a best-selling car to be playing catch-up, but that's where the redesigned 2013 Honda Accord finds itself. Once the undisputed engineering champ among mid-size sedans, the Accord arguably lost its way last time around, held back by tepid technology and overgrown dimensions. Meanwhile, practically every rival took a big step forward, making the Accord feel like a shadow of its former self.
So Honda went back to the drawing board for 2013, hoping to recapture some of that old mojo. The result is an all-new Accord that's a little smaller, a lot sleeker, and packed with the kind of cutting-edge features that used to be Honda's hallmark.
Outside, the new Accord sedan is 3.5 inches shorter, and the coupe has shed 1.8 inches. The new sheet metal is hardly revolutionary, but whereas the outgoing Accord looked bulbous, this one looks crisp and correct. Inside, the 2013 Accord essentially remains the same size despite the tidier exterior, and its dashboard is richer than before. What's more, you no longer have to spring for the pricey EX if you want cool features, because even the mainstream LX comes standard with alloy wheels, Bluetooth, USB connectivity and dual-zone automatic climate control.
Under the hood, the 4-cylinder 2013 Accord finally ditches Honda's outdated 5-speed automatic transmission, switching to a gearless continuously variable automatic (CVT) that achieves an EPA-rated 35 mpg on the highway. You can also specify a new 6-speed manual with the inline-4, while the familiar 3.5-liter V6 boasts a new 6-speed automatic in the sedan along with an available 6-speed manual in the coupe.
So is the 2013 Accord the midsize sedan to beat? We wouldn't go that far. There's just too much parity in this segment right now, with seemingly every automaker offering a compelling product. But the Accord has certainly caught up to the pack, and it's nice to see Honda's stalwart once again jostling for position at the front.
Comfort & Utility
The 2013 Honda Accord sedan is offered in six trim levels: LX, Sport, EX, EX-L, EX-L V6, and Touring. The Accord coupe starts out at LX-S and can't be had in Sport or Touring, but it shares the sedan's other trims.
Honda used to punish entry-level buyers with bare-bones equipment offerings, but starting this year, that's no longer the case. Even the base LX sedan includes perks like 16-in alloy wheels, dual-zone automatic climate control, a rearview camera, Bluetooth, USB audio connectivity, Pandora Internet radio compatibility, a 4-speaker stereo (okay, that's pretty bare-bones) and the i-MID infotainment system with an 8-in screen.
The Sport sedan adds 18-in alloys, a rear decklid spoiler, fog lights, a leather-wrapped steering wheel and a 10-way power driver seat including adjustable lumbar.
The EX sedan, traditionally the luxurious Accord, actually isn't that much more special now, though it does feature 17-in alloys, a sunroof, a 6-speaker stereo and keyless entry with push-button ignition. Instead, it's the EX-L that sets itself apart with LED brake lights, HondaLink (see Technology, below), a rearview camera, 2-position memory for the driver seat, a four-way power passenger seat, heated front seats, leather upholstery, a touchscreen audio interface and satellite radio.
The EX-L V6 sedan adds the V6 engine, LED daytime running lights and a HomeLink garage door opener. The top-of-the-line Touring sedan features automatic LED headlights and adaptive cruise control.
Note that the optional navigation system with voice-recognition is only available on EX-L, EX-L V6, and Touring. Selecting it increases the resolution of the i-MID screen substantially.
In terms of feature content, the coupe-only LX-S model is roughly an EX sedan without the sunroof and push-button ignition. From there on out, the coupe more or less follows the sedan's equipment formula.
In our interior evaluation, we immediately felt an upscale vibe that was mostly absent from the previous Accord. The materials seem nicer for 2013, and there's no doubt that the standard 8-in i-MID (short for multi-information display) display adds a touch of high-tech class. Despite the influx of technology, Honda's ergonomic leadership shines through in the ease of use that characterizes most controls. The front seats are firm and highly supportive, while rear passengers in the sedan will be at least as comfortable as they were in the outgoing model's palatial back seat; in fact, rear legroom has somehow increased by an inch. The coupe's rear quarters are predictably tighter, but two adults can squeeze back there without issue for short to medium trips.
Trunk space in the sedan tops out at 15.8 cu-ft, a solid number for this class. The coupe falls back a bit to a 13.7 cu-ft maximum.
Technology
The Accord has never been known for its cutting-edge technology, but that might be about to change. We're still amazed that the colorful 8-in i-MID is standard on the entry-level LX, though the LX's 4-speaker stereo will serve as a constant reminder that you didn't ante up for the EX. Also, a couple years ago Honda forced you to get a fancy Accord if you wanted Bluetooth; now, the LX comes standard with not only Bluetooth, but also Pandora and text messaging capability via compatible smartphones.
Speaking of smartphones, the new HondaLink system, standard on EX and above, lets you connect your phone to mobile apps, roadside assistance and various music and media hubs, including Aha by Harman.
Performance & Fuel Economy
The Accord starts with a 2.4-liter inline-4 that makes 185 horsepower and 181 lb-ft of torque. The Sport sedan squeezes a little more power out of the same engine: 189 hp and 182 lb-ft of torque. Although a 6-speed manual transmission is offered for the first time with this engine, most Accords will have the gearless continuously variable automatic transmission (CVT).
We don't generally like CVTs, especially with 4-cylinder engines, but this one is different. It responds promptly and unobtrusively, almost like a conventional automatic without the shifts. You even get shift paddles that mimic regular gears for a more familiar feel.
Ordinary Accord sedans with the CVT are EPA-rated at 27 mpg city/36 mpg highway, while the slightly more aggressive nature of the Sport sedan and the 4-cylinder coupe hauls them down to 26/35 mpg. Opting for the 6-speed manual extends the downward slide to 24/34 mpg.
The optional 3.5-liter V6, offered with a new 6-speed automatic transmission or a coupe-only 6-speed manual, generates 278 hp and 252 lb-ft of torque (251 lb-ft in the manual-transmission coupe). This is largely a carryover engine from the last Accord, but the 6-speed automatic makes a big difference in acceleration, catapulting the Accord V6 to the head of the class. It also helps return a remarkable 21/34 mpg with the automatic, though the manual plummets to 18/28 mpg.
Safety
The Accord comes with 4-wheel antilock disc brakes and six airbags (front, front-side, full-length side curtain). Other available safety features include collision-warning and lane-departure-warning systems.
The Accord had not been crash tested as of this writing.
Driving Impressions
Hardcore Honda fans have been up in arms over the company's decision to replace the iconic double wishbone suspension with struts for 2013. Perhaps these good folks haven't actually driven the car. The new Accord undoubtedly handles with more poise and precision than its predecessor, and anyway, BMW and Porsche use struts, too, so what's the big deal? The brakes remain mediocre, however, as independent testing has shown little if any progress relative to the previous model's lackluster binders. Happily, the ride is smooth and quiet on most surfaces, a marked improvement over previous Accords.
Other Cars to Consider
Ford Fusion - The all-new 2013 Fusion is one of the few rivals that can give the new Accord a run for its money technologically. Doesn't hurt that it's great to drive, too.
Hyundai Sonata - The current Sonata almost singlehandedly started the trend toward good-looking, value-packed family sedans. It's still a formidable foe, especially with the 2.0-liter turbo.
Toyota Camry - The Camry is genuinely engaging in SE trim; good enough to give the Accord fits. And we're not sure how Toyota does it, but the Camry's optional 3.5-liter V6 is a thing of beauty.
AutoTrader Recommends
The LX is so feature rich that we're tempted to recommend that one and call it a day. We do consider the LX a strong value, but given all the extra features you get with the EX-L, it could be the pick of the litter if the price is right.
Read more about the 2013 Honda Accord in our Long-Term Review.