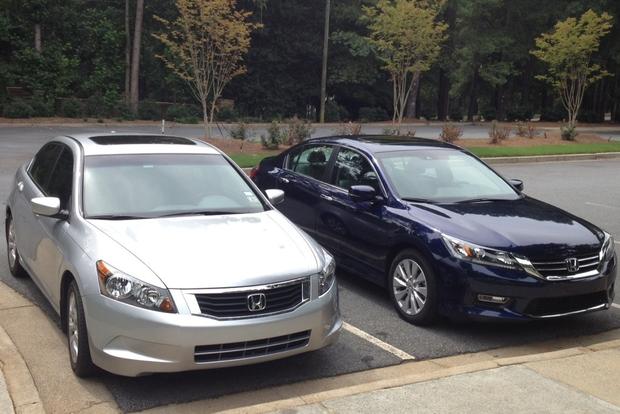 I've been checking AutoTrader.com's YouTube channel more than usual, and we're struck by how many comments about the new Honda Accord go something like this: "Looks too much like the old Accord." Really? I don't see it -- at all!
To put this to rest once and for all, I snapped a few pics of our long-term 2013 Honda Accord alongside a previous generation Accord.
Better Looking Than Before
How do these cars look the same? They don't. The 2013 Honda Accord looks wide and a little lower. The front end has more detailed styling, and the taillights on the new car are far more contemporary looking. The new Accord looks sleeker and sportier.
The older Accord looks narrower and taller. Ultimately, it's not as attractive, and a lot more mundane.
OK, I didn't get a photo of the 2012 Honda Accord with the added trunk reflectors, but these images speak for themselves: The new Honda Accord is a noticeable upgrade compared to the previous Accord.
Nicer Inside
Inside, the differences aren't as dramatic. For 2013, there are more metallic-looking surfaces and trim. It's generally not real metal, but then the car wouldn't have a base price of $22,000. Still, the dash, controls and seats all feel as if they've been engineered to a higher standard than before.
In fact, the new Accord leaves me with the distinct impression that the designers and engineers at Honda really enjoy making cars. The attention to detail is compelling -- any new car shopper will see it.
Features such as LaneWatch and the Smart Entry System (the doors unlock automatically as you approach) work well and are nicely integrated into the car. The additional features that come standard on the Accord EX don't feel like gadgets that have been slapped on an economy car; instead, they feel like features that were designed into the car from the very beginning.