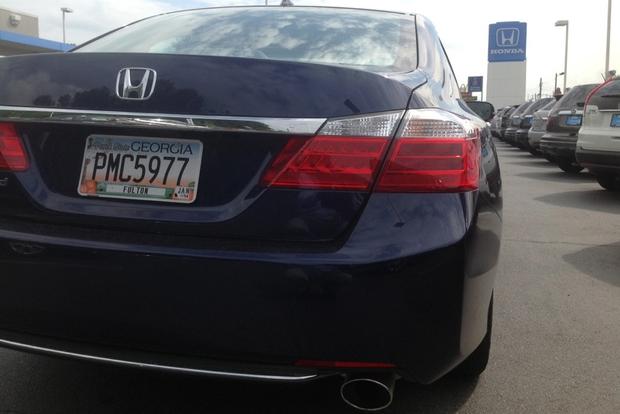 We've had our 2013 Honda Accord for a few months now and we've racked up about 7,000 miles.
Regular Service
That means it's time for Honda's regularly scheduled service. The car reminded us with an orange warning light on the dash.
We took the Accord to Curry Honda Atlanta expecting an oil change and tire rotation. And that's exactly what we got. But we got a few surprises, too.
The first surprise was that a software issue with our 2013 Honda Accord was automatically fixed thanks to a recall.
I had noticed that the nav and Bluetooth interface was the one sore spot with the car. Others complained that phones were hard to pair and that Pandora was a little finicky. I also had the nav system stop and reset itself several times in one trip.
Yes, I totally get that "finicky Pandora" can be dismissed as an ultra-low-priority first world problem. Then again, if someone spends $29,000 on a new car, they want it to work right.
So far, the problem is solved. The Accord's HondaLink system now finds my paired phone more quickly and is more tolerant when I choose to skip a song.
Free Is Good
Another nice surprise was that the service was free. This is a service provided by our local Honda dealer. Most Accord owners will have to pay $39 for their first service. Remember, we didn't buy our 2013 Honda Accord from Curry Honda. We got it right from Honda.
The dealership said they give all first-time regular service customers a pass on paying in an effort to earn their future business. My guess is the tactic works quite often.
It wasn't just that the service was free, the car was also done before the promised time, and our service advisor Corey was very helpful and polite.
How the average person feels about his car isn't just about the quality of the seats or the sound of the engine. The dealership is a key component in keeping customers happy. In this instance, our local dealer enhanced the ownership experience by giving the same attention to detail as the engineers and factory workers who built the car.