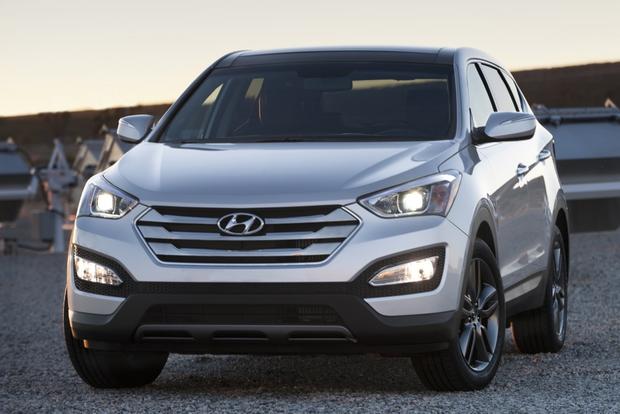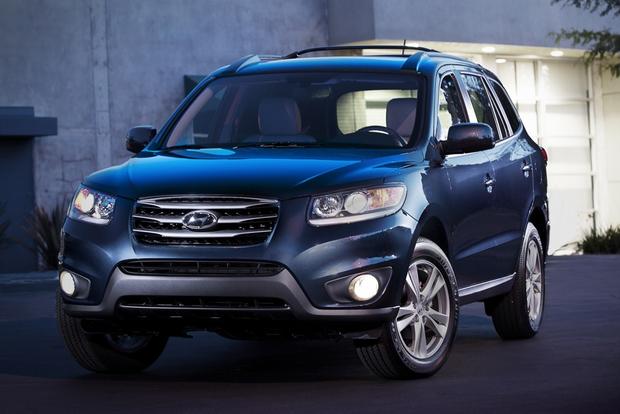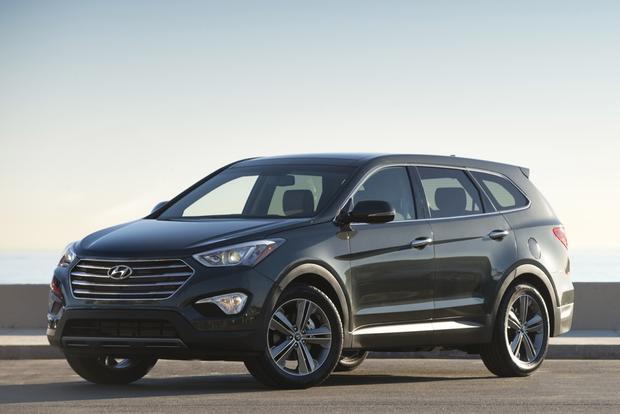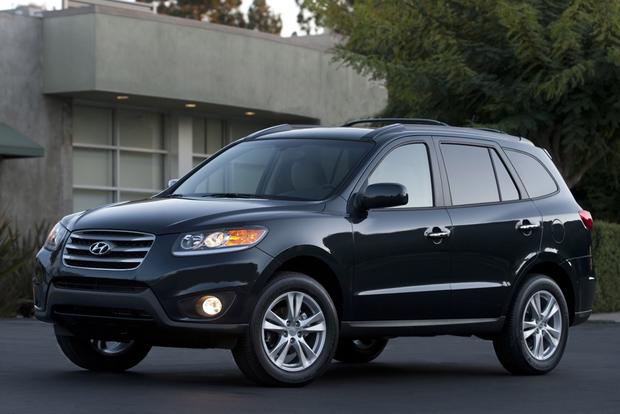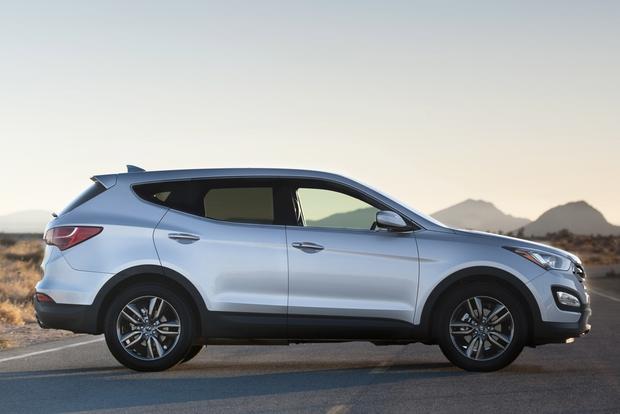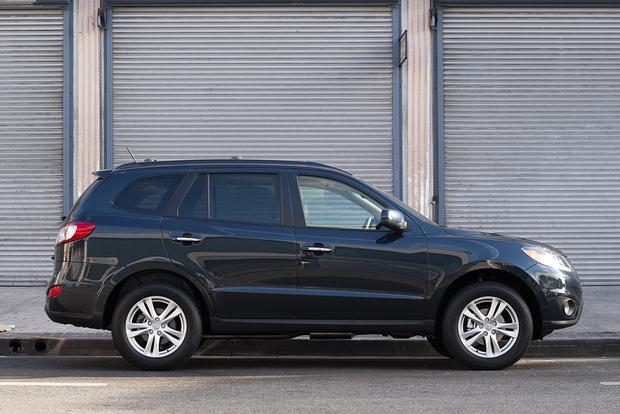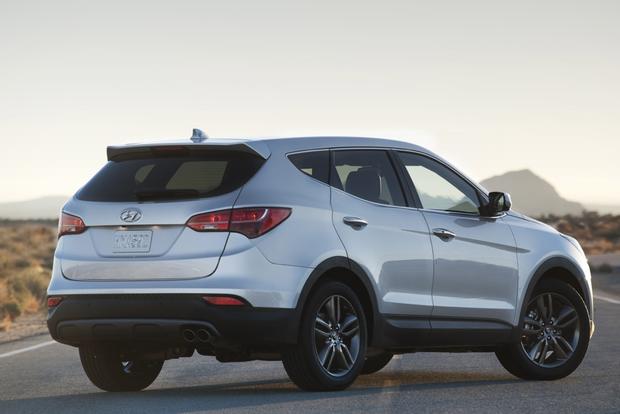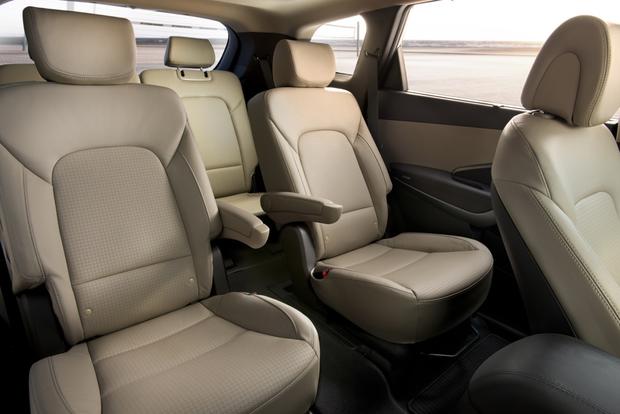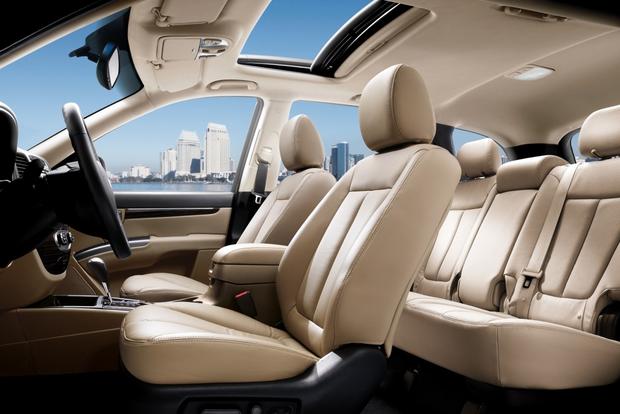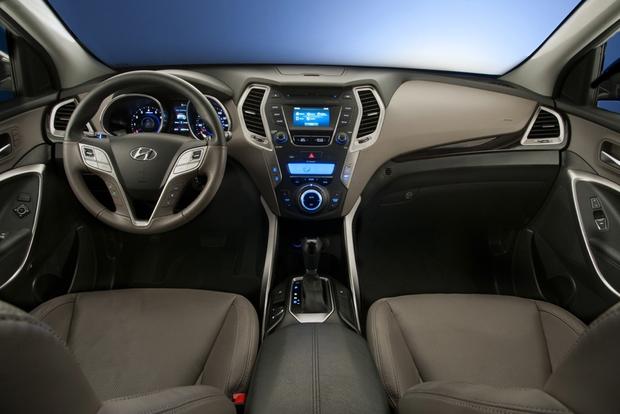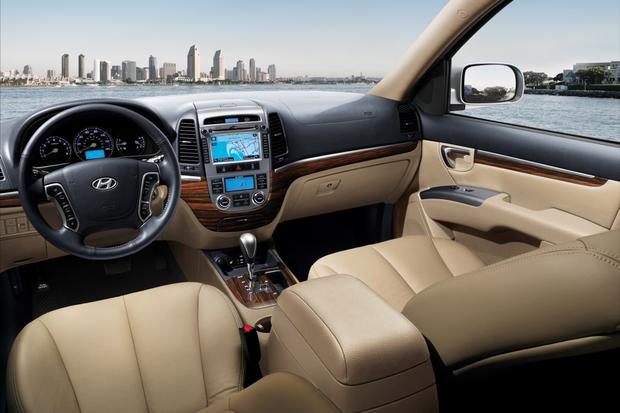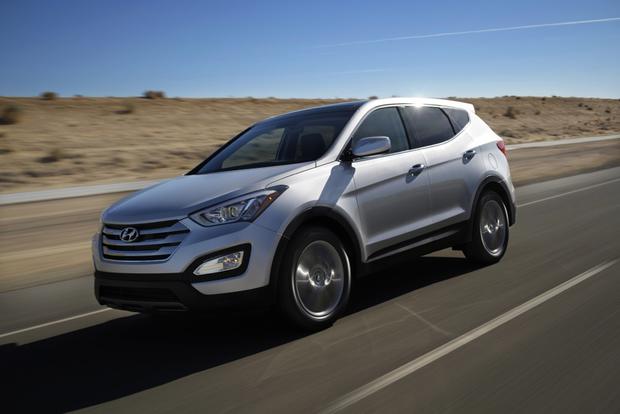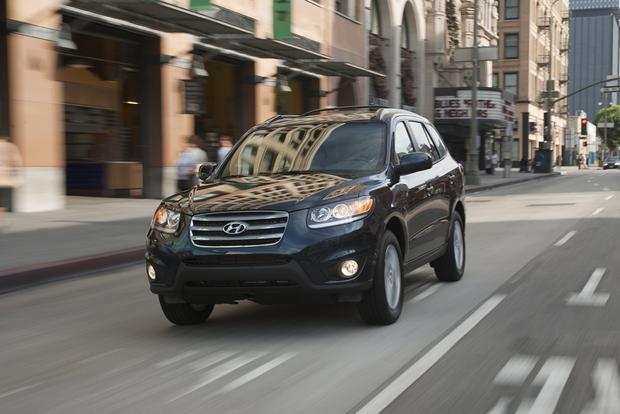 Introduction
The last model to get Hyundai's Fluidic Sculpture design is the 2013 Hyundai Santa Fe crossover SUV, and with this all-new Santa Fe the automaker is taking its styling ethos to the next level with what it is calling a Storm Edge appearance.
This represents more than just a styling exercise. The 2013 Santa Fe lineup is split into the 5-passenger Santa Fe Sport and the long-wheelbase 7-passenger Santa Fe, and is offered with three different powertrain choices. The new model also adds Hyundai's Blue Link telematics system, and is available with several new handling, comfort, and safety features that were previously unavailable for the 2007-2012 Santa Fe.
Remember, though, that progress doesn't come cheaply. The question, then, is this: Does it make more sense to select a previously owned Santa Fe? That's what we're here to find out.
Before we continue, please note that the 7-passenger Santa Fe is not yet on sale, and its specifications are not yet finalized. Therefore, we'll be comparing the 5-passenger 2013 Santa Fe Sport to the previous-generation 5-passenger Santa Fe.
Fuel Economy
The redesigned 2013 Hyundai Santa Fe Sport is offered with a choice between two engines. The standard 2.4-liter 4-cylinder engine makes 190 horsepower and 181 lb-ft of torque, while the optional turbocharged 2.0-liter 4-cylinder engine generates 264 and 269 lb-ft of torque. Not only does the turbocharged engine add 74 horsepower, its torque peaks between 1,750 and 3,000 rpm. Translated, the Santa Fe 2.0T feels like you've got a rocket strapped to your right foot.
The 2010-2012 Santa Fe models offered a 175-hp, 2.4-liter 4-cylinder engine or a 276-hp, 3.5-liter V6. They replaced the 185-hp 2.7-liter V6 and the 242-hp 3.3-liter V6 engines that were offered from 2007 to 2009. None of these engines provide as much torque as the new Santa Fe Sport 2.0T, which also weighs almost 450 pounds less than the old Santa Fe.
While performance is improved with the new Santa Fe Sport, fuel economy is essentially the same as the 2010-2012 Santa Fe, based on the figures on the Environmental Protection Agency (EPA) website. Equipped with the standard 2.4-liter 4-cylinder engine, the new Santa Fe Sport gets between 20 mpg in the city and 29 mpg on the highway, depending on drivetrain choice. The Santa Fe Sport 2.0T is rated to get between 19 mpg in the city and 27 mpg on the highway.
Compare those numbers to the 2012 Santa Fe. That SUV was rated to get between 20 mpg and 28 mpg on the highway with the standard 2.4-liter 4-cylinder engine and 6-speed automatic transmission, while the 3.5-liter V6 delivered 20 mpg in the city and 26 mpg on the highway, regardless of drivetrain choice.
Based on published EPA figures, there is no difference between the previous-generation Santa Fe and the new Santa Fe Sport when it comes to fuel economy. But the new model is definitely more powerful.
Safety
The previous-generation Santa Fe came standard with six airbags, a traction and stability control system and 4-wheel-disc anti-lock brakes. In later years, a reversing camera was optional, and in 2012 Hyundai added Downhill Brake Control as a standard feature.
For 2013, Hyundai repeats this list of safety features for the new Santa Fe Sport, adding a knee airbag for the driver, Hillstart Assist Control, and one free year of Blue Link telematics service. Blue Link includes Automatic Collision Notification and Assistance, which activates when the airbags deploy to help speed rescue after a collision. Blue Link also includes SOS Emergency Assistance, and offers the ability to program vehicle speed and curfew alerts so that parents, for example, can be notified if teenagers drive the Santa Fe Sport too fast or too far.
In addition to more standard safety features, the 2013 Santa Fe Sport receives an overall 5-star crash test rating from the National Highway Traffic Safety Administration (NHTSA) and a "Top Safety Pick" rating from the Insurance Institute for Highway Safety (IIHS).
The previous-generation Hyundai Santa Fe was also named a "Top Safety Pick" by the IIHS in all except for the 2010 model year, when the Institute introduced a new roof crush strength test, in which the 2010 Santa Fe rated "Acceptable" rather than "Good." In NHTSA crash tests, the 2007-2010 Santa Fe models received overall ratings of five stars.
But there is a problem.
In 2011, the NHTSA strengthened its crash test requirements, and when the Santa Fe was subjected to the new assessments, it fared poorly. Its overall crash test rating dropped to three stars, and in the side-impact collision test, the SUV received a 1-star rating for the front seat passenger--the lowest rating possible.
Because the 2011 and 2012 Santa Fe rated poorly in the more difficult NHTSA tests, the new Santa Fe Sport passed with flying colors, and because the new Santa Fe Sport offers Blue Link telematics with Automatic Crash Notification service and other useful safety features, we give the new model the nod when it comes to safety.
Reliability
Except for transmission problems reported on the 2010 Santa Fe V6 models and trouble with fuel systems and suspensions on the 2007 and 2008 models, the previous-generation Santa Fe is generally reliable. Given this track record, combined with Hyundai's extremely generous new-car warranty, our expectation is that the redesigned Santa Fe Sport will continue to demonstrate better than average dependability over time.
We'll call this one a tie.
Value
As this article is written, a number of certified pre-owned Hyundai Santa Fes are for sale around the country, ranging from $13,990 for a 2008 Santa Fe GLS 2WD with 58,000 miles on the odometer to nearly $30,000 for a 2012 Santa Fe Limited V6 with all-wheel drive and just 3,600 miles.
Compare those prices to a new 2013 Santa Fe Sport, which ranges from $25,275 for a base model with a 2.4-liter 4-cylinder engine, front-wheel drive and no options to $36,820 for a Santa Fe Sport 2.0T with all-wheel drive and every option.
Hyundai's new-car warranty is an impressive one. It covers the entire vehicle for five years or 60,000 miles, except for the normal wear-and-tear items, the audio components, paint and battery. Free roadside assistance is offered for the first five years of ownership with no mileage limit. The engine, transmission and drivetrain components have a 10-year/100,000-mile warranty that applies only to the Santa Fe Sport's original owner.
Second owners get a 5-year/60,000-mile warranty, unless that second owner is taking advantage of Hyundai's certified pre-owned (CPO) program. Because Hyundai's new-car warranty is so generous, the CPO program really needs to go the extra mile in terms of providing value. In addition to a 150-point inspection and a CARFAX vehicle history report, every CPO Hyundai preserves the original 10-year/100,000-mile powertrain warranty for the second owner and extends the free roadside assistance offer for 10 years with no mileage limit. Plus, Hyundai pays for the first day of a rental car for any covered repair, and tosses in a 90-day subscription to satellite radio.
If you need to finance a purchase, interest rates are traditionally higher for used cars. In recent months, however, Hyundai has offered deals as good as 0.9 percent to 1.9 percent APR for up to 60 months on its CPO vehicles.
It would appear that there is plenty of value to be found in a CPO Santa Fe.
Technology
Modern cars are loaded with new technology, and the redesigned 2013 Santa Fe Sport is no exception. Bluetooth hands-free calling and music streaming is standard, along with one free year of Blue Link telematics service, which includes Automatic Collision Notification and Assistance, SOS Emergency Assistance and programmable speed and curfew alerts.
Inside, the new Santa Fe Sport is available with heated rear seats and a heated steering wheel, as well as passive keyless entry with push-button ignition. Active Eco powertrain technology is standard, Active Cornering Control all-wheel drive is optional and the Santa Fe Sport's new Driver Selectable Steering Mode offers Comfort, Normal and Sport settings.
The advantage here goes to the new version of the Santa Fe.
AutoTrader's Recommendation
In terms of safety and technology, the redesigned Santa Fe Sport is a better vehicle than the one it replaces. Plus, the new Santa Fe is appealing in terms of design and performance. However, CPO versions of the old Santa Fe offer plenty of value. Both are expected to prove reliable over time and are backed by exceptional warranties, and the two crossovers are essentially equals in terms of fuel economy.
If not for the 1-star side-impact crash test performance turned in by the 2011-2012 Santa Fe models in NHTSA evaluations, we would likely recommend the older model--even though the new Santa Fe is more modern in terms of its styling and technology. But as a good parent always advises, it is better to be safe than sorry, and the new 2013 Santa Fe Sport is definitely safe.