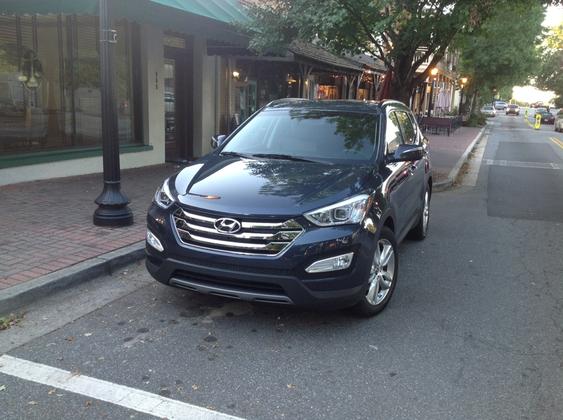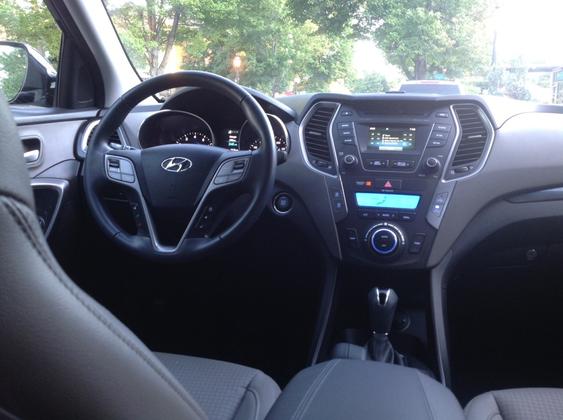 The real issue with buying any new car is that eventually the new wears off and your prized purchase can seem seriously flawed.
I remember feeling that way about the Chrysler Pacifica -- loved it at first, but months of use proved that the 2+2+2 seating configuration was a hassle. Both kids wanted to sit next to Grandma on the way home from the airport.
Improving With Age
At first, I thought the 2013 Hyundai Santa Fe Sport would suffer the same fate, but the opposite has turned out to be true.
So far, I like the redesigned 2013 Hyundai Santa Fe Sport more than when we first got it. It has a substantial feel on the road and a roomy and useful interior, with a look and feel that's near that of a true luxury SUV.
I also like that the Santa Fe Sport is quiet, even on the highway.
Blue Link Services
I've also been using Hyundai's Blue Link app on my Android phone. This allows you to send turn-by-turn directions to your car, flash the horn and lights if you can't find it, start the car remotely and set a reminder in case you parked at a timed meter or restricted parking space. There is one limitation: It doesn't work as well as we'd like in large parking garages. Presumably, the layers of cement block the Blue Link from receiving a signal.
As we noted before, the turn-by-turn directions mean you don't have a map for reference. We have been routed in an odd manner a few times. (In any case, it was a route we would not have chosen since we know the area.)
Navigation systems are generally not designed for locals who know the area. A TeleNav representative once told me, "Navigation systems of all kinds are designed to get you there no matter what. It might not be the quickest or most scenic route, but you will get there." Even when you ask for directions, locals are bound to give different routes, as well as provide information a nav system just can't: "Stay off Wilshire after 2 p.m." or "Avoid 4th street on Tuesdays because there's a Farmer's Market," for example.
Still, we think Blue Link is useful enough to recommend getting it.
We suspect next month will give us a chance to use the heated rear seats, and we're curious to see what our long distance fuel economy will be.
If you're shopping for a midsize SUV such as the 2014 Ford Edge or new 2014 Toyota Highlander, you owe it to yourself to try the 2013 Hyundai Santa Fe Sport. At this point, we think it's good enough to make your final choice difficult.