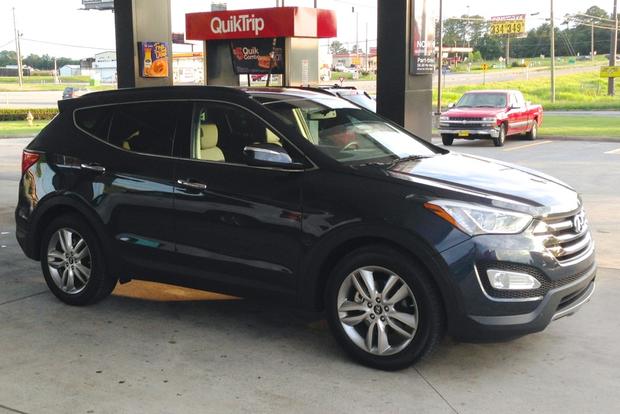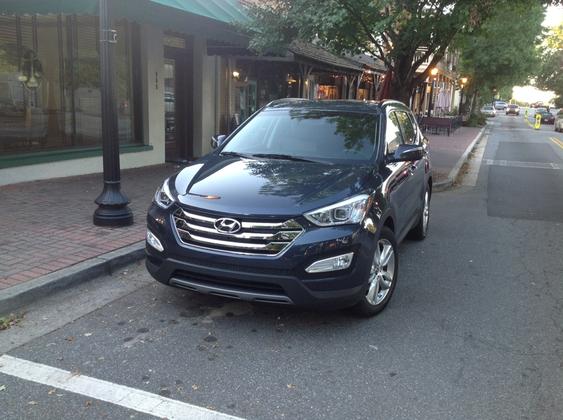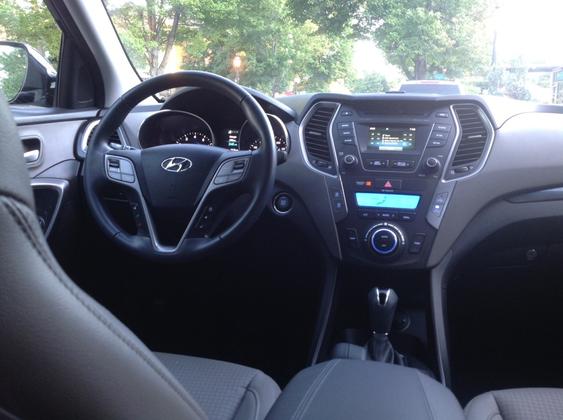 Although we've had our long-term 2013 Hyundai Santa Fe Sport test car for a while, we recently handed the keys over to a staff member who hasn't had much time behind the wheel. After taking it for a long drive on the highway, he came away impressed for many of the same reasons we've enjoyed the Santa Fe Sport so much.
Some of our staffer's most positive remarks about the Santa Fe related to the crossover's exterior styling. Calling it "modern but not overdressed," he pointed out that it offers a more up-to-date look than the Toyota RAV4 and Honda CR-V, which he views as blander alternatives. That's an opinion we've heard a lot in our office: The Santa Fe, especially in the shorter-wheelbase Sport trim, is a handsome and well-proportioned crossover.
In addition to mentioning the car's attractive look, our staffer also highlighted its practicality. In 85 miles of mainly highway driving, he was able to return 26 miles per gallon, which is better than the Environmental Protection Agency estimates of 24 mpg on the highway. He also noted that rear legroom was more than adequate for his passengers -- a possible concern for shoppers who are also considering the larger full-size Santa Fe -- and that the cargo area had ample space for luggage and other items.
Interestingly, we've also heard a lot about the Santa Fe's adjustable steering. While most drivers probably won't bother with it, those who put the crossover in Sport mode said they noticed a considerable difference in steering feel. Our staffer was among those drivers; he noted that the crossover's steering gets much tighter and more responsive when Sport mode is activated.
As for gripes with the Santa Fe Sport, our staffer only had a few. Road noise was one, though he noted it wasn't so loud that the crossover's driving experience suffered. He also mentioned an over-the-shoulder blind spot on the passenger side, which is a common problem with modern crossovers that have large D-pillars. Finally, he noted that the center screen is a little small; that's another common complaint, easily solved by upgrading to the Sport's available 8-inch screen.
In all, we remain impressed with our 2013 Hyundai Santa Fe Sport, and so does nearly everyone who takes it for a spin.