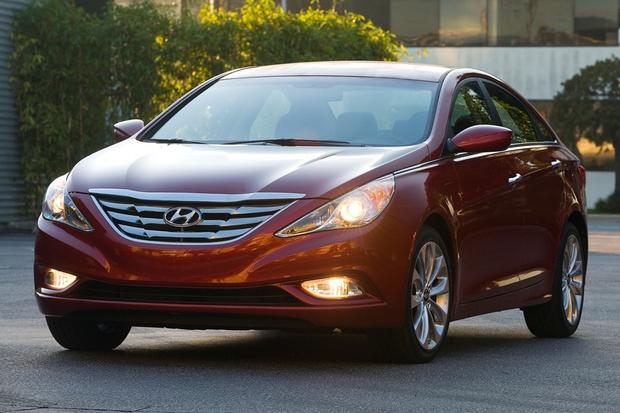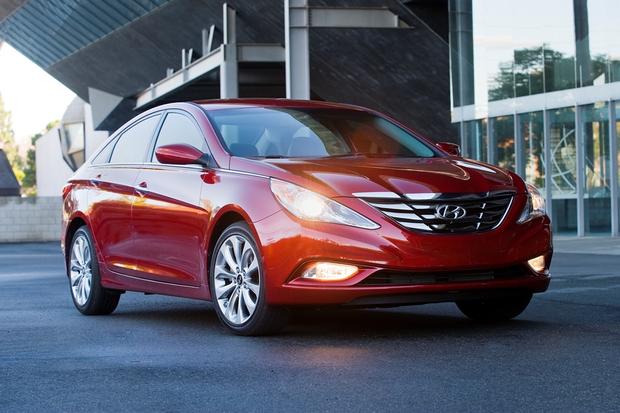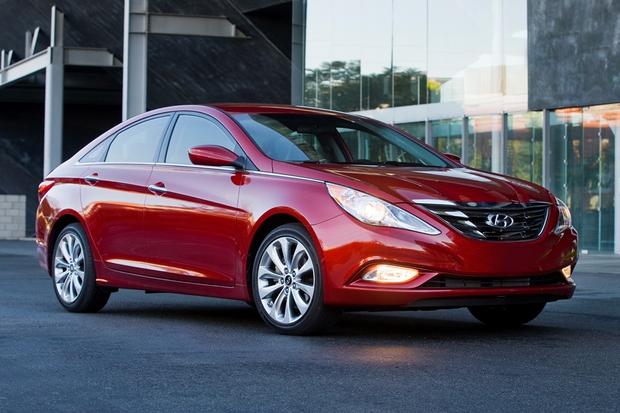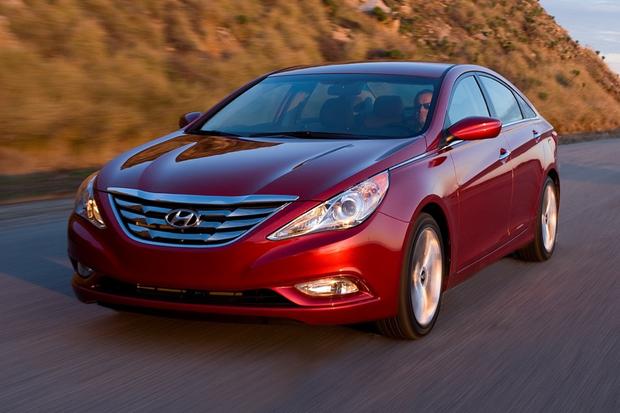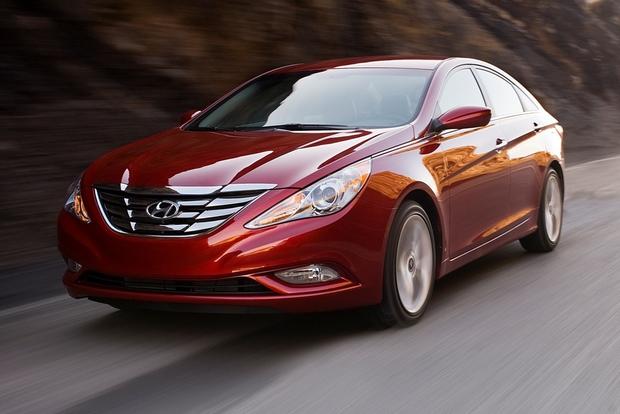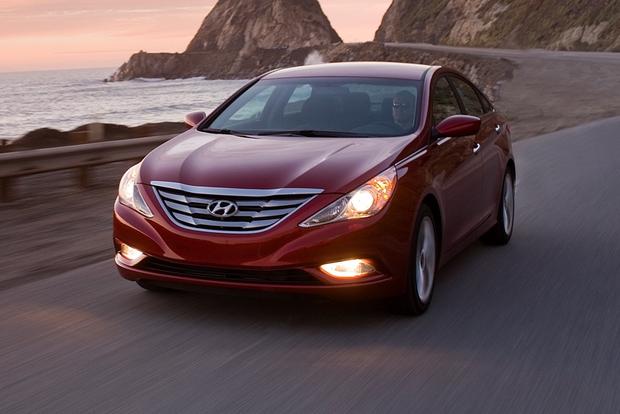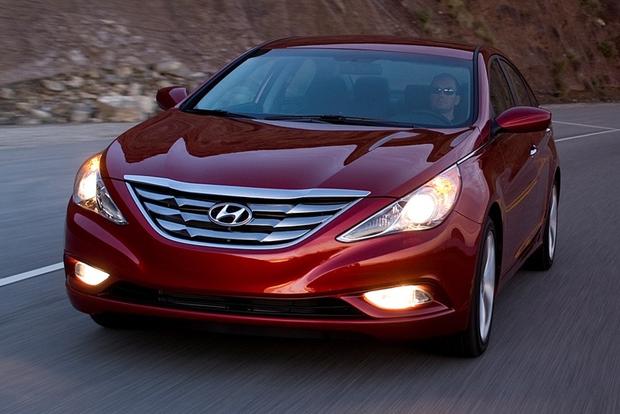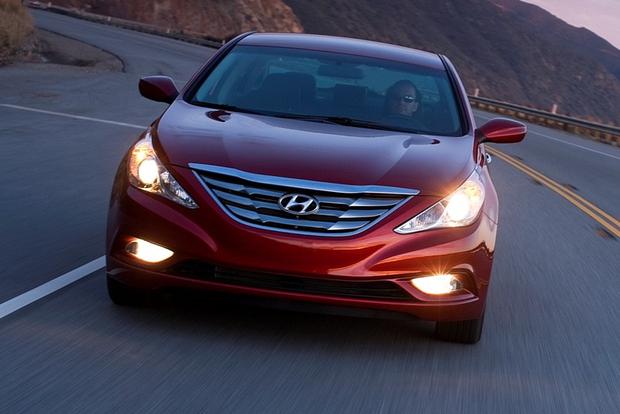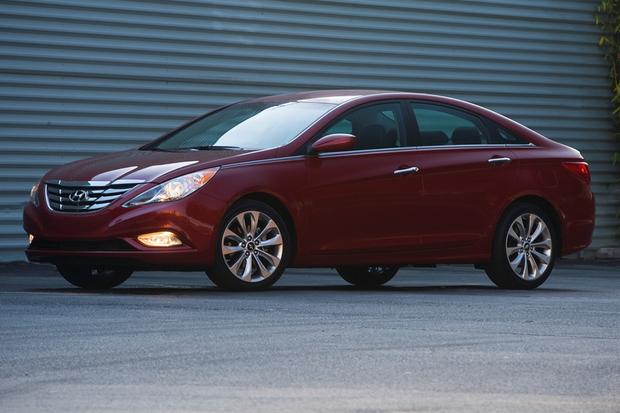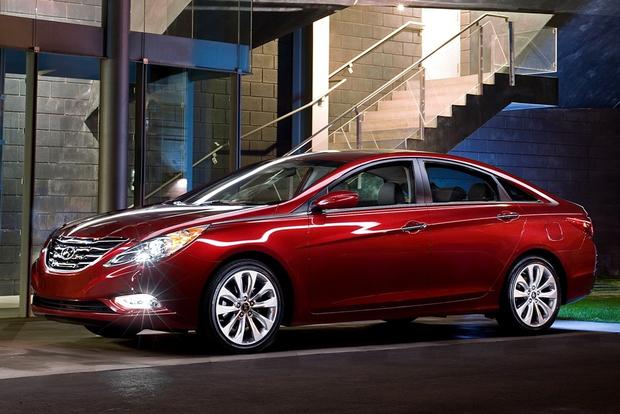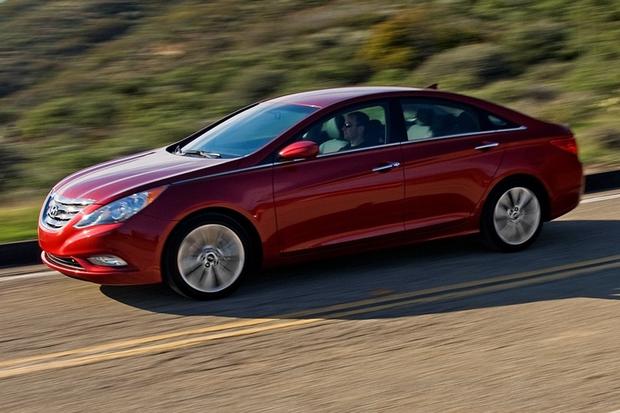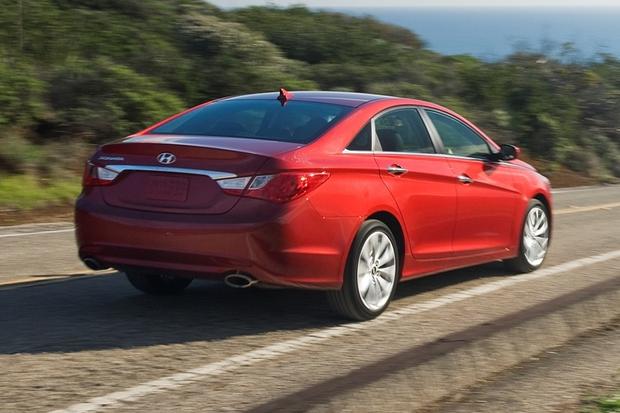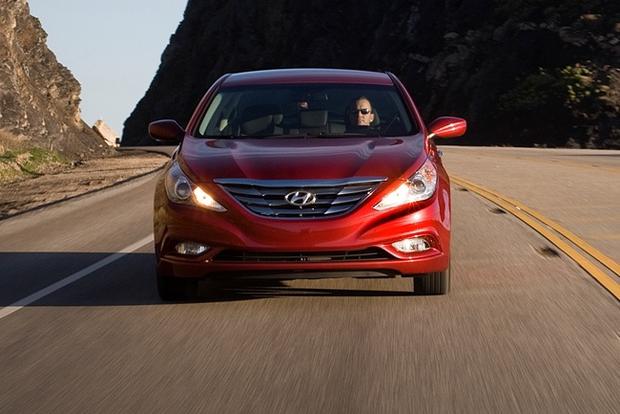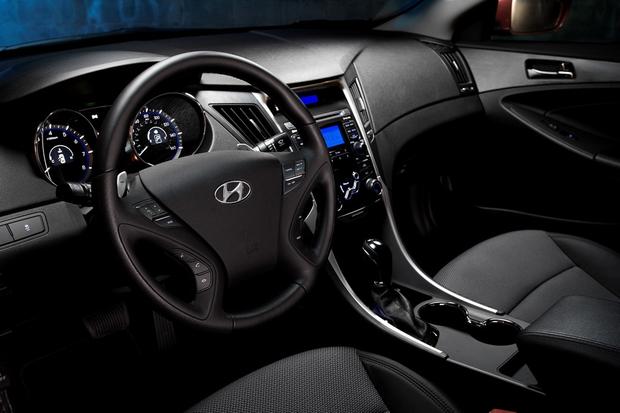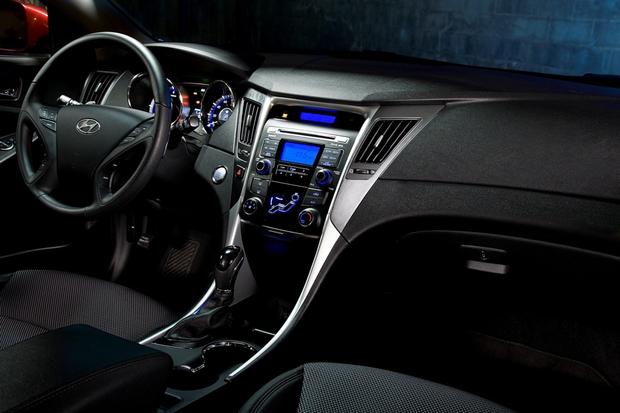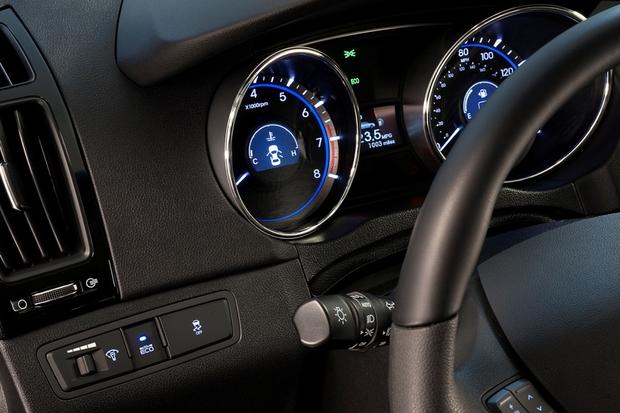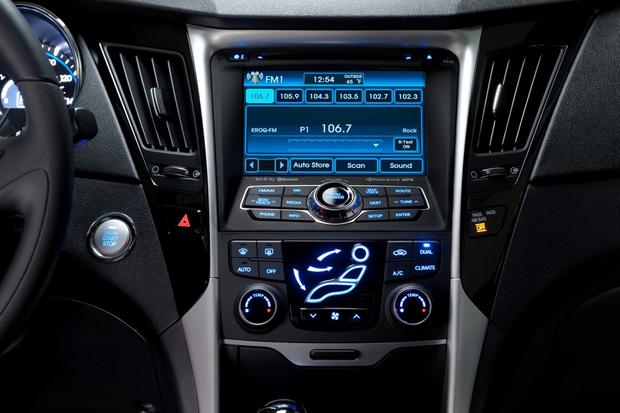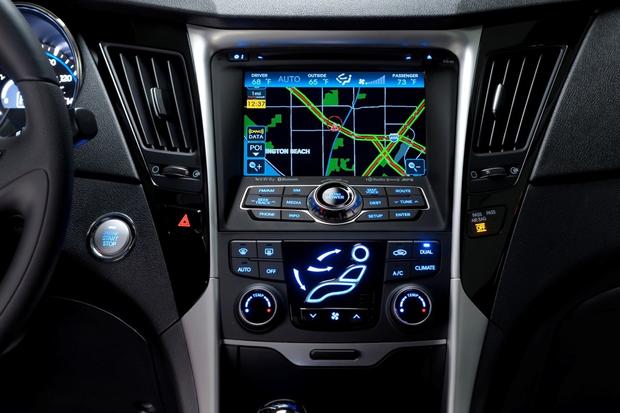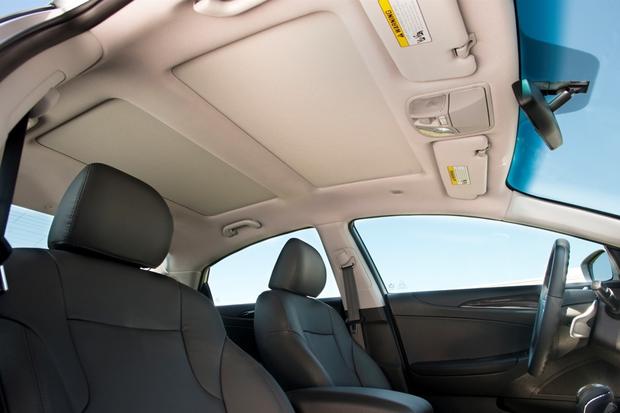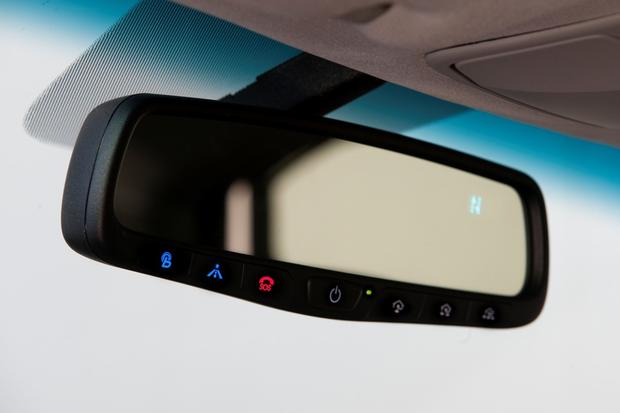 Pros: Impressive fuel economy; strong base engine and optional turbo; daring styling; big trunk (except Hybrid); plenty of features for the price.
Cons: Hybrid's not quite ready for prime time; numb steering across the board; limited rear headroom.
What's new: Heated seats are more widely available for the 2013 Hyundai Sonata and the panoramic sunroof, previously a Hybrid exclusive, is now offered in the non-hybrid Sonata Limited as well.
The Sonata Hybrid's electric motor is also updated for the new year. It now makes more power (35 kW instead of last year's 30 kW) and takes up less space. This allowed Hyundai to expand the Sonata Hybrid's trunk from 10.7 cu ft to 12.1 cu ft.
Additionally, Hyundai added an upscale Limited trim level to the 2013 Sonata Hybrid and dropped the base-level Sonata Hybrid's starting price by $200 from last year's.
Introduction
Has any other automaker gone from imitator to innovator this quickly? That's what the 2013 Hyundai Sonata midsize sedan has us wondering. It was only a few years ago that Hyundais came across as Korean-flavored interpretations of more established cars, but now every new family sedan seems to be taking cues from Korea's finest.
Let's start with the Sonata's bold "fluidic sculpture" design language, which truly looks like nothing else on the road. It was revolutionary when the Sonata debuted in 2010, a breath of fresh air in a segment notorious for stale styling. Since then, we've seen the Nissan Altima get all swoopy for its latest redesign, and the new Ford Fusion's physique has likewise been streamlined. Yes, that's right: Hyundai set the trend, and the others followed suit.
Even fiercely independent Honda pays homage to Hyundai these days, as the new Accord's taillights look like they were lifted straight off the Hyundai Genesis luxury sedan.
The Sonata is also a leader under the hood, where the base 2.4-liter engine offers up to 200 horsepower, and the optional 2.0-liter turbocharged engine marshals a whopping 274 horses. We can remember when only high-strung performance machines like the Mitsubishi Lancer Evolution made that kind of power with a 2.0-liter inline-4. Fuel economy is stellar as well, reaching in the mid-30 mpg range with either engine.
Naturally, Hyundai hasn't gotten everything about the Sonata right overnight. But when you take all of the Sonata's strong points and add Hyundai's traditional value advantage to the mix, it's no wonder other automakers are suddenly scrambling to keep up.
Comfort & Utility
The non-hybrid 2013 Hyundai Sonata models are offered in three trim levels: GLS, SE and Limited.
The GLS starts with 16-inch steel wheels with plastic covers (16-in alloys are optional), full power accessories, air conditioning, cruise control, a tilt-telescopic steering wheel, a trip computer, cloth upholstery, a height-adjustable driver seat, the Blue Link telematics system and a 6-speaker audio system with satellite radio and iPod/USB and Bluetooth connectivity.
The SE adds 18-in alloy wheels; a sport-tuned suspension; dual exhaust pipes; automatic headlamps; fog lights; chrome exterior accents; a leather-wrapped steering wheel with paddle shifters; hybrid cloth/leather upholstery; an 8-way power driver's seat with lumbar; and heated front seats. Specifying the turbocharged engine brings standard dual-zone automatic climate control.
The Limited dials it back to 17-in alloy wheels and ditches the SE's more aggressive touches like the paddle shifters and sport-tuned suspension (the turbocharged Limited keeps the 18s and the paddle shifters), but it gains a sunroof, leather upholstery, piano-black or woodgrain interior trim, dual-zone automatic climate control, heated rear seats and a 7-speaker, 360-watt audio sound system.
Some of the higher trims' standard equipment can be added to the lower trims as options. Available only in the Limited are a panoramic sunroof and a 9-speaker, 400-watt Infinity audio system. The SE and Limited are eligible for a Navigation package that includes a 7-in touchscreen, a rearview camera, and of course a navigation system.
The Sonata Hybrid gets a somewhat different equipment roster, starting with standard 16-in alloy wheels, automatic headlamps, LED accent lights, dual-zone automatic climate control, keyless entry with push-button start, electroluminescent gauges, a trip computer with a Hybrid-specific 4.2-in display, Blue Link telematics, cloth upholstery, an 8-way power driver's seat with lumbar and the 6-speaker sound system with iPod/USB and Bluetooth from the GLS/SE.
There are two notable Hybrid option packages: the Leather package adds leather upholstery and heated front and rear seats, while the Ultimate package consists of the Leather package plus a panoramic sunroof, 17-in alloy wheels, the 9-speaker Infinity audio system and the navigation system that's optional on the SE/Limited.
In our interior evaluation, we were reminded that Hyundai seats tend to be on the soft side, and that tradition continues with the Sonata's front chairs, regardless of upholstery. We appreciate the long-distance cruising comfort that they provide, though, even if lateral support for aggressive maneuvers is lacking. The Sonata's deeply recessed standard gauges are bright and legible, but the Hybrid's Lexus-like electroluminescent gauges easily win the prize; we'd like to see them offered across the lineup.
The Sonata's stylized dashboard features mostly good-quality materials; in fact, we'd say the Sonata's a bit above average in this regard. The central controls are a generally ergonomic mix of buttons and knobs, with the unusual addition of a Volvo-inspired human figure (yes, Hyundai still plays the imitator at times) that you press to change the airflow setting.
The back seat provides plenty of legroom and a nice high bottom cushion, but headroom might be tight for passengers with long torsos--that's one of the prices you pay for the rakish roofline and supportive rear bench. Trunk space is quite generous at 16.4 cu-ft, though that drops to just 10.7 cu-ft in the Hybrid.
Technology
Even the base GLS comes well equipped in the technology department, providing all the connectivity you need via its iPod/USB and Bluetooth hookups. But perhaps the most notable standard technology feature is the Blue Link telematics system, which includes voice-recognition software that converts your spoken words to text messages (compatible smartphone required); monthly reports on vehicle performance and maintenance; emergency roadside assistance at the push of a button; and point-of-interest searches for nearby restaurants and such.
Optional on higher trims is a navigation system that got an upgraded display screen last year. We still don't find the graphics of this system particularly inspired, but the larger, sharper screen does make a difference.
Performance & Fuel Economy
The Sonata GLS and Limited start with a 2.4-liter inline-4 rated at 198 hp and 184 lb-ft of torque, while the base SE gets the same engine with ratings of 200 hp and 186 lb-ft of torque. This engine is unusually strong for an entry-level offering, and it's reasonably refined, too. The GLS can be equipped with a 6-speed manual transmission, but that's a rare sight in these cars; most Sonatas will have the extra-cost 6-speed automatic, which shifts quickly yet smoothly--we like it. Fuel economy is a superb 24 mpg city/35 mpg highway either way.
The SE and Limited are eligible for an upgrade to a turbocharged 2.0-liter inline-4 that cranks out 274 hp and 269 lb-ft of torque through a willing 6-speed automatic. This is one of the most impressive engines in any midsize sedan today. It's got a ton of low-end torque for effortless highway passing, yet it keeps on pulling at high rpm, and it's quite civilized all the while. Plus, you still get 22 mpg city/34 highway, which is truly extraordinary at this level of performance.
As for the Hybrid, it pairs a 2.4-liter inline-4 with an electric motor for a total output of 206 hp. In an unusual twist for a hybrid, this Sonata gets a 6-speed automatic, albeit one without a torque converter; most hybrids have CVTs. We wish the Hybrid's drivetrain came up roses like the others, but alas, this one needs more time in the oven. The power delivery isn't smooth or linear, and the 6-speed is slow to respond. At least fuel economy is excellent at 35/40 mpg, though other midsize hybrids are even more frugal.
Safety
The Sonata comes with standard stability control, 4-wheel antilock disc brakes, active front head restraints and 6 airbags (front, front-side, full-length side curtain).
In government crash-testing, the Sonata received the top five-star overall rating, including five stars in every category except frontal protection, where it received four stars. The independent Insurance Institute for Highway Safety (IIHS) awarded the Sonata its highest rating of Good in all categories.
Driving Impressions
The Sonata's suspension tuning marks a paradigm shift for Hyundai. Whereas previous Sonatas--indeed, Hyundais in general--prioritized a soft ride above all else, the current Sonata is more like a Honda Accord in the way it keeps the driver connected with the road. The ride is still compliant, but the Sonata now feels like it has some athletic ability in corners, especially in the SE's tighter state of tune. Alas, the Sonata's steering is numb and vague, a habit that Hyundai can't seem to shake. Also, road noise can rise to objectionable levels on certain surfaces, though the Sonata's cabin is otherwise quiet.
Other Cars to Consider
Kia Optima: The mechanically similar Optima has a bold styling language of its own, and we prefer the Kia's interior. Definitely worth comparing with the Sonata.
Toyota Camry: Like the Sonata, the new Camry has hit the gym, and it's actually genuinely engaging in SE trim. The Camry's V6 is one of the few engines in this class that can give the Sonata's 2.0T a run for its money.
Volkswagen Passat: The Passat offers an intriguing engine lineup of its own, and it has a restrained German aesthetic that serves as a compelling alternative to the Sonata's exuberance.
AutoTrader Recommends
We think the turbocharged engine hits the sweet spot for power and fuel economy, especially at its base price of around $25,000. We'd make it a base SE 2.0T to keep the cost in check. That's a lot of car for 25 large.