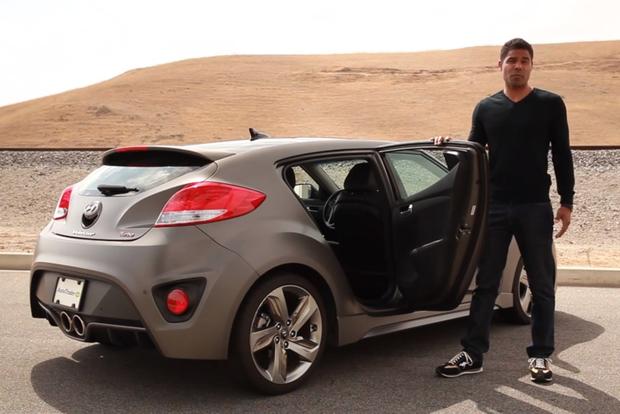 The 2013 Hyundai Veloster Turbo doesn't just look fast; it is fast. That's a distinct improvement over the regular Veloster, a generally likable car let down by its modest motor. The Veloster Turbo is definitely a different animal, and we have five reasons why it's a must-drive hatchback if you're looking for affordable thrills.
1. Packs a Punch
If you care about power, the base Veloster's 138-horsepower engine won't cut it. The Veloster Turbo, however, cranks out an impressive 201 hp, and its twin-scroll turbocharger means there's no lag time like with older turbos -- that 201 hp is ready to go when you are. Plus, with 195 lb-ft of torque on tap, you really feel the force. Plant your right foot and you'll be shoved back into your seat. The Veloster Turbo still has a fun personality, but its engine is serious business.
2. Looks Great
The Turbo comes standard with 18-inch wheels, but that's not all. It also has twin center-mounted exhaust outlets that remind us more of a Porsche than a Hyundai. You can even get a matte-gray paint job that makes the Veloster Turbo look like a custom show car. When you add it all up, this Hyundai is a real head-turner. You're going to stand out from the crowd.
3. Excellent Fuel Economy
With the rewarding manual transmission, the Veloster Turbo is rated at 24 miles per gallon city/35 mpg hwy. That's amazingly frugal for a car this fast. The optional 6-speed automated manual drops to 31 mpg on the highway, but it still gives you the same 24 mpg in the city. Not bad for the 200-hp club. Who said power and miles per gallon don't mix?
4. Tech Features Galore
A 7-in touchscreen comes standard in every Veloster Turbo. Crisp, colorful driver information screens in the instrument cluster are also standard, and Hyundai throws in Bluetooth, a USB port and a 450-watt audio system. That's crazy standard tech. Try to find features such as these on the pricier base MINI Cooper S, for example.
5. Handy 3-Door Design
The Veloster Turbo may look like a typical hatchback, but there's actually an unusual third door on the passenger side that works great in a pinch. It makes the Veloster much more practical than a 2-door car, and it doesn't hurt that the Veloster's back seat is surprisingly roomy. If you carry more than one passenger regularly, the Veloster might strike a perfect balance for you between fun and practicality.
AutoTrader Says: The 2013 Hyundai Veloster Turbo is fast, stylish, fuel-efficient, technology-packed -- and did we mention it starts at under $23,000? This car is off the hook! Go drive one and see if you agree.