Car Review
2013 Infiniti G37: New Car Review Video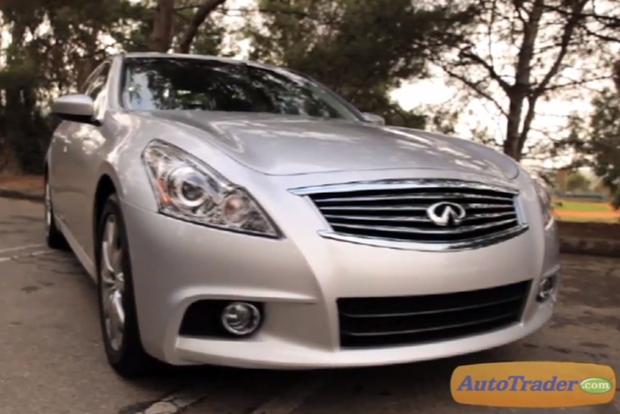 For years, the BMW 3-series has been the go to premium midsize vehicle. With a punchy inline 6-cylinder engine, excellent driving feel and great standard and optional equipment, many manufacturers dreamed of having a vehicle like the BMW 3-series. Using a proven V6 engine, great looks and sharp handling, the 2013 Infiniti G37 has become a true favorite among enthusiasts and professionals.
For the 2013 model year, the Infiniti G37 comes in three different trims: Journey, xAWD and Sport. Standard equipment on all three trims includes leather seating, excellent finishes throughout and a simple, straightforward instrument layout you can trust. A 7-inch LCD Navigation system is also standard and offers XM NavTraffic and NavWeather, which can be controlled with the logically placed joystick and surrounding buttons. You also can program the voice recognition to allow for hands-free use.
Understanding the competition, Infiniti has always known that drivers demand equal parts luxury and performance. With the above standard features, the luxury aspect is in the bag. For performance, Infiniti installed a 328 horsepower 3.7-liter V6 engine, which is the same one you'll find in its brawny corporate cousin, the Nissan 370Z. Also borrowed are the transmissions: a 7-speed automatic is standard, but a 6-speed manual transmission is available in the Sport trim G37.
With the Sport trim, the suspension is firmer than other trim levels. While enthusiasts might enjoy tighter turns and less body roll, this performance and stiff ride might be too much for everyday commuters.
Depending on the powertrain configuration, fuel economy varies from 17 to 19 miles per gallon in the city and 25 to 27 mpg on the highway, with the lower numbers relating to the all-wheel-drive package. Even though these numbers are respectable, both BMW and Audi offer turbocharged engines that are capable of similar performance with increased miles per gallon.
Currently, the main competition for the 2013 Infiniti G37 Sedan comes from the BMW 335i, which is more expensive than the G37 and offers similar performance, and the new Acura TL, which matches the G37 with an excellent reliability record, resale value and plenty of power.
I t's hard to find many gripes with the latest G37 sedan. With big time luxury, impressive performance, loads of standard features and inviting options, the Infiniti's smooth ride, excellent handling and top-of-the-line quality are sure to impress every time.