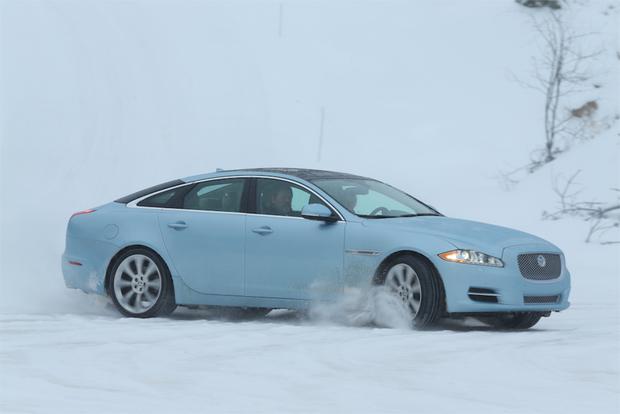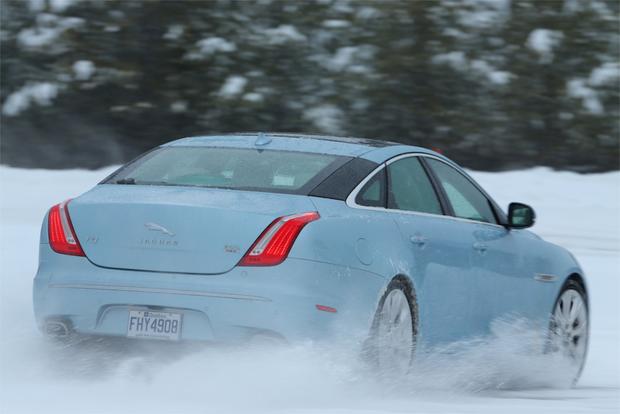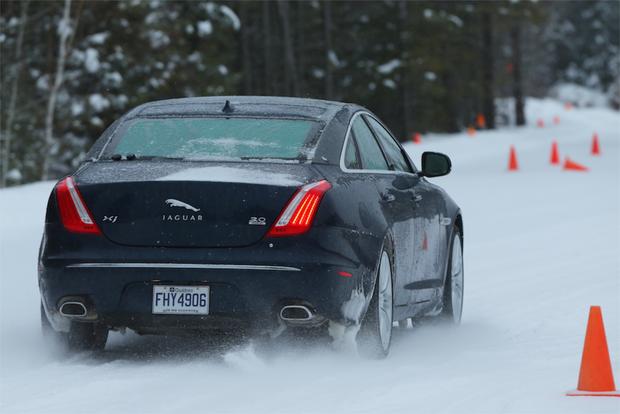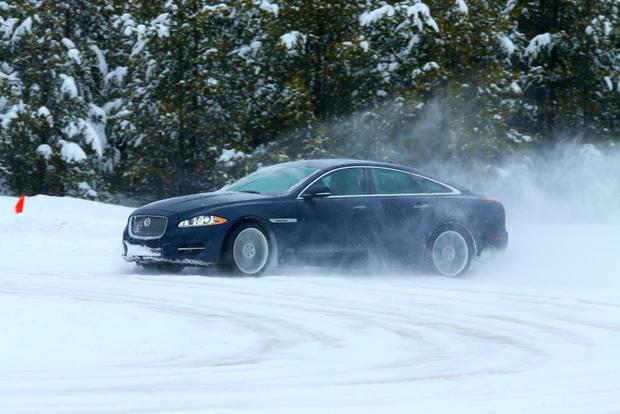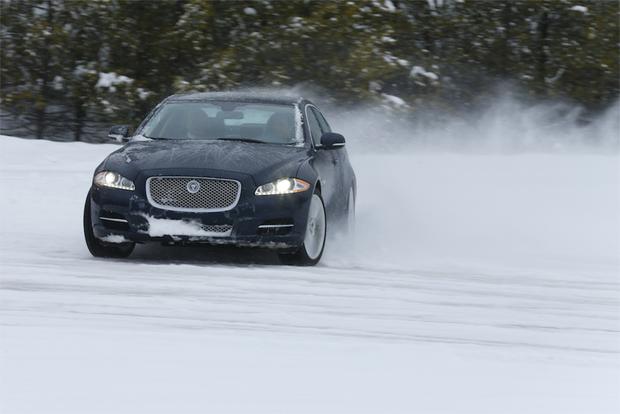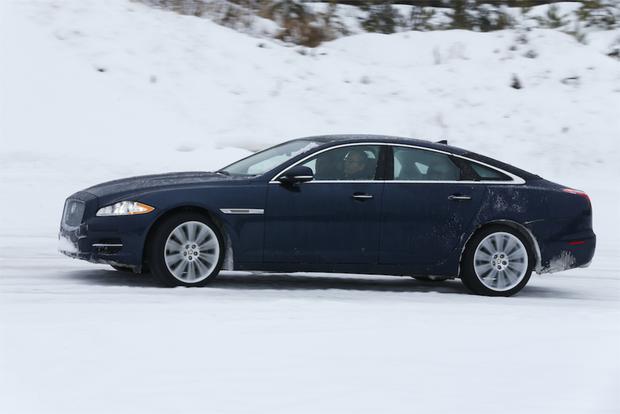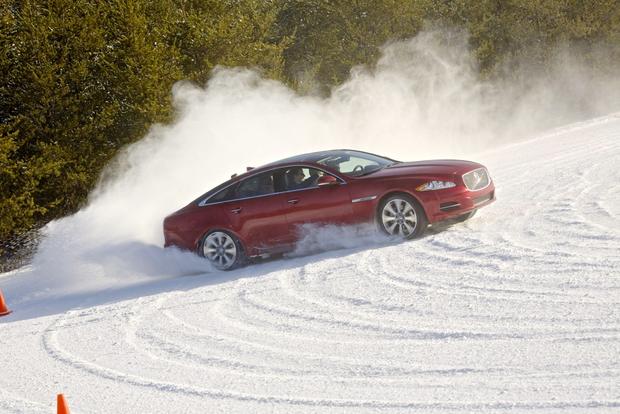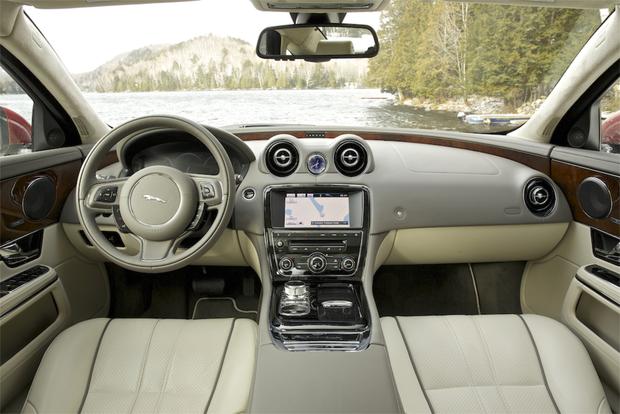 Pros: Striking looks; robust engines; athletic handling; two available lengths; gargantuan trunk; Maserati-like swagger
Cons: Unimpressive touchscreen interface; virtual tachometer can't keep pace; swills gas in V8 form
New for 2013: Base V6 model added; available all-wheel drive; standard 8-speed automatic transmission; upgraded infotainment/navigation system
Introduction
If full-size luxury cars were judged on looks alone, the 2013 Jaguar XJ would be the champion by a mile. Whereas most cars in this segment are conservative to a fault, the XJ is a feast for the eyes. With its deep chrome-ringed grille, low-and-long proportions and plenty of body bling, the XJ is a power sedan for folks who want to announce their status with a loudspeaker, not a whisper.
Inside, however, the XJ technology team took some risks that didn't quite pay off. The chrome shifter disc that rises from the console upon startup draws oohs and ahhs, but it feels chintzy. The virtual gauges change color depending on drive mode, but the tachometer lags behind during rapid acceleration. And they look a little cheap. But on the bright side, the interior design has a swanky sense of occasion that matches the exterior. The long wheelbase version (called XJL) also adds more than five inches of legroom to the rear seat, for true limousine-like space.
Just as important, the XJ is great to drive, whether you choose the new V6 or any of the righteous V8 models. New for '13 is an all-wheel drive system, paired only with the V6. All XJ models have aluminum body construction, saving hundreds of pounds and making truly athletic dynamics possible. All said, this is a big cat that not only has claws, but lots and lots of swagger.
Comfort & Utility
The 2013 Jaguar XJ comes in five trim levels: XJ, XJL Portfolio, XJ/XJL Supercharged, XJ/XJL Supersport and a new, range-topping XJL Ultimate, the latter being a rare flagship (only 30 will be imported to the U.S. for 2013).
Standard features on the base XJ ($73,200) include a supercharged 340-horsepower V6 engine, 19-inch alloy wheels, xenon headlights with LED accents, a panoramic sunroof, burl walnut veneers, a power-closing trunk, keyless entry with push-button start, dual-zone automatic climate control, a power tilt-telescopic steering wheel, heated front and rear seats, leather upholstery, Bluetooth, a navigation system with an 8-in touchscreen interface and a 14-speaker 380-watt Meridian audio system with iPod/USB connectivity and both HD and satellite radio. The XJ AWD ($76,700) adds all-wheel drive.
The long wheelbase XJL Portfolio is powered by a 385-hp V8 and has 5.2 inches of added rear seat legroom, heated/cooled front seats with 18-way power adjustability, heated/cooled rear seats, softer leather upholstery, a suede headliner, rear sunshades, ebony wood veneer, 4-zone automatic climate control and various fancy interior trim additions. The XJL Portfolio is powered by a naturally aspirated V8; the XJL Portfolio AWD ($83,700) adds all-wheel drive, but is powered by the supercharged V6 from the base XJ.
Available in short and long wheelbase forms, the XJ Supercharged (from $89,600) includes a supercharged 470-hp V8, adaptive xenon headlights, 20-in alloy wheels, oak wood trim, and a 20-speaker 825-watt Meridian surround sound audio system. Optional upgrades include a Sport and Speed package which adds more aggressive suspension tuning and other performance-oriented features.
The XJ/XJL Supersport (from $112,600) boasts a 510-hp version of the supercharged V8, exclusive 20-in wheels, various sport-themed exterior and interior styling flourishes, front and rear seat massagers and a rear seat entertainment system with twin 8-in screens (one in each front headrest), dedicated USB connectivity, a portable touchscreen controller and wireless headphones.
The XJL Ultimate ($155,000) features everything on the Supersport and adds individual heated/cooled massaging rear bucket seats, a full rear center console with a beverage chiller and blue illumination and dual rear entertainment screens with touchscreen remote control. Note that many of the higher-end models' standard features can be added to lower-end models as options.
Interior design is a strong suit for all XJ models. From prominent, jet-like air vents to the virtual TFT instrument panel (see Technology below), the style of the low-set dashboard is a refreshing departure from the cliff-like cabinetry found in other luxury sedans. Jaguar's distinctive rotary shift knob, which feels a little chintzy in use, sure looks slick as it rises out of the center console upon ignition. Another style feature is the array of available leathers and woods that can be mixed and matched to suit your creativity. And some of the more adventurous combos we've seen are truly stunning.
Front seat comfort is fine in the XJ, though none of the available seats has the range of adjustability and support offered by BMW or Mercedes. Although rear passengers will have to cope with a bottom cushion that is unusually low by class standards, legroom is plentiful even in the short wheelbase XJ and is extended to limo-like in the XJL. Unlike some rivals, the XJL doesn't offer reclining rear seats with massaging functions, footrests and so on. Cargo capacity in the XJ model's trunk is a whopping 18.4 cu ft.
Technology
One of the first things you notice in the XJ is the virtual TFT instrument panel, which includes a virtual speedometer and tachometer. The tachometer actually disappears when you access the trip computer, the vehicle's setup menu or related functions. It's a cool idea, but the tachometer needle noticeably lags behind during spirited acceleration -- the engines are quicker than the tachometer.
Moving to the central controls, the XJ has a slightly larger, crisper infotainment screen than the XF -- it measures eight inches and delivers pleasant picture quality. Refinements made to the interface for 2013 are intended to help it keep up with the standard-setting systems in competitors such as the BMW 7 Series and the Lexus LS. The huge glass roof, however, adds an airy lightness to the cabin, whereas some competitors feel like a cave.
Performance & Fuel Economy
The rear-wheel drive Jaguar XJ is powered by a new supercharged 3.0-liter V6 that produces 340 hp and 332 lb-ft of torque. The 5.0-liter V8-powered models range from 385 hp and 380 lb-ft in naturally aspirated form (XJL Portfolio) to 510 hp and 461 lb-ft of torque in Supercharged, Supersport and Ultimate arrays.
Even in V6 form, all XJ models are exceptionally swift automobiles, and all-wheel drive -- available with the V6 only -- should help boost appeal in the snow belt. The XJ AWD model's standard 30/70 front/rear torque delivery means it feels like a rear-wheel drive car when the road is dry, but can shift to 50/50 when things get slippery enough. All XJ models come with a new 8-speed automatic transmission with paddle shifters, finally making the XJ model's transmission competitive with the best in the industry.
Fuel economy is not surprisingly best with the rear-wheel drive V6 model at 18 miles per gallon city/27 mpg highway (16 mpg city/24 mpg hwy with AWD) and drops to a pretty awful 15 mpg city/21 mpg hwy in the Supersport. You get plenty of power in the XJ, but you definitely pay for it at the pump.
Safety
The Jaguar XJ comes with standard stability control, 4-wheel anti-lock disc brakes and six airbags (front, front side and side curtain).
The XJ has not been crash tested in the U.S.
Driving Impressions
The Jaguar XJ is one of the most engaging full-size luxury sedans around from the driver's seat. These cars are often driven by chauffeurs, but we've met executives who like to drive themselves and the XJ lineup should not be overlooked for them -- especially the supercharged models with the Sport and Speed package. The short wheelbase makes a big difference, though, as the long wheelbase XJL feels somewhat less agile. Under normal commuting conditions, the XJ has a tauter ride than some in this class, but it does a satisfactory job of filtering out harsh impacts. Similarly, while road and wind noise aren't whisper quiet at speed, few will object to the XJ's sound levels, especially considering how sweet the engines sound.
Other Cars to Consider
Audi A8 - Like the XJ, the A8 feels more like a limousine, but it is lovely to drive and has a peerless sense of interior quality. Fuel economy in V8 form beats comparable Jaguars -- and there's an even more fuel efficient diesel model to boot -- though they don't drive with the Jaguar's athleticism. Such anonymous styling, though.
BMW 7 Series - Like the A8, the big 7 Series isn't the most distinctively styled luxo-liner on the block, but it's got a great collection of turbocharged and hybrid power plants.
Mercedes-Benz S-Class - Still a favorite with the buying public after years on the market, the iconic S-Class has stayed fresh thanks to frequent updates and a recent infusion of twin-turbocharged power under the hood. It is old by comparison to the others and is slated for replacement soon.
AutoTrader Recommends
The new base XJ is a winner with its slick new supercharged V6 and superior fuel economy. And if we lived in areas where it snowed a lot, the all-wheel drive model would be a no-brainer.