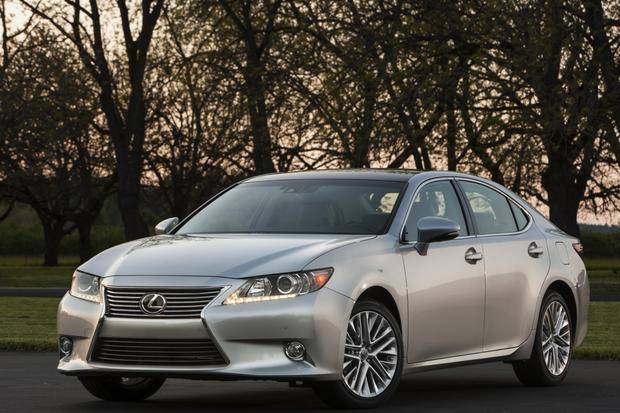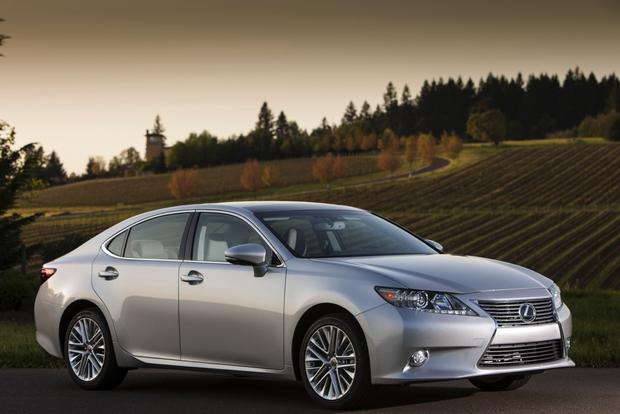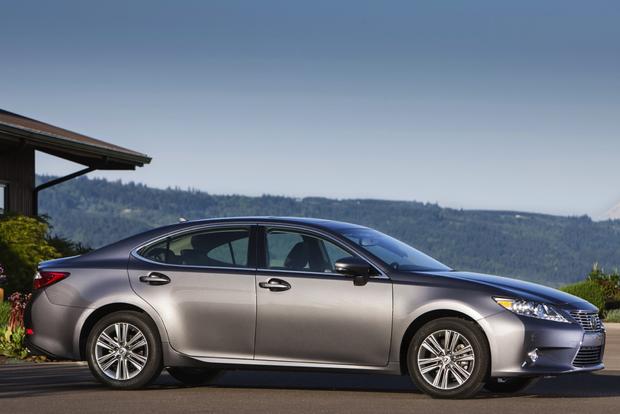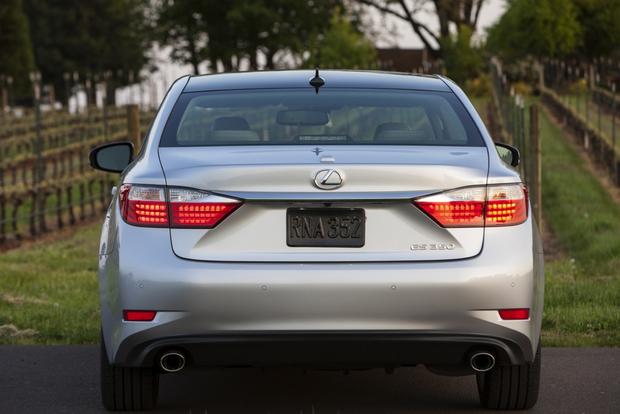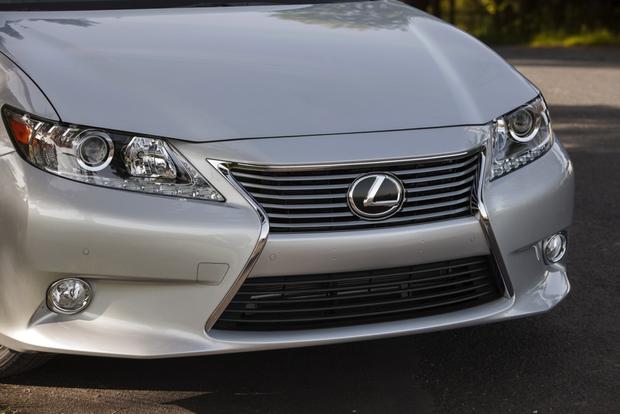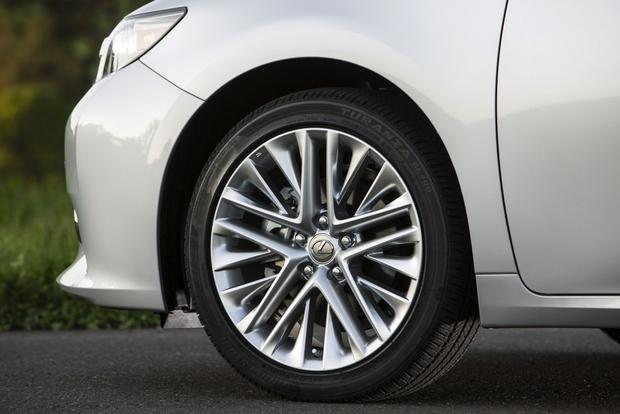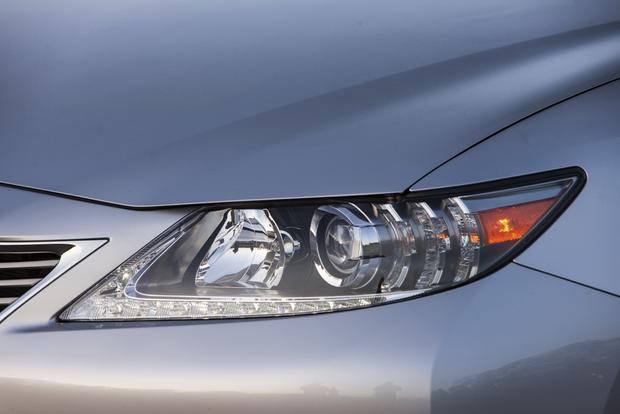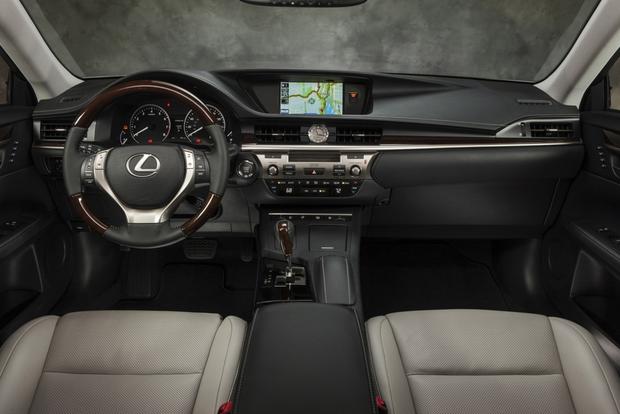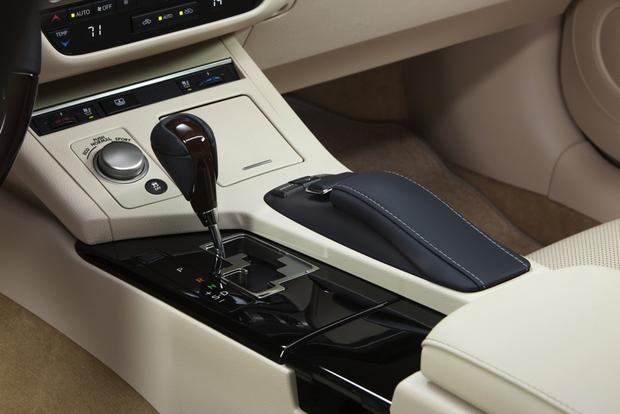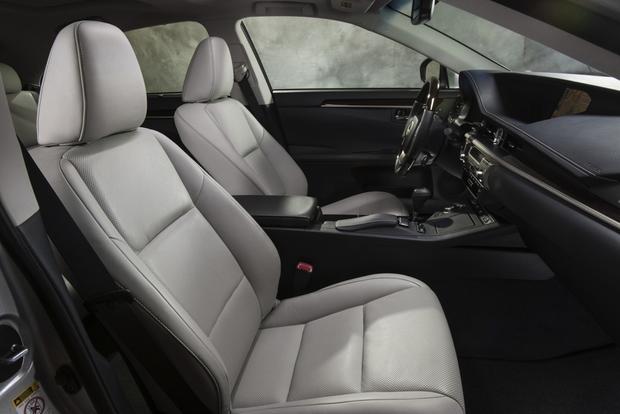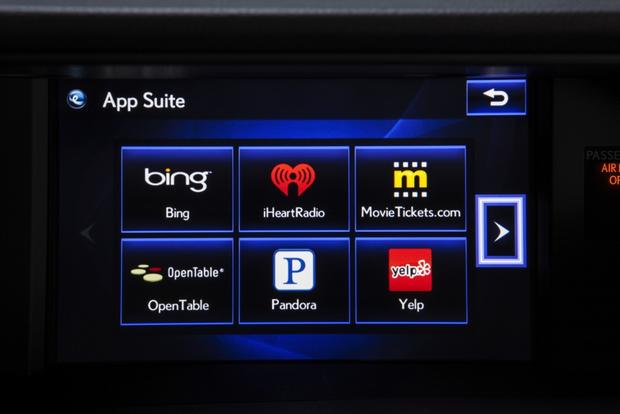 Pros: Spacious, quiet and comfortable; excellent fuel economy for hybrid version; 5-star safety rating
Cons: No backup camera or heated seats for base version; distracting infotainment controller
What's New: Totally redesigned for 2013
Introduction
Lexus is on a mission to change its reputation. The automaker's current lineup is sportier than ever, and that includes the 2013 Lexus ES 350. But while the completely redesigned ES features more aggressive exterior styling than its predecessor, calling it a sports sedan would be a stretch. The front-wheel-drive model remains relatively tame when it is compared to the rest of the 2013 Lexus model lineup.
That's not necessarily a bad thing. Not every driver wants to sacrifice ride quality for sports car performance. So if a smooth ride, ample space and luxurious comfort are your priorities in a sedan, the latest Lexus ES should be on your short list.
With a starting price of $36,100, the redesigned 2013 model offers excellent value in the luxury segment. The new ES is roomier than ever, thanks to a longer wheelbase than its predecessor. The newly added hybrid model, the ES 300h, offers more value in the long run with a 40 miles per gallon combined fuel economy rating. Safety is significantly improved, too; the 2013 ES scored a 5-star rating in federal crash tests. Lastly, the ES benefits from the part of its reputation that Lexus is not trying to change -- that of high quality, high customer satisfaction and excellent resale value.
Comfort & Utility
Both the V6-powered ES 350 and hybrid ES 300h include standard equipment like memory-linked keyless entry and push-button start, 10-way power-adjustable front seats, Bluetooth, satellite radio, dual-zone automatic climate control and a power tilt-slide glass sunroof. Notably, neither a backup camera nor heated seats are standard on the ES.
But these and other features are offered as parts of several options packages that range in price from about $2,000 to more than $9,000. For the extra money, you can opt for luxurious equipment like navigation, a leather- and wood-trimmed steering wheel, heated and cooled front seats, premium Mark Levinson audio with HD Radio and a power rear sunshade.
Because the ES 300h uses a battery pack fitted to the trunk to power its electric motor, trunk space suffers in comparison to the ES 350.
With its longer wheelbase and improved interior space, the ES is comfortable and spacious for both front- and rear-seat passengers. Standard adjustable lumbar supports in the front seats deliver comfort on longer trips, and a quiet ride also helps to reduce driver fatigue. Although Lexus redesigned the interior of the ES with a more up-to-date look, ergonomics remain excellent; controls are well-marked and well-placed, reducing distraction.
Technology
That said, some drivers may find the remote touch controller provided with the optional HDD Navigation System distracting. The mouse-like device on the center console looks elegant and is positioned in a natural location for the driver's right hand, but operating it sometimes requires diverting your eyes away from the road and toward the 8-inch, dash-mounted display. Fortunately, most functions can be accessed through voice commands, including entering a navigation destination or selecting a contact and making a call from a Bluetooth-linked phone.
Instead of the full-blown HDD system, Lexus also offers Display Audio for the ES. It adds a 7-in display, HD Radio, iTunes tagging and a backup camera. That's in addition to the in-dash CD player, USB/iPod inputs and SiriusXM satellite radio that come standard on the ES.
Audiophiles may choose a 15-speaker, 835-watt Mark Levinson sound system that includes an in-dash CD/DVD changer and delivers superb sound quality in a factory-installed unit.
Performance & Fuel Economy
Like the last-generation ES, the 2013 ES 350 is powered by a 3.5-liter V6 mated to a 6-speed automatic transmission. With 268 horsepower and 248 lb-ft of torque, the V6 offers good acceleration across its rev range and delivers the smooth performance characteristic of Lexus vehicles. Shifts from the 6-speed are similarly silky, and the transmission is relatively quick-shifting and responsive to the driver's throttle input.
Opting for the hybrid powertrain requires some trade-off of performance for economy. The heavier ES 300h uses a 2.5-liter 4-cylinder engine mated to both an electric motor and a CVT automatic transmission. Together, the 4-cylinder and electric motor produce 200 hp. Although the hybrid system performs smoothly, it does not accelerate with the light and quiet effort of the ES 350 model's V6. Expect more engine noise under heavier acceleration.
In normal driving, however, the hybrid can be even quieter than the conventional V6-powered ES. That's because the ES 300h can operate in electric-only mode, and its start-stop system means no noise or vibration from an idling engine when traffic stops at a red light.
The other payoff comes at the pump. While the ES 350 is rated at 21 mpg city/31 mpg highway, the ES 300h achieves 40 mpg city/39 mpg hwy according to Environmental Protection Agency (EPA) ratings.
Safety
The previous-generation ES suffered from a weak federal crash test score. But Lexus has improved the crashworthiness of the 2013 model, resulting in a best-possible 5-star rating.
A range of safety equipment protects passengers, from ten standard airbags to seats that help to reduce whiplash in an accident. Stability control and 4-wheel anti-lock disc brakes help drivers avoid accidents. Optional safety equipment like a blind spot monitor with rear cross-traffic alert and a lane departure warning system are also available.
Driving Impressions
Lexus drivers returning to the showroom will likely enjoy the supple ride and relaxed dynamics the ES offers in everyday driving. Although Lexus says that the new ES has a stiffer chassis, revised suspension tuning and quicker steering, the experience remains one of luxury and comfort. The front-wheel-drive ES does not deliver the sporty dynamics of the rear-wheel-drive Lexus GS, but it is suitably quick and braking and handling performance -- even in the heavier ES 300h -- are very good.
In both the V6 and hybrid models, Lexus includes a drive mode dial that lets drivers choose from three settings: Normal, Sport and Eco. In the Normal mode, throttle response and shift points are balanced for power and economy. Sport mode favors improved power response at the expense of economy, while the Eco mode reverses that trade-off.
Eco mode requires the driver to push further into the accelerator pedal to get the car moving, or moving faster. It takes some getting used to, but once driving in Eco mode becomes familiar, it's easy to improve economy beyond even the EPA-rated 40 mpg. And if you need power to accelerate into traffic, the hybrid system will deliver without having to switch out of Eco mode. It just requires more pedal input. In layman's terms, you have to floor it.
Other Cars to Consider
Buick LaCrosse: The LaCrosse is more affordable than the ES and is similarly comfortable, spacious and well-equipped. For those that battle wintry weather, the LaCrosse offers the added traction of all-wheel drive.
Hyundai Genesis: Although the Genesis is becoming dated in comparison to the competition, it continues to offer excellent value among luxury sedans. Pricing starts at $34,200 for the rear-wheel-drive Genesis, and Hyundai offers a V8 engine for those who prefer more power.
Lincoln MKZ: Like the ES, the Lincoln MKZ is also totally redesigned for 2013 and is offered in conventional and hybrid versions. The base price for the MKZ is just less than that of the ES, and Lincoln charges no premium for the hybrid version.
AutoTrader Recommends
We'd choose the 2013 Lexus ES 300h for its more relaxed character and thriftier fuel economy. The bamboo trim exclusive to the hybrid version gives the interior a calm, spa-like feel. The start-stop system takes the tension out of traffic by eliminating the subtle, ready-to-charge feeling created by an idling gas engine. We'd select the midrange premium options package to add features like heated seats, a power rear sunshade and parking sensors.